As first quarter earnings season rolls in, eyes will be on which industries perform fundamentally as the market continues to swing wildly in 2018. In a recent industry report from Morningstar, author Matthew Young suggested that the trucking industry could be an area offering dramatic results as trucking stocks look to extend impressive rallies. Knight Transportation (KNX), Old Dominion Freight Line (ODFL), and Werner Enterprises (WERN), are three trucking stocks that the report focuses on as leaders in this industry.
While Young thinks that the trucking stocks are a bit overheated, higher valuations could be justified with stronger economic growth and fiscal headwinds. These stocks should have further room to run in 2018 as higher demand will favor their bottom lines. At this point, it's about picking the best buy from the bunch.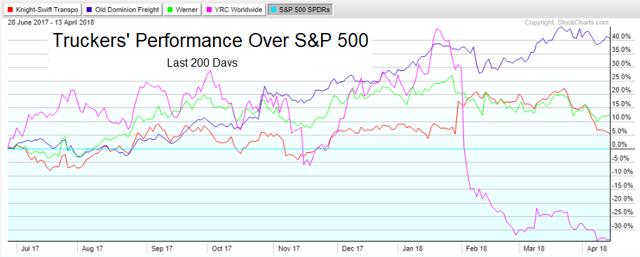 From Stockcharts.com
Before February 2018, the truckers outperformed the S&P 500 by a considerable amount. KNX and WERN were about 18 percent higher, and ODFL and YRCW were around 35 percent higher. Optimistic economic outlook helped push these company's shares higher as new tax reform was expected to drive more business spending that would mean more demand in the trucking industry. However, the expansion of these stocks halted with the onset of market volatility.
According to Young, the truckload (TL) and light truckload ((LTL)) industries saw capacity had, "rapidly tightened on accelerating freight demand, carriers' fleet reductions, and weather disruptions" in the 2 nd half of 2017. With this tightening, trucking companies saw margins skyrocket and "spot prices" approach all time highs. Because this industry oscillates so abruptly with changes in supply and demand, optimism prompted cash to move into trucking shares.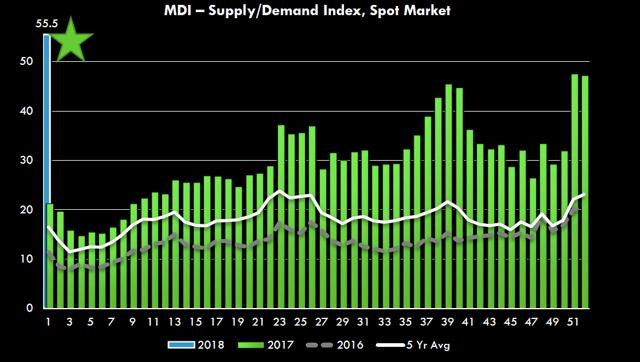 From FTR Transportation
In FTR Transportation Intelligence's 2018 Trucking Outlook presentation the organization showed many different metrics that indicated the market was going into the new year with elevated levels of demand. In the chart above, the MDI Supply/Demand Index is seen well above the 5-year average in the last two weeks of 2017 (green bars) and even higher in the first reading of 2018 (blue bar). With winter behind us and warmer months ahead, seasonality trends suggest demand and spot rates could peak later in the second quarter of 2018.
The Morningstar report cites confirmations of optimism from KNX, WERN, and ODFL. KNX management projects, "high-single-digit to low-double-digit contract rate increases this year," and WERN sees, "average TL industry rates to rise in the mid- to high single digits in 2018." Therefore, these companies should look to add truckload capacity in 2018 to capitalize on the uptick in demand.
Knight-Shift Transportation (KNX)
In KNX's 2017 Q4 conference call, the company reported an earnings per share of $0.52, a beat by $0.11, and revenue of $1.36 billion, a 370.4 percent year-over-year growth. KNX saw a 12.2 percent increase in revenue per tractor despite a 5.3 decrease in the average operational truck count. KNX acknowledged the headwinds from the economic growth and driver shortage and hopes to capture the positive demand swings with its recent merger with Swift.
With KNX continuing to process its recent merger, management will be less flexible to respond to the increase in demand and spot rates. This can be seen in the shrinking of the operational truck count. Typically, a company would do everything it can to expand capacity, even if there's a premium to adding more. KNX leaders seemed less committed to this strategy as they explained 2018's capital expenditures will be primarily dedicated to "the replacement of the tractors and trailers we intend to pull out of service during the year."
Werner Enterprises (WERN)
WERN's full year results were inflated by higher spot rates as earnings per share grew from $1.09 in 2016 to $2.80 in 2017, a 156 percent increase. WERN saw a 4.1 percent increase in average revenue per tractor. However, WERN actually increased the amount of operational trucks in the fourth quarter. The company ended 2017 with 7,435 trucks in service, an increase of 335 year-over-year and 60 sequentially. With the passing of new tax reform, WERN expects to keep investing in its fleet in the 2018 year.
WERN's income jump was the largest of the three trucking stocks mentioned here, but it is also the smallest. With size in mind, it makes sense to see more volatility in earnings. The small-cap trucker appeared to be one of the more proactive with average miles per truck falling only 0.6 percent and 60 more trucks added to the fleet in just the fourth quarter. WERN looks to want to push utilization to the limit in order to capture profits. 2018 will be a very profitable year for the WERN if they maintain this strategy. However, a fundamental reversal could see them overstretched.
Old Dominion Freight (ODFL)
ODFL also outperformed in the fourth quarter of 2017 thanks to spot prices. The company saw full year earnings per share grow from $3.56 in 2016 to $5.63 in 2017, an increase of 58.1 percent. In the conference call, Old Dominion management said that the company, "is uniquely positioned to win market share in 2018." As the largest company of the four mentioned, its big name should help it lead the way in a favorable economic environment. ODFL showed commitment to growing in the favorable environment by adding almost 1,400 new employees in the second half of the year.
OFDL is the biggest company of the three (almost 5x the size of WERN and 1.5x KNX). In a hot industry, the company with the largest market share tends to add to it. The fourth quarter of 2017 was already an incredible quarter, and with competitor KNX focusing on its merger, OFDL might be at even more of an advantage over companies like WERN. Management's attitude (as mentioned above) is very optimistic with a large capital program to "increase our service center network to 235 to 240 facilities by the end of the year."
From a multiples perspective, WERN's P/E ratio of 13.41 compared to KNX's of 16.30 and ODFL's of 26.28 looks to be the cheapest buy. Nevertheless, there is a case to invest in KNX and ODFL at higher valuations because of the safety they provide in being larger. KNX, however, might be more sluggish because of the recent merger.
First quarter earnings reports from these companies in the trucking industry will be crucial to watch in determining which can benefit the most from a favorable pricing environment. Here's the final verdict:
KNX doesn't look to be in the best position to expand into the new demand. Therefore, I would hold but not buy this trucker.
WERN is a small company that is planning on growing into this optimistic pricing environment. This stock has the chance to grow the most, with its low P/E, but also has the most risk on the downside.
ODFL is a larger company that has already started to soak up the new demand with more employees and soon more service stations. This trucker is a buy despite a higher valuation. But it's worth it to pay the premium for less risk due to size.
Young finishes his Morningstar article suggesting that the expansion in the trucking industry will result in an equally sized correction that will hurt share prices down the road. He compares the potential downtrend to the one that occurred in 2016. However, economic and industrial growth in 2018 is more optimistic and being extended by a crucial tax cut. The trucking industry will continue to shine in 2018 and beyond because of expansionary measures by the Trump region.