Why invest in utilities?
As a dividend growth investor after growing dividends the characteristic I value most in a company I want to invest in is consistent results. Utility companies, particularly in the U.S., are government regulated monopolies. This means that people living in the company's service area have little choice in where they get the service the company offers. And they have little choice but to pay a price for those goods and services that will cover both the costs to the company and a guaranteed profit. Top that off with most capital spending also guaranteed to produce a good return, and you have a very predictable business.
That isn't to say that every utility company is 100% predictable 100% of the time. One just has to point to Scana (SCG) or any of the other utility companies that have nuclear power plant projects going to see that sometimes things go far differently than predicted. But with competitors mostly locked out and prices set to cover costs and a profit, utility companies tend to be more predictable than the average.
My IRA portfolio doesn't have as much invested in utilities as I would like. One of my goals this year for my portfolio is to increase the percentage of the portfolio in the utility sector. Right now I have just under 15% of my portfolio is in the utility sector and my plan is to push that closer to 20% this year.
I have a nice watch list with some 15 solid utility companies on it, so why am I looking elsewhere? That list contains companies that provide electricity, gas or both to their customers. But that leaves out the water utilities, which are companies that provide water or sewer services. I see water service utilities as even less dependent on economic conditions that power and gas. You might adjust the thermostat and be more mindful of what lights you have on when times are tough, but you'll drink about the same amount of water (or even more if you switch to filtered water from bottled) and your shower will likely last just as long.
So what Water Utilities look good from a dividend growth perspective?
As a dividend growth investor, the first place I look to find a dividend growing water utility is David Fish's CCC List (which contains data on companies that have raised their dividend each year for 5 or more years). There I found 8 companies identified as water utilities that have increased their dividends on an annual basis for at least 5 years in a row. The 8 companies are American Water Works (AWK), Aqua America (WTR), Artesian Resources (ARTNA), California Water Service (CWT), Connecticut Water Service (CTWS), Middlesex Water Company (MSEX), SJW Corp. (SJW), and The York Water Company (YORW). I had originally thought to reduce this list by eliminating any company that had a yield below 2%, but the latest data has them all passing that screen.
What's a good price?
To figure out a good price, I do a DDM calculation using my Excel based DDM calculator (pictured below, you can see the web-based calculator I based it on here and read a discussion on how the formulas were developed here). I also found this discussion of DDM, and note that in the article the author uses a discount rate of 5%.
I will also look at the 4 year average yield. Given the recent decline in the share prices of my current utility holdings and the prospects for higher interest rates, I would think that share prices would be declining here too. So I expect share prices to be down from where they were over the last 4 years relative to the dividend paid.
American Water Works provides water and wastewater services to residential, commercial, and industrial customers, and operates predominantly in regulated markets, which account for over 90% of earnings. Its non-regulated market-based businesses provide wastewater management operations for military bases, municipalities, oil and gas exploration and production companies, and other industrial customers.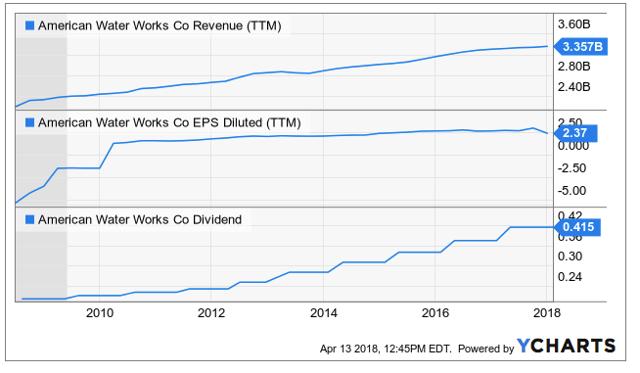 In the YChart above, I show the revenues, the EPS and the dividends over the last 10 years. These show exactly what I am looking for slow but steady growth over time. I would be happier with faster EPS growth, but the dividend growth is well supported. I see from the CCC List that over the last 5 years AWK has grown its dividend by an average of 11% a year, while EPS grew 7.9%. Even though analysts, according to the finviz numbers in the CCC List, predict that EPS will grow 8.1%, with the payout ratio at around 70%, I am not comfortable predicting dividend growth higher than the expected EPS growth. Assuming the dividend will be increased by the same amount as last year, means the dividend paid out over the next 12 months will be $1.70. I will use a dividend growth rate of 8%, which is a bit below analysts' expectations of EPS growth for the next 5 years, so that the payout ratio can decline modestly.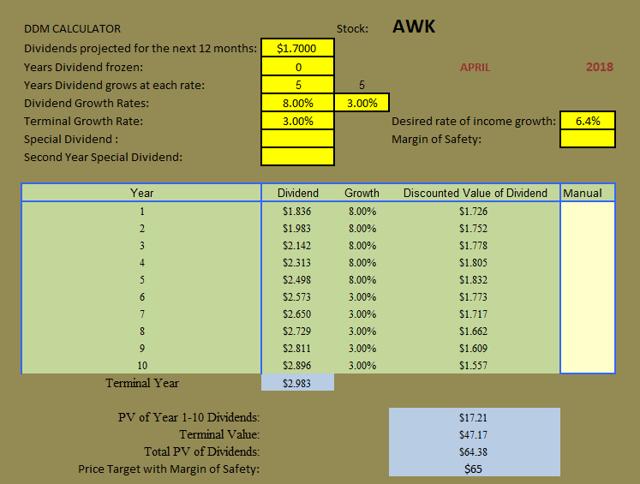 Using those parameters, I calculate that the NPV (net present value) of the predicted dividend stream is $64.38 for a buy price of anything under $65. With AWK trading at around $83, it is currently over-valued. Looking at the 4 year average yield, which is higher than the current yield, it would need to be at $78 to be in line with its historical valuation. While AWK is down since the beginning of the year, it still isn't a good value. Sadly, while I like the company, far too many other people do as well. And they seem to be willing to pay more for it than I am willing to do.
Aqua America also provides both water and waste water services. It is based in Pennsylvania where it derives most of its revenues.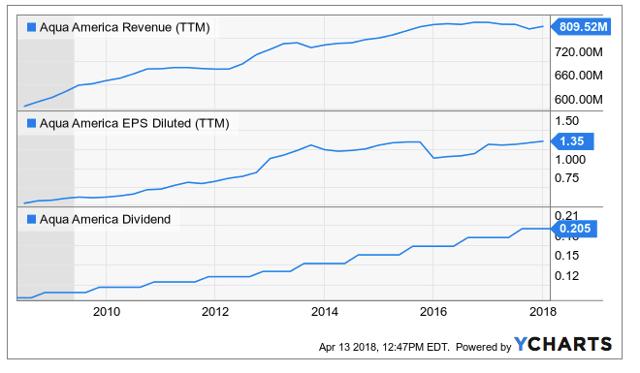 The YChart above again shows the revenues, the EPS, and the dividends from WTR. It again shows a fairly steady growth in these metrics. While there is a bit of a hick-up at the end of 2015, the EPS growth looks to be faster than that offered by AWK.
So far WTR has paid out 3 dividends at its current rate, with one more such payment before it raises the dividend. Estimating that the raise will be about a penny a quarter (the last 2 yearly increases have been less than that), that will result in a dividend of $0.85 collected over the next 12 months. Given the last increase was only 7%, I will use that figure Given that the payout ratio calculated from the YChart numbers is 60%, I think an expectation of 7% dividend growth is reasonable here.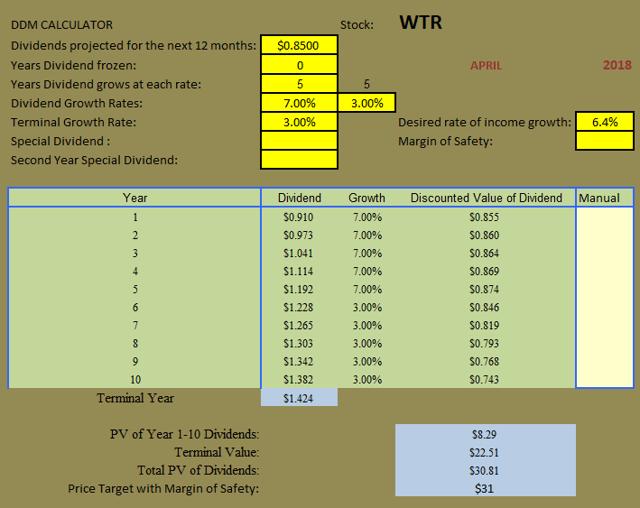 Using those parameters I calculate that the dividend stream has an NPV of $30.81 with a buy price of $31. With WTR trading at around $34, it too is over-valued.
I did recently write an article about Aqua America and one of the commenters mentioned that with its higher dividend growth rate that AWK seems like a better pick. Right now, AWK is about 27% above my buy price while WTR is only 12% above. But, say one could get them at a reasonable price; does the higher growth rate of AWK over-come the higher initial yield of WTR? I will use this tool, and I will assume further that the yield of each is the estimated next 12 months of dividend payments dividend by the buy price. I will use the dividend growth rate I projected for each stock.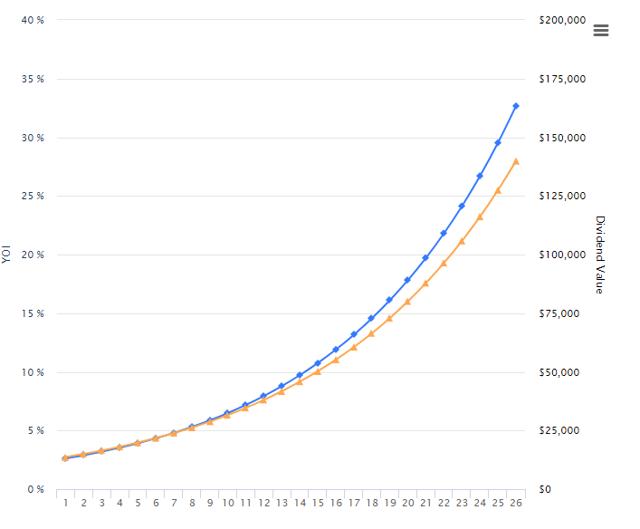 AWK is the blue line and WTR is the orange. Because my buy price is much lower than the current market value of AWK than it is for WTR, buying AWK at that buy price is a better investment than buying WTR. However, if you use the current yields (and thus the market price) then WTR is the better deal. This is because while at my buy price the yields differ by only 12 basis points, at the current market price the yield differ by around 40 basis points.
Artesian Resources operates as the holding company of eight wholly-owned subsidiaries offering water, wastewater, and other services to a variety of private, public, and commercial customers in the states of Delaware, Maryland, and Pennsylvania.
Looking at the YChart showing revenues, EPS and dividends, I am not seeing a nice steady growth in EPS that I would expect from a utility. Sure, the trend is upwards but I am seeing a big drop at the end of 2012 and again in 2014. The swings do seem to be growing smaller, but one reason I chose to use the TTM (trailing 12 months) figure for EPS was because it should smooth out quarterly variations. Because Artisan has a lot of customers on the Delmarva Peninsula (that is the area between the Chesapeake Bay and the Atlantic Ocean) which is a beach and vacation area I would expect significant seasonal variation, but the TTM figures should smooth most of that out. Couple with the current yield being significantly lower than the average yield over the last 4 years and I think ARTNA is not a good investment at this time.
California Water Service operates public utilities subsidiaries operate in California, New Mexico, Washington, and Hawaii. Unregulated subsidiaries provide water utility services to private companies and municipalities. California Water derives the majority of its revenue from its operations in California and, overall, from residential customers.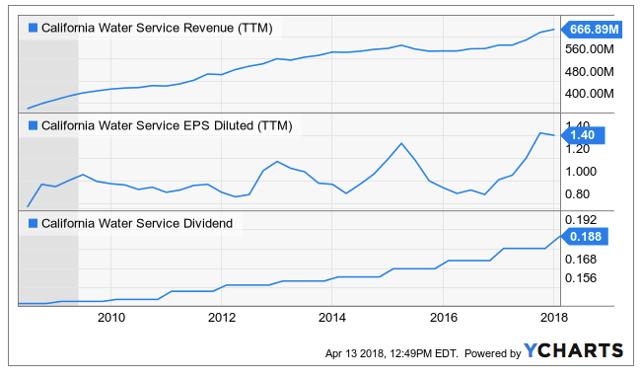 The YChart above shows the revenues, the EPS, and the dividends from California Water. The EPS trend is upwards and while the swings are not ideal, they don't rule out an investment. I certainly like that California, New Mexico, and Hawaii are states with fairly tight water availability (deserts and islands having limited access to water). Because of this tight water availability (or at least my perception that water availability is tighter in California Water's service areas), I am willing to accept more variability in EPS growth than I would otherwise, provided the price is good.
Looking at the CCC List, I see that dividends will be $0.7575 (assuming that at the end of the year the dividend will be increased as much as it was last time) and assuming that because of much faster earnings growth the dividend growth rate goes up to 5% (which Is both higher than the any average over the last 10 years and faster than the last which was a high), that puts my buy price at $25. With the stock trading at $38, and the yield being right at the cutoff, I don't see this as a buy right now.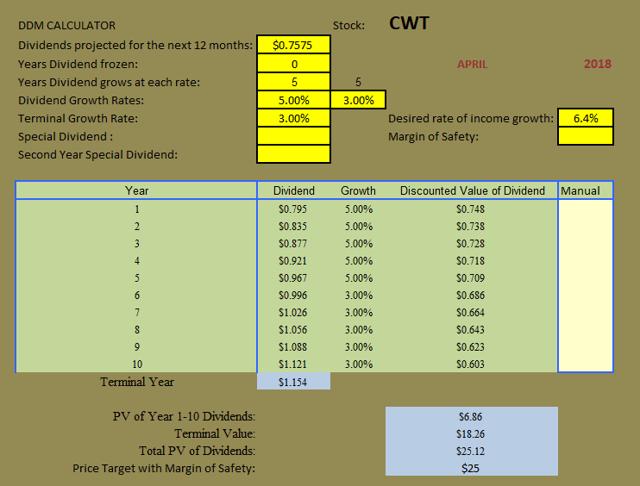 Connecticut Water Service has various subsidiaries and divisions, including water operations, supplies public drinking water; real estate transactions, which sells real estate holdings; and service rentals, which sells contracted water and wastewater services in the state of Maine and (surprisingly) Connecticut. The majority of revenue is comes from its water operations segment and residential customers.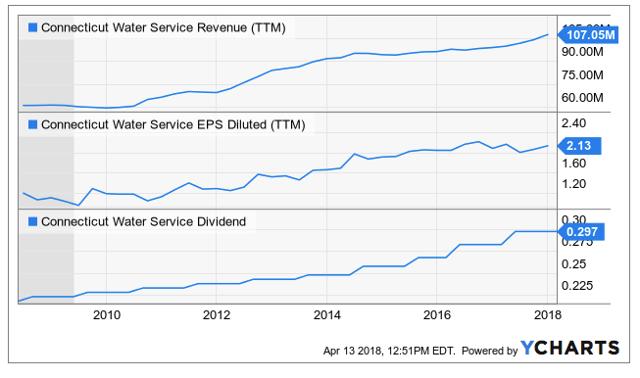 Looking at the YChart above to see the 10 year trend in revenues, EPS and dividends, I see a smoother trend in EPS growth than from California Water. While not as good as WTR or AWK, it still looks pretty consistent. At the right price, this could be a good investment.
Using numbers from the CCC List, a conservative estimate for dividend growth seems to be 5.4%. This is the 1 year DGR rate and is below predicted earnings growth. Buying it now, the next 4 dividend payments should be at higher than the current rate. Assuming that CTWS increases the dividend by the same amount they did last year, which makes the dividend payment for the next 12 months equal $1.25.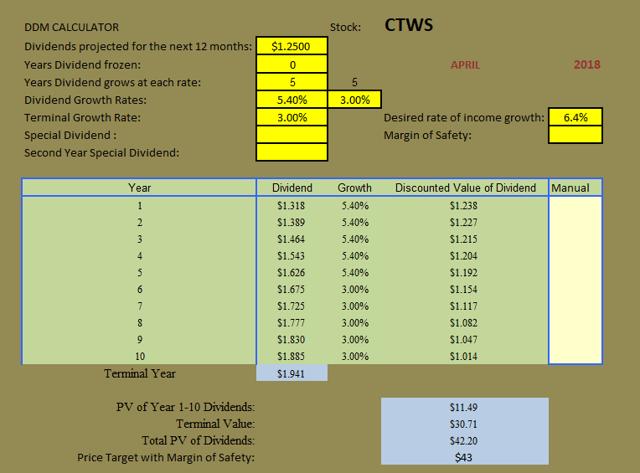 Using those parameters I calculate that the NPV of the predicted dividend stream is $42.20 which makes the buy price anything below $43. Given that CTWS is trading above $63, this makes yet another stock where too many people think it's a good investment for it to be one at this time. I want to buy shares in companies that the market doesn't like, and clearly the market likes this stock. One might even say the market likes it too much.
Middlesex Water Company owns and operates water utility and wastewater systems in the states of New Jersey, Delaware, and Pennsylvania. The regulated business includes collecting and distributing water to residential, commercial, industrial, and fire protection consumers. The non-regulated business includes contract services for the operation of private water and wastewater systems. Most of revenue is comes from the Regulated segment and from residential customers.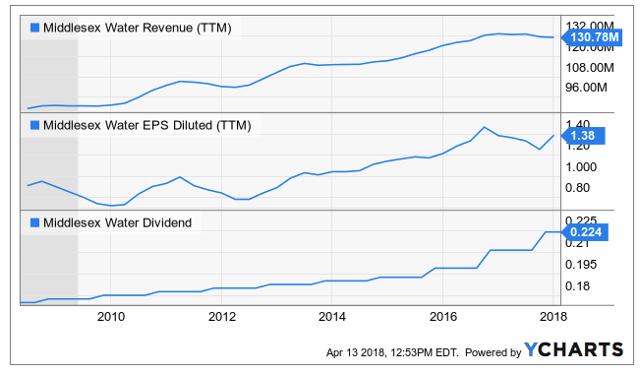 The YChart shows the growth in revenues, EPS, and dividends that I like to see. While there are some swings in EPS that are less than ideal, the over-all trend looks good. While the recent dividend growth looks good, with the payout ratio now being 66%, I don't expect that to continue without similar EPS growth to back it up.
Looking at the CCC List, I see that EPS is expected to grow at 2.7%, which I don't think will support the 4% DGR for the dividend over the last 3 years to continue. I will use 2.6% so that the payout ratio will decline slightly.
Assuming that I will get 2 more dividends at the current rate and two dividends at a rate that is 1.25 cents higher (that is the amount of the last dividend increase), over the next 12 months I would get $0.92 in dividends if I bought the stock now. I will also use 2.6% as the dividend growth rate.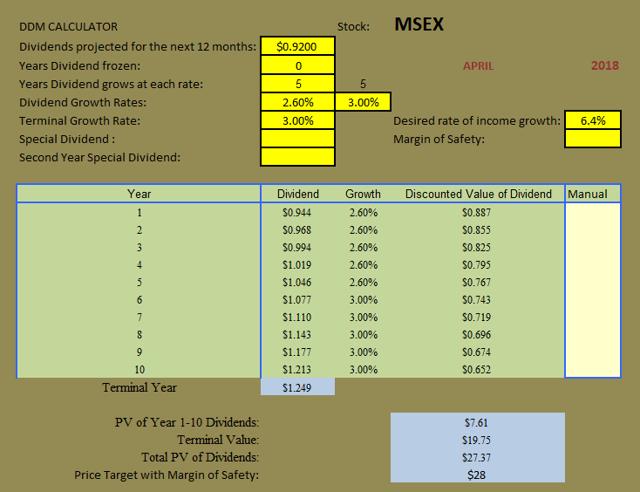 Using those parameters I calculate that the NPV of the predicted dividend stream is $27.37 which makes the buy price anything under $28. Trading at almost $40, Middlesex is another stock that the market likes to much to be a buy now.
SJW Corp. is water utility services holding company that provides, stores, purifies, and distributes water. Headquartered in San Jose, California, the company primarily operates in various Californian municipalities and also has operations in Texas, Arizona, and Tennessee.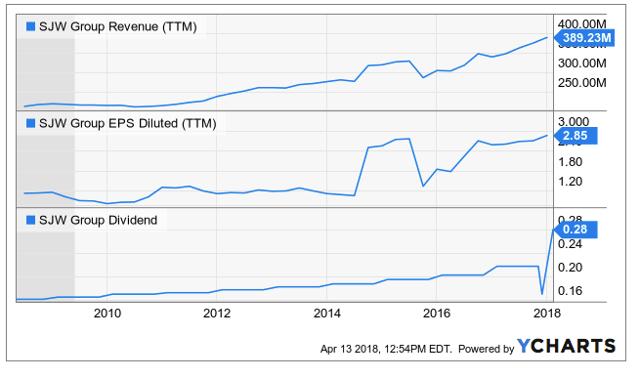 The YChart above shows a steadily increasing trend in revenues, EPS, and dividends. Other than a big bump in earnings and revenue around 2015, the trends look very good to me. The apparent downward spike in dividends is due to a special dividend paid out at the end of 2017.
I will not count the special dividend or the big increase in the quarterly dividend payment that happened this year, so for the next 12 months I figure I will get 3 payments of $0.28 and one payment of $0.295 for a total of $1.135. With earnings growth projected to be 14% over the next 5 years (and that is lower than what it was over the past 5 years), I think using the 3 year DGR rate is a reasonable number to expect dividends to increase going forward at 5%.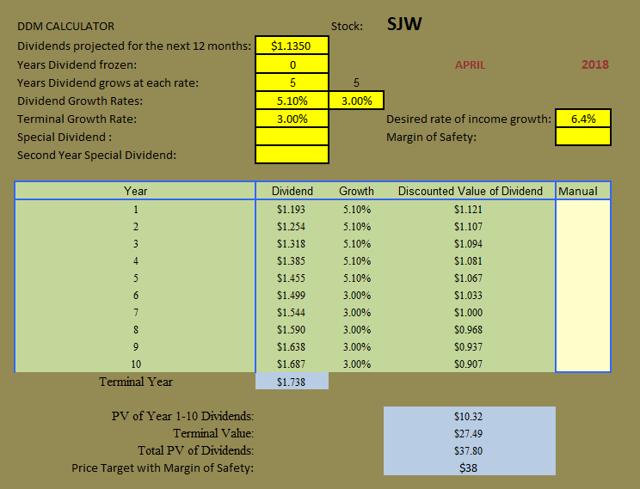 Given those parameters I see my buy price works out to be $38 which is again well below the market price which is up near $54. While there seem to be some good companies in the water utility business, it seems the market likes all of them too much.
The York Water Company operates in (I know this will be a surprise to everyone) York and Adams Counties in the state of Pennsylvania. It primarily delivers water, but also has 3 waste water collection systems and 2 waste water treatment systems.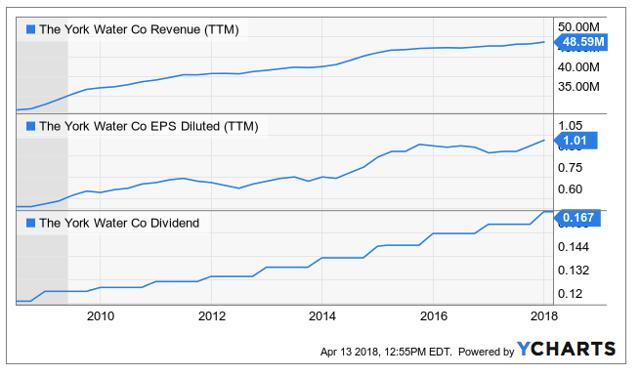 Like most of the water utilities I have looked at York has the steadily increasing revenue, EPS, and dividends that I look for, as can be seen in the YChart above. The plot of the dividends has the ideal stair step pattern, but the 66% payout ratio leads me to think that future dividend growth will be limited by EPS growth.
Although analysts expect EPS growth to slow a bit, they are still expecting growth that exceeds 4%. So I think the 5 year DGR can be supported for the next 5 years, so I will use 3.7% as my dividend growth rate. Assuming that the final dividend payment of the next 12 months will increase as much as it did last year, the payment for the next 12 months should be $0.6725.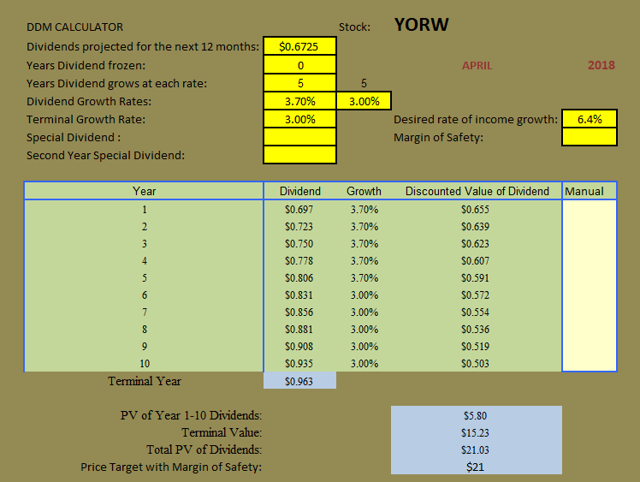 Using those parameters, I get a buy price of $21. The market again appears to love this stock too much as the market price is around $32. So another company goes on my watch list.
What to watch for going forward?
I did this exercise about a year ago (although I didn't write an article about it) and found no companies whose shares were selling at a good value. Going forward I want lower prices on every one of these stocks. AWK and WTR are both the biggest and the closest to a good value, so I will keep a closer eye on them.
Conclusion
So while I can find several companies that I want to invest in, I can find none priced at a reasonable value. The closest to a good value is WTR which is only about 12% over-valued. I was frankly surprised that the water utilities don't seem to have taken as big a hit as the power utilities. I still want to add some water to my portfolio; I'll just have to be patient until the prices get better.
Note: I hope you all got something out of this article. I do appreciate the time you took reading it. If you are one of those who follow me here, I appreciate it; if you'd like to include yourself amongst those individuals, please hit the "Follow" button next to my name as well as following other contributors whose work you enjoy. As always, please leave any feedback and questions you may have in the comments below.
Disclaimer: This article is intended to provide information to interested parties. As I have no knowledge of individual investor circumstances, goals, and/or portfolio concentration or diversification, readers are expected to complete their own due diligence before purchasing any stocks mentioned or recommended. The price I call fair valued is not a prediction of future price but only the price at which I consider the stock to be of value for its dividends.
Disclosure: I/we have no positions in any stocks mentioned, and no plans to initiate any positions within the next 72 hours. I wrote this article myself, and it expresses my own opinions. I am not receiving compensation for it (other than from Seeking Alpha). I have no business relationship with any company whose stock is mentioned in this article.