This article is part of a series tracking and analyzing wind speed data in order to estimate the quarterly power production of Pattern Energy (PEGI). Briefly, Pattern Energy operates a portfolio of wind farms mostly located across the United States and Canada. Thus, it is expected that power production (and consequently, revenue) is linked directly to the wind speeds experienced at each wind farm in the portfolio. Using wind speed data published by the National Oceanic and Atmospheric Administration (NOAA), estimates for power production can be derived shortly after the quarter concludes, allowing time for investors to adjust positions prior to the official earnings report. For more information on the methodology, limitations, and accuracy of this model, please take a look at this article.
What Happened This Quarter?
We will start off with a month-by-month look at wind speeds: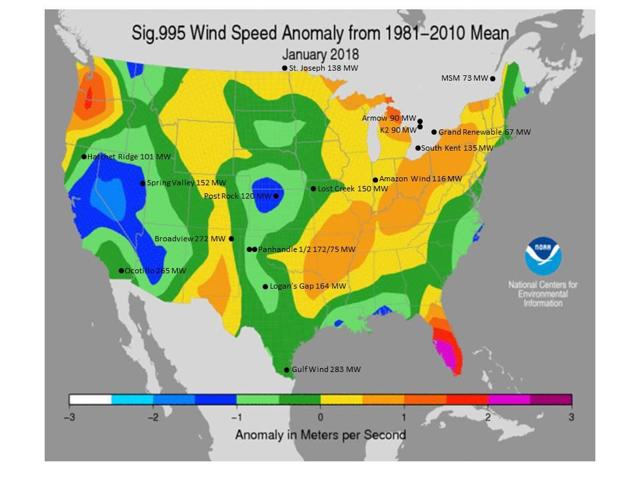 Source: NOAA
January was a bit of a mixed bag. A bright spot was the Canadian portfolio – specifically Armow, K2, Grand Renewable and South Kent, all of which were in a region experiencing above average wind speeds. On the other hand, Post Rock and Spring Valley were in pockets of below average wind. The rest of the portfolio was fairly close to long-term averages.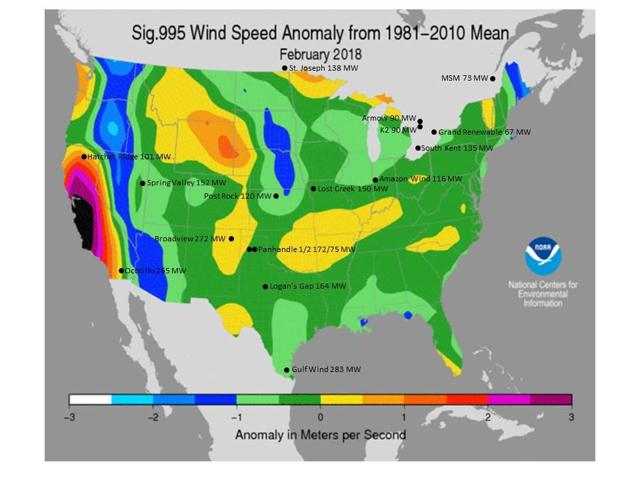 Source: NOAA
February was fairly unremarkable, with most of the portfolio performing just slightly under long term averages. The few outliers were Gulf Wind and Post Rock below average and Hatchet Ridge above average.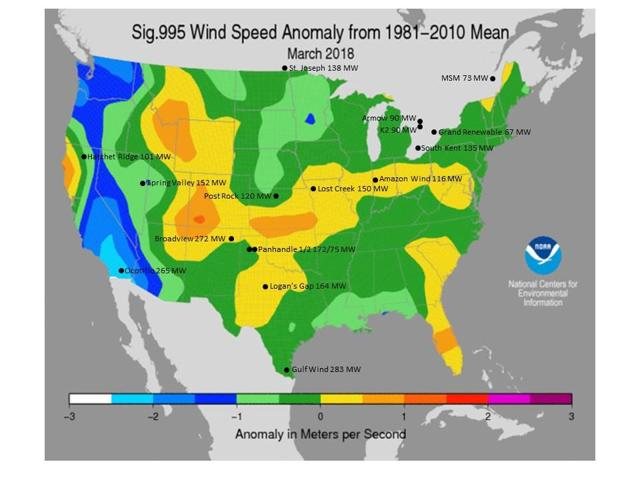 Source: NOAA
March was uneventful for most of the portfolio. However, the Ocotillo wind farm experienced devastatingly low wind speeds, approximately 30% below long-term averages. To add insult to injury, Ocotillo is one of the largest wind farms in Pattern Energy's portfolio, representing approximately 10% of power generation capacity.
The table below sums up the quarter: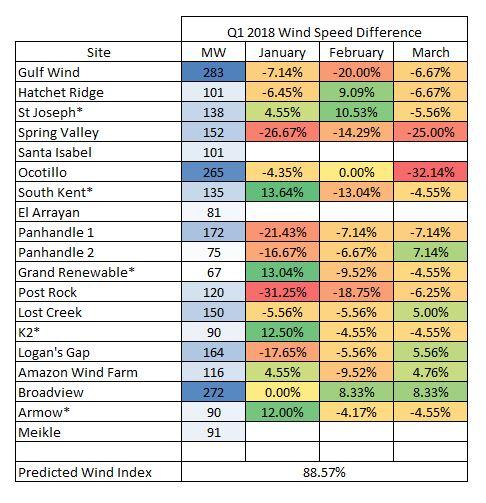 Source: Author, data sourced from NOAA
I would note that the model tends to predict a wind index that is lower than actual, particularly when low winds are experienced. Accordingly, I would adjust expectations for the wind index to actually be in the low 90s. Keep in mind the wind index represents the theoretical power production given the available wind resource. Actual production will be lower due to maintenance and repairs. Historically, Pattern Energy has been able to maintain production a few percentage points below this theoretical maximum.
Another note is that since wind speed data is not available for the Santa Isabel site in Puerto Rico, the model assumes that it is operating at 100% of long-term averages. However, we know that due to Hurricane Maria, the Santa Isabel site was not reconnected to the grid until February, and even then, production was curtailed. Expect this to be an approximately 3% drag on portfolio performance.
Accounting for these adjustments, my expectations for the quarter are a wind index of 93% and actual production of 88% relative to long-term averages. In other words, worse than last quarter but better than Q3 2017. I invite you to examine the data and draw your own conclusions.
Is the Dividend Still Safe?
Given the recent trend of underperformance, it is worth asking if Pattern Energy's dividend is at risk. Keep in mind that with 97.8M shares outstanding and an annualized dividend of $1.688, $165M in CAFD is required to cover the dividend. As of the last earnings report, Pattern Energy's guidance for the year was a range of $151M to $181M (midpoint $166M) in CAFD. This guidance includes the expected additions of Mont Sainte-Marguerite and sites in Japan (Futtsu, Otsuki, Kanagi, and Ohorayama) later this year. Curtailment at the Santa Isabel site in Puerto Rico is also included in the guidance.
Guidance for 2018 is based on an improvement in wind speeds back to long-term averages. Although Pattern Energy tried to be conservative by estimating production at 2% below long-term averages, first-quarter results are likely to come in below this estimate. Accounting for seasonal fluctuations and planned additions to Pattern Energy's portfolio later this year, Q1 represents 25.8% of expected annual power production.

Source: Pattern Energy 8-K (2017 Q4)
If first-quarter results underperform as I detailed above, I expect guidance to be cut by 1-2%, representing $2M-$4M in CAFD. This may push the dividend coverage ratio below 100%. However, if wind speeds recover later in the year, the dividend may still be sustainable. Q2 results will be crucial, as they represent 27.5% of expected annual production.
In summary, dividend coverage is questionable, but okay for now, pending improved results later in the year.
In Other News…
Aliens Land at Panhandle Wind Farm, Leaving Giant Crop Circles: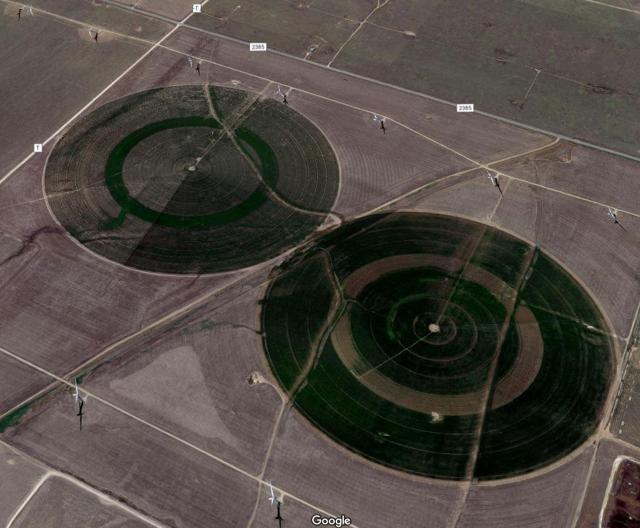 Source: Google Maps
Just kidding. (Happy Belated April Fool's Day?) The image above is an actual satellite view of the Panhandle wind project. The fields are planted in circles in order to utilize central pivot irrigation. Take a look around on Google Maps – there are some pretty stunning views. Panhandle is located approximately 25 miles east-northeast of Amarillo, TX.
In Other Other (Not Fake) News:
Pattern Energy announced the completion of construction at the Oharayama wind project on March 22, showing progress towards incorporating it into its portfolio. Pattern Energy was expected to close on its acquisition of Oharayama, along with the other Japanese projects at Futtsu, Kanagi, and Otsuki in March.
Pattern Energy is expected to report first-quarter results in the second week of May.
Disclosure: I am/we are long PEGI. I wrote this article myself, and it expresses my own opinions. I am not receiving compensation for it (other than from Seeking Alpha). I have no business relationship with any company whose stock is mentioned in this article.