Summary
I present my new system for evaluating stocks for long term growth and dividend income.
Data and analysis is updated daily and provides a fresh view that is never outdated.
A current list of stock picks is presented which reflects the system output as of Monday, April 16.
The system is a work in progress and will be tweaked and upgraded as time goes on.
It's been awhile since I've written an article. About a year, in fact. Over that year, though, I've been very busy with the sale of my house. I decided that my house had reached its ideal value and there was really nowhere for the price to go but down since the neighborhood was starting to decline.
I also spent a good portion of my spare time last year developing my stock database and improving the methods of automatically extracting daily news and data for the system and storing the data in additional data tables. Naturally, I realized that the next logical step was to create reports that could churn through all the data and attempt to rank the stocks based on some algorithms that I created.
In this article, I would like to discuss the general form of my algorithms and present to you the resulting top stock picks. The system is a work in progress and I would appreciate any feedback you may have. I will also submit additional articles as the system is fine tuned and as results change.
The System
As it currently stands, the database itself includes over 900 stocks, most of which pay dividends. Lately, I have started to add non-dividend paying stocks that interest me. Every day, a program running on my server goes out and collects current news links, stock price, current dividend (if any), ex-dividend date, 52 week high and low, moving averages (50, and 200 day) and the 5 and 30 day % change for each stock. This forms the basis for some rudimentary technical analysis.
After collecting the data, the system performs 7 different calculations and provides a ranking score for each one. The calculations look at the following:
Compares current price vs the 50 day moving average (Ma).
Compares the 50 day Ma to the 200 day Ma.
Evaluates the short term trend of the 5 day change in stock price.
Evaluates the mid term trend of the 30 day change in stock price.
The remaining 3 calculations are only performed for dividend paying stocks.
Evaluates the current yield vs a sweet spot for investors prioritizing current income.
Evaluates the current yield vs a sweet spot for invostors prioritizing long term dividend growth.
Evaluates the current yield and 1 year dividend growth rate.
In each calculation, the system utilizes a sweet spot that receives the highest score. If a value falls outside the sweet spot (high or low), the score is penalized. The method helps to weed out laggards and also tries to prevent recommending stocks that have increased too rapidly and could be subject to a correction.
The scoring system results in a "graded" type score with a maximum of 100 points.
A score above 90 is considered a "A" and should be a stock worth considering for investment.
A score of 80 to 90 is considered a "B" and may be a good investment, but may require more due diligence to consider for investment.
A score of 70 to 80 is considered a "C" and probably shouldn't be considered for investment at this time. If you already own it, you might investigate further and consider selling.
A score below 70 is considered a "D" or "F" and shouldn't be considered at this time. If you haven't sold it already, it may be too late.
Two reports are generated: one for long term growth type investments, and one more suitable for generating current income via dividends. Today I will present the Long Term Growth results.
Current Report: Long-Term Growth
The system scores all 900+ stocks in the system, but here are the current top 10 stock picks.
| | | | | |
| --- | --- | --- | --- | --- |
| Stock Name | Ticker | Price | Yield | Score |
| Federal Agriculture Mortgage | (AGM) | 83.80 | 2.77% | 97.5 |
| Eastman Chemical | (EMN) | 105.44 | 2.12% | 96.9 |
| Adobe Systems | (ADBE) | 226.52 | 0% | 96.8 |
| Gentex | (GNTX) | 24.04 | 1.83% | 96.7 |
| Texas Roadhouse | (TXRH) | 61.16 | 1.64% | 96.1 |
| Flir Systems | (FLIR) | 51.37 | 1.25% | 96.0 |
| VF Corp | (VFC) | 77.22 | 2.38% | 96.0 |
| Flowers Foods | (FLO) | 22.26 | 3.05% | 95.3 |
| Lear | (LEA) | 193.70 | 1.45% | 95.3 |
| Raytheon | (RTN) | 222.01 | 1.56% | 94.9 |
Note: these picks result from a rudimentary computer analysis of various static data points. The system cannot be made aware of any current corporate news or financial results, and therefore anyone attempting to use this data as the basis for an investment needs to do further due diligence before making an investment decision.
Federal Agriculture Mortgage (AGM):
You can see below why the system likes AGM. The stock price consistenty stays above the 50 day Ma, and the 50 day Ma stays consistently above the 200 day Ma. The chart looks pretty ideal. Since the price periodically dips slightly below the 50 day Ma, I would potentially consider buying if the price dropped down just below the 50 day Ma.
AGM provides various types of loans and financing to farms and ranches, rural utilities, and institutions.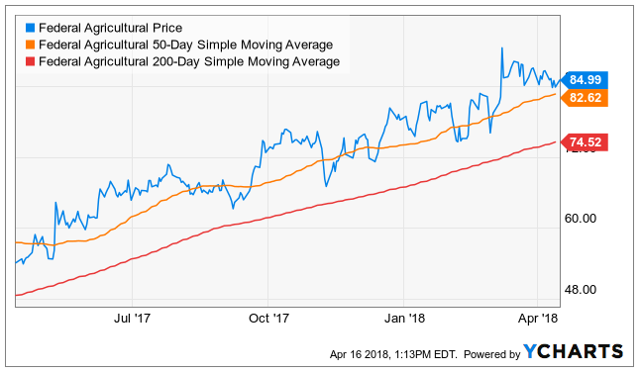 Eastman Chemical (EMN):
Once again, we have a stock chart that looks very solid and consistent. The 50 day Ma line looks like a good price to enter an investment.
As its name implies, Eastman Chemical makes a wide variety of chemicals, additives, solvents, and fibers.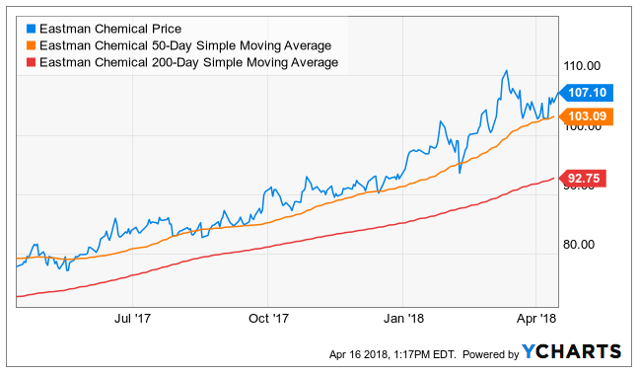 Adobe Systems (ADBE):
This is perhaps one of the best looking charts in the group. It has very consistent growth above the 50 day Ma, however, it periodically gives investors an entry point by pulling back to the line. I may be a buyer if it approaches the 50 day Ma soon.
Adobe Systems develops software for creating and editing digital media.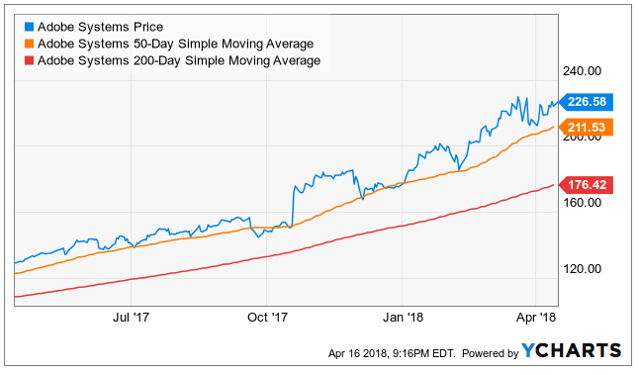 Gentex (GNTX):
This one looks like a turnaround play in the chart below. The system likes it since the data for the last 6 months or so looks very good.
Gentex makes dimmable and adjustable mirrors and electronics for the automotive industry, dimmable windows for aircraft, smoke alarms, and various other electronics.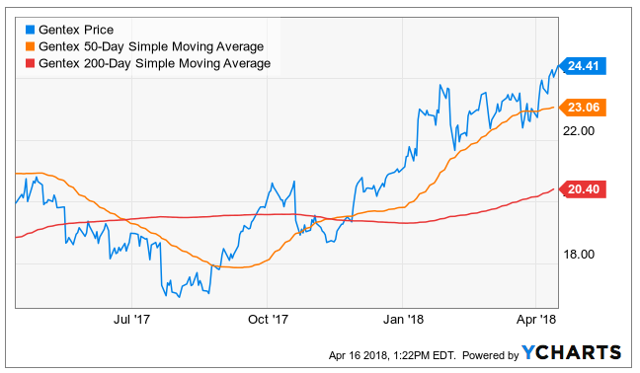 Texas Roadhouse (TXRH):
This chart looks strong, but it does have some periodic flucuation in the relationship between the 50 day and 200 day Ma. It may be getting ahead of itself and looks like it would be a better buy if the price pulled back to around the $57 area.
Texas Roadhouse operates a large chain of casual dining restaurants.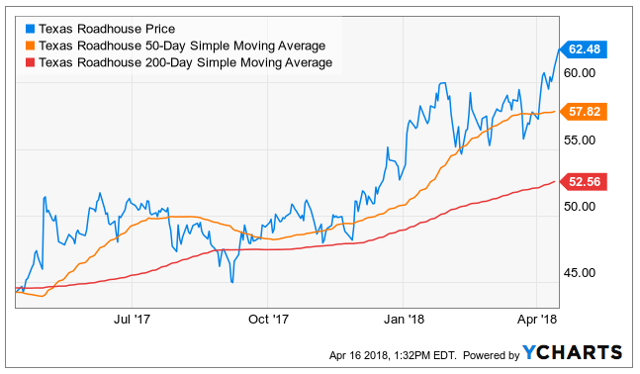 Flir Systems (FLIR):
Another chart showing a strong and healthy relationship between price - 50 day Ma - 200 say Ma. It seems to be a common theme among these charts, that a reasonable buy price looks to be around the 50 day Ma line.
Flir specializes in developing various types of thermal imaging systems.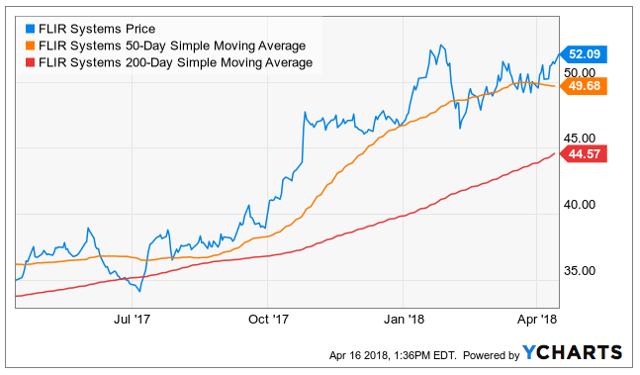 VF Corp (VFC):
Are a lot of these charts looking similar? They should. In this case, VFC experienced a pullback below the 50 day Ma (along with the rest of the market recently). It has broken back above and looks like a good buy now.
VF Corp produces, markets, and distributes apparel, footware, and related products.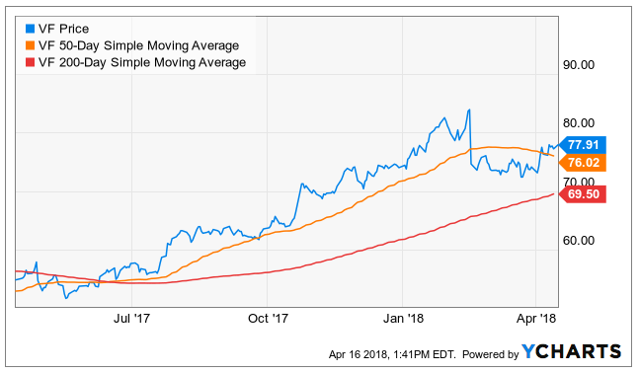 Flowers Foods (FLO):
This is another turnaround type chart that has been doing very well over the last year. It looks like it could be getting a bit ahead of itself, so investors would probably do better waiting for it to pull back near the 50 day before taking off again.
Flowers Foods produces and distributes bakery products.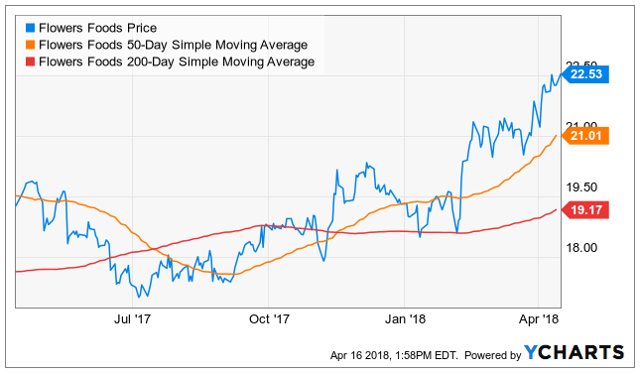 Lear (LEA):
Another great chart. There have been several pullbacks at or below the 50 day Ma in the last few months, so investors could probably set a target at those levels.
Lear primarily engages in the manufacture of automobile seating and electrical distribution systems.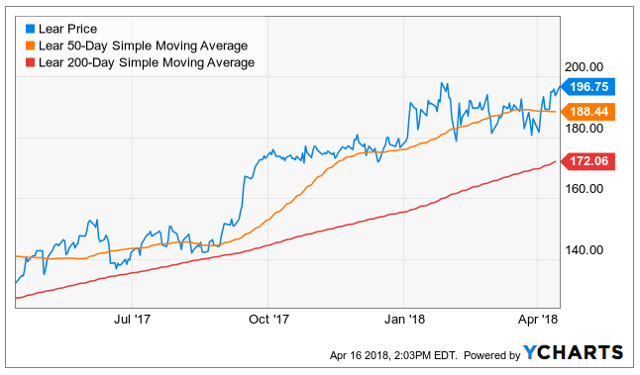 Raytheon (RTN):
This is one of the best, most consistent charts I've come across. If you don't mind investing in the defense industry, Raytheon is solid and consistent, and could probably be bought at the 50 day Ma line. Recent developments in Syria and world-wide could keep this stock elevated though.
Raytheon develops missiles and related defense intelligence systems.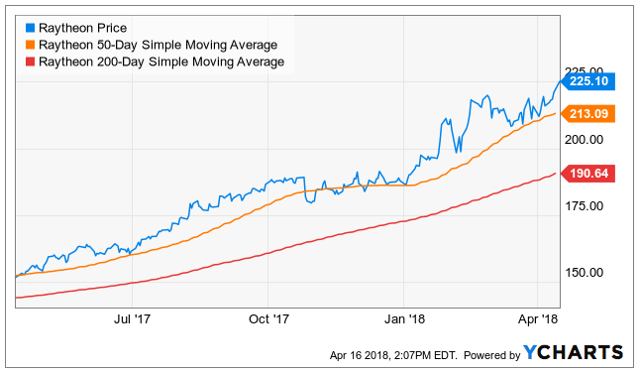 Conclusion
So thats it. Ten stock picks that were culled from a list of over 900 stocks, by a computer system using a set of algorithms. All of the stocks have charts that look pretty strong and would likely make good investments going forward.
As mentioned earlier, due diligence should be applied, especially when considering stocks that were picked by a computer with limited data.
Let me know what you think about these picks. In the comments, you can also ask me about a stock you own (please only 1 or 2 tickers per person) and I'll tell you what the current score is for that stock (if it is in my database).
Soon, as I improve the system and potentially add the ability to also consider quarterly financial results, I am going to make the whole system available for people to run their own reports. This system will be provided for free.
Also, next week I will submit another article detailing the top 10 results from the second report, which focuses on dividend income producing stocks for retirees. Follow me to be sure to get that article and others in the future.
As always, you can view my entire portfolio here at Dividend Studio.
Disclosure: I am/we are long VFC. I wrote this article myself, and it expresses my own opinions. I am not receiving compensation for it (other than from Seeking Alpha). I have no business relationship with any company whose stock is mentioned in this article.
Additional disclosure: I may initiate a long position in one or more of the other stocks listed over the next 72 hours.