Alibaba (BABA) will soon face another big competitor in the e-commerce segment. Recent reports from Bloomberg show that a new Chinese e-commerce startup, Pinduoduo (NASDAQ:PDD), has raised close to $3 billion at a valuation of $15 billion. Crunchbase shows that PDD's last investment round brought in $110 million in mid-2016 at one-tenth the current valuation. The growth of this startup is quite amazing considering the fact that most of the analysts already believe that the e-commerce segment in China is a race between Alibaba and Tencent (OTCPK:TCEHY)/JD.com (JD).
A new shopping experience
PDD has tried to provide its customers with a new shopping experience. While most of the customers on Alibaba's Taobao and Tmall platform end up shopping by themselves, PDD provides an option for a more collective buying option. Customers on PDD can use Tencent's WeChat platform to invite friends to buy a particular product and gain a substantial discount on the price. This social aspect of the buying process has helped the company's user base explode in a very short time.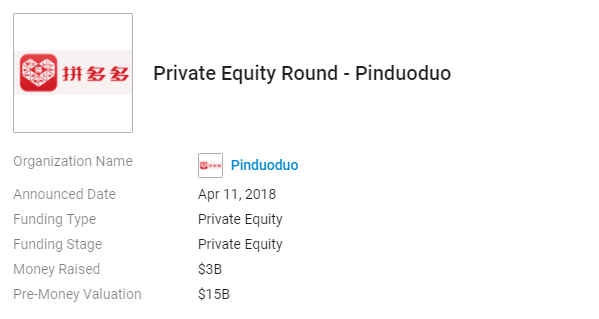 Source: Crunchbase
In the year ending December 2017, PDD had 156.5 million monthly active users (MAUs). This is an eight-fold increase from a year ago, according to data from QuestMobile. On the other hand, JD had 225.7 million MAUs by end of 2017 and Alibaba had 515 million annual active users. PDD was founded by ex-Google engineer Colin Huang who has been working in the e-commerce sector since 2006.
PDD has found a very strong following in lower-tier cities and towns of China. People in these areas generally have a lower average income compared to urban centers like Beijing and Shanghai. They are also aggressively looking for greater value and have a lower preference for a brand or faster shipping. Customers in these regions end up bringing their friends to bulk purchase a particular product and receive high discounts.
Although the entire process might be longer than on Alibaba's Taobao platform, it makes the shopping a more social experience and also helps in cutting out the middlemen from the entire buying process. PDD has a direct agreement with factories that produce the requisite goods and hence gets better discounts on bulk purchases.
PDD does have its own set of problems. According to a Bloomberg report, it has the highest share of customer complaints among all e-commerce platforms, even though it is a much smaller size compared to Alibaba and JD. Cao Lei, director of Hangzhou-based China E-Commerce Research Center, says, "They grew too fast and their management and service mechanism lagged behind."
The higher customer complaints are because of rapid growth and the basic business model which emphasizes bulk purchases instead of individual purchases. However, as the company grows the scale of its operations, the level of complaints should reduce. The same Bloomberg report mentions that PDD is investing heavily to remove fake sellers and is getting stricter with merchants.
Alibaba needs to worry about the synergy between PDD and Tencent
Tencent is Alibaba's main competitor. Both the companies are now competing in almost every segment they operate, either directly or through subsidiaries. These include retail, payments, entertainment, international expansion and others. Tencent also has a stake of 21.25% in Alibaba's main e-commerce rival, JD. Although the matter is private, Tencent would be getting a big stake in PDD after the recent funding round.
If the majority investment in this round came from Tencent, the $3 billion investment for a pre-money $15 billion valuation would equate to 15% to 20% stake for Tencent. Considering PDD's growth and socially focused retail experience, it is highly likely that Tencent will continue to be the biggest backer of this startup. PDD is closely dependent on Tencent's WeChat which gives the two companies a lot of synergies to try new retail models. At the current valuation, PDD has already overtaken Vipshop (VIPS) as the third most valuable e-commerce platform in China. If the current growth momentum continues, we could soon see PDD overtaking the second place JD which has a market cap of close to $50 billion.
After the recent funding round and with Tencent as the main backer, PDD should not face any resource crunch for the near future. Alibaba has already saturated the main urban centers in China and is dependent on lower-tier cities to bring in new customer additions and revenue growth. Competing with PDD's business model will require not only greater investments but also more innovative retail options from Alibaba.
Looking at the bright side
PDD's growth also has a positive aspect for Alibaba. If a new startup with limited resources is able to bring new customers to the e-commerce bandwagon, it shows that there is still significant unmet demand within China. This means that saturation of the e-commerce segment in China is still a few years away. Core commerce makes close to 88% of Alibaba's revenues and an even higher EBITDA share. The ability of the company to deliver good growth in this segment is very important for the future direction of its stock.
The ball is now in Alibaba's court. We should see some major moves from Alibaba to counter the huge investment by Tencent in PDD.
Investor Takeaway
Alibaba is now facing a new challenger on its home turf. Pinduoduo, which was started only two years back, has received an investment of $3 billion at a valuation of $15 billion in the latest funding round led by Tencent. PDD has over 150 million MAUs which gives the company a decent scale to bring new retail options for customers. A close cooperation between Tencent and PDD also threatens Alibaba's ability to bring new customers to its platform.
Alibaba has already been investing heavily in its 'New Retail' initiative which provides seamless shopping option in both online and offline segments. It is also investing heavily to diversify the revenue base. The growth story for Alibaba is still very much intact. However, investors should pay close attention to the changing retail dynamics within China.
Disclosure: I/we have no positions in any stocks mentioned, and no plans to initiate any positions within the next 72 hours. I wrote this article myself, and it expresses my own opinions. I am not receiving compensation for it (other than from Seeking Alpha). I have no business relationship with any company whose stock is mentioned in this article.