Roughly 2 years ago, I took a stab at valuing Tesla using not hope, dreams, or qualitative arguments; but instead a look at the numbers (which is what most investing should come back to anyways).
In light of the passage of time as well as recent troubles at Tesla, I thought I would take another stab at a valuation. My model uses assumptions I believe are "blue sky". What I am trying to do here is to establish a high valuation estimate in order to see what my upside would be.
All facts and figures, unless hyperlinked, are sourced from my own estimates or from S&P Capital IQ, which sources its material directly from company financial statements.
A Note
First, I would like to say that a constant problem with the Tesla debate is the lack of focus on numbers that each side often uses. Tesla bulls often give arguments revolving around Musk's ability, some loose estimate of TAM, or hope that Tesla will become a streaming or ride-sharing company.
Tesla bears often resort to numbers, but the majority of the analysis I see revolves around whether Tesla misses production or free cash flow for the quarter, and whether they're going to need to raise equity in the next few months.
Few people, it seems, take a long look at what the economics of Tesla might be in 10 years, and that is my hope. My hope is to perhaps focus the debate on issues such as the business model, financials, or other aspects around investing (i.e. what is the present value of Tesla's future free cash flow (FCF); what are their sustainable competitive advantages; what are the actual economics of car manufacturing rather than speculation.
In this exercise, I do take a few shortcuts, and I fully expect people to quibble with them. First, I use a sum of the parts method to value Tesla given its disparate business lines.
Second, I value the battery business and SolarCity using trading comparables. One can certainly argue the demerits of relative valuation (the whole sector might be over/undervalued), and one can certainly try to argue that SolarCity is advantaged versus its peers. Because these are relatively small parts of Tesla's business at present, I'm choosing the easy way out.
Third, I value Tesla in 2 ways: using a DCF and using relative valuation. Again, there are the same issues with relative valuation. In this case, one argument frequently raised is that Tesla is electric, and legacy automakers are not. I believe that the legacy automakers, particularly BMW and Mercedes and Volkswagen, have demonstrated an intense focus on EV's through the announcement of multiple EV models, and I fully expect that they and many others will be able to transition from ICE to electric.
For that reason, I believe using them in relative valuation is useful. The market is not pricing any of these entities for bankruptcy due to technological obsolescence. Perhaps it should be, but I suspect they will survive (though auto dealers and certainly independent auto repair shops are likely to go the way of the newspaper).
With that, on to valuation.
Key Assumptions
Model S

I assume that Tesla sees Model S growth of 8% going forward, declining to 4% and then a perpetuity growth rate of 3%. For 2018, I do assume slower growth due to announced production shortfalls, but after that, growth rebounds to 8%.
ASPs grow at 3%, which is above inflation.
The Model S's margins I assume at 28%. Tesla's consolidated automotive gross margins have run anywhere between 18-22% the last few years, and I assume here that production efficiencies drive that up significantly. At a 28% gross margin, the Model S would be among the highest gross margin cars in the world.
Model X

For the Model X, I assume similar 8% growth, again declining to 3% in perpetuity by 2030.
I assume ASP growth rates at 3%.
I also assume a higher gross margin than the Model S. The Model X's higher ASP along with the higher margins on SUVs generally underlies this assumption. Again, at a 32% gross margin, the Model X would be amongst the highest gross margin autos out there.
Model 3

For the Model 3, I assume that Tesla is able to produce for the rest of 2018 at an average of 3,000 units per week. After that, assume sales ramp quickly to reach half a million units per year by 2024. For comparison, the BMW 5 series, with a similar ASP to the Model 3, sold at an annualized pace of 300,000 units in Q1 2018. I fully recognize that the Model 3 is more comparable to a 3 series in most areas (except price), but I think those extra 200,000 units over the 5 series makes up for that.
I assume ASPs grow at 3% per year.
I assume that the Model 3 is able to earn a 22% gross margin, below that of the Model S and X but still far above the average gross margin earned by other luxury car automakers.
Model Y

Yes, I do assume that Tesla creates and sells the Model Y, starting in 2021. I assume that they quickly ramp production to over 200,000 units in 2024. For comparison, BMW's X1 sold ~200,000 units last year.
I assume that ASPs grow at 3% and that the car averages $50,000 USD ASP. I fully expect the car's base price to be lower, but as we have seen with the Model 3, a fully optioned (or even a lightly optioned) version will run far more.
I assume that gross margins are 24%, somewhere between the Model 3 and Model S.
Tesla Semi Truck

I assume that Tesla starts producing the semi in 2019, and ramps production to their target of 100,000 units per year in 4 years.
I assume average ASPs start at $175,000, at the high end of the figures mentioned in the above source. These grow at 3% per year.
I assume also that gross margins are 17.5%. This is above Paccar's (NASDAQ:PCAR) gross margins which average 14-16%.
Automotive Summary
The above assumptions lead me to the following financials:

As can be seen, sales grow rapidly, and due to the high volume of lower margin Model 3, Model Y, and Semi Truck, gross margins fall in the model. Note that at 22%, they remain in line with Tesla's historic gross margins and significantly above competitors' gross margins.
By 2026, Tesla is producing over 1 million units per year, and by 2030, they are producing 1.3 million units (both figures excluding the semi). This would rank them among the largest automotive manufacturers in the world.
Financial Model

Above is my financial model, and I will now break out its assumptions in more detail.
SG&A
Over the course of the model, I move Tesla's SG&A down to 6.5% of sales, well below the operating level of large auto companies (note that I use a 5-year average for all comparison operating statistics).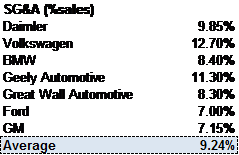 Marketing
Tesla has historically been very effective at spending very little on marketing. It does spend some, as broken out in its 10-Ks, but historically, this has run as low as 0.6% of sales. I assume that Tesla continues to spend on marketing, but that it spends only 0.2% of sales on it.
R&D
Not all automakers report R&D separately, but those that do (namely Daimler (OTCPK:DMLRY)) average 3.5-4% of sales in R&D. I, therefore, have Tesla's R&D spending converge to 3.5% of sales by the time it is a more mature company.
I fully expect that Tesla will need to spend heavily on R&D over the next ~5 years as it develops more models, refines production techniques, and develops new technology to fend of competitors.
Taxes
I assume Tesla is taxed at the US statutory rate of 21%.
D&A
I model D&A as roughly equal to capital expenditures, save in the near term as Tesla expands production capacity. For most automakers, capex runs at 5-7% of sales, while D&A runs lower than that. This makes intuitive sense as in order to expand production, you have to invest in new capacity faster than old PP&E wears out. Thus, assuming that D&A equals capex while a company is growing is highly aggressive.
Capex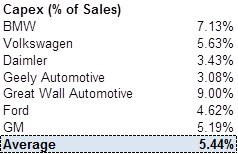 I assume that capex converges on the lower end of peers at 4%. For the next 5 years, I use street consensus estimates sourced from S&P Capital IQ.
Note that I also assume that Freemont can produce 1 million units and that above that Telsa's capex budget in the model is able to build production capacity that is sufficient.
Changes in Net Working Capital
Normalizing this for automakers is notoriously difficult as each automaker has seen huge swings in net working capital in the past. Tesla's net working capital is also difficult to parse as there are SolarCity related puts and takes within this figure.
Looking through competitors as well as at Tesla's own historical changes in NWC trying to isolate SolarCity, one can easily see normalized expansion in working capital of 2-5% of sales needed. Post expansion over the next few years, I assume a 1% of sales change in NWC needed in order to present an aggressive assumption.
Cost of Capital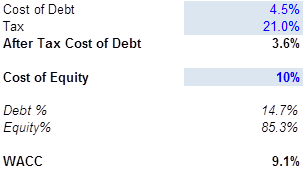 The WACC used in a DCF is notoriously subjective, but I tried to lowball estimates. Tesla's debt trades at much higher YTMs than 4.5%, and Tesla's required cost of equity is likely higher than 10% given its risk profile.
Valuation
Automotive Business - Comparables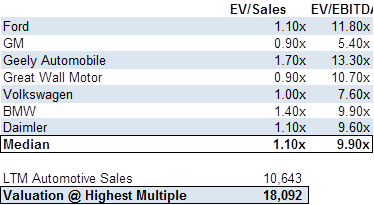 Note that the above valuation uses Geely's (OTCPK:GELYY) multiple. Geely grew at 73% last year and likely suffers from some discount because it is Chinese. Geely also earns lower gross margins than Tesla but is lower risk due to better financials. All in all, I suspect that Tesla would deserve a slightly higher multiple to Geely, so perhaps 2x EV/sales is more appropriate. For consistency, I will settle on using Geely's multiple for Tesla.
Battery Business

There are no great comparables for Tesla's battery business, but the above two are at least somewhat appropriate. Because Tesla's battery business is fairly small, errors here are fairly immaterial.
For LTM battery sales (because Tesla does not explicitly break them out), I note that on page 49 of Tesla's 2017 10-K, they note that most of the increase of sales in Energy & Storage is "predominantly due to the inclusion of the full-year of revenue from our solar business, which we gained by acquiring SolarCity on November 21, 2016". I, thus, assume that SolarCity's revenue is $934.9 million (which is how much the segment grew by) and the battery business is the remaining sales of the segment.
SolarCity

You will note that the decision to include all of Energy & Storage's growth in the SolarCity segment is actually beneficial to Tesla's valuation as SolarCity comparables come with a much higher EV/sales multiple.
Valuation Summary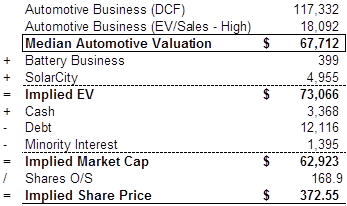 Using the assumptions discussed above and then a SOTP approach, I arrive at the following "blue-sky" valuation for Tesla. This implies ~24% upside from where the company trades today.
I would note there is an obvious discrepancy between the DCF value of the automotive business and that value implied by an EV/sales approach. I'm attempting to split the difference here, and the resulting valuation is ~6x LTM sales, which is 5.5x the median valuation of comparable automakers. I think that is a large enough difference to say that the valuation accounts for Tesla's "special sauce", whatever that might be.
Model Sensitivities
Sales Growth
What happens if we assume that:
Model S and X grow at 4%;
Model 3 reaches 500,000 units in 2027 instead of 2024;
Model Y reaches 200,000 units in 2030 instead of 2024;
Tesla Semi reaches 100,000 units 1 year late.
All other variables remain unchanged (i.e. I'm sensitizing for sales growth).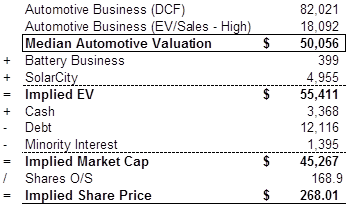 As you can see, a small miss in sales (end of model deliveries are 936,749 vs. 1.3 million before) results in a large change in valuation of the automotive business.
I would also note that at these levels of assumptions, Tesla would still do $121 billion in sales in 2030, which is a little less than half of what the largest Automaker in the world (Toyota (NYSE:TM)) does today.
Margins
What happens if we assume that:
Sales growth remains the same as the original model (ending deliveries of 1.3 million), but:
Model S gross margins are 25% (vs. 28%)
Model X gross margins are 30% (vs.32%)
Model 3 gross margins are 20% (vs. 22%)
Model Y gross margins are 22% (vs. 24%)
Semi Truck gross margins are 16% (vs. 17.5%)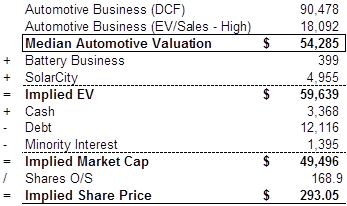 As can be seen, relatively small changes in gross margins have a large effect on valuation. Thus, a key argument to any bull supporting a blue-sky scenario is that Tesla must be able to earn superior margins in the long term to existing automotive manufacturers. They must be able to do this at lower scale as well, which decreases the probability that this will happen.
The result of the above gross margin assumptions is that consolidated gross margin falls to ~21%, which is significantly above the competitor average across cars as well as semis. If we assume that consolidated margin averages ~19.5% (which is still in the top 5% for automotive manufacturers and well above those of truck makers), then we can arrive at the following valuation.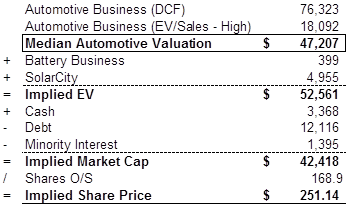 Capital Intensity
As I outlined in my blue-sky scenario, assuming that capex = depreciation is an aggressive assumption. In my blue-sky model, some years see depreciation expense greater than capex, and the result is that Tesla's implied PP&E balance actually declines over the life of the model.
This is obviously a huge flaw: Tesla cannot produce more cars with fewer dollars of invested capital; that's not how car manufacturing (or any manufacturing) works. Not only do you need production line equipment in order to produce more volume and new models but in Tesla's case specifically, they're going to need more robots (more on that later).
If we assume that Tesla builds capacity over the next 5 years spending ~$3.5 billion a year on capex (which is in line with Street consensus), then capex remains 1% higher as a percentage of sales than depreciation, I arrive at the following valuation: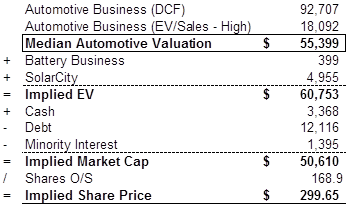 I would note that this change in assumption results in Tesla's net PP&E balance rising by $8bn by 2030 from $20.4 billion today, implying PP&E of roughly $28.4 billion for production of 1.3 million cars or approximately $21,000 of net PP&E per car.
For reference, most automakers run anywhere between $10,000 per car for GM to $35,000 per car for Daimler on a net basis.
Fast-growth Geely as a comparable is tougher to unravel. The company separates part of its business into an equity accounted JV, which means that earnings from that entity flow through the income statement, and the company reports a portion of the equity on their balance sheet. This will mean that Geely's true capital intensity is hidden by their accounting. I would note that next year they plan to step up capital spending at the parent co. in order to meet increased sales.
The Perfect Storm
What happens when we combine the shifts in assumptions described above, but they happen simultaneously (i.e., we have top 5% margins at ~19.5% on a consolidated basis; sales end the model at ~1mn per year; and capex is 1% greater than D&A)?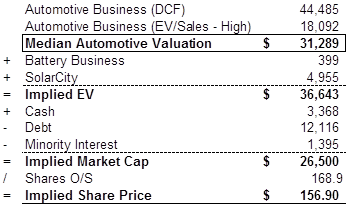 The result is significant downside in the share price, and for a simple reason: cars are a capital-intensive business that earns low margins and low ROICs. Most car makers earn $350-500 in sales per dollar of gross PP&E, and those sales come at sub 10% EBIT margins often, implying low returns on investment.
Tesla's auto business is no different. Whether they earn 10% EBIT margins or 15% EBIT margins, and whether they use robots (which require significant capital by the way) or not does not change the fundamental economics of cars.
One can say that Tesla will produce 2 million units per year, but seldom do I hear talk of what is required to get there: huge amounts of capital. Tesla may be able to raise it but consider for a moment that Tesla might become a $500 billion company by raising huge amounts of equity. You as a shareholder may be significantly diluted (and likely have to be) in order to get to those 2 million units. This is not a great accomplishment! Nearly anyone can build a business if they have access to infinite amounts of capital; what matters instead is what returns they earn on that capital and minimizing shareholder dilution.
Apple succeeded for shareholders because the business does not require capital in amounts that exceed internally generated cash flow. Amazon succeeded for shareholders because they use capital leases and generate significant cash from operations. Google succeeded because the business requires little capital to operate.
In all these cases, shareholders have not had to pony up for growth. The same will NOT be true of Tesla.
But just for fun, let's see what that might look like:
Assuming ~20% consolidated gross margins, Capex equal to D&A +1% (which is still very aggressive), and the same working capital assumptions, I arrive at the following model which gets units produced to 2 million by 2030: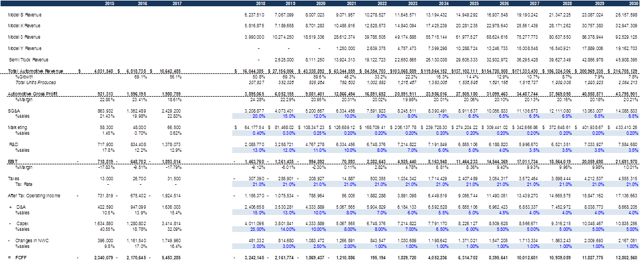 This model produces the following valuation: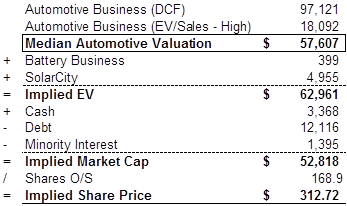 Note that this implies low capital intensity, low working capital requirements, and still uses industry-leading gross margins. Even with these generous assumptions, 2 million units a year only gets you to a $312 valuation with the automotive business valued at ~5.4x EV/sales, nearly 5x the average competitor (which you must agree gives Tesla credit for being special).
I would note that at a $57bn enterprise value, Tesla would rank close to the largest automotive manufacturers in the world. Many automotive companies have captive finance arms that greatly inflate the EV of the company, making a comparison hard. That being said, I believe a $57 billion valuation gives the company more than enough credit for being "unique".
A Note on Self Driving Car Rentals
Uber (UBER) burned through how much money last year?
Aside from that fact, Tesla running self-driving car rentals fails to get away from its core problem and biggest risk: capital intensity. What is Tesla to do, lease vehicles from itself? In order to run a car-sharing business, someone needs to own the cars, and in this scenario, it will likely be Tesla.
Arguably, selling a fleet of depreciating assets to someone else is actually economically preferable for Tesla shareholders as it results in a large cash inflow that Tesla can put to work investing in new capacity. A car-sharing business amortizes that cash flow over multiple years, which at this point is a negative for Tesla.
Finally, I would ask bulls what they think the economics of self-driving car share businesses will be? What would Tesla have to charge to earn, say, a 10% ROIC on that business? The answer here is not "there's $X in TAM available"; TAM is irrelevant if the economics of chasing that TAM suck and require large amounts of capital raised from shareholders.
A Note on Competition
I don't expressly model the effect of increasing competition on Tesla. Many car manufacturers are coming out with EVs to compete with Tesla. Tesla has the advantage here of its Supercharger networks, but other automakers have better support and maintenance networks and could convert their dealership network into a charging network which would undermine some of Tesla's advantages. Further, as EVs become more widespread, I expect that other national charging networks will emerge.
Regarding the market for EVs, this is a substitution market. The overall auto market can be divided into EVs and ICEs, with EVs taking share from ICEs. EVs do not expand the size of the auto market, they merely steal share.
This presents a problem for Tesla because the ICE manufacturers have recognized that they must cannibalize their own ICE sales or die. They have tremendous incentive to succeed at this, and with superior resources to Tesla, it should be expected that they will succeed at winning most of the market share in the future for EVs.
Tesla has not yet seen competition, and so this is another source of unexpected downside for investors. Either competition will have no effect on Tesla's pricing and unit sales growth, or it will, and it will do so negatively.
The Tesla Brand
As I explained in another article, we cannot separately include the value of the Tesla brand in a valuation. A brand's value is only as good as the excess margins, sales, and cash flow it produces, and thus it is an intrinsic part of a DCF valuation.
Negative Optionality
At $300 per share, Tesla's shares are pricing in a bright future. Expectations are high, and investors must ask themselves where risk is going directionally.
This brings us back to the requirement that Tesla raises huge amounts of capital and the risk this brings to the business. Tesla has two choices for capital, debt, and equity. Equity dilutes shareholders, and debt increases the riskiness of the business for equity holders by creating a senior obligation.
Optimistically, Tesla will burn $1.7bn of cash in 2019. What happens if we get a recession in 2019 or 2020? Tesla has roughly a year of cash on the balance sheet, meaning that it will have to raise debt or equity to continue growing.
What happens if you are diluted when shares are at $150 instead of $300?
What happens if Tesla continues to leverage its balance sheet, which increases operating leverage due to higher interest expenses; and then we get a recession?
Guess what, recessions are not an uncertainty: they happen, all the time. I never hear bulls address this weakness in Tesla stock's armor: what happens if we get a basic turn in the cycle and sales fall instead of grow?
My point here is to say that all businesses have accidents and tough times. What matters for investors is surety that the business will make it through those tough times. Tesla, with 1 year of cash on the balance sheet and a cash burn, may make it through a recession, but at what cost to shareholders?
For this reason, I believe there is strong negative optionality inherent in Tesla's valuation for two reasons:
1) under reasonable assumptions, I arrive at a significantly lower valuation for shares than the current trading price, and;
2) the risk of things going better is relatively small versus an easy-to-imagine scenario of a recession in the next 3 years which puts huge strain on the company.
Furthermore, Tesla's other businesses are cyclical as well, and SolarCity requires significant financing and capital markets access in order to run properly. The issues in a recession will not be confined to the automotive business but will further extend to Tesla's other business lines.
Management Issues
Others have written in more depth than I can about Tesla's management shortcomings: executives leaving, Musk's focus on numerous other businesses, promises that haven't been kept (delays, or rather "time shifts" in Model 3 deliveries) etc.
I believe very strongly that this is one of the most promotional management teams I have ever seen, and not only that, it's clear that they possess significant hubris and blindness as to their own shortcomings.
We've heard the CEO of this company say on a conference call that Toyota, the company that pioneered efficiencies in automotive manufacturing, doesn't know how to run a production line.
We've heard this CEO promise that robots are going to make the cars, but then after that didn't quite work, we now hear that maybe there were too many robots.
We've heard this CEO attack people on twitter instead of focusing on doing his job (reminds me of someone else...).
Elon Musk is a marketing genius, and he's far more knowledgeable than me about numerous subjects. That being said, there is a pattern of behavior here that compounds upon Telsa's weakness (the requirement that they raise huge amounts of capital).
Musk is full of self confidence, but he runs his company close to the line. In 2008, Tesla nearly went bankrupt. Tesla now maintains less than a year of cash on the balance sheet while running a significant cash burn in a cyclical business. This is a business that is being run with no margin of safety: if anything goes wrong, where is the buffer room?
There is no buffer room, I believe, because the team at Tesla aim so high and have limited resources, they stretch to achieve the impossible. They believe in themselves, and they believe they can do no wrong. That is a dangerous combination for any business, let alone one that requires capital to the extent that Tesla does.
Capital Allocation
The best businesses for shareholders have generally been those that were run by skilled capital allocators. These were managers who issued shares when they were overvalued, and then bought them back when they were undervalued.
Tesla has tremendous experience issuing overvalued shares, but the risk to a great capital allocation story here lies in the fact the company is run so close to the edge. By leaving the company open to facing difficulties when it's share price is down, Tesla makes it a certainty that it will not have the flexibility to massively increase shareholder value by buying back shares when they are lower. This is not a major part of a bear thesis, but it is still something worth noting.
The Trade
As a short, I believe my downside is ~$372/share, while my upside is to $150 or so, implying 24% upside, 50% downside, or 2:1 risk reward. However, I acknowledge that the religious nature of Tesla shareholders means that one can get steamrolled in the meantime.
For this reason, I would recommend that those wishing to go short Tesla do so with options, and do so in a quantity that allows them to roll the position over and over. Options make timing difficult, so rising say 0.5% of the portfolio would be appropriate.
I would also recommend using a spread, buying, for instance, the March 2019 $250/$115 spread for $32 each. This would have a max payoff of $135, which represents 4.2x risk/reward, which is favorable enough to warrant rolling this position if it expires worthless.
Conclusion: I Would Go Long Tesla...
I would go long Tesla when it all falls apart. I firmly believe that this is a company that follows a playbook I have seen unravel before, SunEdison being the most recent example (the issues were a promotional management team, complex corporate structure, and a need for constant financing). We have here a management team that runs a business without buffer, a business that is capital intensive and low return and thus, needs a buffer for the tough times when they come.
I don't know if Tesla will go bankrupt. I certainly believe that the company will in the near future face a hiccup that will expose the "weak link" of the company and cause a significant share price decline. When that happens, Tesla becomes interesting because shares will undoubtedly overshoot to the downside, and a margin of safety will thus be created.
Recall that in investing the rule is "any asset but at the right price". Tesla trades at the wrong price, and there exist a number of ways to win from the short side, with relatively few on the long side. One day, Tesla may trade at the right price, and when that becomes the case, I'll look to go long.
P.S. Let's Keep This Civil...
Undoubtedly, I'll get the usual hailstorm of comments from the longs and the shorts either agreeing with me or calling me insane. I would ask that comments attempt to be focused on specific reasons that my numbers are wrong. This is an investing site, let's debate the business, the economics, and use evidence, rather than calling each other names; we're better than that.
I've tried here to build a financial model of Tesla. What's your model? Why is Tesla cheap on your 2025 estimates? How do you get there? How much capital will be required? Unless you can answer questions like these, all we're doing here is speculating on Musk and wasting time (and this applies to the longs AND the shorts).
Disclosure: I am/we are short TSLA. I wrote this article myself, and it expresses my own opinions. I am not receiving compensation for it (other than from Seeking Alpha). I have no business relationship with any company whose stock is mentioned in this article.