Treasury bond prices have had a decent technical bounce since bottoming in late February. They've since run up against some resistance, however, as the iShares 20+ Year Treasury Bond ETF (TLT) is threatening to reverse its 6-week rally. While there are a couple of prominent factors supporting continued strong demand for T-bonds, the longer-term trend remains firmly positioned against the bond market and in favor of higher yields in the months ahead as we'll discuss here.
After suffering a sharp decline in January-February, TLT posted a short-term bottom and experienced a mild technical relief rally in March. The rally, which can be attributed to profit taking on short positions, has faltered in April and Treasury bond prices are slipping once again. While TLT hasn't reversed its March rally yet but is hanging on by a thread and is struggling to stay above the 15-day moving average (below). Here we'll discuss the prospects for continued short-term strength in TLT as well as the most likely outcome of the intermediate-term (3-6 month) trend.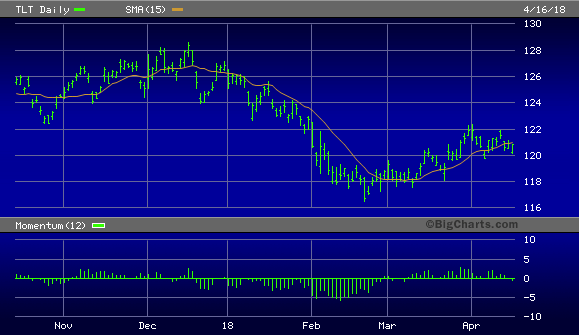 Source: BigCharts
Let's step back for a minute and examine the bond market's big picture. After peaking in July 2016, TLT began a steep decline in the second half of that year as U.S. government bonds came under heavy selling pressure. Treasuries of shorter duration were particularly vulnerable to liquidation as the investors began to exude greater confidence in the economic outlook. This gave them less incentive to hold low-yielding Treasuries, which were extremely popular in the years following the credit crash due to the enormous demand for safety.
Now that investors are less concerned about capital preservation and more interested in capital growth, the willingness to take on financial risk has increased to the point where purchasing Treasuries is no longer an attractive option. Historically, a strengthening economy tends to coincide with rising bond yields and falling bond prices as investors shun the perceived safety of Treasuries for the much greater upside potential of corporate securities. So it should come as no surprise that TLT has been in a bear market for the last two years.
With early indications pointing to a strong outlook on the corporate profit front after the recently passed U.S. tax reform, investors will now have even less incentive to buy Treasuries for the long term. This remains the primary reason why the bear market in bond prices should remain intact this year notwithstanding the latest bounce.
The bond bulls, however, aren't so easily dissuaded from their optimistic outlook on Treasuries. While it is generally acknowledged that the domestic demand for T-bonds is waning, the bulls believe that overseas demand for U.S. sovereign debt is sufficient to elevate bond prices. China has been one of the biggest drivers behind U.S. bond demand in past years but according to economist David Owen of Jefferies, U.S. sovereign debt owned by Europe has "far surpassed that of China." According to Owen, holdings of U.S. debt within the eurozone totaled $2.75 trillion at the end of 2017, well above the $1.37 trillion held by China in the same period.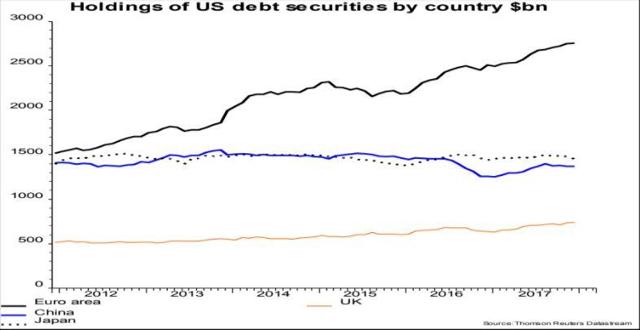 Source: Jefferies
According to Owen, Europe's growing ownership of U.S. Treasuries is a direct consequence of quantitative easing (QE) in the eurozone. As the European Central Bank's (ECB) version of QE has resulted in a drastic drop in bond yields in European countries, European investors have been forced to look abroad for higher-yielding investments deemed to be "safe." From the perspective of a European investor, this makes U.S. Treasuries highly desirable due to their relatively higher yields.
European demand for T-bond won't be enough to reverse the bond bear market, however. As the economy gains momentum, the demand for risk assets will continue to increase, prompting U.S. investors to dump bonds in favor of stocks. The increasing demand for equities - and the need to liquidate Treasuries in order to rebalance portfolios - will continue to exert a downward pressure on T-bond prices in the intermediate term.
One thing that is keeping bond prices from falling in the short term is the fact that the bearish bond trade is overcrowded. This was made clear in a recent Market Watch article by Sunny Oh. Oh reported that hedge funds hold near-record short positions against Treasuries even after the decline of February-March.
Net speculative bearish bets on the 5-year Treasury note, for instance, hit an all-time high. The preponderance of negative sentiment in the Treasury market among hedge fund managers is likely what is keeping bond prices supported right now. It may even serve to fuel a short-term rally if fund managers are forced to quickly unwind their positions.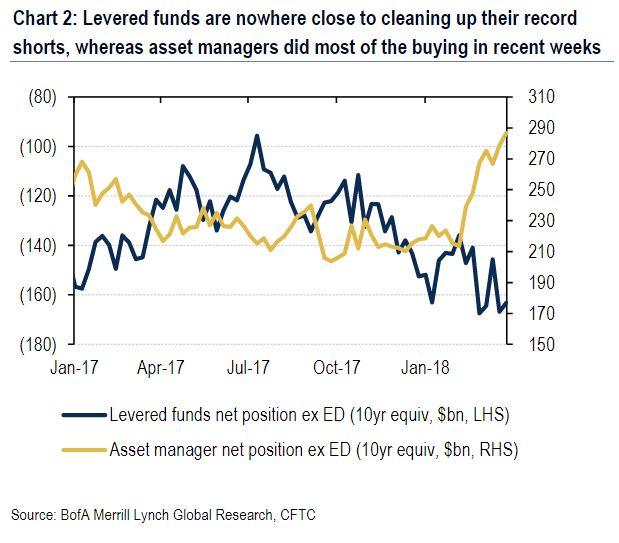 Source: BofA Merrill Lynch Global Research
The short-term buy signal confirmed by TLT last month remains technically intact since the ETF hasn't fallen decisively enough under its 15-day moving average to justify a renewed bearish position on TLT in the near term. Another factor which is somewhat supportive of a continuation of the relief rally in Treasury prices in the immediate term is the temporary bottoming attempt underway in the Vanguard Short-Term Corporate Bond ETF (VCSH).
VCSH is one of my favorite confirming indicators of T-bond strength/weakness since the action in short-term corporate bond prices usually anticipates that of T-bond prices. Until VCSH breaks down under its March low (see graph below), investors should assume that the bear market rally in Treasuries is still underway.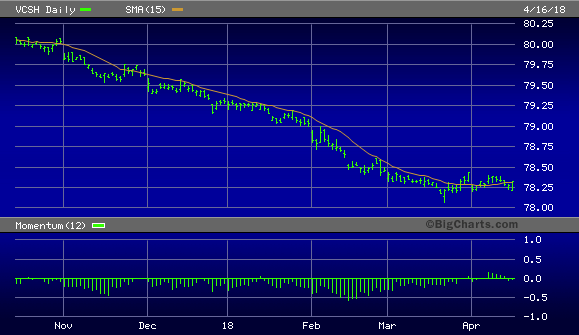 Source: BigCharts
While the odds still favor an immediate-term technical rally in the TLT, the longer-term downward trend in Treasury prices which was established in 2016 should remain intact. Any such rally of Treasury bond prices from here is likely to be temporary, as the bear market in bonds should continue. With the economy expected to continue to improve this year due in large part to corporate tax cuts and fiscal stimulus measures, investors will be inclined to seek attractive returns in areas other than sovereign debt.
Those expecting a revival of the long-term bond bull market will therefore be disappointed. Investors should instead turn their attention to the equity market, which will benefit far more than Treasuries from the prevailing climate of rising confidence and economic expansion.
Disclosure: I/we have no positions in any stocks mentioned, and no plans to initiate any positions within the next 72 hours. I wrote this article myself, and it expresses my own opinions. I am not receiving compensation for it (other than from Seeking Alpha). I have no business relationship with any company whose stock is mentioned in this article.