Match Group (MTCH), a spin-off from InterActiveCorp (IAC), is the top dog in online dating services. Thanks to its leading product, Tinder, it is poised to deliver a market-beating performance for years to come. We wouldn't worry too much about today's valuation and would focus on the potential long-term growth. Buying at current levels and holding for at least three to five years can allow you to benefit from macro tailwinds.
Match Group has done a great job growing bookings organically and opportunistically by buying other online dating apps. As the world grows more inclined to use online dating services, more people will be willing to pay for it. And, Match Group is in a great position to disproportionately benefit from that trend.

Source: Tinder.com
1) An emerging and fast-growing online dating services market
Ibis World refers to dating services as a $3B industry in 2017, which indicates that Match Group has a 43% market share with its portfolio of leading products: Tinder, Match, Plenty of Fish, OK Cupid and more.
Match Group is by far the leader of the dating industry and has always been. It reached $1.3B revenue in 2017.
According to Thrive Global:
Online dating was once a taboo subject that barely anybody talked about. If you met someone online, you were doomed for failure or to be scammed. However, times have changed. It's become one of the best ways to meet singles in your area. And part of that is thanks to Tinder."
The online dating services industry is now moving sharply toward mobile, the same way gaming or social media evolved over the last few years.
Match Group already was the industry leader long before its 2015 IPO, when web-based services were still leading the market. It has successfully transitioned to a mobile-first business, which has not been the case for its competitors like eHarmony, and illustrates how Match Group has been agile and adapted to its market.
Tinder - a mobile dating app owned by Match Group - is now not only the leading product of the dating industry but also the second most grossing non-gaming app of the mobile app stores worldwide.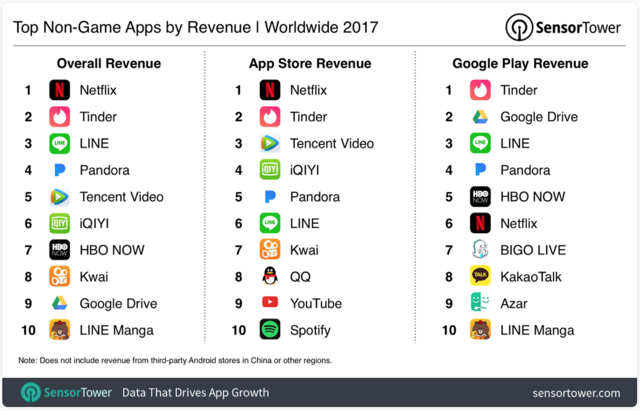 Source: Sensor Tower
Pew research from 2015 showed that at the time, 15% of American adults had used online dating sites or mobile dating apps.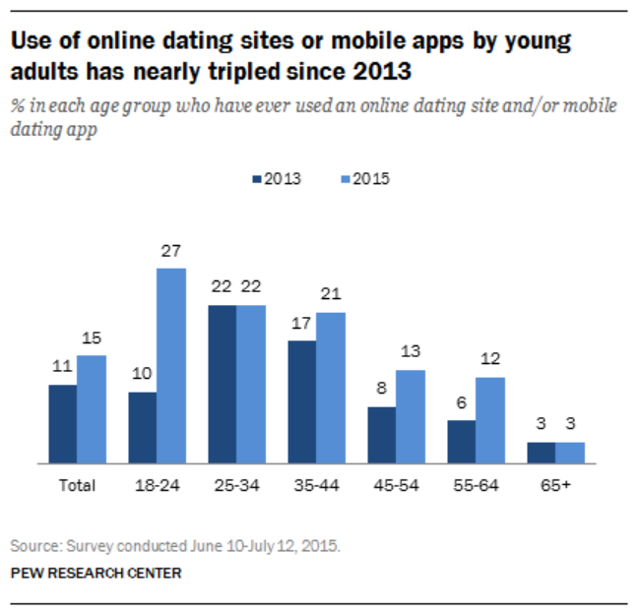 Source: Pew Research Center
A more recent study from Statista in 2017 shows that 26.4% of Americans are now paying customers of a dating service.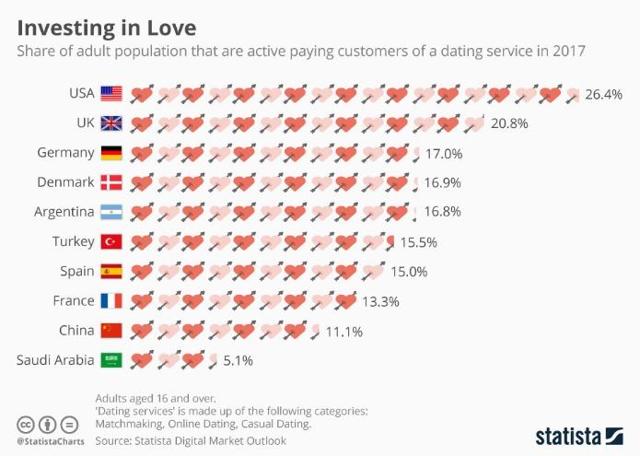 Source: Statista
According to a survey from online wedding planner The Knot, which had interviewed 14,000 couples: In 2017, 19% of newlyweds couples had met online. Online dating is now the most common way Newlyweds meet.
Consumer behavior is evolving at a rapid pace, and online dating has not only become socially acceptable, it is now the preferred and most efficient way to meet one's significant other.
2) Limited competition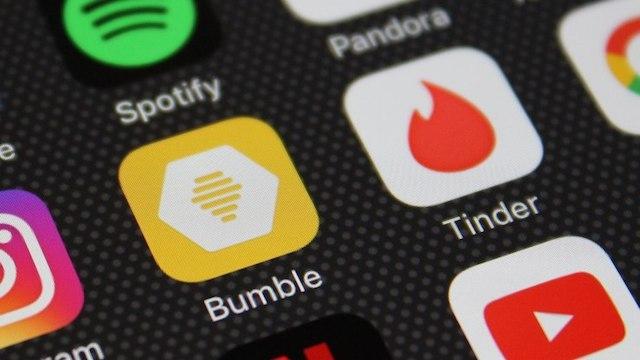 Source: Techcrunch
With Tinder representing 30% of Match Group's revenue in 2017, Tinder alone is about 13% of the industry and growing.
It is hard to find recent studies addressing properly the transition from "online" toward "mobile" dating services and the state of the market in 2018. Back in 2015, mobile dating was 26.2% of the US dating services revenue, according to IBIS World, and it's easy to see how that trend has accelerated in the last few years with Tinder ripping the app stores' grossing charts.

Source: The Wall Street Journal June 2015
Tinder just made $0.4B revenue in 2017 and its closest competitors also are Match Group properties such as Match.com or Plenty of Fish. Looking forward, it appears that only one product outside of Match Group is seeing meaningful growth and can co-exist with Tinder in the mobile dating era: Bumble.
Bumble was created by former Match Group employee Whitney Wolfe, who built a Tinder-like platform with a spin: Only women can initiate a conversation after a match. Forbes was expecting Bumble to pass $100M in revenue in 2017, making it about one-fourth of Tinder's revenue.
While Bumble is offering a great approach to e-dating and is achieving strong monetization, it is still a niche product with only 3% of the market in 2017 and is barely used in non-English speaking countries if you track app stores ranks worldwide. The current publicized litigation between Match Group and Bumble (covered below) should not overshadow the fact that Bumble - albeit fast growing - is only a small competitor.
3) No Pepsi to Tinder's Coke: Tinder is a worldwide brand with no close number two internationally
There's a tipping point where the sheer size of an existing customer base and word of mouth can outpace and overgrow any competitor. With Tinder's lead expanding over time, it will become increasingly difficult for any competitor to reach the critical mass needed to offer a world-class experience and serve an international community.
Again, if compared to its closest competitor - as TechCrunch's Sarah Perez pointed out recently:
According to App Annie, Tinder is more than 10x bigger in terms of monthly users and 7x bigger in terms of downloads in the last 12 months, versus Bumble."
The dominance and growth of Tinder in the dating industry could be compared to the rise of LinkedIn (now owned by Microsoft (MSFT)) in the professional network industry, Facebook (FB) in the social network industry or even YouTube in video sharing. All are products or companies that have proven to be market beaters and big winners from an investment perspective, year after year.
4) A strong leadership that could make it a rule-maker for years to come
A strong culture and leadership
Match Group has strong reviews on Glassdoor. Its CEO, Mandy Ginsberg, benefits from a real vote of confidence from its employees (98% approval rating).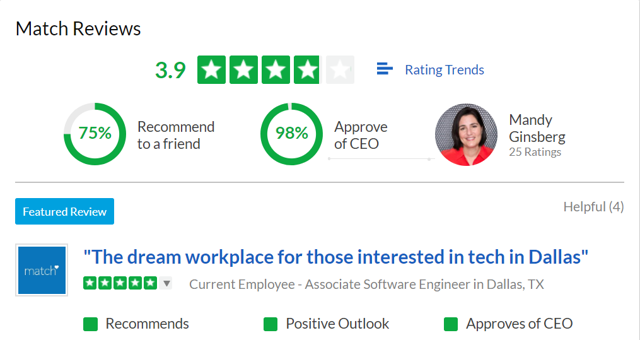 Source: Glassdoor
While Mandy Ginsberg was only recently appointed, she's already shown that she's willing to be a rule-maker for the industry.
An industry leader enforcing its patent
Let's provide some context: Back in 2013, Tinder had patented swiping and double opt-in matches:
On the product front, Tinder has been on the cutting edge of innovation since its inception in 2012, inventing the swipe gesture, which has since become this cultural phenomenon of 'swipe right' and 'swipe left' and that is often imitated on mobile products. Tinder also invented the 'double blind opt-in' whereby two users need to 'like' each other before they can message. In fact, these features are so innovative that Tinder was granted a patent in the dating category by the US Patent & Trademark office which we think is valuable."

Source: Axios
The patent application was dated October 21, 2013 - which was seven months before Bumble founder Whitney Wolfe left Tinder to launch her rival company, according to Techcrunch.
Mandy Ginsberg is now trying to protect the patent granted to Tinder by suing both Bumble (closest competitor to Tinder in the US in mobile dating) and Tantan (Chinese company just acquired by Momo Inc. (MOMO) for $600M, often described as the "Chinese Tinder" in the media).
Match Group is rumored to have had discussions with Bumble for a potential acquisition in 2017. Those discussions apparently failed when Bumble declined an offer estimated at $450M.
For those who want to read more about the allegation and the current legal clash between Tinder and Bumble, The New York Times has a fantastic summary ready for you to digest.
The most important takeaway here is that the outcome of the legal battle between Match Group and Bumble won't change the long-term investment thesis around Tinder. Match Group doesn't need Bumble in its portfolio of apps to be successful in its industry. And, let's remember that Bumble has a lot to lose in a legal battle over patent infringement.
Maintaining an edge over competition
On the other hand, Match Group can potentially introduce features from competitors with an edge in terms of know-how and agility, all while fighting back to protect its own brand and technology.
A great analogy would be to compare the features of Tinder vs. Bumble to Instagram vs. Snap. Facebook was not able to acquire Snapchat (SNAP) back in 2013 and probably ended up better off for it.
Both Tinder and Instagram have a leading position in their market, to a point where simply implementing the product innovations of their competitors in their ecosystem is sufficient to stay ahead. For example, Instagram implemented the "Stories" feature that was the main differentiation of Snap. Now, Tinder is taking a page from Bumble's book and will be adopting an optional ladies-first feature like Bumble's in a future update.
5) Multiple growth drivers that will power up users, subscribers, and revenue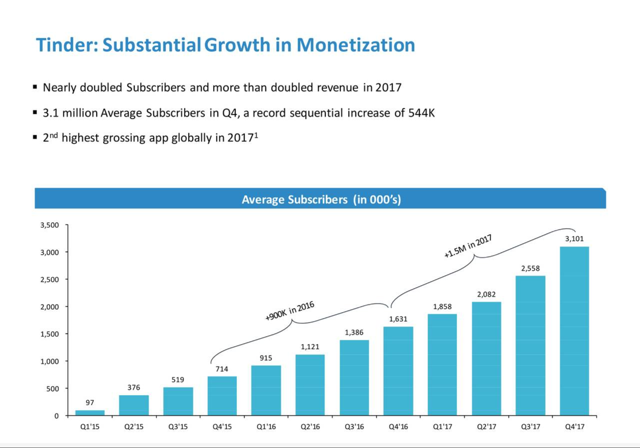 Source: Match Group Q4 Earnings Call Slides
As of Q4 2017, Tinder counts only 3.1 million average paying subscribers. From a worldwide perspective, this number is still staggeringly low and illustrates how great the potential for growth really is. We see four main leverages that should power revenue growth in a meaningful way in the foreseeable future:
International growth
Tinder is the only dating app that has a global footprint, not only in English speaking countries (US, Canada, UK, Australia) but also across Europe and South America. International awareness is particularly important for a social platform built to connect people. Other dating apps struggle to expand beyond their core market. This footprint will enable Tinder to grow at a faster rate than any other competitors.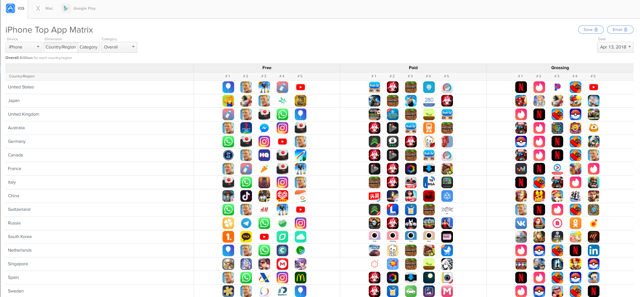 In April 2018, Tinder is a top 5 grossing app across North, South America, and Europe, and Australia. (Source: AppAnnie)
User growth
After reaching 100M downloads back in 2016, Tinder is still near the top 100 downloads on a daily basis on both the Apple (NASDAQ:AAPL) App Store and Google (NASDAQ:GOOGL) (NASDAQ:GOOG) Play Store. That means millions of new downloads monthly, leading to increased ad revenue and new potential subscribers. The gap in the size of the user base is widening between Tinder and any other dating app on the market.

Source: App Annie

Source: App Annie
Paying subscribers growth (higher conversion)
As Tinder rolls out new features exclusive to Tinder Gold members, it is easy to see how users will get more comfortable with the idea of paying for the service. What compels users to start subscribing is first and foremost the quality of the free experience.
Mandy Ginsberg said during Q4 2017 earnings call:
I know many investors are focused on our next monetization release, but as we've said before the biggest drivers of long-term revenue growth are free features that make Tinder simple, fun and a useful product, creating a vibrant community of users that in turn drive word of mouth. This focus on the customer is key in driving new users as well as keeping our customers engaged. The success of Gold allows us to focus on developing features that make the overall product experience better for our entire user base."
ARPU growth (Average Revenue Per User)
As Tinder implements new monetization opportunities, its ARPU will increase to new heights. More importantly, only 10% of Tinder revenue came from advertising in 2017. There's a massive untapped opportunity in this segment that will materialize over time.
6) A scalable platform that costs little to operate
Operating profit already is at 27% in 2017 and projected to be above 30% in 2018. Match Group has a scalable Internet platform that costs little to operate. Millions of additional users download and use Tinder monthly with virtually no additional operational variable costs for the company. It is key to understand the potential forward P/E and why the valuation (discussed below in point 10) has tremendous upside potential.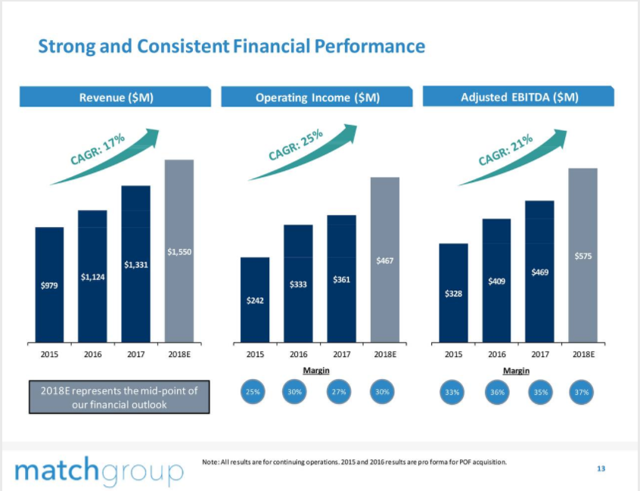 Source: Match Group Q4 Earnings Call Slides
7) Higher barrier to entry for new entrants as the industry matures
Over the last two years, only Bumble has appeared as a noteworthy new online dating app from a revenue perspective. The market is slowly maturing, and it is becoming increasingly difficult for new products to reach the critical size that enables international awareness and word of mouth the way Tinder did. Smaller apps run out of marketing funds to power their user base higher and don't have the lifetime customer value that can justify more investment.
Similarly, LinkedIn took over the world as the only relevant professional social network worldwide. Tinder is currently getting an edge that will prevent any future competition to be relevant. The challenges attached to building a robust ad network, GDPR compliant social tools, data protection, and R&D investments make it very unlikely to see Tinder be replaced overnight.
8) M&A history of Match Group and why it matters
Match has a strong track record of acquiring successful companies in the online dating industry: OK Cupid in 2011 for $50M and Plenty of Fish in 2015 for $575M are perfect examples. It is hard to say at this point if Bumble will ever be part of Match Group (the recent legal battle is certainly a hurdle), but any other future successful dating app will most likely be subject to potential synergies and acquisition talks with Match Group.
History shows that Match Group can target the right products and make a move when the right opportunity presents itself.
9) Price appreciation
Since its IPO at $13.5 a share, Match Group's share price has been climbing steadily and is now very close to its all-time high. A stock that keeps on riding to new highs is not necessarily overvalued. Quite the contrary - momentum is key as more investors realize the potential of Tinder, the stock will keep soaring to new heights.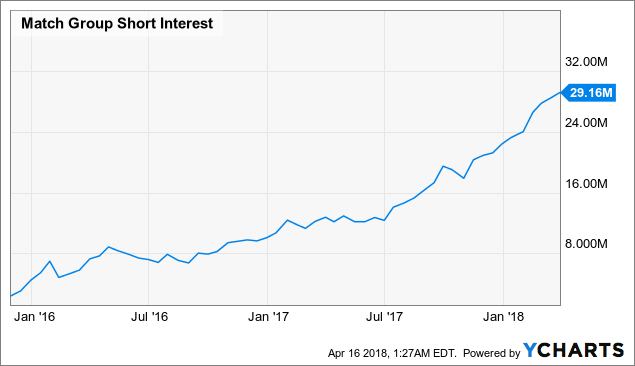 Match Group has often had a high short ratio since its public offering (short float is 52% as of this writing, according to Yahoo Finance). Anyone who has shorted Match Group since its IPO is, of course, losing money at this point, and the short squeeze is certainly not over. If you spend time reading comments from individual investors on various financial platforms, it is fascinating to see how out-of-touch bearish commentators are. They imply that "online dating is dead," or that "this is not the way you can meet meaningful people." They look at the online dating industry as a bust because there's no way the business can be sustainable to them. It is fake, artificial, a scam. Yet others will insist that Match Group will be destroyed by its competition, despite its having the superior and leading product by far in terms of users, revenue, and growth rate.
10) Valuation
From Yahoo Finance as of 4/15/2018:
| | |
| --- | --- |
| Market Cap | $12.3B |
| Revenue (TTM) | $1.3B |
| EBITDA (TTM) | $350M |
| Price/Sales | 9 |
| Trailing P/E | 38 |
| Quarterly Revenue Growth (yoy) | 29% |
| Operating Cash flow (TTM) | $315M |
Match Group is richly valued if we consider the price/sales ratio of 9 or the trailing P/E of 38. But most companies leading their industry and growing fast tend to be.
For instance, the following tech companies with consumer-facing products have (or used to have) similar ratios during the few years following their IPO, and they tended to maintain a perceived overvaluation over time: Netflix (NFLX), Facebook, Google, Amazon (AMZN), Square (SQ), Paypal (PYPL), Shopify (SHOP), Zillow (ZG) to name a few. Let's not forget those that ended up being acquired at a premium for investors (private or public) such as LinkedIn, YouTube, Twitch, Instagram or WhatsApp.
Our advice is to put things in perspective. What matters isn't where Match Group valuation will be next month, rather if it can sustain a market-beating performance for the next five years and beyond. And we believe that looking at valuation today is almost irrelevant, thanks to the multiple macro tailwinds and long-term prospects.
Conclusion
We couldn't be more thankful to have been shareholders of Match Group ever since the company became public. As it stands, Match Group already is a multibagger. It is not always easy to find a true rule maker, capable of leading the way and outgrowing its competitors in an emerging and fast growing industry. We will watch our portfolio grow and let Match Group take a more significant part of it over time. We will add more on a regular basis whenever the market offers a discount in the share price. The only reason we would sell MTCH is if Tinder's growth in revenue falls into the single digits or lower. We have a hunch that based on this requirement, we'll probably be holding for a very long time.
Disclosure: I am/we are long MTCH, MOMO, AAPL, GOOGL, NFLX, AMZN, SHOP, Z, SQ. I wrote this article myself, and it expresses my own opinions. I am not receiving compensation for it (other than from Seeking Alpha). I have no business relationship with any company whose stock is mentioned in this article.