By The Valuentum Team
Dividend growth investors tend to prefer companies with steady operations and significant competitive advantages that help to generate substantial free cash flow to help sustainably cover the dividend payment. Cyclical companies such as those in the metals or mining space, or in the chemicals industry, for example, may not make the cut, but sometimes technology may be unfairly included into those "trouble areas to avoid" for dividend growth investors. Though there may be some merit to the statement that there is increased obsolescence risk with technology equities, especially in more commoditized areas, and that in itself may increase the risk to any future dividend payout, we think there are a variety of dividend growth gems in technology, and here are our favorite 3.
Nothing May Ever Stop Apple (AAPL) - Dividend Yield: 1.4%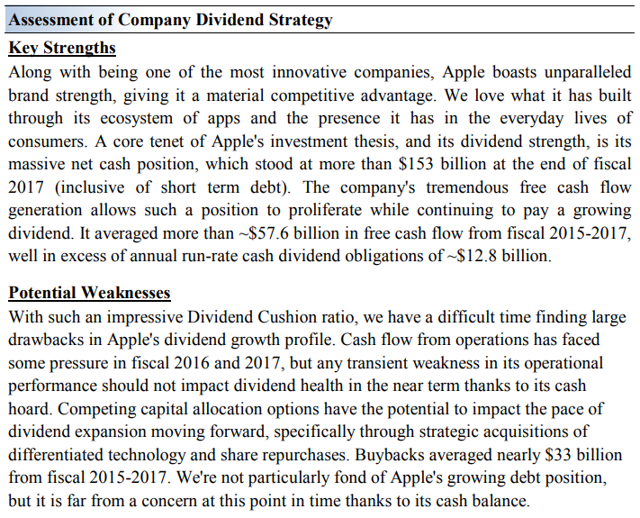 Image Source: Valuentum's Dividend Report
We don't comment much about Apple on Seeking Alpha because the stock is so well-covered, but we couldn't talk about our favorite dividend growth ideas in technology and leave out the iPhone maker. Apple is a fundamental powerhouse, in our view, and the stock doesn't get much respect when it comes to the multiple the market applies to it. Part of the reason may be concerns about a truncated free cash flow stream associated with potential competitive pressures across its iPhone and iPad suites, exemplified by what happened to Motorola (MSI) and Blackberry (BB) in years' past.
We can't possibly know what the next new gadget that will take the world by storm will be in the coming decades, as arguably very few, if any, could have predicted the convergence of technologies into the iPhone and just how big mobile has become in such a short time. The next 20 years may be as equally as exciting in technology as the last 20, and maybe that's what many Apple investors are worried about. Will Apple still be on top in 2038? What gadget will we all be carrying around then? What does the future hold? Whatever the future may bring, however, we think Apple has the inside track with its core intellectual property suite and considerable cash-flow generating capacity.
Not only do such dynamics help drive Apple's current fundamentals, but we view Apple's cash firepower as another source of a competitive advantage. If there is a major threat on the horizon that may cripple the company's dominance, we would expect Apple to deploy its considerable resources to neutralize it. Ironically though, it is Apple's tremendous financial flexibility that gets us excited about its dividend, too. Our fair value estimate of Apple is north of $200 per share, and we assign it one of our highest Dividend Cushion ratios of 5.6.
Intel (INTC) Worries Overblown - Dividend Yield: 2.3%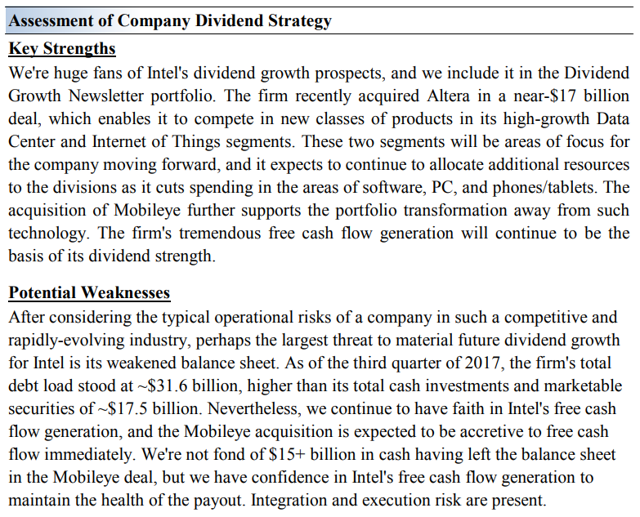 Image Source: Valuentum's Dividend Report
Intel believes it has a virtuous cycle of growth as the company enters 'the next Industrial Revolution,' or the Internet of Things. The company's products speed up the connectivity of devices to data centers and the cloud while enabling larger amounts of storage at a lower cost. As more devices are equipped with such technology, demand for the same technology should increase on the data center end, and vice versa. Though recent concerns about Apple moving away from Intel with its Mac lineup have pressured shares of Intel of late, we're not reading much into it. The future rests with mobile, not the PC market, per se, and we think Intel is actually making inroads with Apple in this department.
If bad press from Apple wasn't enough, recent reports have also surfaced that a security flaw in Intel's processor chips has the potential to gather sensitive data improperly and slow down operating systems running on its chips. Intel has maintained the flaw is not unique to its chips, but we'll be watching developments closely. Intel and AMD (AMD) are playing a high stakes game, and both continue to compete fiercely for new business. This has always been the case, and it's likely that it always will. Intel may face litigation risk related to security flaws, but we don't think it is anything Intel can't handle.
As with Apple, what turns our heads to Intel when it comes to the dividend is the company's free cash flow generation in excess of cash dividends paid. Though Intel's balance sheet is nowhere near as strong as that of Apple's, we like the deals that Intel is making, and we have no qualms with recent performance. How can we complain? In January, Intel said that it expects another year of record performance in 2018 while it raised its quarterly dividend 10%. Not bad for what many believe is a tech dinosaur. Intel's Dividend Cushion ratio is a fantastic 2.8, and we're expecting its dividend growth to continue. The high end of our fair value range is nearly $60 per share.
Microsoft (MSFT) Is No Dividend Growth Slouch - Dividend Yield: 1.8%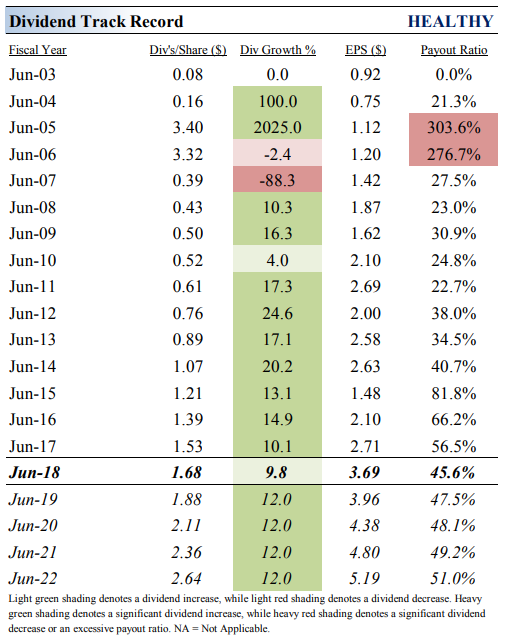 Image Source: Valuentum. Note: The table differs slightly from Microsoft's dividend history on its investor relations website due to the table above being based on the pay date of the dividend and the investor relations website being based on the announcement date.
We're going to tell it how it is - we think Microsoft paid way too much for LinkedIn, but the professional network may not have ever sold itself if it hadn't received such a big premium from a strong and reputable buyer. LinkedIn continues to hurt Microsoft on the operating line, but management is thinking long term, and we applaud the executive suite for that. We're still skeptical Microsoft will extract synergies from the transaction to justify the price paid, but we think LinkedIn may add a number of intangibles that are just hard to quantify.
The LinkedIn deal is done, in any case, and it didn't do too much damage to Microsoft's balance sheet, which remains flush with cash. As with Apple and Intel, Microsoft is a veritable cash-flow generating machine, and the company covers its cash dividends paid with free cash flow generation quite nicely each and every year. We think Microsoft is setting up to be one of S&P's Dividend Aristocrats, and it may be just a matter of time before it reaches a lengthy-enough consecutive annual dividend streak to make the cut.
Microsoft's management team is also quite shareholder-friendly, and the executive team reiterated its commitment to returning cash to shareholders during the company's fiscal second-quarter conference call in January. A massive Dividend Cushion ratio of 3.3 and a commitment to capital return - both dividends and buybacks - makes for a compelling story at Microsoft, and we don't think we've seen anything yet regarding the pace of potential dividend growth at Microsoft. The high end of our fair value estimate range is north of $100 per share.
This article or report and any links within are for information purposes only and should not be considered a solicitation to buy or sell any security. Valuentum is not responsible for any errors or omissions or for results obtained from the use of this article and accepts no liability for how readers may choose to utilize the content. Assumptions, opinions, and estimates are based on our judgment as of the date of the article and are subject to change without notice.
Disclosure: I/we have no positions in any stocks mentioned, and no plans to initiate any positions within the next 72 hours.
I wrote this article myself, and it expresses my own opinions. I am not receiving compensation for it (other than from Seeking Alpha). I have no business relationship with any company whose stock is mentioned in this article.
Additional disclosure: All three companies highlighted in this article are included in Valuentum's simulated newsletter portfolios.