Last Friday, April 13th, a senator came out and made a statement that registered about 3.6 on the cannabis sector's Richter scale. Stocks jumped an average of 10% on what, in reality, was absolutely nothing new in substance. What it did do, however, was dispel a previous false narrative unleashed upon us back in January. Let's revisit (and explore) the present reality.
Cannabis Law in the U.S.
Back in 2014, a Republican-dominated Congress embedded a bipartisan provision in the federal spending measure ending the federal government's prohibition on medical marijuana. Under the provision, states where medical pot is legal would no longer need to worry about federal drug agents raiding state-regulated operations. The marijuana measure forbade the federal government from using any of its resources to impede state medical marijuana laws. Every year since, Congress has reauthorized the enforcement prohibition.
Department of Justice
Over the years, some predating Congress action in 2014, no less than five memos have been written addressing DoJ Cannabis Enforcement Policy. The Sessions' AG Memo references them:
David W. Ogden, Deputy Att'y Gen., Memorandum for Selected United States Attorneys: Investigations and Prosecutions in States Authorizing the Medical Use of Marijuana (Oct. 19. 2009);
James M. Cole, Deputy Att'y Gen., Memorandum for United States Attorneys: Guidance Regarding the Ogden Memo in Jurisdictions Seeking to Authorize Marijuana for Medical Use (June 29, 2011);
James M. Cole, Deputy Att'y Gen., Memorandum for All United States Attorneys: Guidance Regarding Marijuana Enforcement (Aug. 29, 2013);
James M. Cole. Deputy Att'y Gen., Memorandum for All United States Attorneys: Guidance Regarding Marijuana Related Financial Crimes (Feb. 14, 2014); and
Monty Wilkinson, Director of the Executive Office for U.S. Att'ys, Policy Statement Regarding Marijuana Issues in Indian Country (Oct. 28, 2014).
The text of that memo rescinds those five previous memos with the following rationale (emphasis mine):
In deciding which marijuana activities to prosecute under these laws with the Department's finite resources, prosecutors should follow the well-established principles that govern all federal prosecutions. Attorney General Benjamin Civiletti originally set forth these principles in 1980, and they have been refined over time, as reflected in chapter 9-27.000 of the U.S. Attorneys Manual. These principles require federal prosecutors deciding which cases to prosecute to weigh all relevant considerations, including federal law enforcement priorities set by the Attorney General, the seriousness of the crime, the deterrent effect of criminal prosecution, and the cumulative impact of particular crimes on the community.

Given the Department's well-established general principles, previous nationwide guidance specific to marijuana enforcement is unnecessary and is rescinded, effective immediately. This memorandum is intended solely as a guide to the exercise of investigative and prosecutorial discretion in accordance with all applicable laws, regulations, and appropriations. It is not intended to, does not, and may not be relied upon to create any rights, substantive or procedural, enforceable at law by any party in any matter civil or criminal.
The same day, U.S. attorneys weighed in. Ben Glassman, for the Southern District of Ohio stated, in part (emphasis mine):
The Attorney General's memorandum on marijuana enforcement is consistent with our practice in the Southern District of Ohio. Congress made marijuana illegal under the Controlled Substances Act. That was true under Deputy Attorney General Cole's 2013 memorandum on marijuana enforcement, and it's just as true under the Attorney General's memorandum today. Also true then as now is that the federal law enforcement has limited resources and that we necessarily focus our prosecutive decisions where we can make the biggest impact in reducing harm and promoting safety.
Other U.S. attorneys echoed these sentiments. U.S. Attorney Bob Troyer of the District of Colorado said:
[t]he United States Attorney's Office in Colorado has already been guided by these principles in marijuana prosecutions - focusing in particular on identifying and prosecuting those who create the greatest safety threats to our communities around the state[.]
Annette Hayes, U.S. attorney for the Western District of Washington, released a statement saying that Sessions simply "reiterated his confidence" that U.S. attorneys can decide which marijuana crimes to prosecute.
Halsey Frank, the U.S. attorney for the District of Maine, told Marijuana Business Daily in an email that he: "will follow long-established principles to prosecute federal crime" including "wise use of limited resources."
Remember, Congress passed and, has repeatedly renewed, the marijuana measure forbidding the federal government from using any of its resources to impede state medical marijuana laws. So please permit me to summarize the above statements in two words: "Nothing changed."
Despite that, CBS News fired up the presses (emphasis mine):
Jeff Sessions ends policy that let legal pot flourish

Attorney General Jeff Sessions issued a marijuana enforcement memo Thursday rescinding the Obama administration's guidance, which enabled states to legalize marijuana without federal intervention. His one-page memo makes it clear that marijuana possession and distribution is against federal law, and it will direct U.S. attorneys to approach these cases as they do all other cases when enforcing them.

The move now injects uncertainty into the growing industry in the regions of the country that have legalized the drug, CBS News' Jeff Pegues points out.
The whole sector went apoplectic. The exuberance of California legalizing adult use experienced a major buzzkill in the cannabis space and the stock rush collapsed - all over a big "nothing burger."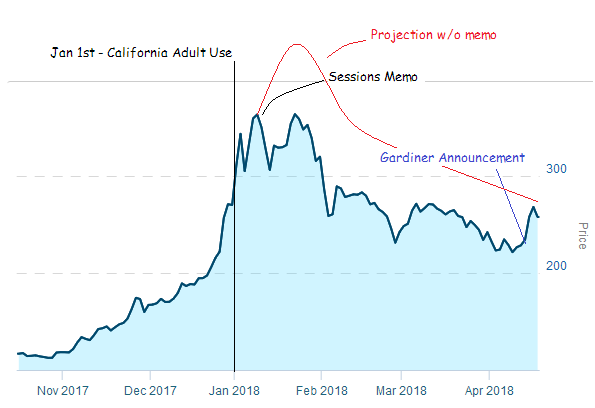 Source: North American Cannabis Chart
Over the next few months, the sector settled down, and sagged and sagged. Questions flooded the minds of concerned young investors: "What's wrong?"
Well, nothing. Until Canada legalizes, there's nothing on the schedule to "juice the moose" again, and so, the decline is consolidation that is to be expected. I'm pretty sure we would have been consolidating from a higher peak had the Sessions memo been appreciated for what it wasn't, but the pullback was predictable with absolute certainty. The sector has done it after every "peak" and is doing it again today following the "Gardiner peak," as I predicted in several comments last Friday. (I'm not clairvoyant, but aptitude tests when I went into the Marine Corps suggested I was very good at pattern analysis, and this pattern is not much more difficult to follow than sunrise and sunset.)
My recommendation was (and remains) buy and hold until Canada passes adult use legislation. To further narrow that recommendation, I suggested starting with stocks trading on the OTC above $3. (Note that Chronos Group (NASDAQ:CRON) has since switched from the OTC to the Nasdaq.)
A couple stocks I purchased in February above that threshold have since slid below, but I've used the opportunity to add to those positions. Look again at that chart above and see where we were 6 months ago. I expect at least something similar for Canada Adult Legalization, if not better.
So in the meantime, if the stocks continue to go down some, ignore it - that will be overcome in spades as soon as a bill hits Trudeau's desk for "Royal Acceptance." Prior to that, there will be some front-running leading up to that expectation (see the front-run for the California Adult Legalization in the chart above).
If, as the latest forecasting out of Ottawa suggests, that will be August or maybe September, then I anticipate the sag to reverse around June-ish, as early maybe as May or maybe as late as July. Nothing that has happened over the past four months has changed my expectation (except that the earlier "July" Canadian legislation prediction shifted in early March to the right a month or two, which caused me to slide the start of the front-run estimate likewise a month or two).
So, we're watching the sector sag on a lack of activity and then, lo and behold, came two new announcements late last week, one of which I consider somewhat significant. The first, on Thursday (April 12th), was former House Speaker John Boehner announcing he's joining the board of advisors of Acreage Holdings, a U.S. medical marijuana holding company with operations in 11 states, and with the company he's going to push for descheduling. Boehner stated: "I'm convinced descheduling the drug is needed so that we can do research and allow the VA to offer it as a treatment option in the fight against the opioid epidemic that is ravaging our communities."
Now that he's free from the political confines of his conservative constituency, as a combat veteran I applauded his reversal and commitment - that is significant. However, cannabis shrugged. The cannabis space didn't react, at all. Go figure.
Friday the 13th
Then, on Friday afternoon, Senator Cory Gardner stated (emphasis mine):
'Since the campaign, President Trump has consistently supported states' rights to decide for themselves how best to approach marijuana,' Gardner said. 'Late Wednesday, I received a commitment from the President that the Department of Justice's rescission of the Cole memo will not impact Colorado's legal marijuana industry.' 'Furthermore,' Gardner added, 'President Trump has assured me that he will support a federalism-based legislative solution to fix this states' rights issue once and for all.'
Bang! The cannabis sector jumped 15% across the board, settling back to around 10% up by market close. Did you see what really happened there?
A statement saying nothing changed caused celebration across the space. (Never mind that 10% up doesn't offset the 30% downslide over the past two months, at least some green showed up on the boards for a change.) We got a big heaping helping of foam to go with the nothing burger served up last January.
The LA Times boldly leaped to the presses:
Trump administration abandons crackdown on legal marijuana

The Trump administration is abandoning a Justice Department threat to crack down on recreational marijuana in states where it is legal, a move that could enable cannabis businesses in California and other states that have legalized pot to operate without fear of federal raids and prosecution.

President Trump personally directed the abrupt retreat, which came at the behest of Republican Sen. Cory Gardner of Colorado. White House officials confirmed the policy shift Friday. Trump did not inform Atty. Gen. Jeff Sessions in advance of the change in policy, an almost unheard of undermining of a Cabinet official.
Dear faithful followers and accidental readers, if we're going to be smart investors, we have to stop being sheep led repeatedly through the shear house by false narratives of the MSM. That Times article is "Grade A Extra Large" bogus in every way, shape and form, in what it reports happened, why it happened, and what it means.
No Federal cannabis law has changed in the last four years. The DoJ's position hasn't changed in the past four years. The President's position hasn't changed since the campaign started in 2015, three years ago. And my recommendation to purchase and hold cannabis stock for the Canada legislation release hasn't changed since January.
Summary
With regard to the MSM, I defer to the persistent wisdom of the cannabis guru himself, "Mr. Natural":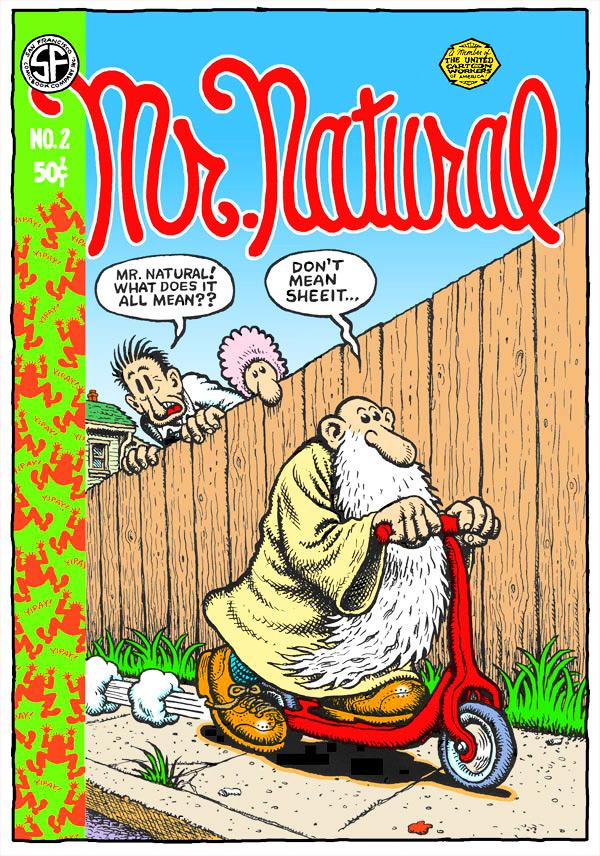 Disclaimer: This article contains stock recommendations that include stocks on the OTC, which have a higher investment risk than typically found in stricter regulated exchanges.
Disclosure: I am/we are long CRON, ABCCF, ACBFF, AND OTHERS. I wrote this article myself, and it expresses my own opinions. I am not receiving compensation for it (other than from Seeking Alpha). I have no business relationship with any company whose stock is mentioned in this article.
Editor's Note: This article discusses one or more securities that do not trade on a major U.S. exchange. Please be aware of the risks associated with these stocks.