To set the expectations right, this article is intended for you to build a watchlist. I strongly believe having a good watchlist is as important as correctly valuing a company. Let's say you're great at valuing companies and often you are able to initiate positions at exactly the right moment. If you don't have a substantial list of quality stocks to follow up on, you won't be able to generate enough great investment ideas.
Therefore, I will give you 15 options you might consider if you want to bet that everything 'Artificial Intelligence' will become a big market.
As a reminder: there are many more companies that will benefit from a rise in everything related to Artificial Intelligence. But I focus on some of the more logical choices.
How big will the A.I. market become?
Before digging into the list, let's establish that A.I. is an umbrella term for many different emerging technologies.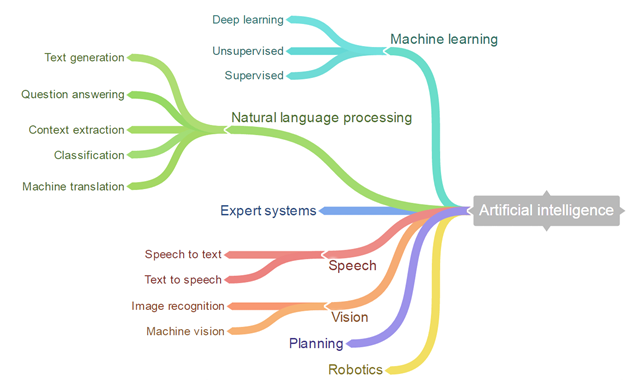 Source: Hackernoon
Some of these technologies will merely enhance existing products and processes. Others will create entirely new products and services to sell to consumers and businesses.
Nevertheless, analysts try to define and estimate the size of the market. It is estimated to grow exponentially in the next years.
Many different studies say the global market of A.I. related products and services will be a multi-billion dollar market soon. The International Data Corporation (NYSE:ICD) says spending on A.I. solutions will reach $57 billion by 2021.
The robotics market, mostly targeted to industrial businesses at this point, is expected to triple in less than 10 years. In 2017, it already had a market value of $14 billion. For those who want exposure to the trend of automation and robotics in particular, the two ETF's at the end of the article are very interesting (ROBO and BOTZ). The constant need for businesses to become more efficient is not new. However, we are nearing a tipping-point where machines can process some very complex tasks equally as well, or better, than human beings.
The natural language processing (NLP) and machine learning technologies are disrupting in the same way, namely making processes more efficient. Technologies like these will help people in the service economy work more efficiently or deliver better quality. Think about lawyers being able to prepare a case 2 times faster, because an algorithm helped them pick the best pieces of information. Products and services are being developed by start-ups and big corporations every day to cater this growing need of efficiency gains.
It's hard to tell what will happen in the future, but now for sure that these new technologies will be exploited to create value for consumers and businesses alike.
Why are these companies well positioned?
Most of the companies on this list simply have the volume of data and the technological capabilities to do good research on A.I. Others are simply suppliers to these giant data houses. They have the chips one needs to harness enough computing power.
Many companies will use these new technologies to enhance their products. For example, let's take Netflix (NFLX). It has a lot of data it can process. We know that they make good use of this to tailor their offering to the end-consumer. Without a doubt, Netflix and many others will be able to improve their offering and efficiency by using Artificial Intelligence.
However, my idea of the list is to include companies that will actually build a completely new product or service based on A.I., or cater directly to these companies (like chipmakers). At the end, I mention two funds focused on robotics. Most of the companies listed have the know-how, the data, the human capital and the financial power to build the next big A.I. thing.
Play the usual (American) suspects
Being such a huge company comes with challenges, but provides great opportunities as well.
First of, these companies can often attract the greatest talents. There's a reason why they became this big: the track record of all these companies is quite amazing. They have data, the company culture, and the know-how to develop innovative new products and services.
Secondly, the innovations they don't come up with themselves, can simply be bought. The financial power of these companies is big enough to buy any start-up that is suddenly on to something. They do this all the time actually.
Because of these two assumptions, which I personally think make sense, it's very likely that a couple of these companies will have superior technologies based on Artificial Intelligence in the future.
Alphabet (GOOG)
While Alphabet is one of the most well-known stocks in the world, not all its activities are equally well-known. Granted, the advertising business still accounts for 87% of its revenue, but it has been investing in and developing new sources of growth.
One of these 'other bets', as they are called, is in Artificial Intelligence. One of these bets is a project called Maven. It's a program by the Pentagon to improve 'war fighting systems'. Over 3,100 employees of Google just signed a petition to stop involvement in the project. Whatever one thinks about the ethics or rational behind this program, it shows the leadership of Google in Artificial Intelligence.
It has done this before, by beating the legendary game Go after it leveraged DeepMind's technology, a company it bought for $400 in 2014.
Google Machine Learning program has been opened for free so anyone can experiment with it. In the beginning of April they added new features to TensorFlow.
Microsoft (MSFT)
Microsoft has a stronger focus on the hardware part of Artificial Intelligence. While they have similar platforms like Azure to harness the power of A.I. in the cloud, Microsoft has announced to integrate A.I. into every service and product the company offers. One example of this is the HoloLens. It's a high-quality headset with Augmented Reality capacity.
The A.I. chip being developed for the HoloLens will be integrated in many other hardware products. The company even hints at licensing these chips to partners.
An interesting development is the company's recently announced partnership with Xiaomi, a major Chinese smartphone producer. The companies have worked together since 2015, but now they have signed a strategic MoU about Artificial Intelligence. This could potentially be the beginning of Microsoft pushing back in the growing mobile market, which has been a disaster.
Amazon (AMZN)
Of course, Amazon has to be a part of this list. Amazon Machine Learning on Amazon Web Services and Microsoft Machine Learning on Cortana were tied at the top spot for 2018 according to a Morgan Stanley analyst. The survey also showed 48% are testing or deploying A.I. and Machine Learning systems, up form 33% in 2017.
Amazon is taking a similar route as Microsoft, recently announcing the development of A.I. chips to integrate into hardware such as the Echo and other Alexa supported hardware. The company has a strong footing in the voice powered applications of A.I. It also has plenty of data to work with.
However, sometimes we forget the very obvious. Amazon is known for it's great logistics and has ample experience on warehouse scheduling. It shouldn't be a surprise the Amazon is investing heavily in robotics and automation to increase its own efficiency, but likely also to sell as products or services. Amazon already uses more than 100.000 robots in 25 of its 175 fulfillment centers worldwide.
Apple (AAPL)
Apple has beefed up its commitment to A.I. by stealing Google's A.I. expert John Giannadrea. Apple was one of the first companies getting serious about A.I. in the speech field with its Siri development. At the same time, Apple has been working on self-driving technology. The company has also made significant steps in face recognition. But other than that, you can't really call it a leader in this space (yet).
But Apple has the data ànd the cash. Over the past 5 years, tech giants have bought 50 A.I. start-ups, and often paid good money for it, too. Apple snapped up 13 of these acquisitions. Still, many are waiting for a large acquisition or a clear stance on A.I. in the future.
Facebook (FB)
Every company discussed here has a lot of data, but Facebook remains a special one. In Q4 of 2017, the social media platform had 2.13 billion monthly active users. Of those, 1.4 billion log in daily. The data Facebook holds on nearly 1/4th of the worlds population is highly personal. Unfortunately, it seems the company has not always been a good guard-keeper of this data, referring to the Cambridge Analytica scandal of course.
On top of that, Facebook also owns WhatsApp and Instagram. It's simply a giant when it comes to personal data. There aren't too many huge announcements about A.I. investments, but perhaps this is a strategy given the sensitivity of the data.
Don't forget that Facebook also owns Oculus Rift, the VR company.
Mark Zuckerberg is having a tough time explaining himself and the practices of the company to Congress. He says, A.I. will have to help solve the fake news problem.
IBM (IBM)
IBM has put a lot of effort into developing IBM Watson. In Q3 2017 it announced another $240 million investment in this business A.I. platform. If this works out, IBM will provide businesses with a suite of A.I. solutions, not relying on solely one product or service.
The strategic imperatives business of IBM now makes up 43% of total revenue or $34 billion.
IBM is came out with Q1 earnings on April 17th and has dropped 6% after-market.
Get some A.I. action abroad
If you want to find the action abroad, there are other options out there.
Baidu (BIDU)
Something all Chinese companies have in common, is a good environment to set up far-reaching experiments. The Chinese government has a lot to say in the economy (this is an understatement), and it has decided to implement some ideas which would never pass Western standarts. I'm not making a value judgment here, but it's just a fact that societies in the West would not agree with these implementations.
China has recently announced a plan to become the leader in A.I. in 2030. It has over 700 million internet users, many of which are using the all-incompassing app WeChat (which is a product of Tencent by the way).
Even though Baidu announced they can mimic a voice after one minute of recording, many are not convinced it will be the next leader in the A.I. space. Of course, the company has a similar profile to other search engines such as Google and Yandex. It also offers videos, which it uses to do a lot of AI research on.
Baidu only started a separate A.I. division last year.
Tencent (OTCPK:TCEHY)
Perhaps a better pick in the booming Chinese market is Tencent. WeChat has a huge amount of data on Chinese citizens. Worldwide the app has over a billion users.
Tencent is focused on three distinct areas: Robotics, Medical A.I. and 'general A.I.'. It has recently opened a new laboratory to develop robotics solutions. Granted, the vice president has said 'robotics' means everything connecting the real world with the actual world, like glasses or headphones for example.
Alibaba (BABA)
Alibaba has been investing in A.I. for a while now and recently it made headlines. It participated in another investment round for SenseTime, now 'the most valuable A.I. start-up in the world' according to some, valued at approximately $3 billion.
The company has software that's tracking faces of millions of Chinese citizens on a daily basis. Believe it or not, a study estimated that China would have 626 million surveillance cameras running by 2020. Analysts believe SenseTime has government agencies as major clients, which is of course a good thing. Here we see, again, that the stance of the Chinese government, opening up huge data sets, is helping the company to develop its technology. This would not be possible in many other countries.
Yandex (YNDX)
Yandex is similar to Google or Baidu. In essence, it's a search engine that has developed new products and services around its main business. Yandex is focused on developing more efficient processes for industrial players. A good bet, as it's well known that Russia could do better in this regard. While international sanctions might hurt the Russian economy, it could very well stimulate further efficiency improvements driving by domestic firms. Needless to say, anything sensitive to national security will not easily be 'outsourced' by the Russians.
Another reason to include Yandex in this list is the drop from the highs. The stock is currently trading around $34 while it used to trade at $41 in February.
Play the suppliers
If you don't want to own these data-driven A.I. plays directly, consider chipmakers like Nvidia, Intel and Micron.
I'm not going to go in detail on these companies, but they are often named as a play on Artificial Intelligence. All of them are chip producers. The logic is that, as Artificial Intelligence grows, the demand for advanced chips will follow. Please do your own due diligence, because these companies are influenced by a lot of different trends in the industry. For some, the cryptocurrency craze has momentarily inflated their sales and valuations.
As you can see, all three companies have decent to good earnings growth and operating margins.
| | | | |
| --- | --- | --- | --- |
| | Forward P/E | EPS growth last 5Y | Operating Margin |
| NVDA | 31.2 | 38.6% | 31.4% |
| INTC | 13.42 | 7.8% | 27.5% |
| MU | 5.12 | 44.2% | 41.8% |
Source: Made by the author using Finviz
Over the last few months, all these companies have easily beaten the S&P500 index. Surely there is some value in these.
Play the funds
If you are more comfortable with a fund or ETF, here are two suggestions. These ETF's are more exposed to companies driving industrial automation and robotics. The first one, ROBO, is heavily overweight on the US and Japan (39% and 29%). BOTZ has the same strategy, but places 50% in Japan and 27% in the US.
ROBO Global Robotics and Automation Index ETF (ROBO)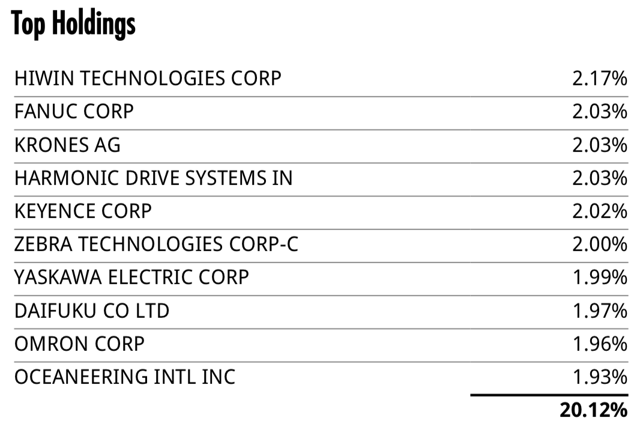 Source: Robo factsheet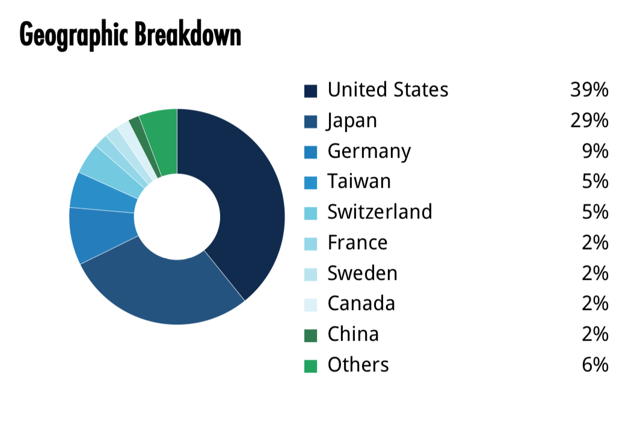 Source: Robo factsheet
BOTZ Robotics and Artificial Intelligence ETF (BOTZ)


Source: morningstar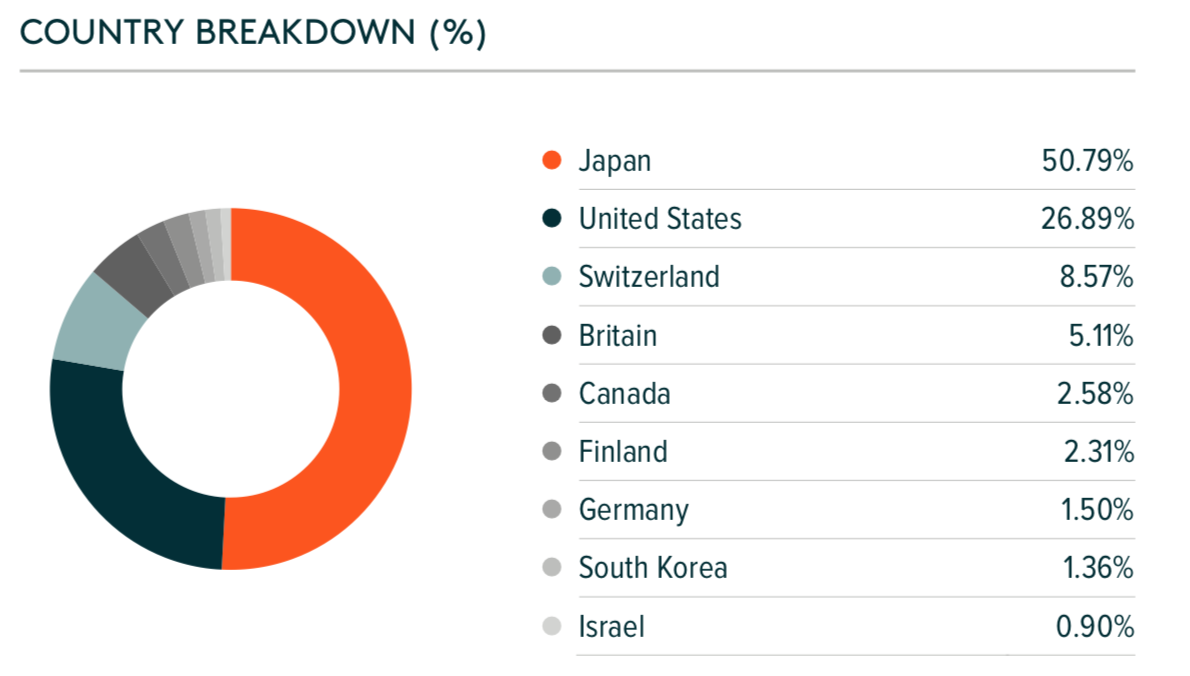 Source: BOTZ factsheet
Conclusion
As you can see, there are many different ways to play to growing Artificial Intelligence market. All companies presented have to be reviewed on an individual basis, but investors should know there are many possibilities out there.
The companies presented here have had good returns in the past and some of these will likely rise even more due to their efforts in Artificial Intelligence.
It's impossible to know who will win the race, but we can almost say with certainty that one of these will make it big in A.I.
Disclosure: I/we have no positions in any stocks mentioned, and no plans to initiate any positions within the next 72 hours. I wrote this article myself, and it expresses my own opinions. I am not receiving compensation for it (other than from Seeking Alpha). I have no business relationship with any company whose stock is mentioned in this article.
Editor's Note: This article discusses one or more securities that do not trade on a major U.S. exchange. Please be aware of the risks associated with these stocks.