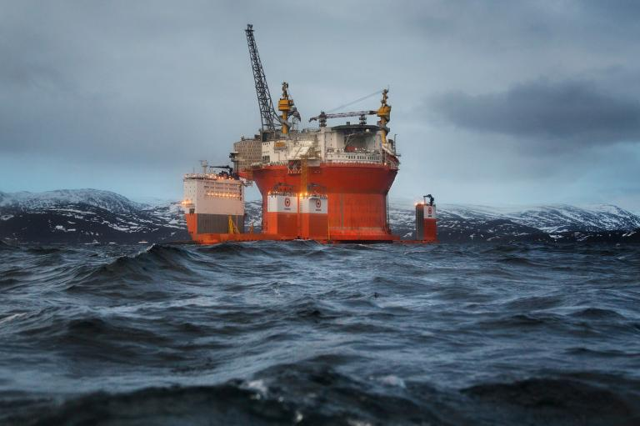 Introduction
Welcome to my ProShares Ultra Bloomberg Natural Gas (NYSEARCA:BOIL) report. As you may know, BOIL is a U.S incorporated ETF that replicates 2x the daily return of an index that measures the price performance of natural gas futures. This ETF is not recommended for long term holding since its rollover costs and expense ratio of 1.31% slowly erodes its value.
In this report, I wish to discuss (based on the Energy Information Administration (NYSEMKT:EIA) estimate) the recent changes in natural gas inventories and speculative positioning (based on the Commodity Futures Trading Commission (CFTC)) to assess the impacts on natural gas futures and thus BOIL. Then, based on the recent macro developments, I highlight the triggers, which will likely drive BOIL share price.
Natural gas stocks
According to the EIA, U.S. natural gas storage decline decelerated on the Mar 30 – Apr 6 period, down 19 Bcf to 1 335 Bcf. With this decline, withdrawal season extended for another week, pushing natural gas stocks further from the 5-year average. As you may know, injection season normal start begins during week 13, however, recent cold in the East/Midwest and nuclear unavailability caused this one week's withdrawal delay, enabling BOIL rebound.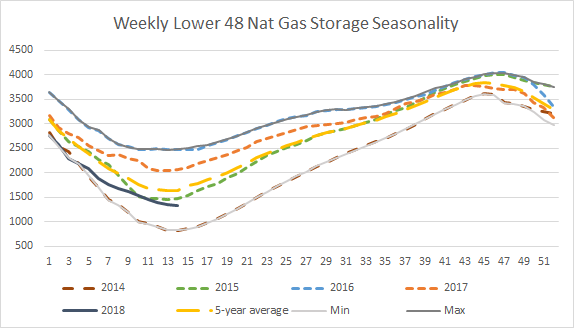 Source : EIA
During Apr 5 -11 period, natural gas daily supply slightly increased, up 0.7% (w/w) to 86.4 Bcf/d. This was mainly due to dry and marketed production acceleration up respectively 1.1% to 90.8Bcf/d and 0.6% to 80.1 Bcf/d. In the meantime, net Canadian imports posted a marginal rise, up 0.1 Bcf/d or 1.6% to 6.2Bcf/d, whereas LNG pipeline deliveries were flat. For the coming days, dry production could smoothen out, following Friday's Baker Hughes rig count, which dropped by 2 to 192 rigs during Apr 6 - 13 period.
On the other hand, demand surged by 7.4% (w/w) to 90.1 Bcf/d, following strong residential consumption and healthy power generation, up respectively 13.8% to 28.8 Bcf/d and 3.9% to 23.7 Bcf/d. This surge was mainly due to an increase in heating degree days in the northern regions, combined with rising cooling degree days in the Pacific and southern regions. Furthermore, Mexican exports picked up, following Los Ramones pipeline maintenance conclusion, whereas liquid natural gas exports dropped from 21.4 to 17.7 Bcf.
Given recent demand surge and steady supply, natural gas futures on July 2018 delivery, which represent almost twice BOIL exposure (198.47% or $61.6m) according to Bloomberg, rebounded suddenly towards its upper horizontal trading range at $2.83 per MMBtu.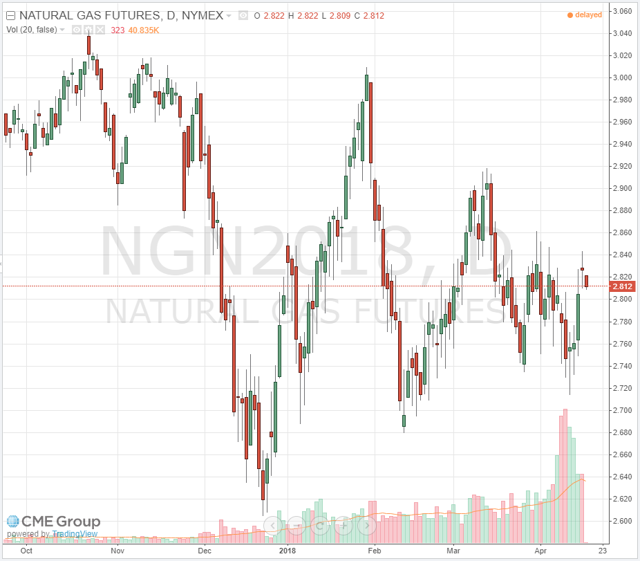 Source: CME Group
This sudden move partly caused BOIL rebound, which timidly overcame its 50 moving average. However, BOIL is well anchored in its bearish trend and the ETF has not been able to establish a higher high, since December 2016.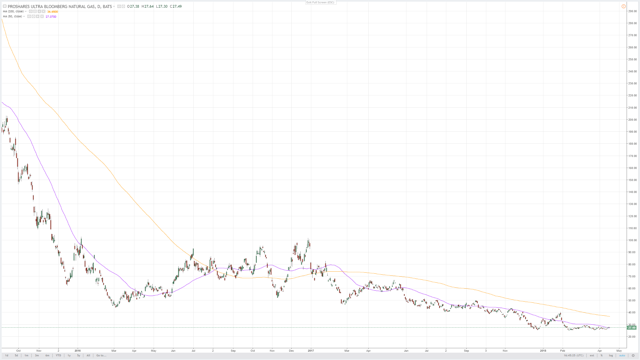 Speculative positioning
According to the latest Commitment of Traders report (COTR) provided by the CFTC on Apr 3 – 10 reported period, net speculative positioning on NYMEX natural gas contract declined, down 1.51% (w/w) and remaining deeply net short of 100 340 contracts, whereas BOIL lost 2.92% to $25.94 per share.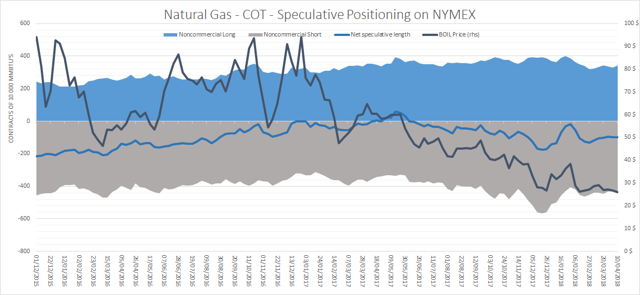 Source: CFTC
Net speculative length weakening is attributable to long accumulation, up 3.87% (w/w) to 342 459 contracts which is totally offset by strong short build, up 3.33% (w/w) to 442 799 contracts. However, with injection season close by, speculative bets should slowly turn more bullish, providing therefore a solid support of UNG.
Since the beginning of 2018, speculative length surged by 28.58% or 40 161 contracts, whereas BOIL dropped 23.25% due to its expense ratio and rollover costs.
Largest storage withdrawal since 2014 and recent weather deviations from normal caused BOIL rebound, but it will not last
This winter natural gas were drawn down to their lowest point since 2014, following succeeding cold snaps in February and March, which significantly increased withdrawals. The impact on natural gas futures and BOIL has been negligible given that injections are expected to be higher than normal this summer. Indeed, EIA forecasts that dry production will average 81.6 Bcf/d during the refill season, corresponding to an increase of 8.3 Bcf/d or 11% compared to last year's rate. This more than offsets forecasted increases in consumption, exports and refilling, explaining why investors are not yet pushing natural gas futures higher.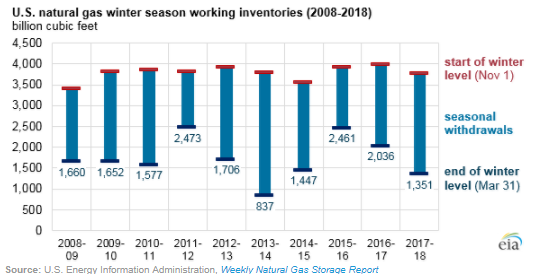 Weather temperatures continued to trend bullish last week, providing a healthy rebound for BOIL. However, forecasts for the 6-10 day period are getting milder than prior week. With higher temperatures in the Western regions and colder heating degree-days over the Mississippi Valley, power generation should remain robust, whereas residential heating demand will likely smoothen out.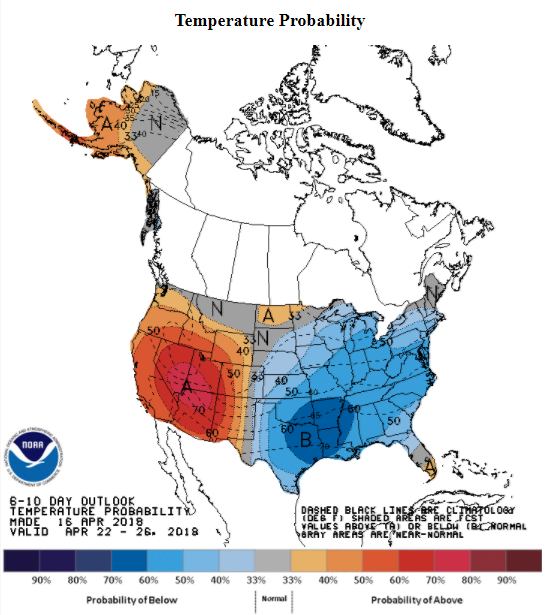 That being said, BOIL should remain under pressure for the coming weeks and continue to trade in a downward trend. Until additional LNG export capacity is not brought online or that a major weather phenomenon occurs, U.S demand will hardly absorb current natural gas supply glut, maintaining current price weakness.
I look forward to reading your comments. If you enjoyed the article, thanks for showing your support by following my account or sharing the article.
Disclosure: I/we have no positions in any stocks mentioned, and no plans to initiate any positions within the next 72 hours. I wrote this article myself, and it expresses my own opinions. I am not receiving compensation for it (other than from Seeking Alpha). I have no business relationship with any company whose stock is mentioned in this article.