While the fear which gripped investment markets last week has dissipated in recent days, gold continues to benefit from lingering fears and remains near a multi-week high. Its lateral consolidation within a 3-month trading range continues, but its interim outlook remains favorable as we'll discuss here.
The gold price edged higher on Tuesday after showing weakness earlier in the session. Safety concerns continue to make gold attractive as a hedge against uncertainty, which has helped keep the gold price elevated despite returning financial market strength. Spot gold gained 0.06 percent Tuesday to close at $1,346 while June gold futures settled $1.20 or 0.1 percent lower at $1,349.
Gold rallied to a 2-½ month high last week as heightened tensions over Syria and U.S. sanctions on Russia resulted in lower stock prices and increased demand for nominally defensive assets. Since the weekend drama with Syria, however, tensions have eased up, although concerns over Russia sanction plans remain.
Further bolstering gold's safety appeal are increased concerns among investors over a flattening U.S. Treasury yield curve. The yield curve reached its flattest level in more than a decade on Monday after the White House said U.S. President Trump would nominate Richard Clarida as Federal Reserve vice chairman. Fed watchers expressed concern that Clarida's addition would further increase the central bank's hawkish policy bias. A flatter yield curve often serves to worry investors that the economy is vulnerable to slowing or even recession. This in turn can increase demand for gold.
Meanwhile, the U.S. dollar index (DXY) recovered from three-week lows which put some pressure on the yellow metal. My dollar proxy, the PowerShares DB US Dollar Index Bullish Fund (UUP), remains stuck in neutral as can be seen in the following chart exhibit. While the UUP is currently below its 15-day moving average, it has shown a stubborn refusal to fall significantly below this important measure of immediate-term (1-4 week) strength. This lingering near-term strength in the dollar is one reason why the yellow metal is having difficulty breaking out of its 3-month trading range.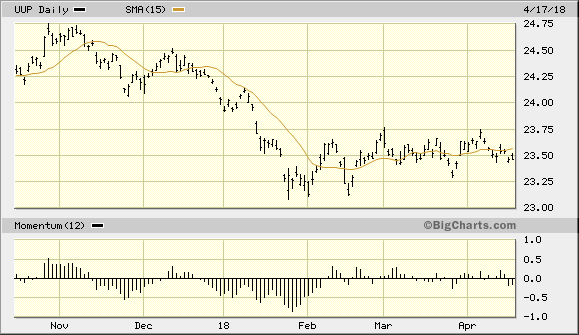 Source: BigCharts
Speaking of gold's 3-month sideways range, let's examine the chart of my favorite gold trading vehicle, the iShares Gold Trust (IAU). In contrast to the dollar, IAU remains above its rising 15-day MA and has the benefit of a positive micro-term slope. The problem with IAU, though, is that it shows signs of possibly stalling out. Forward momentum is an ephemeral thing and if the rate of change in price isn't constantly increasing, prices tend to reverse. Thus we need to see a serious breakout attempt above the $13.05 pivotal level (the late January high) soon, else IAU will become vulnerable to a bear raid and its immediate-term trend will reverse.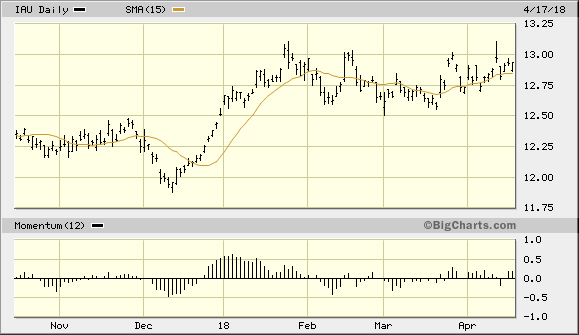 Source: BigCharts
Nonetheless, for now gold's immediate-term uptrend is still technically confirmed. This favors the bulls and should make it easier for them to eventually force IAU above its 3-month trading range ceiling. The sooner this happens, of course, the better.
On a strategic note, IAU confirmed an immediate-term buy signal per the rules of the 15-day MA trading method two weeks ago. This signal is predicated on a 2-day higher close above the rising 15-day moving average. I've purchased a conservative trading position in the iShares Gold Trust after it confirmed the immediate-term (1-4) breakout signal on March 23. I'm using the $12.55 level as the initial stop loss on an intraday basis for this trade. Meanwhile, longer-term investment positions in gold should be maintained as the fundamentals underscoring gold's two-year recovery effort are still favorable.
Disclosure: I am/we are long IAU.
I wrote this article myself, and it expresses my own opinions. I am not receiving compensation for it (other than from Seeking Alpha). I have no business relationship with any company whose stock is mentioned in this article.