Finally, this day has come. The bankruptcy court confirmed (docket 1181) Seadrill's (SDRL) restructuring plan and now the company's shareholders will get a 1.9% post-dilution stake in the new Seadrill equity. The court's decision has been anticipated since the previous vote showed an overwhelming support for the plan, but it's still a major milestone in this lengthy restructuring process.
I have followed this restructuring story right from the start and I must say that the best possible outcome for common equity was achieved. Since unsecured creditors of Seadrill were impaired, any stake in the new Seadrill equity for current shareholders is de facto a gift from higher-ranked stakeholders. I've repeated this simple fact a couple of times in my articles but, judging by some comments in Seadrill discussions, it's worth mentioning again.
Now that the plan has been officially confirmed by the court, the only question is whether the current market valuation of a 1.9% post-dilution stake in future Seadrill equity reflects reality. As I'm writing these words, Seadrill shares are at $0.27 level, giving the company a capitalization of roughly $140 million. Should $140 million rightly represent a value of a 1.9% post-dilution stake in new equity, the new equity will be valued at roughly $7.4 billion. Should this be the case, Seadrill will be way ahead of the nearest competitor, Transocean (RIG)), in terms of market capitalization.
However, I don't believe that this will actually happen, no matter how good the oil price is. As per Seadrill's press release, the company is expected to emerge from Chapter 11 within the next 60-90 days and I can't think of a scenario in which the offshore drilling market outlook will improve that much to support a $7.4 billion market capitalization. Bassoe Offshore currently values the whole Seadrill Group fleet at $6.5 billion-$7.2 billion. In comparison, Transocean's fleet is valued at $6.4 billion-$7.2 billion, but Transocean is the absolute leader by backlog. Also, Seadrill will emerge with all the bank debt ($5.7 billion). In short, I just don't see how a $7.4 billion capitalization may be justified.
Thus, I expect Seadrill shares to correct from current elevated levels. When this correction will happen? The discrepancy between fundamentals and market capitalization may be present until the very last day, when the old shares are cancelled, and the new ones begin trading in the market. This is often the case in in stocks that go through bankruptcy/restructuring. Compared to previous months, the market has become increasingly cautious regarding Seadrill shares.
While speculators certainly watch the story and hope for the same type of an upside that was seen in September 2017 and November 2017, it won't come. Not only the shares are overvalued, but too many market participants have had the time to learn the story. I don't expect that rising oil prices will have a material impact on trading of the current Seadrill shares. All the upside, should it come, will be reserved for the new equity. And it will be from levels – at which it will start trading – that will be substantially lower than those we currently see at the market.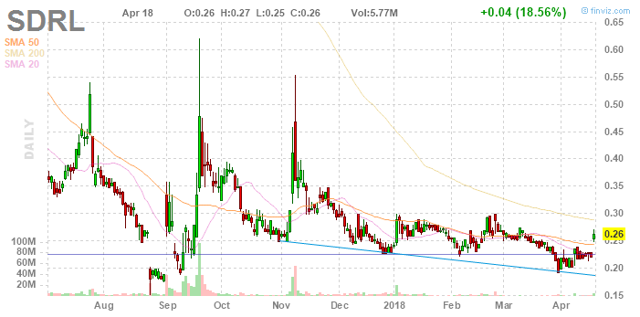 The restructuring story will end soon, and new Seadrill shares will emerge, providing opportunities for investment and speculations. I believe that everyone without a position in Seadrill shares will be better off waiting for new shares to start trading. There's no justification for a $7.4 billion capitalization. Neither a $6 billion market cap nor a $5 billion market cap will be reached on Day 1, when shares start trading. Current shares have downside, but new ones may have upside, and the extent of that upside will depend on their valuation at the beginning of trading.
If you like my work, don't forget to click on the big orange "Follow" button at the top of the screen and hit the "Like" button at the bottom of this article.
Disclosure: I am/we are long RIG. I wrote this article myself, and it expresses my own opinions. I am not receiving compensation for it (other than from Seeking Alpha). I have no business relationship with any company whose stock is mentioned in this article.
Editor's Note: This article covers one or more microcap stocks. Please be aware of the risks associated with these stocks.