Investment Thesis
LexinFintech's (NASDAQ:LX) "e-commerce to finance" direction would be more promising than Qudian's (NYSE:QD) auto finance business, which makes long LX/short QD a profitable pair trading strategy.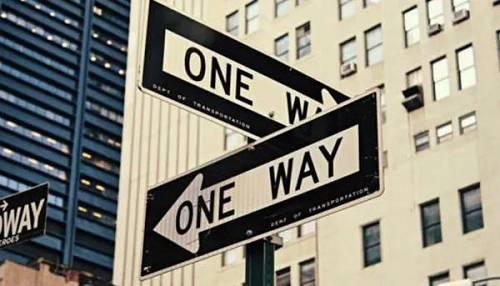 The Company
LexinFintech a leading online consumer finance platform in China, which focuses on serving the credit needs of educated young adults in China. The company went IPO on NASDAQ on December 21, 2017, raising US$ 108 million.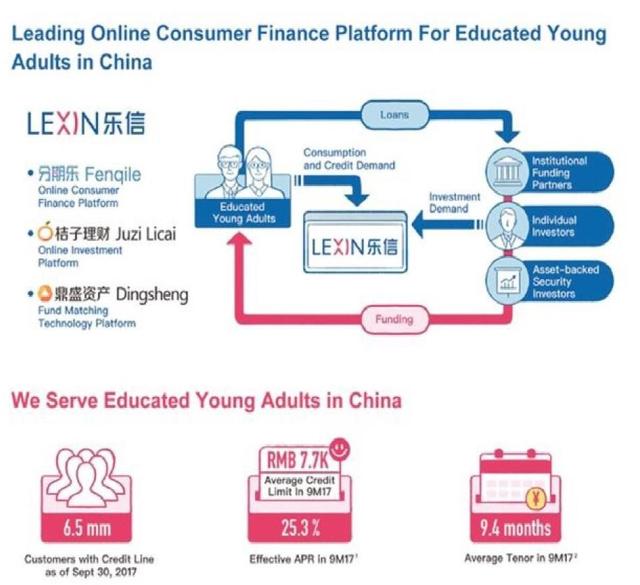 Source: LX's IPO Prospectus
An interesting thing to notice here is that LX actually went IPO after the regulatory shock in late November and early December 2017 (see my previous post here). After witnessing the shock on stock prices for other P2P companies listed before LX, it quickly modified the IPO prospectus and reduced the IPO size from US$500 million to US$108 million.
This was certainly not a pleasant experience, but not so bad as well. Since IPOed at US$9 per share, LX's price rose to nearly $19 and stabilized at about $14 now. Compared to other earlier IPOs (like Qudian) whose price has dropped more than 50% from IPO price, LX is still well above the water.
LX Vs. QD: History And Future
The trade I am presenting here is actually a pair strategy, which involves LX and QD, the two P2Ps with a long history.
There have been a lot of gossips around LX and QD, such as the relationship between the founders of the two companies. They are both from Jiangxi Province, both born in 1980s, and have similar career backgrounds. Rumors said that they even considered starting online lending business together in the beginning.
One thing that neither of them can deny is that they both started from "campus loan" at the beginning, which attracted intensive scrutiny from regulators since 2016. As LX and QD kept developing business out of "campus loan", they took two totally different directions.
As I stated in my article about QD, it focused on auto finance business for the next growth point. LX, on the other hand, chose e-commerce financing business to be its focus. As stated in LX's IPO prospectus, they "offer a wide variety of competitively-priced products on our e-commerce channel and allow customers to use their credit lines to finance purchases".
In fact, LX's business has been a combination of e-commerce and finance. As shown in the recent earnings results, its revenues can be broken down into two major parts:
Online direct sales and services income (e-commerce), and
Financial services income (finance)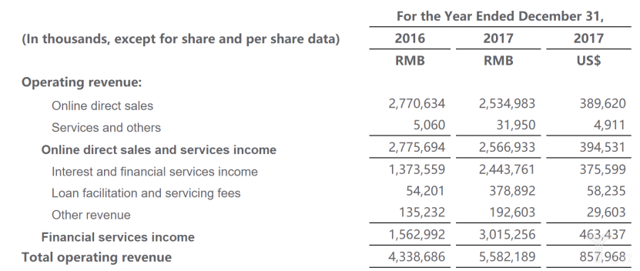 Source: LX's earnings results release
In fact, before 2017, LX's revenue from e-commerce has been larger than those from finance (63% vs. 37% in 2016, for example). The distribution reversed in 2017, where financial services income grew 95% on YoY basis to accounting for 54% of the total revenue, while e-commerce revenue reduced to 46%.
As confirmed in its Q4 earnings call, LX's shifting focus on finance business led to increasing profit margin and the final delivery of a net profit in 2017.
Different with LX's "e-commerce to finance" strategy, QD is moving from pure lending business to something that's "heavier". As I have discussed in my previous post, moving into auto finance business had introduced a lot more uncertainty into QD's future. QD's plan is to buy and lease out new automobiles to educated young adults in tier 2-5 cities, which would involve heavy investment at initial stage.
How Has The Market Reacted?
There is no way to tell in advance whose strategy will outperform before we see the actual results, but the market has made the choice through stock price movements: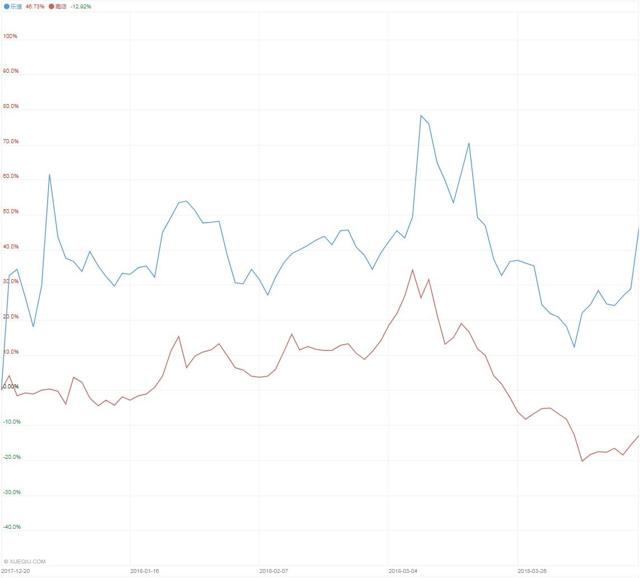 Source: Xueqiu
LX's price went up 53% since IPO (using the closing price on April 17, 2018), while QD dropped 56% since its IPO (dropped 14.9% since LX's IPO). On April 18 (right before the publishing of this post), LX's price jumped nearly 14%: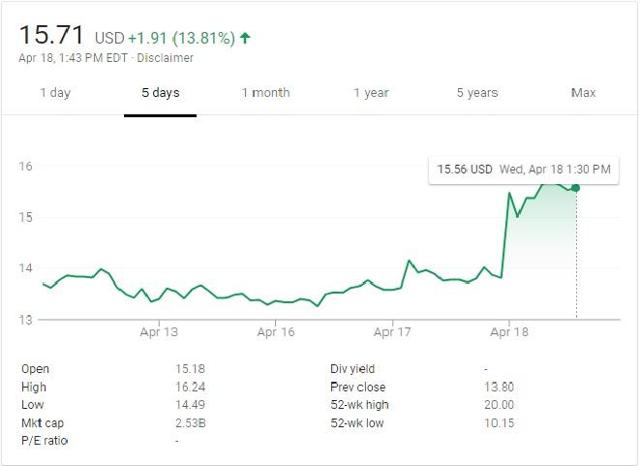 Source: Google Finance
Wall Street analysts also seemed to like LX as well, with PT at about $22:
Date

Firm

Type

Rating

PT

(Past)

(Past)

4/10/2018

Deutsche Bank

New Coverage

Buy

22

(N/A)

(N/A)

1/16/2018

Goldman Sachs

New Coverage

Buy

21.8

(N/A)

(N/A)
Source: Street Insider
Conclusion
I am more optimistic about future growth of LX over QD, based on the analysis on their strategies. Long LX/short QD would make a good pair trading strategy.
Disclosure: I/we have no positions in any stocks mentioned, and no plans to initiate any positions within the next 72 hours. I wrote this article myself, and it expresses my own opinions. I am not receiving compensation for it (other than from Seeking Alpha). I have no business relationship with any company whose stock is mentioned in this article.