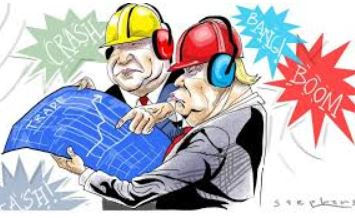 Back in 1980, the United States' share of global GDP was about 21.1%, with the UK, Germany and France holding 13.2% in aggregate and Japan at 7.8%, while India and China represented 8.4%. Fast forward to today, and the United States' share has grown only marginally, while the big three of Europe as well as Japan have actually declined over a 37-year period. So, where was the bulk of the growth?
China (CXSE) and India (INDA) now represent 19.1% of global GDP, a 227% increase, with emerging and frontier markets in aggregate holding in excess of 35%. Yet, the classic "balanced" stock-bond fund, such as Vanguard's highly popular Wellington Fund (VWENX), holds no emerging market equities and only 11% in non-U.S. shares, primarily located in the UK and Canada. Keep in mind that Wellington holds $103 billion in total assets, and is the 13th largest mutual fund in the world.
In my 2017 article "Invest Now And Wait 20 Years," I highlighted the drivers of global growth in emerging (EEM) and frontier markets (FM), specifically in Asia. Because these balanced funds are void of this exposure and represent an old world map, they aren't really balanced at all.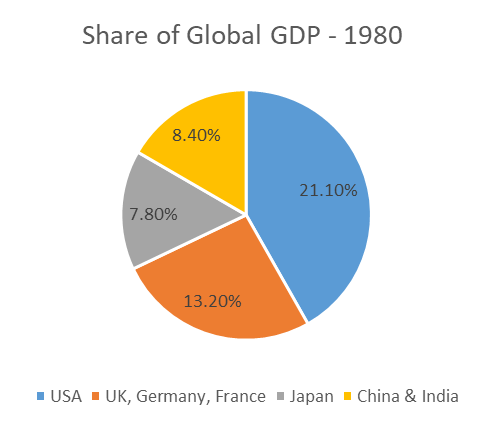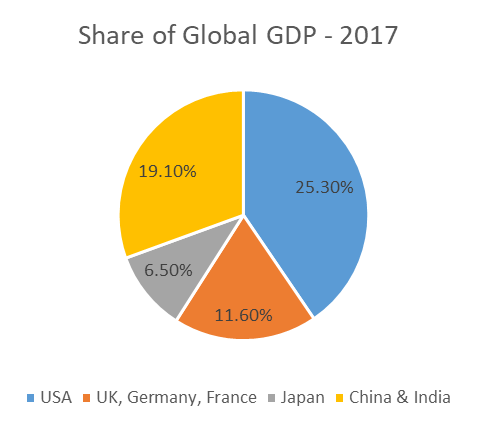 Source: IMF, Statista, Knoema
At this point, you might be wondering what the title of the article actually means. Before we get to that, let's focus on the bond component of a balanced fund. In September 1981, the 10-year U.S. Treasury bond (UST) peaked at a yield of 15.32%, and continued to decline in yield (with prices moving higher as prices move inverse to interest rates) until July 2016, when the yield hit bottom at 1.38%. Since that time, yields have more than doubled to 2.84%. So what's changed is "core bonds" that are highly correlated to the 10-year UST, and are the bond component of a balanced fund, no longer providing the safe haven they once did when equity markets become volatile, such as now. In other words, when stocks declined, core bonds also declined in price.
For example, during Q1 2018, the S&P 500 declined 0.76%, while the widely recognized Barclays Aggregate Bond Index (AGG) declined by 1.46%. Vanguard's Wellington Fund, the largest balanced fund by asset size, declined by 1.91%, underperforming both U.S. stocks and bonds.
To recap, what's changed is that U.S. stocks and bonds have become more positively correlated, meaning their price movements have tended to move in the same direction. This change in price behavior is a phenomenon markets haven't seen with any regularity over the course of a 35-year bull market in interest rates that likely ended in the summer of 2016.
We live in a world where both U.S. stocks and bonds are expensive. BlackRock, for example, is forecasting a muted 3.6% return for U.S. large-cap stocks and a 1.8% return for U.S. aggregate bonds. With highly compressed return projections here domestically, it makes sense to look beyond home bias and focus on the drivers of global growth, while playing defense in bond markets.
"The next decade could see a faster expansion of the middle class than at any other time in history." - Homi Kharas, Brookings Institute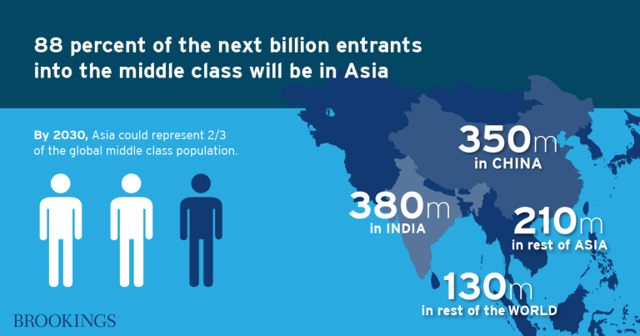 Source: Brookings Institute
Emerging market equities (VWO) are forecast to return 6.9%, nearly double that of U.S. large-cap stocks, due largely to favorable demographics and a rising middle class in emerging Asian economies (MEASX). So, a modern balanced fund includes EM equities in addition to shares of U.S. and other developed economies.
According to CNN Money, the "U.S. budget deficit [is expected] to hit $2 trillion in 2020, two years ahead of [the] previous forecast." With core bonds projected to return 1.8% and headline inflation running at 2.4%, the sum of the two provide little margin for safety if and when the trend in rates continues higher.
Consider that government debt sales are forecast to more than double to $1.3 trillion in 2018, to help pay for the recent tax cuts, while the Fed continues to unwind its balance sheet after years of bond buying. Add to that six Fed rate hikes since 2015 with an additional two quarter-point increases forecast for the remainder of 2018, and three in 2019. When you add it all up, there's a lot of pressure on interest rates, both on the short and long end of the yield curve spectrum. So, it makes sense to supplement core bonds with higher credit quality ultra-short duration bonds (GSY)(FLOT) that help reduce interest rate risk, while allowing for interest payments to adjust to reflect changes in interest rates.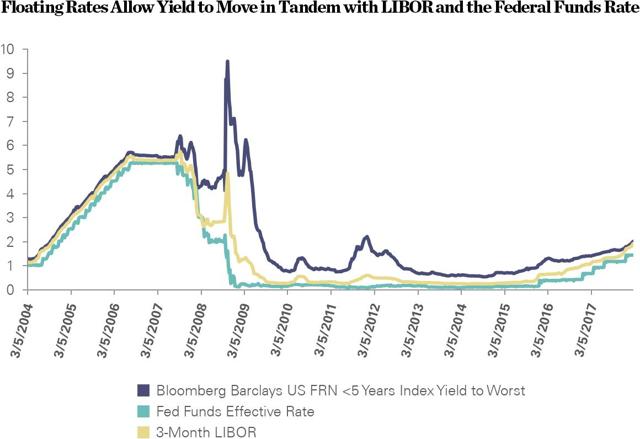 Source: State Street Global, Bloomberg
The chart above illustrates the high correlation between the U.S. investment grade, floating rate index (FRN) to both the three-month LIBOR and the Fed Funds rate. As the Fed pushes short rates higher, as they are now, FRNs move in the same direction.
"Human society is facing a major choice to open or close, to go forward or backward." - Chinese President Xi Jinping, April 2018
In closing, as I identify and translate changes in both global economics and financial market relationships, perhaps the best analogy is the radically different initiatives seen in the U.S and China: the "America First" policy of protectionism, closed borders and isolationism of the U.S. vs. China's "One Belt, One Road" policy of massive investment in and development of global trade routes to facilitate regional collaboration, and ultimately fuel growth. The latter's potential reach could cover 65% of the world's population, and 33% of global GDP.
The old-school balanced fund is perhaps more aligned with the "America First" policy, having recognized the U.S. as the driver of world growth, and supported by a downhill slide in interest rates from a double-digit peak in the 1980s. Alternatively, the modern balanced fund represents the "One Belt, One Road" policy, realizing the true drivers of global growth are in Asia with its vibrant emerging consumer, and China at its core helping to foster and not impede global growth.
As the legendary David Bowie wrote, "Ch-ch-ch-changes ... are takin' the pace…," and yet behavioral finance suggests many investors will ignore obvious overseas opportunities. Instead, they'll opt to stay at home and invest in companies and strategies that are familiar. While this might have felt good for a long time, it comes with potential negative consequences. Instead, whether you're an investor or advisor, take note of these broad secular trends and embrace fundamental shifts in global growth dynamics, while positioning for the current and next generation of growth.
Disclaimer: This article is intended to provide my opinion to readers and does not constitute individualized investment advice. The information presented herein has been obtained or derived by sources believed to be accurate and reliable. This document has been provided to you solely for information purposes and does not constitute an offer or solicitation of an offer, or any advice or recommendation, to purchases any securities or other financial instruments, and may not be construed as such. I have no knowledge of individual investor circumstances, goals, portfolio concentration or diversification. Readers are strongly encouraged to complete their own due diligence on any fund, or other investment vehicle mentioned in this article before investing.
Disclosure: I am/we are long MEASX.
I wrote this article myself, and it expresses my own opinions. I am not receiving compensation for it (other than from Seeking Alpha). I have no business relationship with any company whose stock is mentioned in this article.