The significance of legalized marijuana and the ability for investors to directly invest in a list of marijuana stocks within the space allows market participants to grow as the new industry grows. Since 2014, sales of legal marijuana in the United States alone have increased by more than 100 percent and it has been this growth that has helped many stocks in this sector continue their growth.
One of the larger impacts that have also helped the industry as of 2017 and 2018 was the new legalization for recreational marijuana across the country of Canada. As the industry has been very event driven, so to have been prices for marijuana stocks (both up and down trends).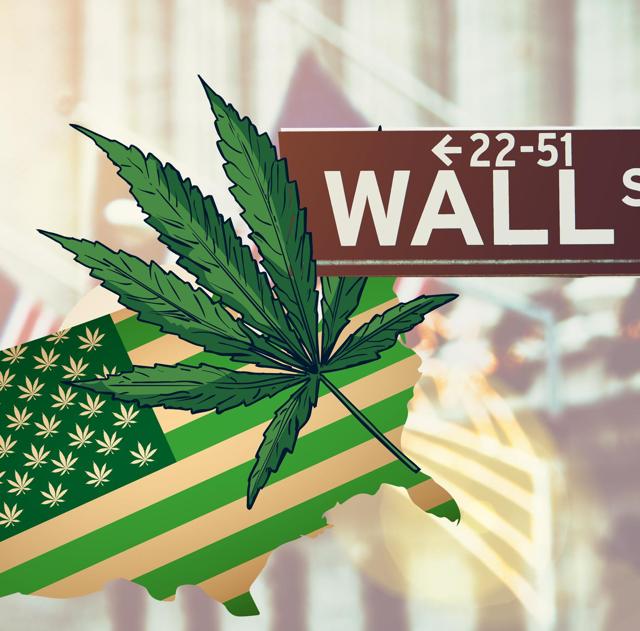 The Canadian Prime Minister Justin Trudeau stated that Canada would legalize the drug across the country for recreational use in 2018. In lieu of this, some companies in the US have made a move to invest in marijuana stocks in Canada.
Constellation Brands (STZ) made an investment into Canadian company Canopy Growth (TWMJF) for a little under $200,000,000 which equated to just under ten percent ownership of Canopy Growth. This move marked one of the largest investments directly into a marijuana company by a non-cannabis industry related company since Colorado first legalized the sale of recreational marijuana. It also helped give a boost to marijuana stocks across the board. This, of course helped to support the idea that many of these cannabis stocks are heavily influenced by industry events.
Following this move, many Canadian marijuana stocks rose significantly. This helped to further legitimize the cannabis industry as a viable investment opportunity that has turned a complete 180 from the "shaded past" during the earlier years of this market.
US Moves A Step Closer In North America's Marijuana Boom
But recent trends for US pot stocks have been relatively stagnant until this month. Jeff Sessions' memo released earlier this year stifled progress for the US in particular. The Attorney General aimed to rescind Obama-era policies that directed federal prosecutors not to target marijuana businesses that operate legally under state law.
The bull move that has been seen in the US marijuana sector seems to have been initially spurred by the announcement that former Republican Speaker of the House, John Boehner as well as former Libertarian Governor of Massachusetts William Weld would be joining the advisory board of Acreage Holdings. The US based Alternative Harvest ETF (MJ) saw a jump in price of more than 16 percent from April 10 to the 17th in response to this news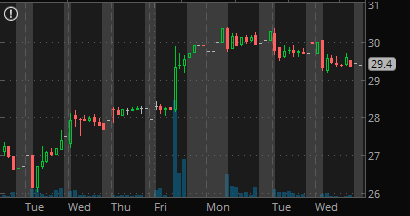 But it wasn't the Boehner/Weld news alone that helped to fuel a bull trend in US cannabis stocks. More follow through also came from recent moves by Republicans Mitch McConnell, Cory Gardner and President Trump himself have given a breath of fresh air to the industry. This, in turn spurred new life into many US (and Canadian) marijuana stocks over the last few days. Not only stocks related to marijuana cultivation were impacted but also stocks that deal with the other side of cannabis; hemp. Senate Majority Leader Mitch McConnell (R-Ky.) has moved to fast track legislative action to legalize hemp as an agriculture product.
Top Performers Over The Last 2 Weeks
A number of marijuana stocks have performed well since April 10 with market moves of 50 percent to over 120 percent. Here are some of the highest movers during the last 2 weeks:
General Cannabis Corp. (OTCQB:CANN)
Market Cap: $16.78M
Up as much as 121.15% since April 10
General Cannabis Corp. has been relatively quiet during the month of April but guidance from the company's year-end announcement suggests that General Cannabis has a lot to offer investors. The company's total current assets increased by 454 percent compared to 2016 while also decreasing debt on the books.
According to guidance, the focus will be on expanding security segment revenues and targeting the new California market to grow revenues. The company also highlights the fact that 2018 could also include more acquisitions. As we've already seen, companies like Aphria and Canopy Growth are already making a point to participate in M&A activities. This could give US investors exposure to the same M&A climate that seems to have initially stemmed from the Canadian markets.
MJ Holdings, Inc. (OTCQB:MJNE)
Market Cap: $188.54M
Up as much as 89.47% since April 10
The new CEO of MJ Holdings, Paris Balaouras addressed the public this month, which was after several weeks of the company being quiet on the PR wires. Since the time that MJ Holdings acquired Red Earth LLC last year, the company has made several achievements within the three months to follow. The main focus has been more on the construction and development piece of the marijuana industry. In fact, MJ Holdings has numerous subsidiaries that include property management, consulting, design services and dispensary licensing mainly in Nevada.
The Nevada market could offer exposure to new opportunities in the US marijuana industry and investors looking to gain exposure to the specific opportunities that the Nevada market presents. Since cannabis analytics firms like New Frontier project the state's cannabis market to be worth $622 million by 2020, it would make sense for companies like MJ Holdings to carve out a leading foothold while the industry is still young.
Cannagrow Holdings, Inc (OTCPK:CGRW)
Market Cap: $141.88
Up as much as 87.78% since April 10
Cannagrow has long been in the process of developing and consulting on marijuana cultivation and real estate leasing. Most resulting the company has been focused on monetizing its Buffalo Ranch facility in Colorado. Category One Botanicals is a licensed grower at the facility. The significance of mentioning that fact is that Willie Nelson's brand, Willie's Reserve has selected Category One as one of the three organic farmers to source product from.
Lexaria Bioscience Corp. (LXRP)
Market Cap: $89.18M
Up as much as 66.73% since April 10
Lexaria is a company that is focused more on the exploiting the bioactive ingredients in cannabis that would allow for efficient delivery of necessary compounds for users. The company most recently received a Notice of Allowance from the US Patent and Trademark office that protect against "processes for making specific compositions of matter for enhanced cannabinoid delivery utilizing its DehydraTECH™ technology."
The majority of the company's patent family involves Lipophilic Active Agents and how they are made available to the end user. By addressing key issues with bioavailability, DehydraTECH™ can be used with both patented and generic substances. Lexaria's portfolio consists of more than 35 patent applications across 40 countries. For investors, the attention should be placed on what these patents mean for Lexaria as these could have already opened the door to new licensing agreements that are not limited to geo-location.
Other Notable stocks that saw gains of 40 percent or more:
Ianthus Capital Holdings, Inc. (OTCPK:ITHUF)
Market Cap: $ 91.48M
Up as much as 53.91% since April 10
CV Sciences, Inc. (OTCQB:CVSI)
Market Cap: $47.96M
Up as much as 53.85% since April 10
Americann Inc (OTCQB:ACAN)
Market Cap: $49.39M
Up as much as 53.27% since April 10
Cronos Group, Inc. (CRON)
Market Cap: $1.07B
Up as much as 50.95% since April 10
Lifestyle Delivery Systems, Inc. (OTCQX:LDSYF)
Market Cap: $68.90M
Up as much as 43.44% since April 10
Aphria Inc. (APHQF)
Market Cap: $1.46B
Up as much as 42.61% Since April 10
Emblem Corp. (OTCQX:EMMBF)
Market Cap: $63.18M
Up as much as 42.04% since April 10
Medreleaf Corp. (OTCPK:MEDFF)
Market Cap: $90.37M
Up as much as 40.90% since April 10
Marijuana Index Performance: Canada vs US Marijuana Stocks
This move was also very clear when looking at the breakdown of the North American Marijuana Index as well.
Though the index itself was largely up from April 10 on, it was specifically the stocks in the US index that saw a higher rise in prices:
Canada's marijuana stock index saw a rise of as much as 12.64 percent over the last few weeks beginning April 10th on. In stark contrast, over the same period, the US index increased by as much as 25.09 percent; nearly twice as much as Canada.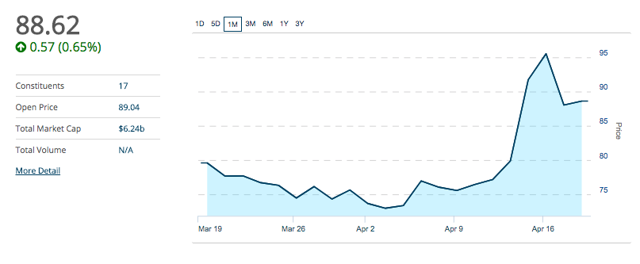 Whether or not this trend will continue is still to be seen. Many marijuana stocks have tailored gains since this move and as evidenced by the above charts, the indexes both show a correction over the last few days. Typically the sector begins to cool off closer to the summer but just like the northern "winter", marijuana stocks and this bull trend may be hanging on a little longer before then.
Editor's Note: This article covers one or more microcap stocks. Please be aware of the risks associated with these stocks.