This week, Herbalife Ltd. (NYSE:HLF) told distributors on a conference call that an outside monitor, charged with overseeing the company's compliance with a Federal Trade Commission (FTC) Consent Order, was requiring Herbalife to change how it accounts for "documented volume" in Nutrition Clubs. The bad news: After May 1, no sales to distributors in Nutrition Clubs may be counted as "documented volume."
Under the Consent Order, "documented volume" is the only type of volume Herbalife is permitted to use when calculating commissions, discounts, and advancement under the marketing plan. Documented volume is supposed to include only volume sold to people with no interest in the business opportunity. The restriction was imposed on Herbalife by the FTC as a way to force the company away from a pyramid scheme structure in which distributors profit by bringing others into the business and then imposing purchase requirements on them.
Nutrition Club operators, it seems, have been getting around the restrictions by recording sales to fellow distributors as "documented volume." They justify this by counting distributors as customers if they didn't recruit those distributors. In other words, one Herbalife distributor's downline recruit can be another Herbalife distributor's retail customer and vice versa.
In a memo sent to distributors after the call, Herbalife explained: "While we understand that these may be genuine consumptions, sales to another Distributor do not count toward Documented Volume to earn."
Last fall, we heard about a large number of distributors consuming in other distributors' Nutrition Clubs, which didn't make any sense. Why consume Herbalife products at your competition's Nutrition Club or offer to buy someone a complimentary shake at another distributor's club? We included the issue in a series of memos we sent to the FTC, which you can see here (memos #18, #19, and #20).
Then we spent a few days watching distributors document their visits to Nutrition Clubs on Facebook. Here's a map of the clubs one couple in Oklahoma City (who have their own Nutrition Club) visited over several weeks.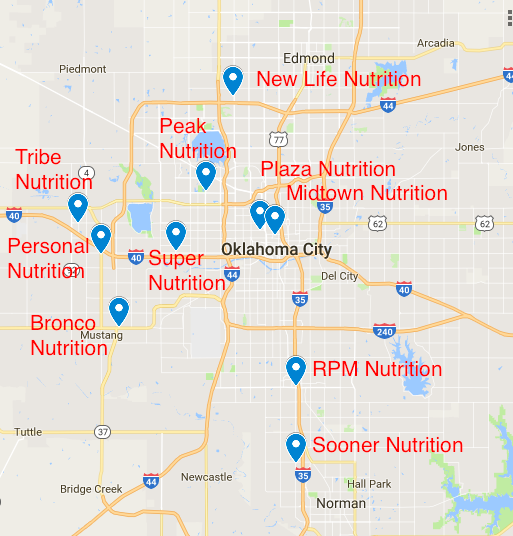 And, here are their Facebook postings during that period:
On September 7, Kathryn Posts: "Good morning everyone!!! Come see Gage & I at Midtown Nutrition!!!" "FIRST TIMERS GET A FREE SHAKE & TEA!!!!"
On September 14, Kathryn checks in at Personal Nutrition and posts: "Had to stop for lunch!!!! I love Herbalife!"
Later that day, Kathryn checks in to New Life Nutrition with this message: "WOOT WOOT YAY HERBALIFE."
One week later, on September 21, Gage checks in to New Life Nutrition, to participate in what would appear to be a weekly Herbalife Opportunity Meeting held there.
Two days later, Gage offers this: "If you're at N. OKC stop by Peak Nutrition and have a free shake and tea on me!"
On September 24, Kathryn posts about a "Branding Party" happening at Super Nutrition, which we assume she plans to attend.
On October 3, Kathryn posts: "Eating lunch at Bronco Nutrition."
On October 7, Gage checks in to Peak Nutrition and messages: "Helping out at Peak today!"
On the 17th of October, he's back at Peak Nutrition with this message: "Helping out at Peak today! Come see us!"
On October 19, Gage posts a message about that night's Herbalife Opportunity Meeting scheduled to be held once again at New Life Nutrition. He says this about the speaker, a local President's Team member: "Freaking David Hayes tonight! He's literally my herba-idol haha!" Gage also mentions an offer of free products: "I'd love to invite you just to learn about us! I'll even buy you a shake and tea!"
On October 25, Gage and Kathryn post a join message and picture: "Come see us at RPM Nutrition!!!! We will be here until 1:00."
The next day, October 26, Kathryn posts about yet another event at New Life Nutrition that evening: "Can't wait to hear the amazing bombs of knowledge that Josh is going to throw at us!!! You won't want to miss it!!!!!"
The next day, October 27, Kathryn checks in at Tribe Nutrition and posts: "Had to stop and get a lemon pound cake shake with a swamp water tea!!!!"
Three days later, on October 30, Kathryn checks in to Personal Nutrition and posts: "Lunch time!!!!"
On October 31, Gage posts from Plaza Nutrition: "Come see us at Plaza Nutrition."
November 2 brings another Herbalife Opportunity Meeting at New Life Nutrition with guest speaker Brittany McAnally. Gage posts: "This awesome lady is giving her story tonight. I also have the privilege to give the Herbalife Opportunity Meeting tonight. I'd love for you to come hear us."
Before the meeting, Gage checks into RPM Nutrition with this message: "Had to fulfill an emergency shift covering! Stop by, come hang out, let's talk and enjoy a meal together."
On November 3, Gage is back at RPM Nutrition with this message: "Come and see us! Hanging out until 1. I'd love to serve you." He's with Jake Morgan, who identifies himself on his Facebook page as the Owner-Operator of Peak Nutrition.
On November 6, Gage is back over at Peak Nutrition: "Having a bomb #shake and #tea. #Learning from The Power of Positive Thinking and eagerly desiring that #holy ambition. Come by and hang out with us!"
That same day Gage posts a message saying that Plaza Nutrition is open for business and ready to "Feed the Community."
At November 10, Gage is at Plaza Nutrition: "Come by and see us!"
On the 14th, he's back at RPM Nutrition with Chase.
On the 18th, he's over at Sooner Nutrition having a shake and tea: "Cinnamon toast rebuild and berry Pom tea after my first #5k with my boy Ian."
On the 21st, he's back over the New Life Nutrition to see Millionaire Team member Nicole Lakin speak at the weekly Herbalife Opportunity Meeting.
You get the idea.
In May, Herbalife management told investors that more than 70% of its volume is "documented" - proof that it has a huge base of retail customers with no interest in pursuing the business. If the company reaches 80% documented volume (which is determined on an annual basis), it will be able to pay commissions on all of the volume it sells, and its marketing plan will remain intact.
But, if distributors can't count on each other to boost their "documented volume", then it will no longer make sense for them to run all over town drinking shakes. If distributors stop being each other's retail customers, then they are going to start falling short of the documented volume they need to earn commissions and advance in the marketing plan. Then, the whole Nutrition Club business won't make much sense anymore.