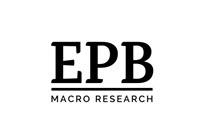 Each and every week the growth rate in the money supply ((M2)) drops a little bit more. On Thursdays, the 'Money Stock Measures' report is released which includes M2 among other measures of the money supply such as M1 and cash deposits.
M2 growth is the most commonly used and the most important by most standards.
In year-over-year terms, M2 Growth + Velocity Growth = GDP Growth.
M2 growth has collapsed from a high of 7.7% in 2016 down to 3.760%, the lowest level since 2010.
M2 Growth Year Over Year: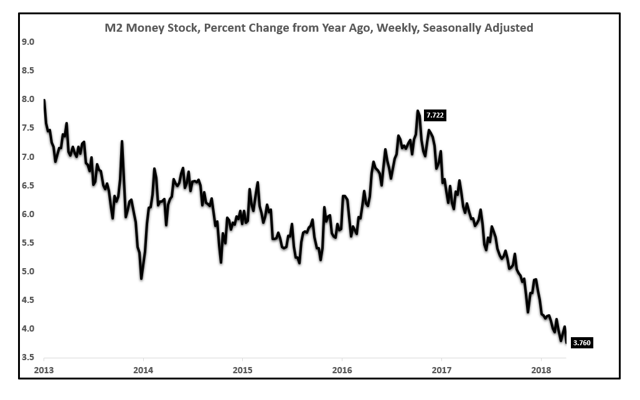 Source: Federal Reserve, EPB Macro Research
As M2 growth falls, GDP growth by definition must fall without an offsetting rise in velocity. It is unlikely for velocity to recover the ~4% loss in M2 growth. Furthermore, if the Federal Reserve continues tightening policy at this rate, M2 growth will fall close to 0% by the end of 2018. GDP growth will fall near 0% as well should that be the case.
The Federal Reserve has been reducing its balance sheet and doing so with increasing intensity each quarter.
Federal Reserve Total Assets: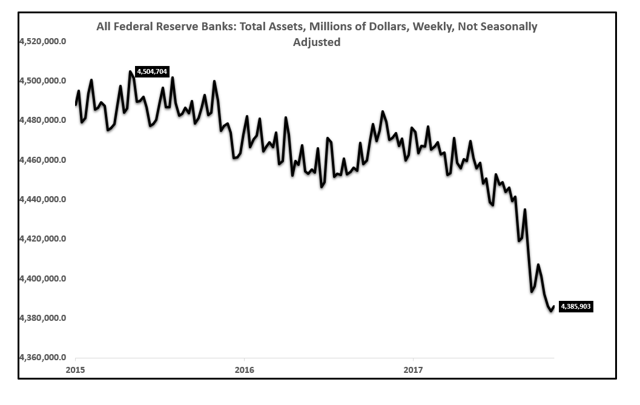 Source: Federal Reserve, EPB Macro Research
As the Federal Reserve reduces the balance sheet by selling bonds, the monetary base declines, contracting the base money in the economy. Interestingly, the monetary base expanded, as did the Federal Reserve balance sheet after the stock market crash in 2016.
Monetary Base, Total: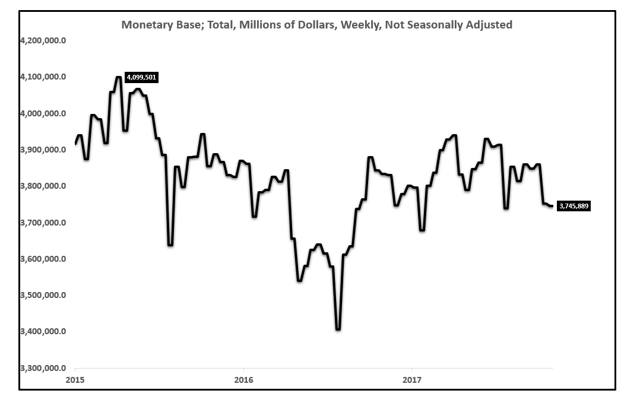 Source: Federal Reserve, EPB Macro Research
The monetary base has not reached the lows seen in 2016 and it will be interesting to see if the economy and the market hold up as the monetary base continues to contract.
In 2016, when the monetary base was sitting at the lows, there were serious recession fears and by many economic indicators, you can say the economy was in recession for a brief period of time. The monetary base was quickly expanded to counter this pending disaster. As the monetary base has started to come down once again, unsurprisingly, volatility has soared.
The monetary base has a long way to go with the careful plan of the Federal Reserve before reaching the 2016 lows, but with the increase in the pace of asset sales for Q2, we will get there faster than many investors will notice.
Higher volatility and market turmoil are likely to come as the monetary base contracts towards the 2016 lows with $90 billion of asset sales on schedule for this quarter.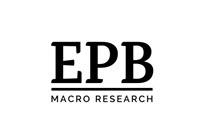 EPB Macro Research is my premium service on Seeking Alpha. EPB Macro Research provides no-spin, unbiased and in-depth macroeconomic analysis that is used to forecast markets and generates a portfolio based on which asset class is likely to outperform over the next 1-2 years. Most economic analysis is biased, unreliable and unaccountable. EPB Macro Research is fully transparent, providing a full track record of all the changes to the model portfolio.
Currently, there is a free trial available so there is no risk in trying EPB Macro Research. This free trial window will be closing soon. Join EPB Macro Research for free and see how in-depth, consistent and evidence-based macroeconomic forecasting can be added to your personal investment process. Click Here for more information about EPB Macro Research. Act now before the free trial expires!
Disclosure: I/we have no positions in any stocks mentioned, and no plans to initiate any positions within the next 72 hours. I wrote this article myself, and it expresses my own opinions. I am not receiving compensation for it (other than from Seeking Alpha). I have no business relationship with any company whose stock is mentioned in this article.