Market Intro
Commodities (USO, GLD, DBC) have gotten some attention of late, and why not? The combination of a global economy that by many accounts is expanding, coupled with trade and geopolitical concerns, aided by potential for some unexpected inflation, and you've got all the makings of a rally.

Market Chameleon: Implied Volatility on Deutsche Bank Commodities ETF
Granted the options volume on this traded product is not stellar, but we do see an indication of volatility for the space as a whole is picking up after dropping precipitously in early March.


CNBC: Thursday close
With a current reading of 2.91%, 10-Yr yields are pushing back near the high end set about 5 weeks ago (2.96%). Last go around this caused heartburn for stocks (SPY, DIA, QQQ, IWM), but lately this particular driver for equity volatility has taken something of a back seat. It will likely require sustained upside and/or increased Treasury-VIX prints for yields to reassert themselves as a major mover for stocks in the days ahead.
Thoughts on Volatility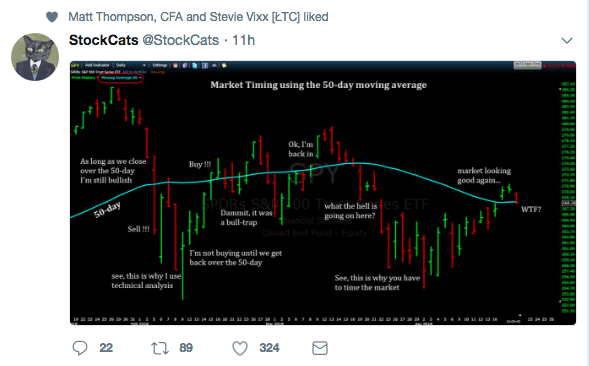 Stockcats enforces the notion that no strategy or indicator works all the time. Whereas stocks previously emphasized a strong state of trending, for the time being we inhabit a range-bound market. Strategies that are designed to make money during trending markets can fail miserably when whipsaw takes hold.

The question on everyone's mind: have we violently crashed into a new kind of normal for realized volatility, or was this a singular bout that markets will digest and put into the past?
At present stocks appear to be testing out the second possibility. In order to put vol in the rear view mirror, some combination of two things need to happen (in my opinion):
We get fewer jarring headlines (the weaker of the two conditions). Stock investors look right past the causes for nervousness (stronger case for a calm market environment).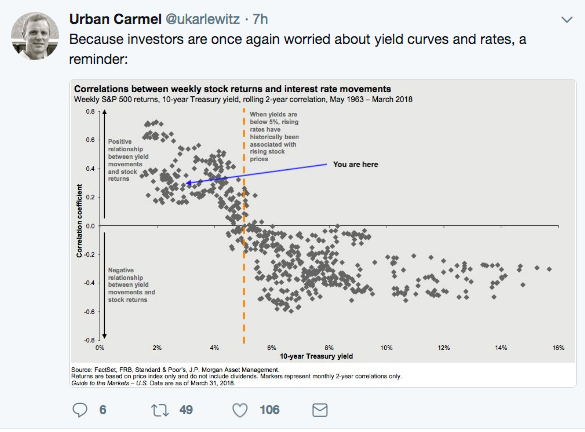 So do rate increases matter for stocks? Not lately. Urban Carmel makes the case that rising rates do not need to spell disaster for stocks. Empirically, he is correct. We do need to take care however. Usually, rate increases occurred much earlier, with much less debt, and with higher levels of GDP growth. No two expansions or recessions are ever the same, but the present expansion is definitely different from prior ones, and so we need to take care when looking at visuals such as the one featured above.
Term Structure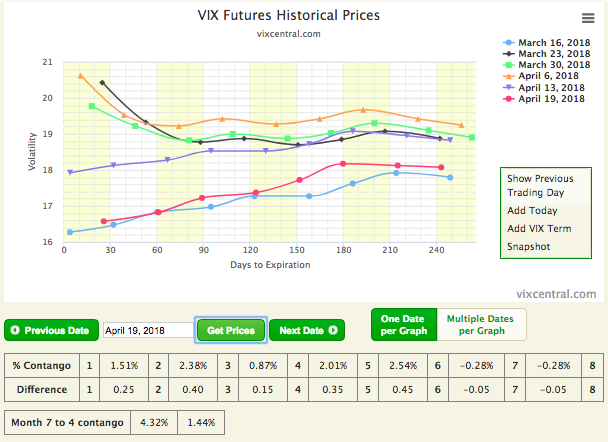 What a month it's been! May is now the front-month contract, and there is plenty of time before expiration, which means the M1 can march to the beat of its own drum for the next couple weeks. Recall that while today's term structure looks tame, it actually resembles mid March quite closely. We all know how that attempt in lower vol went.

Market Chameleon, ACWX Implied Vol
Once again, options volume on the ACWX is not great, but we do see a massive drop-off on the time value options buyers are willing to pay on options of this foreign equity index. This is noteworthy, as correlations is a major theme in stock investing at this time. When all the indexes drop precipitously in tandem, it is not too difficult to imagine them all launching higher once more as well.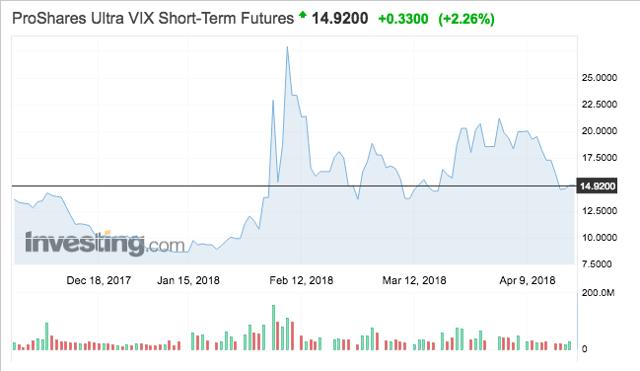 ProShares' UVXY has taken the drop in vol pretty hard over the last several sessions. The shape of the term structure once again has itself set against this instrument for gains. For the time being, however, the roll decay is pretty tame. One needs to balance the fact that we are at the low end of our recent volatility range (positive for UVXY) against the reality of the moment that VX futures are back in contango and the market absolutely looks to be attempting to restore some semblance of order and poise. My guess is that earnings season acts (mostly) as a temporary headwind for volatility at the index level.
Conclusion
If this is your first time reading Market Volatility Bulletin, thanks for giving it a try. If you're a regular, we thank you for your ongoing contributions in the comments section.
MVB tends to focus on S&P equity volatility, but of course there are a wide range of markets to track depending on your interest, instruments, and skill sets. Atom & Humber offers a perspective on what may be considered a good set-up (likely as a longer term play rather than a day trade) for gold options: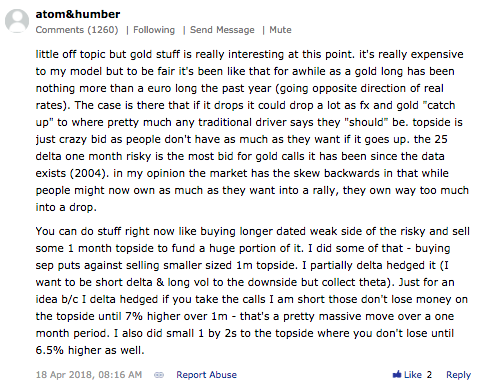 Posts like this are helpful for traders who are learning, or looking to expand their watch list of markets. I'd encourage readers to feel free to get "a little off topic" as this enhances the value of the MVB.
Thank you for reading.
Please consider following us.
Disclosure: I/we have no positions in any stocks mentioned, and no plans to initiate any positions within the next 72 hours. I wrote this article myself, and it expresses my own opinions. I am not receiving compensation for it (other than from Seeking Alpha). I have no business relationship with any company whose stock is mentioned in this article.