Author's note: This post was written earlier in the week, prior to General Electric's first quarter earnings which were released today - you can read about Q1 results here. While I have yet to go through the earnings report in detail, on the surface it would seem that today's earnings beat could provide the necessarily catalyst to lift GE shares out of their 12-month slump.
Update
I originally wrote about General Electric (GE) back on January 18th, in a post titled "Why We've Been Unwilling To Take The Bait On General Electric Until Now."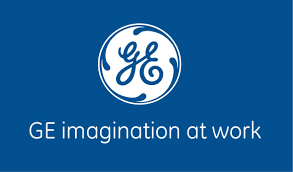 A quick recap:
Like many others, we watched as GE shares fell from their highs above $30 at the start of 2017, expecting that we would be buyers in the low $20 range.

That was, until the company cut its dividend by 50%, on November 13th ("GE Halves Dividend - Seeking Alpha"). The shares responded positively that day, up 2.2% to close at $18.25.

But the dividend cut turned out to be a dire warning sign, at least for us.
Source: "Why We've Been Unwilling To Take The Bait On General Electric Until Now"
The point of the last article was that GE's underlying cash flows had been underperforming relative to its GAAP earnings which, following the dividend cut, was enough of a 'warning sign' for us to stay away from the company as an investment.
In that same article I also proposed a range of 'fair value' estimates for GE, with a low of $9.23 to a high of $17.92 and suggested that in all likelihood the answer probably lied somewhere in between:
Personally, I happen to the think the answer lies somewhere in between. If we take the sustainable growth rate outlined above (6.43%) and allow it to decline in a linear fashion to 5% (60% payout ratio and 12% ROE) over the next 10 years, the result would be a fair value estimate of $12.67 or about 28% below the current share price.
Source: "Why We've Been Unwilling To Take The Bait On General Electric Until Now"
Since then, the company announced that it would be restating two years of earnings and the SEC additionally announced that it would be initiating a probe related to GE's accounting practices following the company's announcement of $6.2 billion in new insurance charges.
Obviously, these weren't events that we were predicting, nor were they even things that we had been anticipating necessarily, but they do speak to the value in evaluating a company's underlying cash flows in relationship to its reported, or GAAP earnings.
But now that the shares have settled just slightly above $13 and following that, a 7.8% gain in the past seven days of trading including a 4.6% gain over the last three sessions, I thought now would be a good time to revisit the idea.
Normally I wouldn't come back with a follow-up post like this as our team has largely moved on from the idea, but the response that I received from my first post on GE was so overwhelmingly positive that I wanted to revisit the idea again, for the benefit of any readers who have stuck with the company and who are either looking to add to their position or who are in search of an attractive entry point.
If you find yourself as one of these people, I am suggesting that if I were looking to initiate a position in GE I would be thinking very long and hard about making that move any day now, potentially waiting for a break above the stock's 50-day moving average, if you wanted to gain a little added conviction before making the trade (more technical analysis to support this thesis is provided below).
At the same time however, I do not expect that I/we will be initiating a position in the company.
Time has only continued to prove, to us at least, that General Electric may very well be one of the more complicated investment ideas within the large-cap space right now.
In our opinion, in the instance of certain market environments, pursuing something like this, a little "higher up the risk ladder" may make sense, but fortunately, in our case we feel like there are other opportunities in the market offering solid risk-adjusted returns but without the overhang of what I would refer to as "speculative uncertainty" to the degree that currently surrounds GE stock.
We have in fact been quite active in recent in recent weeks trading names like Enbridge (NYSE:ENB), CVS Health (NYSE:CVS), Molson Coors (NYSE:TAP) along with short positions in Tesla (NASDAQ:TSLA) and Dropbox (NASDAQ:DBX) which are available to be discussed in more detail over on my Marketplace service.
So, for us GE doesn't make the cut so to speak, but that certainly doesn't mean that the stock today still isn't undervalued, nor does it mean that GE wouldn't make a for a good, or even great investment for some investors and under certain circumstances.
Below, I'll attempt to explain how I arrived at this conclusion, including a look at the valuation GE has tended to trade at historically, along with a careful analysis of the GE chart to see if it offers any clues on the direction that shares could be headed next.
I'll also attempt to address how the latest report from the Wall Street Journal regarding the possibility of spin-offs and hybrid asset sales would fit within this framework, and how a strategy to break the company up may in fact prove to be an effective method of improving the fair value of the company as a whole, as compared to prior estimates.
Valuation of General Electric
In arriving at our investing and trading decisions, our approach will typically involve an overlay of fundamental and technical analysis.
Essentially, we want 'both schools of thought' to tell us that an investment is a good, or even great idea before we go ahead with it.
(more on the technical analysis of GE stock below)
Within the framework of fundamental analysis, one thing we always want to see in a prospective investment is strong underlying cash flows and more often than not we want to see that those cash flows being used in a way that allows for regular distributions to be made to a company's shareholders, or Free Cash Flow ("FCF").
This is basically where GE as an investment falls apart for us.
Despite generating FCF that was typically at or above $20 billion annually between 2010 and 2014, in 2015 GE's FCF fell to $11.8 billion, then a deficit of -$8.2 billon in 2016 and following from that, FCF of $2.5 billion in 2017 (source: Morningstar.com).
But not everyone will follow a strict discounted cash flow (NYSE:DCF) discipline like we do and to that end there are many, many examples of companies with weak to deficit FCF positions at present that despite that, have outperformed the market (AMZN, NFLX and TSLA to name but just a few).
However, one of the other ways that we will evaluate a prospective company in order to help us determine if it would make for a good investment, is to examine its current valuation against where the company's shares have tended to trade historically.
For example, Wal-Mart (NYSE:WMT) has tended to trade at a forward P/E multiple of somewhere between 12x and 20x and a forward dividend yield of between about 2.1% and 3.3%.
Therefore, if we found that Wal-Mart shares were trading at a forward P/E of 12x and a dividend yield of 3.3% we would tend to think that Wal-Mart stock was 'attractively priced'.
It is with this approach in mind, that the table below suggests that GE stock is currently trading towards the 'low end of its valuation range'.
In other words, GE shares today appear to be 'cheap' relative to where they have traded historically, by measure of the company's price-to-earnings and price-to-cash-flow ratios, as well as its dividend yield.

What I've done above is take the consensus expectation for earnings of $1.06 from Yahoo! for the 2019 fiscal year and extrapolate some proprietary forecasts from those estimates.
The current expectation is for earnings of $0.96 in 2018 and 10.4% EPS growth following from that in 2019 so with that in mind I've assumed an 8.3% increase to the current $0.48 dividend payout which I don't think is unreasonable.
I've then tried to approximate what GE's underlying cash flows could be in 2019 based on the historical relationship between the company's earnings and its cash flows.
The caveat to all of this of course would be if GE should miss estimates for its earnings in the current year and/or into 2019.
To that end, I would simply suggest that if you are expecting that GE is going to miss the analyst estimates currently in place by a material amount, I don't understand why you would be buying GE stock in the first place.
While I have no reason to disbelieve or disagree with the current 'street consensus', our team to date has been unable to come up with a reliable proprietary estimate for GE's earnings this year or next, which along with uncertainties surrounding the underlying cash flows, is one of the primary reasons why we will be holding off on an investment in the company's shares.
A Review of the Charts Supports the Thesis that Shares May Be on the Verge of Breaking Out
(Source for all charts: www.stockcharts.com, April 17th,, 2018)
Before getting to the prospects of a potential breakout in the GE shares (which may be imminent) the monthly chart below shows a deeply oversold condition, with a Monthly RSI (14) reading of 20.8.
This is a contrarian technical indicator that there may not be many bears left still holding the GE shares.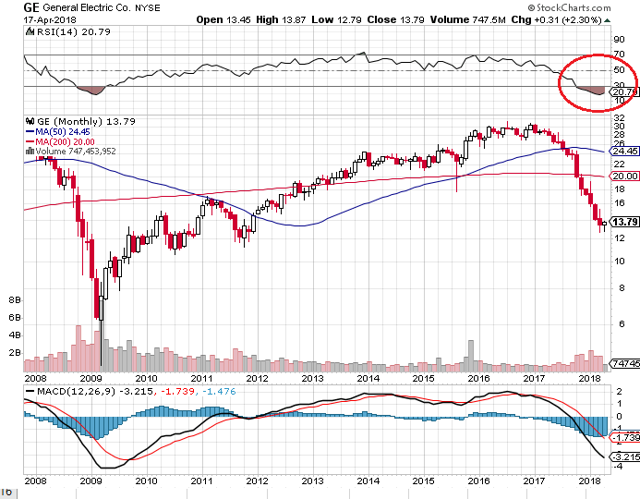 The shorter-term weekly chart, shown below, gives us two bullish indicators:
A nuanced, but bullish crossover of the MACD lines
A bullish divergence as seen by an improving RSI condition at the same time that the stock has continued to make new lows
Additionally, the below chart also reveals a downtrend (black line) that the shares are on the verge of breaking out of.
If a successful breakout from below the downtrend were to occur, this could prove to be a very bullish indicator for the stock.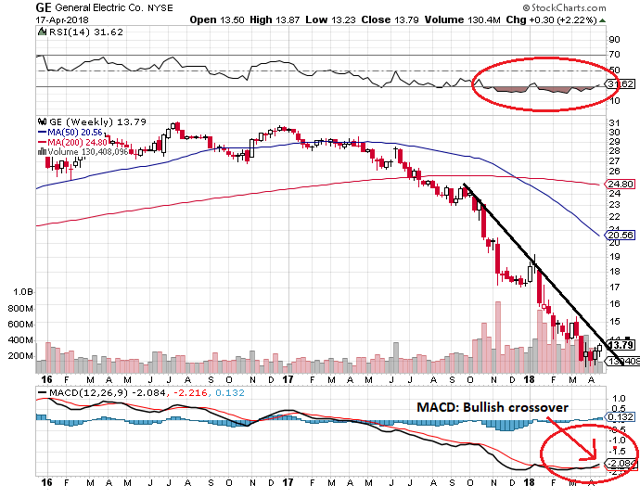 The last, GE's daily chart, shows that a potential breakout could be imminent.
Below, we can see another bullish divergence, this time the MACD improving as the stock has been falling. Additionally, the chart below also shows the shares now on the verge of breaking above their 50-day moving average. A breakout above the stock's 50-day moving average could coincide with a breakout from below its downtrend shown in the weekly chart above.
If that combination were to occur, it could prove to be a bullish catalyst for the shares, speaking strictly from a technical analysis standpoint.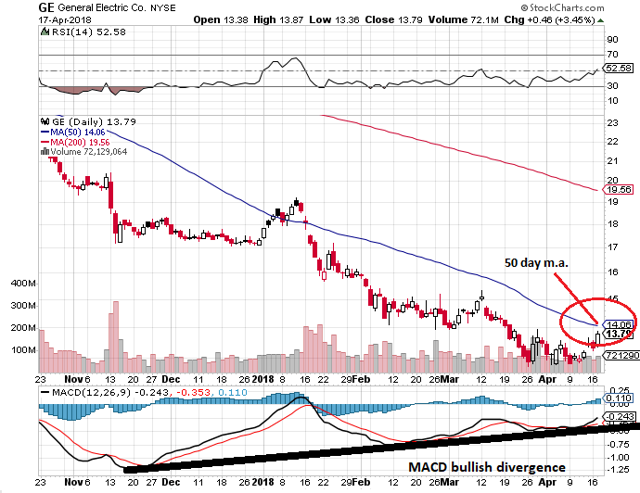 Evaluating a Potential Break-Up of GE
The evidence appears to be mounting that either GE "should," or is already planning, a break up of the company.
Evaluating the implications of any forthcoming M&A activity would difficult to quantify in detail but there is good reason to believe that at $13 per share, a sum of the parts valuation for GE may in fact be greater than the whole as it is valued today.
Simply put, conglomerates have been breaking up for several decades now and GE may be one of the very last to fall victim to how markets are choosing to value them.
Essentially, conglomerates tend to get discounted valuations in the markets because they are viewed as being over-diversified. Take, for an example, an investor who wanted a long exposure to health care and aviation but was bearish on oil and gas.
In the public markets, that investor could go out and buy the stock of the health care company and aviation company that he individually felt offered him the best risk/reward trade-off.
Alternatively, that same investor could buy a stake in General Electric in order to gain exposure to the company's health care and aviation businesses, but in doing so, that investor would necessarily also be paying for a stake in GE's oil and gas business, which is something that he sought to avoid.
The result is that the investor would be only willing to pay less for GE's health care and aviation businesses than he otherwise would, and thus the company as a whole, gets discounted to some degree.
This of course leads the conclusion that if the sum of the whole is in fact undervalued or at least fairly priced (as may be the case right now), then that leaves open the opportunity to unlock hidden value by selling or divesting those individual businesses which have been unfairly discounted by the market.
Mind you, this type of analysis is in fact nothing new but does lead me to believe that GE more likely than not will end up divesting some of its business units as part of its ongoing reorganization.
In the case the company were to decide to divest certain assets in exchange for cash, via either a split-off or hybrid asset sales, the cash raised could be used to solidify GE's dividend or to do another share buyback program as has done in years' past, which may logical make sense given the currently depressed share price.
Meanwhile, if the company decided to go with a spin-off instead, investors receiving shares in the company would more than likely benefit from receiving the interest in an investment that was no longer being subject to a discounted valuation by the market.
Conclusion
In closing, it may be beneficial to quickly revisit how sentiment has changed with respect to GE over the past few months. As shares began to approach $20, there were many who were waiting to (or did) pounce on the company's 4.5% dividend which has, historically at least, proven to be a profitable buying signal.
However, following the dividend cut, sentiment on the company turned rather bearish. This is around the time that we and several others began suggesting that things may in fact be worse than they had initially appeared. It was also around this time that some bearish targets started being publicized that were significantly below the company's share price, many at $14-$16 while others still lower, at $11-13.
Then there was a period in February where the shares appeared to have stabilized somewhat in the mid-teens. This was a period where sentiment was decisively split between the bears and the bulls (based on my own personal recollection, at least).
Now following that, shares have stabilized again, in the $12-$14 range. This implies that many of the more bearish price targets that were released shortly after the dividend cut have since been met. It also happens to be a time when its hard to find many GE bulls still left standing, but there are a few.
But now we also have a scenario where - at least if you're willing to believe the analyst community - shares seem to make sense form a valuation standpoint, you are seeing encouraging signs of an impending breakout in the chart patterns, and now following today's earnings beat you have a much-needed catalyst that could serve to propel the shares higher.
It just seems to me, that if you were still bullish on GE stock, now might be the time to go ahead and pull the trigger.
Disclaimer: The above research does not constitute investment advice nor is it a recommendation to take action in any investment security. You are encouraged to conduct your own research and due diligence before taking investment action, including a careful review of the risks associated with the security in question, an evaluation of the security for suitability within your own set of circumstances and consultation with a professional financial advisor if you have one. Any positions disclosed are subject to change and without warning.
Members of my private investing community Valuation 360 have the opportunity to discuss this idea and others with me in more detail.
Disclosure: I/we have no positions in any stocks mentioned, but may initiate a long position in GE over the next 72 hours. I wrote this article myself, and it expresses my own opinions. I am not receiving compensation for it (other than from Seeking Alpha). I have no business relationship with any company whose stock is mentioned in this article.