Polar Capital Holdings
Polar Capital Holdings (OTC:PLRRF) is a manager of several funds focused on UK investors with a total AUM of 12 billion GBP as of the 12th of April 2018. The stock trades under the ticker LON:POLR on the AIM and PLRRF on the grey market.
There are currently 93,347,183 shares outstanding and the stock sells at 5.30 GBP for a market cap of 494.7 million GBP.
The funds have faced large year-over-year inflows and good performance. For that reason, most backwards-looking financial statements aren't useful for determining intrinsic value. We will use the official 12th of April update for AUM numbers.
Almost 20% of AUM lies in permanent capital vehicles. Polar Capital also has 75m GBP in net cash and investments on the balance sheet.
An Overview Of The Funds:
Polar Capital has approximately 20 funds under management. The performance of said funds have been excellent in almost every time frame.

The funds are split across multiple strategies with a majority focused of AUM in technology and healthcare.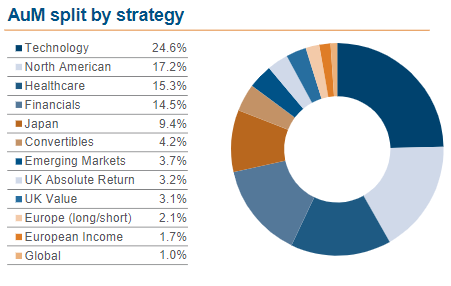 As previously stated, the majority are in open-ended funds (redeemable) while a ~20% of AUM is from permanent capital vehicles such as closed-end funds.
The primary constituents/customers are other asset managers.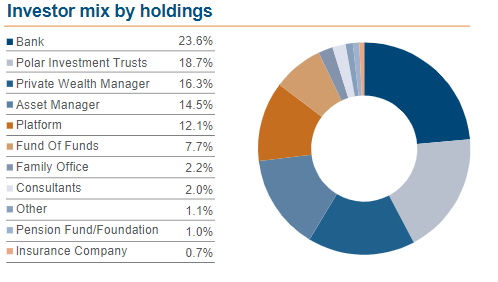 With the majority originating from the United Kingdom and the rest from broader Europe.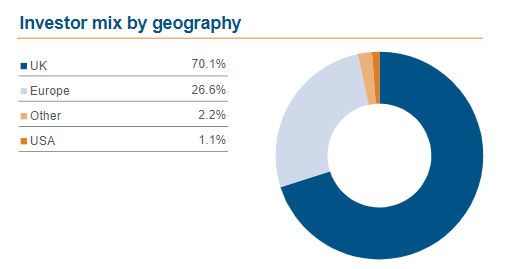 The average AUM was 8 billion GBP for the year ended 2017, which resulted in 68 million in management fees for a total management fee of 0.9%. Performance fees on most of the funds amount to 15% of excess return over the Dow Jones World Technology index capped at 2% of AUM.
At the current AUM of 12 billion GBP, the management fee is equivalent to a run rate management fee of ~108 million. Salaries, benefits, and bonuses amount to roughly 40 million per year and other operating costs amount to ~13m GBP. There exists certain share-based payments that amount to roughly 5 million in other costs per year as well. A full estimate of operating costs at 60 million leaves operating profit at 48 million GBP. With a 20% UK corporate tax rate, the post-tax earnings amount to roughly 38 million GBP. There is additional upside in terms of potential performance fees.
Profits amount to 40 pence per share for an outright earnings yield of 7.5%. Polar Capital generally pays out 23 million in dividends/25p per share. So far, this year, the dividend has seen a 9% hike. A full dividend hike would result in a 25 million payout/27.25p per share for a 5% dividend yield.
Growth?
A great advantage of managing capital is that the variable costs are quite low till capacity limits are hit. Capacity is therefore of importance for growth.
Capacity is an industry term related to AUM. In short, it is a rough estimate of the AUM a team using a specific strategy can manage without deteriorating returns and liquidity issues. Generally speaking, capacity upgrades are primarily an issue when talking about specialist funds such as PCH's new AI fund. Capacity is an inaccurate and fairly fluid team, but serves as a rough outline of the assets a manager can reasonably handle.
Net capacity is not the same as actual capacity. Excess capacity in a European income fund is of little importance if technology and healthcare are at capacity.

Looking at capacity statements from last year, a few areas of ample and attractive capacity pockets still remain. Approximately 1.5 billion in the "North American" fund, another 1.5 billion across UK equities, and approximately 600 million in technology for a total of ~3.5-4 billion in attractive and available capacity.
Another 4 billion in AUM would entail ~35 million in revenues. Over the last year, incremental gross margins have looked to be around ~60% (30m in additional revenues, a little less than 10m in salaries). At current capacity, I estimate that Polar Capital Holdings still has room to expand profits by ~50% before hitting capacity on popular areas.
Given previous performance and assuming continued market stability, it seems likely that said capacity will be used during the next few years.
Risk?
Asset management is obviously rather procyclical. Falling asset prices and capital calls reduce the revenue base considerably. Add moderate operating leverage and the business can readily go from producing 40 million in FCF to not covering the dividend.
Polar Capital offers good products, but there is also a risk of fees contracting. The asset management business is notoriously facing fee pressure. Fees of ~1% aren't onerous, but they're certainly in line or slightly above index substitutes.
Polar Capital is trying their best to diversify their offerings through AI funds and other special funds, but there are few barriers to entry that don't rely entirely on employees.
Valuation & Actionability:
Assuming the current environment is the same, in terms of volatility and asset prices, I would be willing to capitalize earnings at 10% for a cautious buy. Given the supposed 38 million in run rate earnings, the result is a 380-400 million valuation. The current 494 million market cap is expensive, partly given the 75 million in cash and seed investments on the balance sheet.
Polar Capital Holdings is a solid holding for a long-term dividend with cheap pro-cyclical exposure, but the current price does not adequately compensate investors in my opinion.
Disclosure: I/we have no positions in any stocks mentioned, and no plans to initiate any positions within the next 72 hours. I wrote this article myself, and it expresses my own opinions. I am not receiving compensation for it (other than from Seeking Alpha). I have no business relationship with any company whose stock is mentioned in this article.