Though the Bloomberg Barclays US Corporate High Yield Index crested in January, high-yield credit spreads, a risk premium demanded by investors for purchasing corporate bonds rather than US Treasury bonds, are still hovering around a multi-year low. High-yield bondholders seem to remain optimistic, despite recent market turmoil. However, high-yield corporate bonds are under stress. Credit spreads will widen on the back of credit concerns, rising volatility, and reduced liquidity. Moreover, corporate bond yields are composed of US Treasury yields plus credit spreads. The continued rise of Treasury yields will pressure high-yield bond yields higher, and bond prices will decline.
Most high-yield companies are highly leveraged and are susceptible in an economic slowdown. The ISM Manufacturing Index demonstrates a cyclical pattern and is starting to roll over (Chart 1). Weakened economic activities will derail revenue growth. In addition, the US unemployment rate of 4.1% is below the natural rate of unemployment (4.73%). The labor market is extremely tight, so wage growth should accelerate soon. Nevertheless, wage growth often lags months behind economic growth. Thus, it will not be surprising to witness rising labor costs and slumping revenue growth in the coming months (Chart 2). Profit margins will shrink, and this will weigh on credit fundamentals and credit spreads.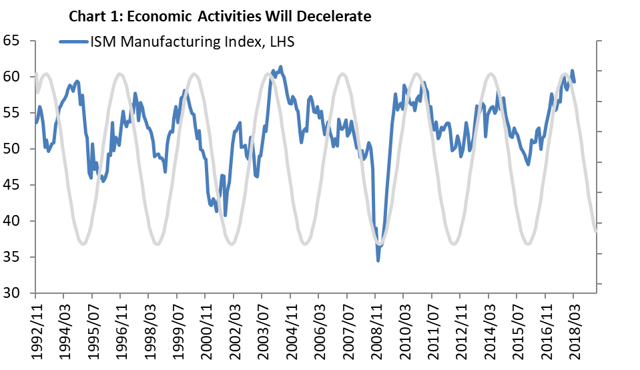 Source: Bloomberg Data, Compiled by Author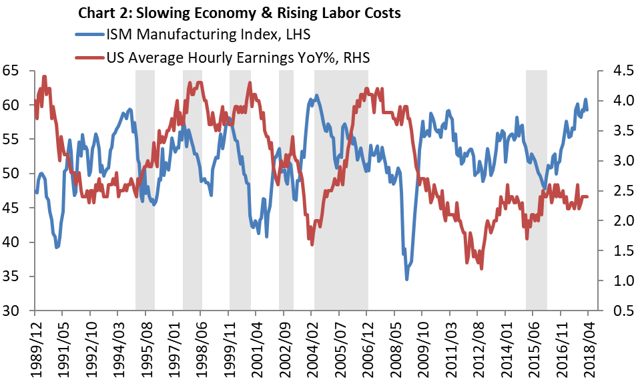 Source: Bloomberg Data, Compiled by Author
Companies have taken advantage of low interest rates to re-leverage balance sheets since 2010 (Chart 3). The outstanding amounts of high-yield bonds and high-yield loans have also surged meaningfully (Chart 4). This is why rating downgrades mostly outpaced rating upgrades for high-yield bonds over the past few years (Chart 5). Heavy debt burdens will ultimately damage companies during an economic downturn. A spike in perceived defaults will cause investors to demand wider credit spreads as compensation, and high-yield bonds will suffer.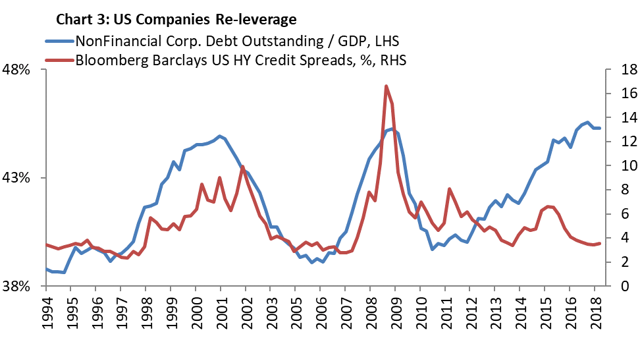 Source: Bloomberg Data, Compiled by Author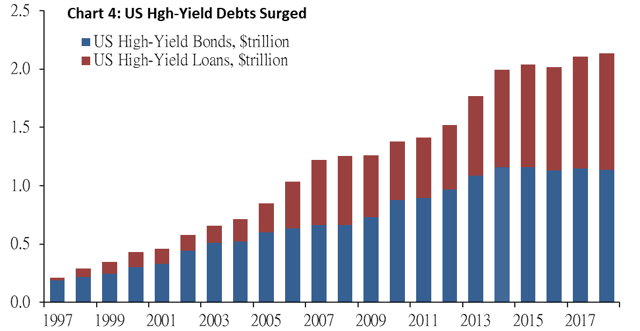 Source: BofA Merrill Lynch Global Research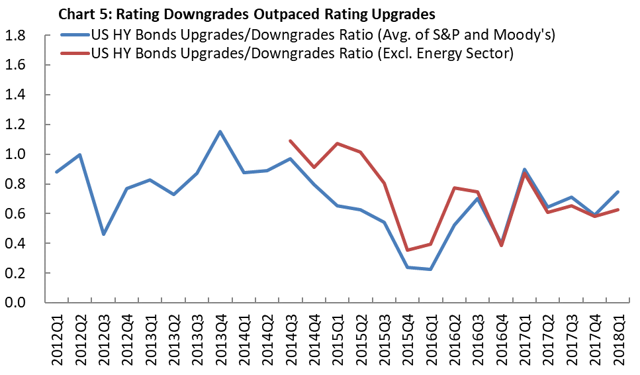 Source: Bloomberg Data, Compiled by Author
The Fed is on track to raise policy rates and reduce its balance sheet (Chart 6). Tighter monetary conditions will spur market volatility. Investors will likely dump high-yield corporate bonds and switch to more liquid and less volatile US Treasury bonds (Chart 7). Thus, high-yield corporate bonds will come under selling pressure, and credit spreads will widen accordingly.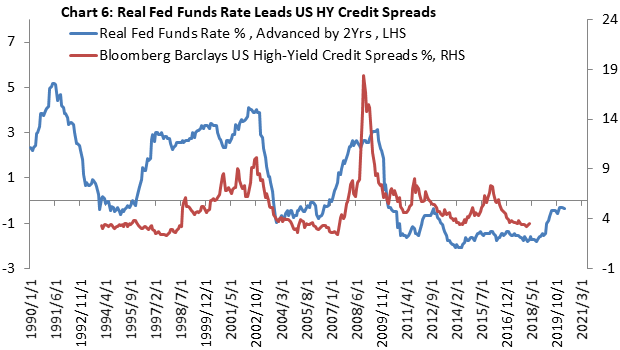 Source: Bloomberg Data, Compiled by Author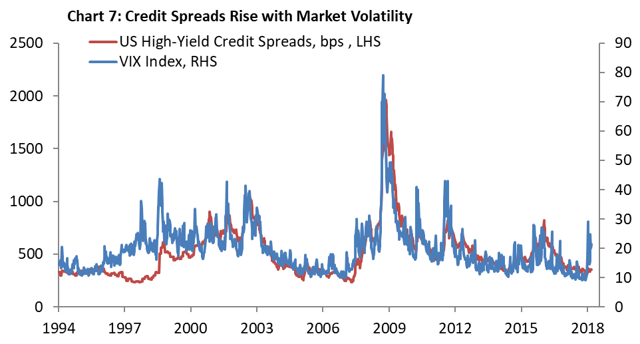 Source: BofA Merrill Lynch Global Research
In the early and mid-cycle phases of expansion, credit spreads are very wide, and as the economy improves, credit spreads tighten significantly as US Treasury yields rise. Nonetheless, now that credit spreads are close to record lows and we are in the late-cycle phase of expansion, there is little room for spread tightening. Inflation has bottomed out (Chart 8), and the Fed has just revised up inflation and interest rate projections in the March FOMC meeting. Therefore, US Treasury yields have plenty of upside potential (Chart 9), and high-yield bonds will not survive in the current environment because rises in Treasury yields cannot be offset by falls in credit spreads.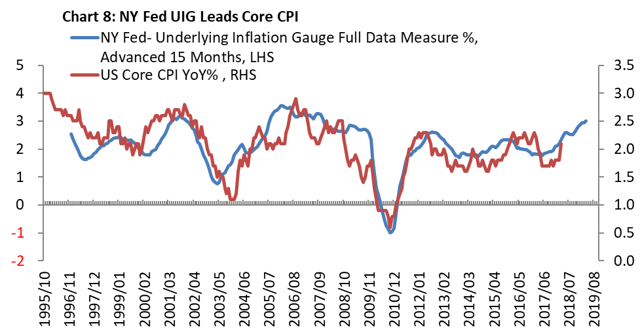 Source: Bloomberg Data, Compiled by Author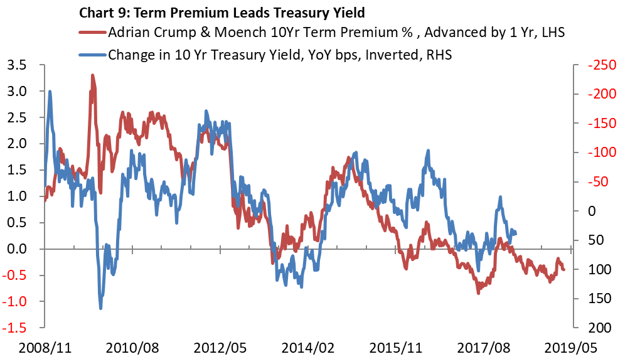 Source: Bloomberg Data, Compiled by Author
High-yield mutual fund assets as a percentage of US high-yield bond market capitalization rose from 12% in 2006 to 25% in 2012 and have since leveled off (Chart 10). If mutual fund holders are aware of rising uncertainties, they will redeem mutual fund positions and fund managers will be forced to dispose of high-yield bonds accordingly.
Furthermore, the lion's share of high-yield corporate bonds is issued by small-cap companies, and US small-cap stocks will continue to underperform. This will further weigh on high-yield bonds. Investors should monitor the high-yield market closely and consider reducing high-yield bond ETF exposure - such as iShares iBoxx $ High Yield Corporate Bond ETF (HYG) and SPDR Bloomberg Barclays High Yield Bond ETF (JNK).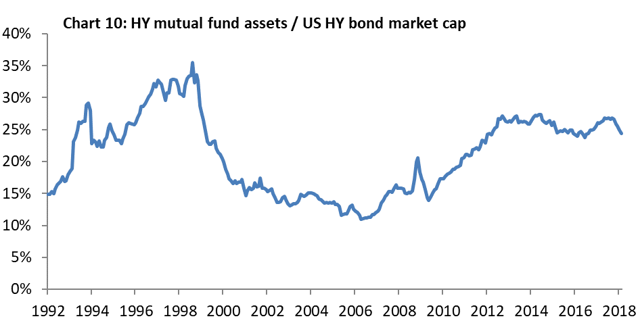 Source: BofA Merrill Lynch Global Research
Disclosure: I/we have no positions in any stocks mentioned, and no plans to initiate any positions within the next 72 hours. I wrote this article myself, and it expresses my own opinions. I am not receiving compensation for it (other than from Seeking Alpha). I have no business relationship with any company whose stock is mentioned in this article.