Real Estate Weekly Review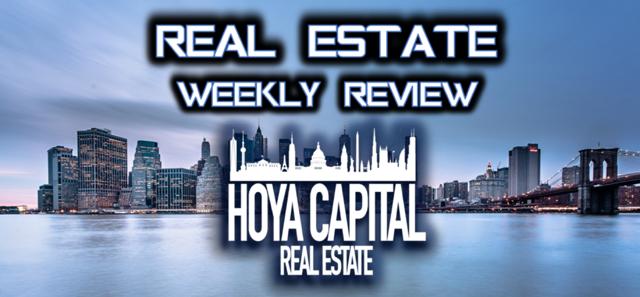 Despite a rally in the S&P 500 (SPY), REITs and homebuilders took a leg lower this week as the 10-Year yield climbed back towards 2018-highs. The REIT ETFs (VNQ and IYR) finished the week lower by 1% while homebuilders (XHB and ITB) declined 0.5%. Inflation expectations have picked up amid concern over tariffs, wages and commodity prices.
Because REIT valuations have been driven almost entirely by macroeconomic conditions in recent months, commodity prices have become an important factor to watch for real estate investors due to their impact on interest rates and inflation. The most significant culprit of rising inflation expectations has been crude oil (USO), which climbed 2% on the week and is now higher by more than 30% year over year. Despite booming US production, prices are up 30% YoY as the OPEC cartel continues to restrict production, aided by the collapse of Venezuela's oil production capability.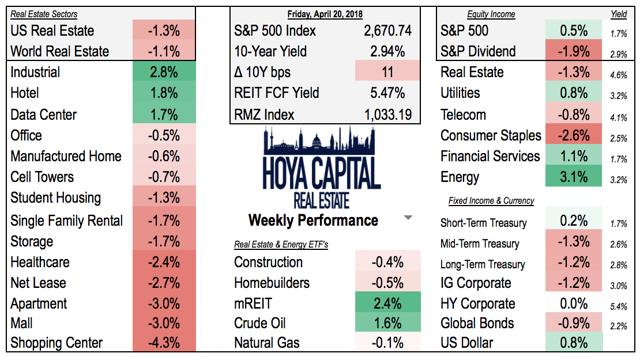 (Hoya Capital Real Estate, Performance as of 1pm Friday)
In other areas of the real estate sector, mortgage REITs (REM) finished the week nearly 2.5% higher while international real estate (VNQI) finished 1% lower. Within the Equity Income categories, we note the performance and current income yield of the Utilities, Telecom, Consumer Staples, Financials, and Energy. Within the Fixed Income categories, we look at Short-, Medium-, and Long-Term Treasuries, as well as Investment Grade and High Yield Corporates, Municipal Bonds, and Global Bonds.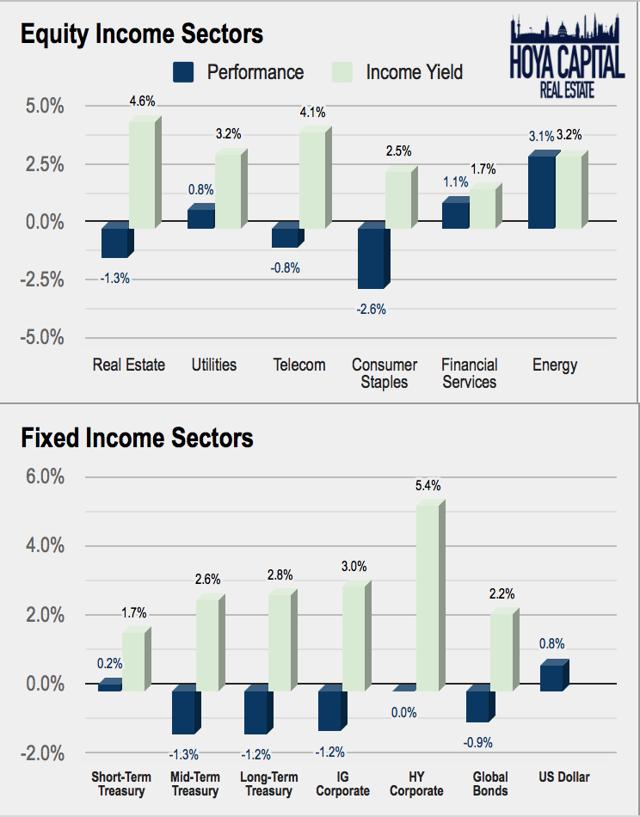 Real Estate Earnings Update
This week, we published our earnings preview: Real Estate Earnings Preview: 5 Trends We're Watching. For many sectors, the battle between elevated supply and strong demand will continue through 2018. Supply growth will remain a key focus in the apartment, storage, industrial, and office sectors. After another wave of high-profile big-box store closures, the spotlight will continue to be on the retail sector. We expect the bifurcation between high- and low-quality portfolios to further intensify. The disconnect between public and private market real estate values is good for development-focused REITs, but presents a unique challenge for acquisition-oriented REIT sectors, who face import.
The highlight of this week's results were industrial REITs Prologis (PLD) and Eastgroup (EGP), who reported stellar earnings, beating estimates and boosting same-store NOI guidance. Crown Castle (CCI), SL Green (SLG), Brandywine (BDN) reported results that were roughly in-line with estimates. Also, in the homebuilding sector, Lennar (LEN) and NVR (NVR) have reported solid results. Next week's slate includes Sun Communities (SUI), Equity Residential (EQR), First Industrial (FR), Avalonbay (AVB), Public Storage (PSA), Washington Prime (WPG), and UDR (UDR). Earnings will continue for the next four weeks with over 100 REITs reporting results. The full earnings calendar is below.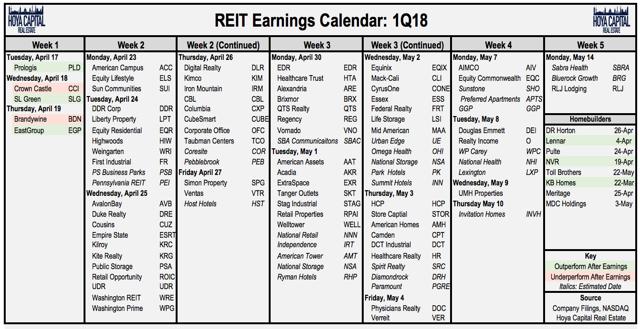 The industrial, data center, and hotel sectors were the top-performers on the week. Cousins (CUZ), Sunstone (SHO), Prologis (PLD), CyrusOne (CONE), CoreSite (COR), Equinix (EQIX), and Host Hotels (HST) were each up more than 2% on the week. Despite the solid retail sales data, retail REITs were among the laggards of the week. Washington Prime (WPG), Pennsylvania REIT (PEI), CBL (CBL), Brixmor (BRX), and Kimco (KIM) were each down more than 5%.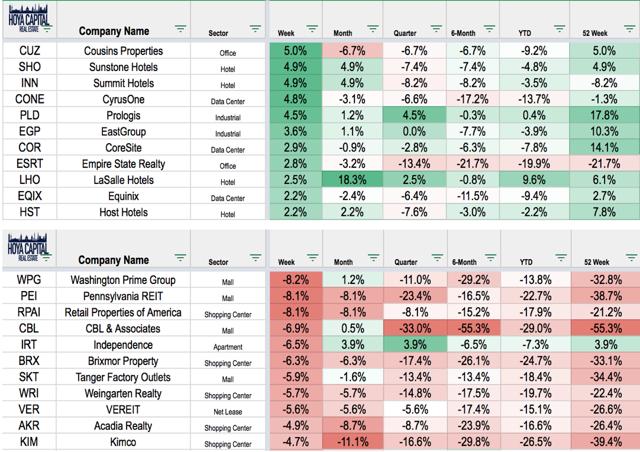 2018 Performance
REITs are now lower by 10% YTD, significantly underperforming the S&P 500, which is flat on the year. Homebuilders are off by more than 11%. The 10-Year yield has climbed 54 basis points since the start of the year, aided by the 15% climb in the price of crude oil and 2% decline in the trade-weighted value of the US Dollar.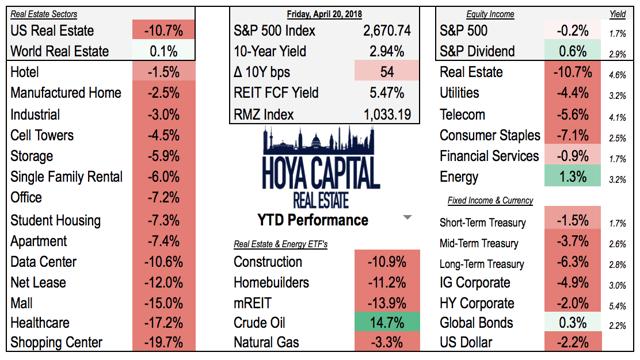 REITs ended 2017 with a total return of roughly 5%, lower than its 20-year average annual return of 12%. Going forward, absent continued cap-rate compression, it is reasonable to expect REITs to return an average of 6-8% per year with an annual standard deviation averaging 5-15%. This risk/return profile is roughly in line with large-cap US equities.
Real Estate Economic Data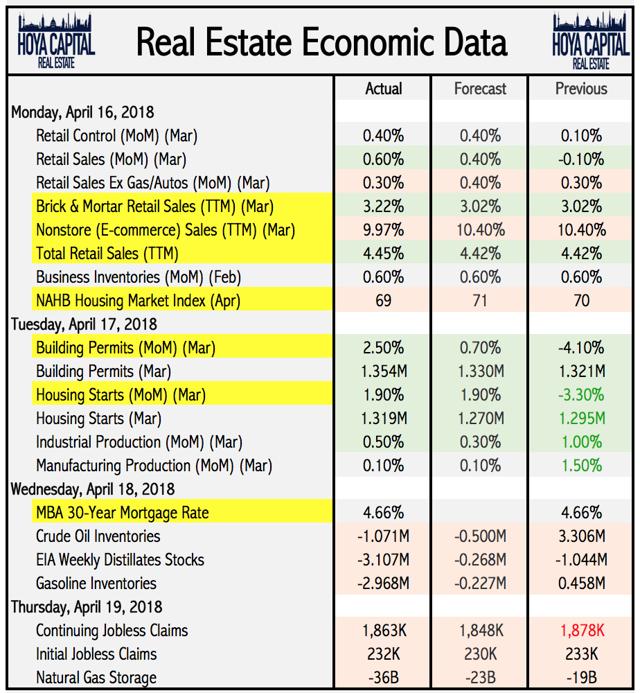 (Hoya Capital Real Estate, HousingWire)
Housing Starts Recover in March
After a disappointing February, housing data recovered in March, led by a pickup in multifamily starts. Total housing stats topped estimates, increasing to a 1.31M annualized rate, an 11% jump over last March, while January and February were revised modestly higher. While the SAAR-based data makes for great headlines, investors should ignore the noise and focus on the unadjusted data. On a trailing twelve-month basis, the trends remain quite weak. Total starts have grown just 2.7% over the last year, dragged down by a 10% pullback in multifamiliy starts. Single family starts, however, remain solid and have risen by 8.7% over the past year.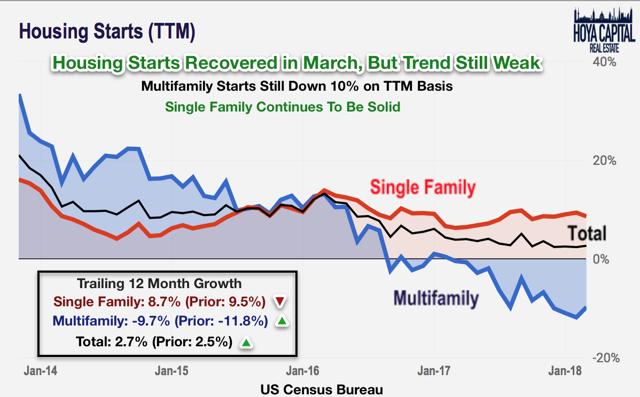 After a surge of apartment starts from 2014-2016, multifamily starts have cooled in recent quarters as builders and lenders remain wary about weakening fundamentals from lingering supply growth. Completions have finally 'caught-up' with starts, as seen below. 352,500 units were delivered over the past twelve months, the highest rate since 1989. More than 600k units are still under construction with peak-deliveries expected to be in the first half of 2018. We expect completions to remain in the 350-400k/year range through 2018, which would continue to put downward pressure on rent growth, all else equal.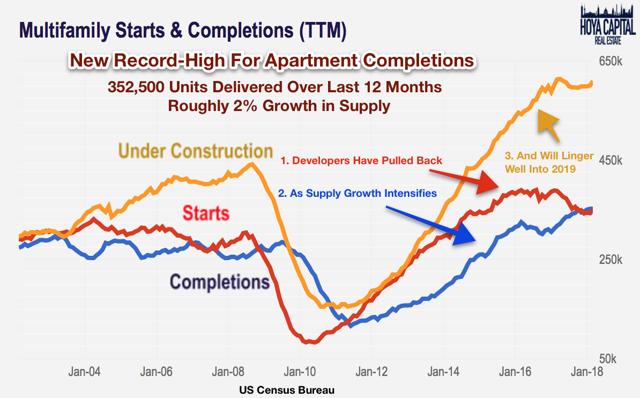 As a percent of existing stock, apartment supply growth is approaching 2%. Total supply growth, however, remains modest at less than 1%. Population growth continues to average 1% per year according to US Census data. This post-recession supply/demand imbalance has contributed to the tight housing markets that have resulted in 5-7% annual home price appreciation and 2-5% annual rent growth since 2012. This imbalance is slowly equalizing, but absent a recession, housing markets will remain tight for at least several more years.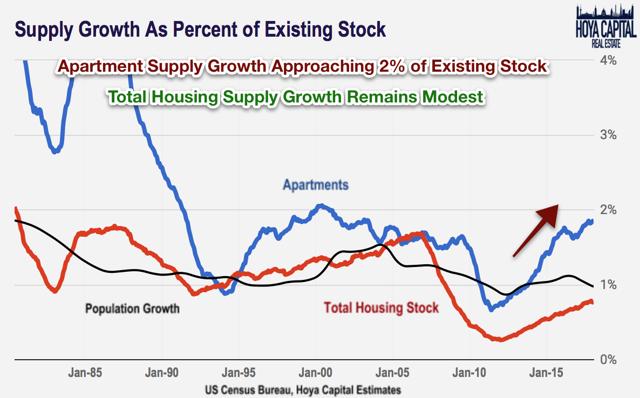 Solid Trends in Retail Continue
Retail sales, particularly in the traditional brick and mortar categories, continued their positive momentum in March. On a trailing twelve month basis, retail sales in brick and mortar categories climbed to the strongest rate since 2016. Brick and mortar sales rose 3.2% on a TTM basis while nonstore (e-commerce) sales ticked lower from 10.4% to 10.0% growth.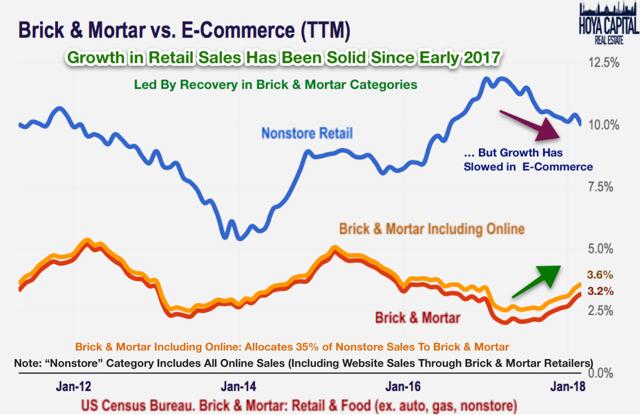 On a TTM basis, seven of the ten brick and mortar categories ticked higher on the month. Only two categories- sporting goods/books and electronics, have seen sub-2% growth over the last year. The services-based, grocery, and home improvement categories continue to be the retail leaders.

Surging Oil Prices Adding To Inflationary Pressure
Ultimately, we believe that the path of inflation will largely depend on two critical variables: the price of energy and the trade-weighted value of the US dollar. Even though Core CPI excludes energy, the price of gasoline and utilities typically flow through into Core components. Oil prices are higher by 32% YoY while gasoline prices are up 14%, both of which will contribute to upward inflationary pressure. Natural gas prices, however, have decreased 6% over last year.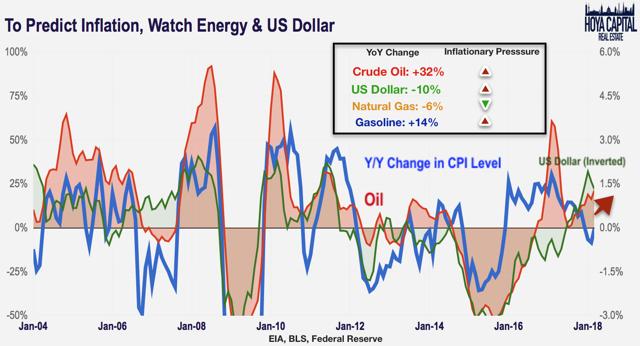 So long as REITs are being driven by interest rate movement, commodity prices become an important factor determining weekly price movements in the real estate sectors. REIT investors should be hoping for a moderation in oil and gasoline prices to the "Goldilocks" environment of solid growth and low inflationary pressure.
Bottom Line
REITs and homebuilders took a leg lower this week as the 10-Year yield climbed back towards 2018-highs. Inflation expectations have picked up amid concern over tariffs, wages and commodity prices. Oil prices continue to tick higher, adding to the inflationary pressure. Despite booming US production, prices are up 30% YoY as the OPEC cartel continues to restrict production. Earnings season began this week in the real estate sector. Highlights this week included stellar results from industrial REITs Prologis and Eastgroup.
Last week, we published Hotel Industry Booming, But REITs Didn't Get the Memo. Defying the headwinds of supply growth, 2017 was a stellar year for the hotel industry. Revenue Per Available Room rose 3% and annual average occupancy reached a new record high. Hotel ownership, however, remains a tough business. While hotel operators are up 40% over the past year, hotel REITs are flat. We also published Shopping Centers: Sell Groceries or You're In Trouble. Shopping Center REITs have had a rough couple of years. It's certainly not the "retail apocalypse," but there's no doubt that e-commerce remains an ongoing threat to at-risk retail categories. A sharp bifurcation has emerged within the shopping center sector. High-quality grocery-anchored REITs appear poised for continued growth while lower-quality power center REITs will continue to struggle.
We also recently published our Housing and Construction report: As Housing Recovery Stalls, Is a New Crisis Emerging?. We analyzed the dynamics affecting real estate markets and highlighted that supply growth appears to be stalling after several years of strong growth. We discussed the factors that will impact house prices and rent growth in 2018.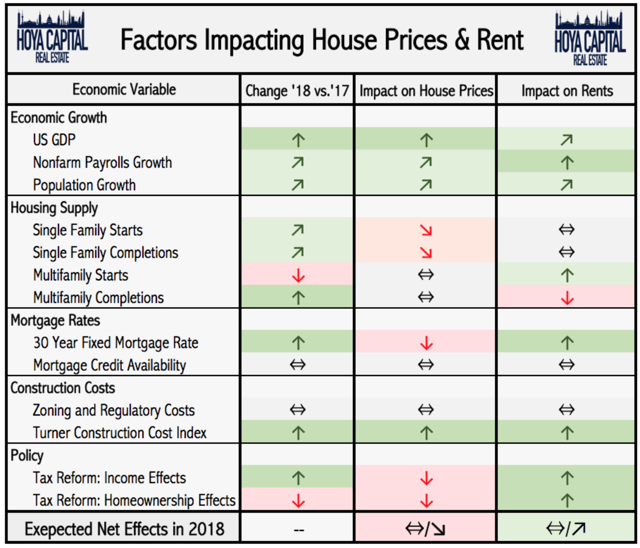 So far, we have updated up REIT Rankings on the Shopping Center, Hotel, Office, Healthcare, Industrial, Single Family Rental, Cell Tower, Apartment, Net Lease, Data Center, Mall, Manufactured Housing, Student Housing, and Storage sectors. We will publish our update on the Homebuilding sector next week.
Please add your comments if you have additional insight or opinions. We encourage readers to follow our Seeking Alpha page (click "Follow" at the top) to continue to stay up to date on our REIT rankings, weekly recaps, and analysis on the real estate and income sectors.
Disclosure: I am/we are long VNQ, SPY, MAA, CPT, OHI, PLD, GGP, STOR, SHO, SUI, ELS, ACC, EDR, DLR, COR, REG, CUBE, PSA, EXR, BXP, EQR, INVH, SPG, HST, TCO, AMT, SBRA, AMZN.
I wrote this article myself, and it expresses my own opinions. I am not receiving compensation for it (other than from Seeking Alpha). I have no business relationship with any company whose stock is mentioned in this article.
Additional disclosure: All of our research is for educational purposes only, always provided free of charge exclusively on Seeking Alpha. Recommendations and commentary are purely theoretical and not intended as investment advice. Information presented is believed to be factual and up-to-date, but we do not guarantee its accuracy and it should not be regarded as a complete analysis of the subjects discussed. For investment advice, consult your financial advisor.