When determining whether or not to invest into the stock of a particular company, there are a number of things that are often (or at least should be) taken into consideration. Examples include: the sustainability of the company's business model, the balance sheet, valuation, and historical earnings growth.
Another important consideration for many investors such as myself is the strength and sustainability of the dividend that the company pays out. After all, dividends are quite important, as they accounted for almost 50% of the total return of the S&P 500 over the last 80 years.
I've written several dividend articles here on Seeking Alpha such as "The Dividend Diet: A Guide To Investing On Easy Street" and "Dividend Centenarians: 3 Companies That Have Paid Consecutive Dividends For 100+ Years."
In this article I'm going to illustrate various techniques of dividend analysis using Nu Skin Enterprises (NUS). You too, can use these same techniques to analyze a dividend stock of your choice in order to assist your decision of whether or not you want to deploy your capital. So without further ado, lets begin.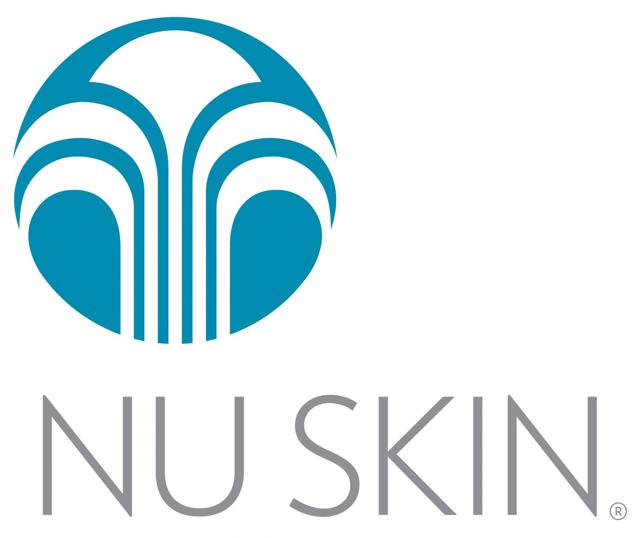 The Company
Headquartered in Provo, Utah, Nu Skin currently employs almost 50,000 people and has been in business since 1984.
Since this article is intended to illustrate dividend analyses techniques, I'm going to focus less on all of the different products the company sells and more on the dividend/operations side of the coin. That said, if you're interested in learning more about the company, you can visit its website here.
This mid-size company currently boasts a market-capitalization of $3.848 billion and pays an annual dividend amount of $1.46, which equates to a yield of 1.95% at the stocks current price of roughly $71/share.
Dividend Yield
When looking at a company's distributions, the first thing that normally comes to mind is the dividend yield. This is the percentage of your money that you receive in return over a 12 month period (as long as the dividend amount is not changed of course). Many investors will also use the dividend yield as a way to help determine whether a stock is overvalued or undervalued. If a stock is currently yielding more now than it ever has, then that may imply that the stock is cheap.
Although there is more to it than just the yield...
Dividend Growth
Dividend growth is another very important factor as it helps maintain the purchasing power of your dividend against inflation erosion. In some cases a company's stock may have a high yield due to poor fundamentals that have caused the price of the stock to fall relative to its dividend payout. These poor fundamentals could then lead to dividend cuts, which can further lead to a drop in your net worth.
Additionally, when a company increases its dividend, that is a sign of confidence by management when it comes to the company's fundamentals and future outlook. NUS has increased its dividend each year since 2001 which currently equates to 17 years of dividend growth that shareholders have been able to enjoy.
Dividend growth can also turbocharge an investor's yield on cost over the years. A famous example of this is Warren Buffet's Berkshire Hathaway receiving a quarterly dividend amount of roughly 10% of the total initial investment cost of Coca-Cola (KO) shares that were purchased back in 1988.
Using NUS, allow me to show you how to calculate the growth rate of the company's dividend: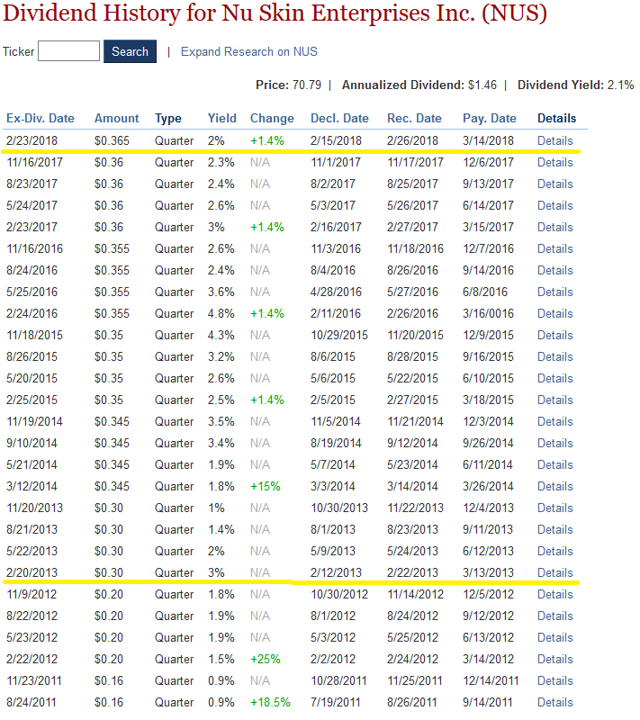 Source
Using the previous 5 full years as a calculation point (yes, I'm aware the math is already done for us in the image above) below is how you arrive at the annual growth from year to year:
Dividend in Year 1: $1.20
Dividend in Year 2: $1.38
Dividend in Year 3: $1.40
Dividend in Year 4: $1.42
Dividend in Year 5: $1.44
To calculate the growth from one year to the next, the following formula is used:
Dividend Growth = Year X Dividend / (Year X - 1 Dividend) - 1
In the above NUS example, the growth rates are:
Year 1 Growth Rate = N/A
Year 2 Growth Rate = $1.38 / $1.20 - 1 = 15%
Year 3 Growth Rate = $1.40 / $1.38 - 1 = 1.4%
Year 4 Growth Rate = $1.42 / $1.40 - 1 = 1.4%
Year 5 Growth Rate = $1.44 / $1.42 - 1 = 1.4%
Now that you have the annual growth rates of the NUS dividend for the previous 5 years, you can add these up and divide by 4 which equates to an average annual growth rate of 4.8%. This rate has indeed allowed NUS shareholders to maintain strong purchasing power against inflation.
Interesting, let's keep going..
Dividend Payout Ratio
In most cases, it's not the best idea to only look at the dividend yield and the historical dividend growth rates of the stock in question. As investors, we need to ensure that NUS is making enough money to support these dividend payments.
This is where the dividend payout ratio comes into play. The dividend payout ratio of NUS represents the percentage of profits that the company has been allocating toward dividend payments, as opposed to being used for buying back stock or reinvesting into business operations. Generally, the lower the payout ratio, the better, as lower payout ratios often indicate that there is plenty of room left for dividend increases in the future. Payout ratios that approach or even exceed 100% may indicate dividend freezes or cuts in the future (which again is not what we're after!)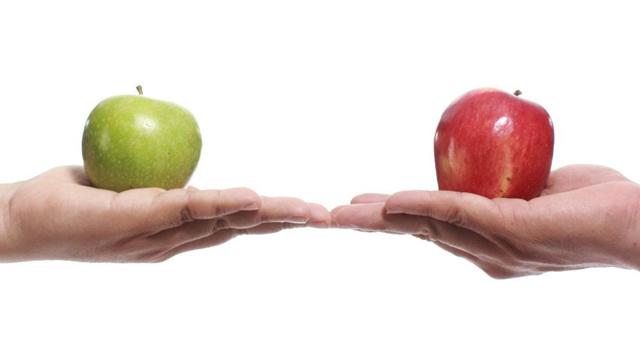 Source
Some food for though here, similar to other financial metrics, you must ensure you're comparing "apples to apples" when looking at the payout ratios of two companies who operate in different industries. Keep in mind that companies in some industries tend to have higher payout ratios than companies that operate in other industries. Companies with consistently higher payout ratios usually operate in industries that don't require large and constant investments in infrastructure in order to keep going. Because of this, these companies can spend more of their profits on dividends. These businesses include tobacco companies and consumer goods companies (such as NUS)
Let's calculate the dividend payout ratio for NUS:
In order to do this, we simply take the dividend paid per share and divide it by the earnings per share "EPS" of the same time period. For example, in 2017 NUS paid a dividend $1.44/share and had EPS of $2.83.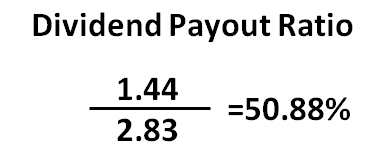 Last year, Nu Skin Enterprises paid out nearly 51 cents of each $1 in earnings to its shareholders. Overall, this is a healthy range and gives room for growth which is what long-term shareholders want to continually experience at a reasonable pace.
Although, a prudent investor shouldn't stop at the dividend payout ratio. Earnings often include a lot of non-cash items (depreciation, asset impairments, patent amortization, actuarial pension gains, etc). These items don't pay dividends; cash does.
Free Cash Flow
Calculating a dividend payout ratio that is based on the amount of actual cash that flows into a company is inherently a more accurate "nitty-gritty" type of number that investors should consider doing the math on.
Free cash flow is calculated as the operating cash flow less the amount allocated to capital expenditures. All of this information can be found on Nu Skin's most recent cash flow statement here.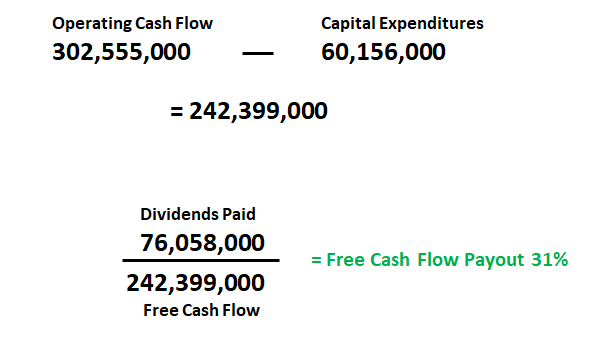 We can see from the math above that Nu Skin Enterprises' dividend is supported by roughly 1/3 of its free cash flow. This is quite healthy as I consider mostly anything under 60% to be stable. For an even more accurate picture, you can look at the free cash flow payout ratio over the last 4-5 years to see if recent data deviates from the norm.
Conclusion
From the results of the analysis above, it seems shareholders of Nu Skin Enterprises can breath easy as the dividend is quite stable. Although, in the investing world, it's also helpful to act as a weather forecaster rather than only a news reporter focusing on previous events. In the following weeks, look for an article from me that illustrates several methods to predict dividend payments going forward.
To receive these notifications, simply hit the orange "follow" button at the top of this article. Additionally, feel free to visit my profile where you'll find other dividend related articles including a piece I wrote about a stock you'll want to own until the grave.
Disclosure: I am/we are long KO, SPY.
I wrote this article myself, and it expresses my own opinions. I am not receiving compensation for it (other than from Seeking Alpha). I have no business relationship with any company whose stock is mentioned in this article.