Since I first invested in Omega Healthcare Investors, Inc. (NYSE: OHI) the company has gone from the cusp of blue-chip status to a risky, even speculative player in the REIT market. After 22 quarters of dividend increases, Q1 2018 saw the first freeze in almost 6 years as OHI faced struggles with multiple operators. The bull vs. bear arguments surrounding OHI here on SA have been fierce. Bears make the claim that the expected demographic tailwinds aren't enough to save OHI from distressed operators and a SNF industry facing regulatory concerns, falling bed prices and falling per capita days spent in their facilities. These detractors see the increasing FAD payout ratio and dividend freeze as examples of a company in distress. Bulls on the other hand point to geographic diversity, experienced management, and positive upcoming demographic trends to make the claim that this is nothing more than a rough patch for a minority of operators. A storm that OHI will have no trouble weathering. For a long time I sided with the bulls, but of late with operator after operator either declaring bankruptcy or failing to pay rents, I fear OHI's stock is set up for serious depreciation. The company is in a transition phase where they are being forced to sell assets in order to save failing operators and prevent their contemporaries from following suit. In the long run, I do believe OHI will weather the storm and return to profitability, but the question for me becomes what is the opportunity cost of holding the company through this down turn? Omega Healthcare is not the stable enterprise that I believed I was investing in back in 2016. I see 2018 as a down year for the company in which share prices will continue to fall and the dividend will be at risk. This is why I have decided to sell my shares. I have placed a stop-loss order at $25/share to protect from further losses and I will be hoping shares don't reach that level until the late April ex-dividend date when I will exit my position.

Source: Omega Healthcare Investors, INC.
Falling AFFO and FAD, Significant Indebtedness
When I first invested in OHI back in May 2016, I saw a chart not unlike the one below(without 2017's figures and 2018's estimates of course) and I was thoroughly impressed. I saw a company that had reliably grown AFFO and FAD while increasing dividends for almost a decade. Although the FAD payout ratio was consistently high, as long as the AFFO and FAD metrics continued on historical trends it was not a concern. A strong management group at the helm with demographic trends on their side and the relatively high yield at the time made OHI a no-brainer in my view. Since acquiring shares, I like many investors, have been taken on a ride. The news of operators in distress has been steadily rolling in since I acquired my small stake. At first, I was able to put these concerns aside and trust in management's ability to turn things around. Of late, with less than stellar communication from management, continued operator failings and a SNF (skilled nursing facility) industry in obvious distress I have been forced to take a deep dive into OHI to reassess its value to my portfolio.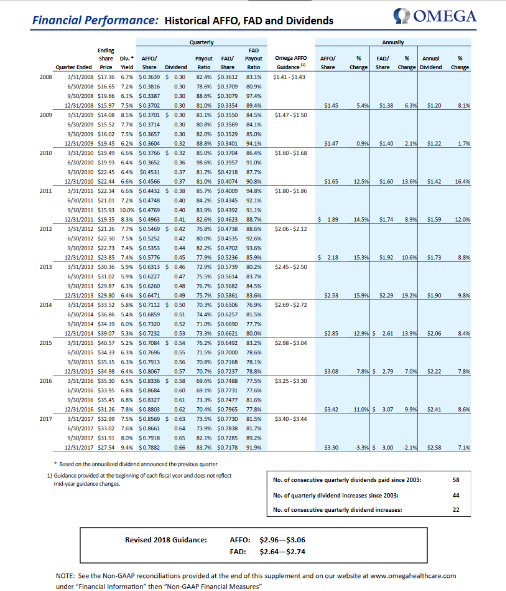 Source: 2017 Q4 Supplement
I began as always by taking a long look at the company's financials. FFO which totaled $660.1 million in 2016 fell to $444.3 million in 2017. This is obviously disturbing and a break from the trend for OHI. Management has covered this by adding back the over $198 million in impairments on direct financial leases that hit earnings in 2017 to the adjusted FFO figures. This made AFFO $683 million for 2017, down only slightly from 2016's $688.7 million. The move seems a bit disingenuous though given the impairment charges were there because tenants have simply failed to pay rents, thus discounting the value of OHI's direct leases. FFO to Total Assets is an important indicator of strength for REITs and yet again the past few years have not been kind to this figure at OHI.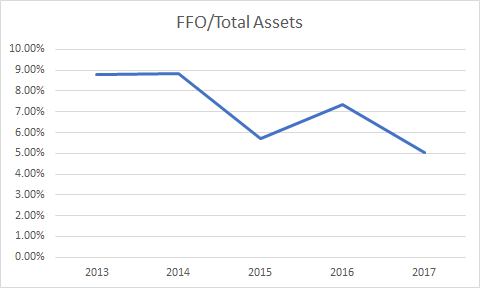 Created by Author, Data from 2017 10-K
OHI's debt has always been significant, although their consistently rising FFO and FAD made this acceptable back in 2016, now I fear the company's growing debt burden may be a thorn in their side as operator struggles continue. OHI's debt is rated at BBB- by Fitch and S&P, and Baa3 by Moody's, just above junk level. The company has steadily increased its leverage since 2013. As of the end of 2017 OHI had a total debt figure at around $5.6 billion dollars up just slightly from the approximately $5.5 billion figure at the end of 2016. The company's funded debt to adj. pro forma EBITDA figure of 5.1 for 2017, up from 4.4 in 2013, is a better representation of their slowly increasing leverage. I do fear with falling FFO figures and distressed operators rating agencies could downgrade OHI's debt. One positive here is OHI has no material debt maturities until 2022, giving them time to recover. In the meantime, OHI has been selling assets and transitioning away from weaker operators, in the long run this is the right move, but in 2018 it will undoubtedly make the dividend difficult to cover as FFO falls. The current yield of over 10% could be considered a red flag, especially considering the annual dividend of $2.64/share for 2018 is only just covered by the company's FAD estimates for the year of $2.64-$2.74. I expect OHI will continue to pay its dividend even if they must use asset sales or debt to do so, but perhaps this wouldn't be the best use of funds considering the need for reinvestment post asset sales.
The SNF Industry
We had the most SNF operator relationships. We owned the most SNF properties.

- Taylor Pickett CEO Q4 2017 Conference Call
The health of the SNF industry is vital to OHI's success. It is an industry set to take advantage of demographic trends over the coming decades as an aging baby boomer population nears retirement. SNF occupancy will push beyond capacity as an increasing number of retirees require skilled nursing services. Many of the boomers will not go willingly, but really there aren't many other options when consistent professional medical staff is required. Rehabilitation and observation services like physical therapy, speech pathology, occupational therapy, etc. can't be administered at Nursing Homes or ALFs(assisted living facilities). SNFs are a last resort for seniors who need constant skilled care. This is one of the main reason I originally invested in OHI, it seems the company is poised to profit from demographic trends. OHI will benefit not just from an increasing number of customers either, but also from a customer base that on average is living longer. From age 65 to 75 the average SNF utilization is around 99 days a year, while from ages 75 to 85 that number jumps to 247 days per year and continues to rise for the 85+ demographic. In every presentation given by Omega and every article written by bulls here on SA this point is driven home. These facilities are necessary and they will be filled to capacity. For me the question becomes, how long do we have to wait to see these results in OHI's operators?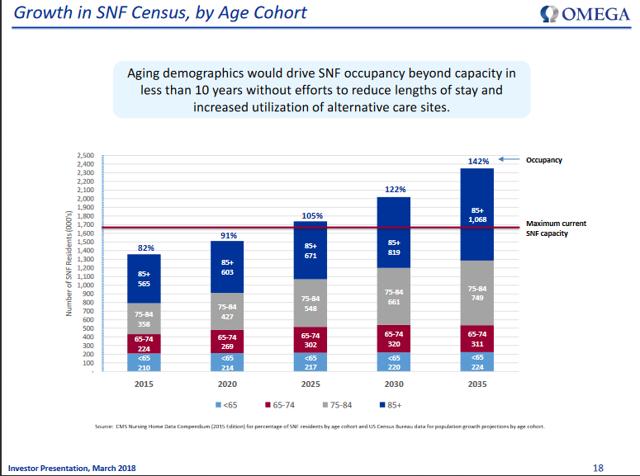 From Omega Healthcare Investors March Presentation
Not all trends in the SNF industry are positive though and this fact is often ignored by the bulls. For example, after setting records for five straight years, the average price per-bed for skilled nursing facilities plunged 18% in 2017, according to acquisition data published by Irving Levin Associates. This coupled with per capita Medicare SNF days falling each year since 2009 means many operators are dealing with constricted margins.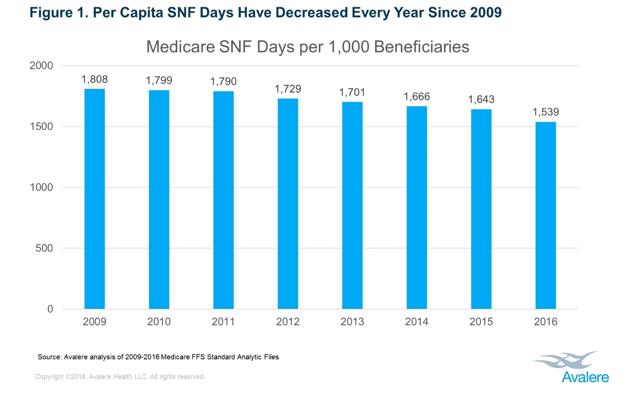 Source: Avalere
Patients are spending less time in SNFs in part because hospitals are keeping them for observation stays more than ever before. Discharges are down and the number of observation stays per capita has risen each year since 2009. OHI expects demographic trends to change these figures beginning in 2019 especially, but for now many SNF operators are under increasing pressure. OHI's occupancy rates reflect these struggles, falling 2.3% since 2014. Although the company still has higher occupancy rates than the industry average many of the company's operators are floundering as lower bed prices and shorter stays put pressure on their bottom lines.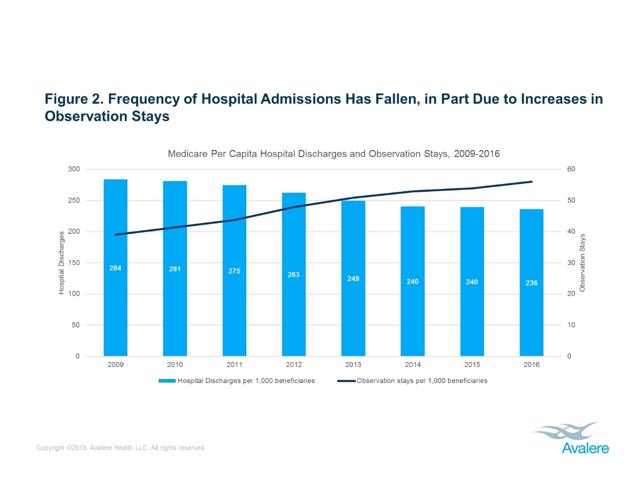 Source: Avalere
Increasing labor costs are another trend affecting the bottom lines of operators. The average salary of registered nurses went from $33.65/hour in 2016 to $35.36 in 2017. Average certified nursing assistant(NYSE:CNA) pay rose as well from $12.78/hour in 2016 to $13.23/hour in 2017, according to the bureau of labor and statistics. SNF's pay the lowest wages for RN's and CNA's vs. all other healthcare fields and they are struggling to keep their low pay rates intact as CNA's and RN's are in increasing demand. These trends were discussed in a recent report about the SNF industry where Stephen Monroe, editor of The Senior Care Acquisition Report, 23rd Edition came to the conclusion that:
Given the problems facing the sector, we do not see an improvement in 2018.
It appears we can expect the rest of 2018 to be tumultuous for SNF operators and therefor OHI. Although, on a brighter note legislation to repeal outpatient therapy caps passed with a budget bill on February 9 th. This will restore approximately $811 million in annual SNF Medicare Part B funding and allow OHI's operators to offer increased outpatient therapy services which will raise revenues. However, the repeal was paid for with a cut to SNF Medicare which the congressional budget office expects will reduce funding over the next ten years by $190 million annually. This was a net win for OHI and will help buoy revenues until the demographic wave comes to the rescue in the coming years. It seems regulatory fears may be subsiding. The regulatory front was described as neutral to favorable in the OHI's Q4 2017 conference call as tax reform and other issues have taken center stage in Washington. Although as we all know one tweet can change things overnight, so there is always risk there. As for 2018 I fear OHI's stock will continue to fall as more operators reveal persistent issues caused by headwinds in the industry.
Operator Health
I believe the most important factor in evaluating OHI is operator health and unfortunately operators have been feeling the heat of late. The company now has a core portfolio of stable properties that represents only 83% of current rent/debt service. This means changes need to be made. Thus, OHI sold $224 million in assets during Q4 and YTD 2018, and announced the planned sale of an additional $300 million in assets during the remainder of 2018. As we have discussed the SNF industry is in a state of uncertainty and the demographic wave coming to lift it out of the depths won't be here this year. With an additional $300 million in assets going out the door in 2018, FFO will undoubtedly fall. Given the high FAD payout ratio this puts the whopping 10% dividend at risk. Of course, OHI already announced a dividend freeze, but they remain confident that they can avoid a cut. I hope they are right, but given the disturbing trend seen in many of their operators I fear they may have to use debt, or asset sales in order to fund the dividend going forward.
While eagerly awaiting the Q4 report from OHI I was expecting the company to announce a transition of a portion of its funds gained from SNF asset sales into the more stable assisted living facility(ALF) industry. The planned 215,000 square foot ALF memory care high rise, at Second Avenue, 93 rd street, Manhattan is the perfect example of the type of investment I believe OHI needs in the near to mid-term in order to sustain and stabilize their revenues while the SNF industry recovers. The ALF industry, unlike the SNF industry, saw the average price paid per unit rise 14% in 2017. OHI has one of the largest senior housing portfolios among publicly traded healthcare REITs and the space has been much friendlier to the company of late. So why not increase investments in this area?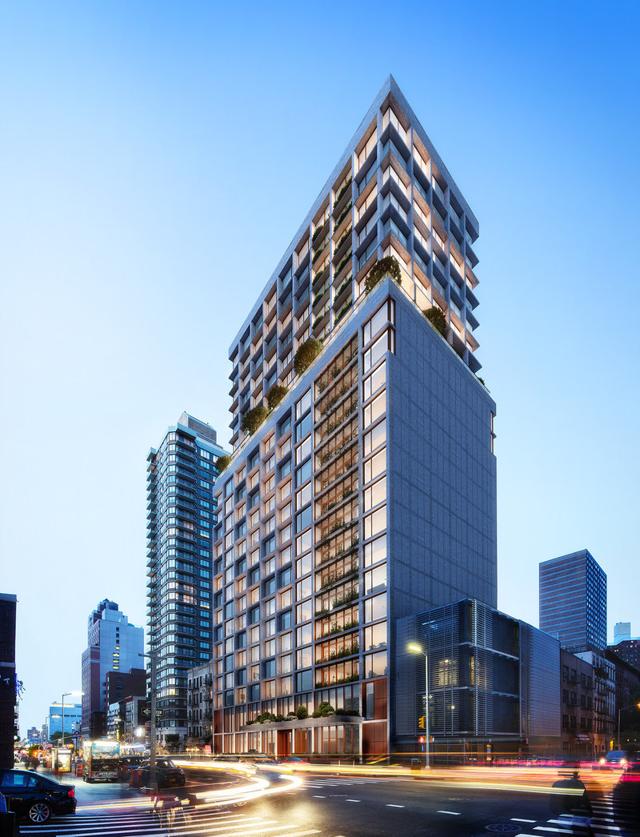 Second Avenue Senior Living Facility
At very least I expected a move away from states that have lower SNF occupancy rates and towards states like California with the highest in Q4. Instead management decided to increase their investment in the SNFs of Texas, the state with the worst occupancy rate for operators. COO Daniel Booth in Q4 Conference Call:
Turning to new investments, during the fourth quarter of 2017 Omega completed $71 million in new investments consisting of $40 million purchase lease transaction for six skilled nursing facilities in Texas and $31 million in CapEx funding…
As of the end of 2017 Texas already represented the largest investment for OHI. With over 115 facilities and almost $820 million of investments in a state that carries a 70.7% occupancy rate, it doesn't seem logical for OHI to put more money in Texas, but nonetheless that's what was done. Many contributors here on SA, whom I greatly respect, have lauded OHI's geographic diversity as a key driver of growth and sustainability during the SNF industry's turmoil. In fact, this geographic diversity was a contributing factor in my original investment decision. Regrettably, it seems OHI has forgotten its strength and continues to increase investments in the SNFs of Texas instead of ALFs across the country.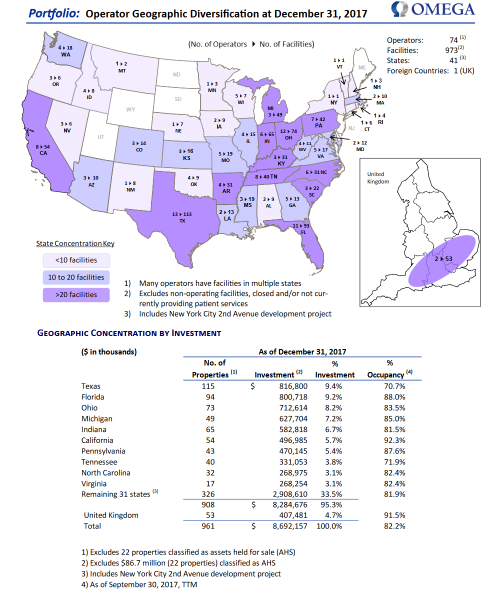 Source: 2017 Q4 Supplement
Perhaps OHI's hand was forced to double down on SNFs due to rising development costs of new senior housing facilities and stiff competition in that space. According to the Americas head of multifamily research at CBRE (NYSE:CBRE), Jeanette Rice:
All the costs certainly have been going up, and that's a major theme of the sector.
2017 saw development costs for senior housing facilities at all-time highs of $283/square foot. This doesn't bode well for the $228 million in construction expenses on the books as of the end of 2017 at OHI, but they have bigger concerns. In Q1 2017, OHI announced the DOJ was questioning 3 of the company's top tenants, representing 20% of NOI. From there the troubling developments just kept rolling in…
Signature
In Q1 2017 Signature, the third largest operator at OHI representing 7% of total revenues, fell below 1x EBITDAR coverage. Over the coming quarters things just got worse for the operator as accounts receivable rose and cash flow continued to fall. In Q2 it was revealed Signature faced a multitude of Professional Liability and General Liability claims. They then began using a $9 million letter of credit to cover past due rents. Still, they were only able to manage paying $11 million of the $14.5 owed by Q3. In Q4 Signature only paid 75% of its rent and OHI was forced to take action in order to save the operator. Daniel Booth COO in Q4 2017 conference call:
Omega has agreed to defer certain rent payment obligations and provide for a working capital loan.
Orianna
Orianna was the second top ten operator that began to show cracks in their armor. In Q3, OHI announced $204 million in impairment charges for Orianna properties when they failed to make rent payments, using funds to pay vendors instead of rent. This after OHI insisted they were first in line to receive payments. Orianna continued to struggle throughout 2017 until March 2018 when they announced a voluntary Chapter 11 bankruptcy. This forced Omega to enter into a restructuring support agreement ((RSA)), with their failing top ten operator. The RSA provides for an orderly transition of 23 of the 42 properties Orianna leases from OHI to other Omega operators, as well as the sale of 19 additional properties. I fear restructuring agreements like these will weaken OHI's other operators who are now forced to absorb struggling Orianna facilities.
Daybreak
The third operator to show signs of distress was Daybreak, a non-top ten operator. In Q3, they were placed on cash accounting, like Orianna was, and entered into a forbearance agreement with Omega for Q4. In the Q4 conference call Omega seemed pleased with the operational improvements made by Daybreak, most likely as a part of the forbearance agreement, but the operator was still forced to enter 14 of their facilities into the Texas quit program, a federally backed program similar to the UPL programs instituted in other states. Daybreak also agreed to the sale of eight facilities as well as several facility consolidations "in an effort to part out under-performing assets in over bedded markets," according to Daniel Booth COO. Daybreak is another example of a Texas operator that has struggled. OHI attempted to replace these facility losses in Q4 with the aforementioned $40 million investment in six Texas SNF facilities. Once again, I don't understand why the company decided to purchase more SNFs in a market they themselves describe as under-performing and over bedded.
Genesis
This leads us to more recent developments as the top ten operator Genesis Healthcare, Inc. (NYSE: GEN) decided on April 11th to completely exit the skilled nursing space in Texas. The company announced they would sell 23 facilities and transition a 24 th by mid-2018. These 24 facilities had revenues of $173.7 million in 2017, with an EBITDA of $7.4 million. Genesis is known as one of OHI's best operators and this move away from Texas has me concerned about Omega's continued investments in the state. Genesis has over 450 SNFs and ALFs across the U.S, 50 of which are leased through Omega Healthcare(as of end of 2017). Historically, as I mentioned Genesis has been a key operator for Omega, but in 2017 the company reported a staggering $570 million dollar loss on the year vs. only a $64 million loss for 2016. This obviously gives me pause when thinking about the health of Omega's other operators.
Preferred Care
Preferred Care is the final example of the worrying trend at OHI. The, yes again Texas based, operator filed for chapter 11 bankruptcy in Q4 and received a $28 million jury award in Kentucky. Preferred Care then entered into a transition agreement with OHI in November of 2017 for 16 of its facilities located in Texas, Arizona, New Mexico and Oklahoma whereby all 16 facilities would be leased to current OHI operators under long term agreements. EBITDA coverage of these 16 facilities at a trailing 12-month rate that ended 9/30/17 was just 0.26x so the operators stuck with these long-term agreements for under-performing assets are undoubtedly not thrilled with the deal.
This growing number of stumbling operators has forced OHI into a transition phase. In 2017, the company disposed of 35 facilities for net proceeds of approximately $189 million. YTD in 2018, OHI has disposed of another six facilities for $35 million in net proceeds. The company is also evaluating an additional 50 facilities for sale in the coming quarters and they believe dispositions will outnumber acquisitions in 2018. This is a necessary move for a company whose operators are in obvious distress, but how will the lowered FFO and FAD figures affect share prices in 2018? I believe management at OHI has the ability to make great investments with the net proceeds gained from these dispositions, but I fear investors won't see the pay off from this transition phase for quite some time and FAD will be affected in the short term, putting the dividend at risk.
Conclusion
Omega Healthcare investors is no longer the steady dividend growth play it once was. The risks one assumes when purchasing shares in 2018 are substantial. Even with a 10% dividend yield on the table I don't see the company as a worthwhile investment. Although I do believe OHI will recover in the future, 2018 will be a rough year as operators continue to struggle and the company seeks to transition away from weaker assets. The SNF industry's constricting margins and a persistent (if lessening) threat on the regulatory front make OHI too risky in the near term. I have made my decision to sell shares and would advise the majority of investors to do the same. However, if OHI is a small portion of your portfolio and you are in need of income I could see why you would hold your position and stick with OHI through this growing storm. For me, the opportunity cost of doing so is simply too great.
Disclosure: I am/we are long OHI. I wrote this article myself, and it expresses my own opinions. I am not receiving compensation for it (other than from Seeking Alpha). I have no business relationship with any company whose stock is mentioned in this article.