"Everybody's unhappy." - Bob Farrell
Mr. Farrell, the dean of stock market research, uttered those words along with his thoughts on the stock market in an era gone by. They have as much meaning now as they did back then. I take his idea and compare it to today's market.
Money managers are unhappy because they literally don't know what to tell their clients. Intraday swings of 50+ S&P points will leave a lot of people scratching their heads. Many portfolio managers have been 'frozen,' because if they make a 'big bet' right here and they are wrong, not only do they have performance risk, but also bonus risk and ultimately job risk at the year progresses.

Economists are unhappy because they do not know what to believe. There appears to be a softening of Global economic data recently, while the U.S. data is targeting 3% GDP growth. Just a Global Pause or the start of a bigger issue?

Technicians are unhappy because the market hasn't tipped it's hand, a break lower or a leveling off before a run to new highs.

The average investor is unhappy because for the most part they have been spoiled. Unrelenting upside momentum with little to no givebacks has given way to a daily roller coaster ride. Horan Capital Advisors highlights that fact with the graphic posted below.
Over the past five years just about every calendar quarter since 2013 has generated a positive return. That was not the case prior to 2013. Investors may now have to deal with a more normal environment that will challenge their investment strategies.
Rather than wring your hands over the political climate, wondering what the Fed will do, and a myriad of other concerns, the thought that should be running through your mind is, "This is what stocks do."
Stocks go down. Sometimes they do it quickly, and sometimes it takes quite a while. Sometimes they go down a little, and sometimes they go down a lot. Sometimes it's because of a recession and sometimes it's not. Rest assured that every time someone you have never heard of will get credit for predicting it. Every time someone who has been bearish for the entire bull market will now begin to pound their chest and claim victory.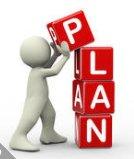 Then there comes a time stocks can shake off what ails them, and go up. It is a testament that demonstrates how investors need to stay with what got them here, their plan. Last week's article was titled "Stay The Course And Look For Opportunity In This Volatile Market," because this is when opportunity is presented in a bull market.
During times like these with this whipsaw action, investors seem to be easily swayed from their chosen strategies. It is an ongoing dilemma for some. As I have written before, the ultimate challenge for investors isn't to find a valid investment strategy. The challenge is to find an investment strategy that you can stick with through thick and thin. The big mistake often made is telling ourselves it's time for a change because of the outside influences that affect our stock market judgment.
These stories are carefully constructed to persuade us that our long-term, rational plan is no longer valid. Pessimism and doubts are intellectually seductive and those arguments always sound smarter, especially when they dovetail with our own worries.
In a sense, investors are always testing their market hypothesis against current results. Market participants who are constantly looking for falsifying evidence are likely to find it. It is why so many can't grasp the wall of worry concept.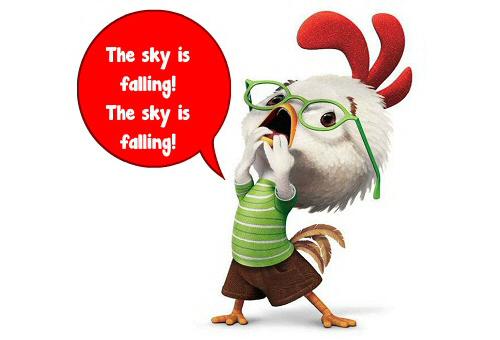 One of the reasons investors fall into this trap is because a strategy undergoes a period of under performance, or more broadly speaking, a draw down. That's perfectly normal. If one has a valid strategy to start with, then these draw down occurrences should be met with the do nothing approach.
The challenge for an investor is in knowing if the strategy being employed is the correct one for them. Most of the time, it is, and investors need to check their emotions and exercise patience. Panic is not an investing strategy. Understand that all portfolios will go through periods of under performance.
The message during this corrective period has been watch what is important, the earnings picture. Earnings are here and the picture looks positive. Maybe the sky isn't falling.

Economy
When April 30th rolls around, the U.S. economy will have expanded 106 consecutive months, matching the second-longest expansion on record. The longest is the 120-month expansion from March 1991 to March 2001. By July 2019, this will be the longest expansion on record assuming we get that far.
According to some we should have experienced two recessions by now, as they based their forecasts on age and duration. Many of theses same pundits are the people forecasting an imminent recession. I can't come up with one reason to follow them now.
The factors most likely to accelerate the end of this cycle are a perceived trade war between the U.S. and China becoming a real one, and the yield curve inverting quickly and sharply.
The factor most likely to extend this cycle is very benign inflation reinforcing itself in 2018 and 2019, tempering the Fed hiking cycle and possibly extending activity further, which could mean this would be the longest cycle on record by some distance when it eventually ends.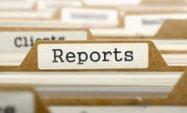 Business inventories rose 0.6% in February with sales 0.4% higher, as forecast. The 0.6% January inventory gain was not revised, leaving inventories posting 0.6% gains for the last three months. Year over year growth in output hit the highest since 2012 this month.
Retail sales bounced modestly in response to the tax-related Q1 disposable income surge. Sales gains of 0.6% for the headline and 0.2% ex-autos after minor revisions.
Empire State manufacturing index fell 6.7 points to 15.8 in April after jumping 9.4 points to 22.5 in March. It was 4.1 a year ago and compares to the 18.3 6-month average.
Philly Fed manufacturing index edged up 0.9 points to 23.2 in April after sliding 3.5 points to 22.3 in March. The index is down from the 28.8 recent high from October, and the 35.5 two-year peak from May. It has held solidly above 20 since November 2016.

March housing starts rebounded 1.9% to 1.3 M after falling 3.3% to 1.29 M (revised from 1.23 M); January starts were bumped up to 1.33 from 1.32 M. Building permits rose 2.5% to 1.35 M after falling 4.1% to 1.32 M (revised from 1.29 M). Compared to last March, starts are up 10.9% year over year.

Global Economy
An issue I have brought to the attention of readers in the last 2 -3 months.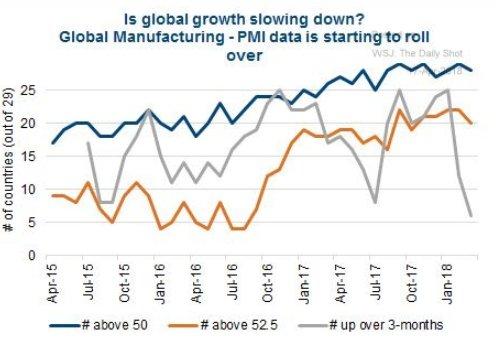 Chart courtesy of Liz Ann Sonders.
It is still too early to draw any conclusions as the majority of results are still in expansion (above 50) mode. As noted previously the bulk of data was at or near multi year highs, and that was not sustainable. A pause and leveling off now is taking place, and it will be important for investors to keep an eye on future reports.

All of the talk of "trade wars' has made its way to sentiment levels. The German ZEW sentiment survey came in at lows not seen since 2016.
China's GDP rolled in at a rate of 6.8%, retail sales increased 0.73% in March. Chinese Industrial Production rose 6%, below the expectations of a 6.4% increase. A benign series of reports that indicates China is dealing with the transition to a service based economy.

U.K. Job creation continued, and employment is close to a record high at nearly 32 million. U.K. retail sales suffered a large drop in March, but as the article indicates it was impacted by the severe weather.

This past week the Bank of Canada declined to hike rates but left the door open to a hike this summer. In the statement, the BoC described the Canadian inflation picture as "consistent with an economy operating with little slack," noting transportation bottlenecks and export sector capacity constraints as key drivers of the narrower output gap. On the other hand, the bank is forecasting much stronger investment and government spending initiatives as raising potential output and therefore ameliorating the output gap.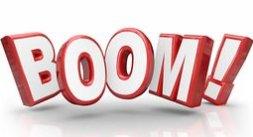 Earnings Observations
Factset Research Weekly Update:
For Q1 2018 (with 17% of the companies in the S&P 500 reporting actual results for the quarter), 80% of S&P 500 companies have reported a positive EPS surprise and 72% have reported a positive sales surprise.

Earnings Growth: For Q1 2018, the blended earnings growth rate for the S&P 500 is 18.3%. If 18.3% is the actual growth rate for the quarter, it will mark the highest earnings growth since Q1 2011 (19.5%).

Valuation: The forward 12-month P/E ratio for the S&P 500 is 16.6. This P/E ratio is above the 5-year average (16.1) and above the 10-year average (14.3)
Remember how many times we were told since this bull market started that margins have peaked? The earnings increases could not be sustained? Wrong.
The blended net profit margin for the S&P 500 for Q1 2018 is 11.1%. If 11.1% is the actual net profit margin for the quarter, it will mark the highest net profit margin for the S&P 500 since FactSet began tracking this data in Q3 2008.
As of today, all eleven sectors are reporting or are expected to report both earnings and revenue growth for the second straight quarter.
As advertised, the Energy sector is reporting the highest year-over-year earnings growth of all eleven sectors at 77.7%.

The Materials sector is reporting the second highest year-over-year earnings growth of all eleven sectors at 41.4%.

The Financials sector is reporting the third highest year-over-year earnings growth of all eleven sectors at 24.8%
In aggregate, companies are reporting earnings that are 5.9% above expectations. This surprise percentage is above the 1-year (+5.1%) average and above the 5-year (+4.3%) average.

The Political Scene
I reiterate the commentary from last week. A "trade skirmish" isn't a "trade war." Jumping to the worst possible outcome is usually a big mistake.
President Trump this week ordered top administration officials to look at rejoining the Trans-Pacific Partnership.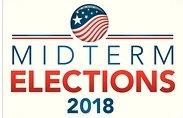 An interesting observation from Federated Investors:
It was 20 years ago that Impeachment was a big part of the 1998 midterm election. You can literally take the developments of the special counsel back then and overlay them with the S&P 500. But the more impeachment gained steam, the more energized Democratic voters became to hold off potential election losses, stymying what early in the year looked like a sure thing for big Republican gains in the midterms. Might Robert Mueller's investigation actually help Republicans in the same way this year?

The Fed and Interest Rates
The Fed's Beige Book was released this past week and there were no surprises.
Still worried about rising interest rates? The graphic below displays the period of time when interest rates rose 1% or more since 1962. The performance of the S&P 500 is noted during these rate hiking years.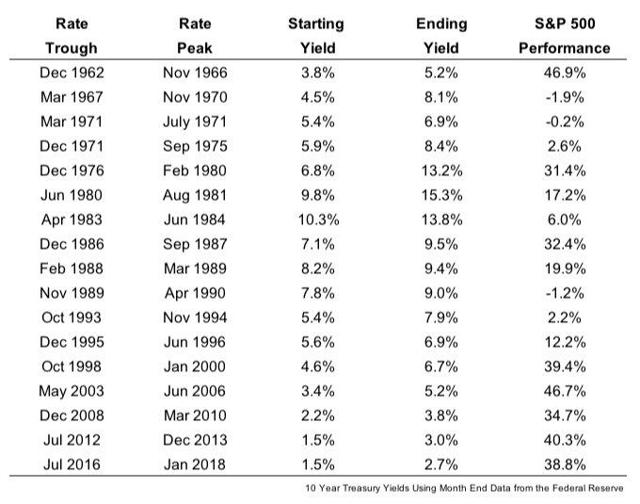 Chart statistics compiled by Ben Carlson
The average performance of the S&P 500 during these past rising rate environments was almost 22 percent in total returns. Only three times did stocks fall when the 10-year rose by 1 percent or more, and the largest losses were just under 2 percent. So stocks have held up well in the face of rising interest rates over the past 50-plus years.
No matter how many charts, graphics and commentary is put forth on this topic, rising interest rates comes up on just about every investors worry list.
We continue to see the fear in the commentary over the flattening yield curve. Concerns are being raised about whether it is signaling slower growth ahead or even a heightened risk of a recession. What it's just might be is a reflection of the ongoing "normalization" of policy by the Fed. The chart below shows the beginnings of that process.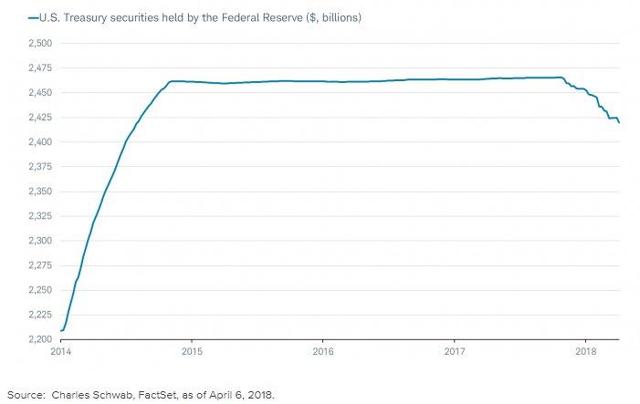 The balance sheet shrinkage program is in its third quarter of operation, with the run-off in Treasuries currently capped at $18 billion/month.
As was the case in much of the 1990's, a flatter curve can persist for extended periods without causing serious trouble for either the economy or the stock market. The 2-10 spread was relatively flat for the entirety of the 1994-2000 period, one of the greatest stock market runs in history. What we are hearing today regarding this entire situation is pure noise.
The mantra here continues to be; look at all of the day before coming to a conclusion. The graphic below compares the direction of the yield curve (in this case the spread between the 10-year and 2-year Treasury yields) to one of the most important leading economic indicators-the ISM manufacturing survey-you will see an important divergence in the chart below.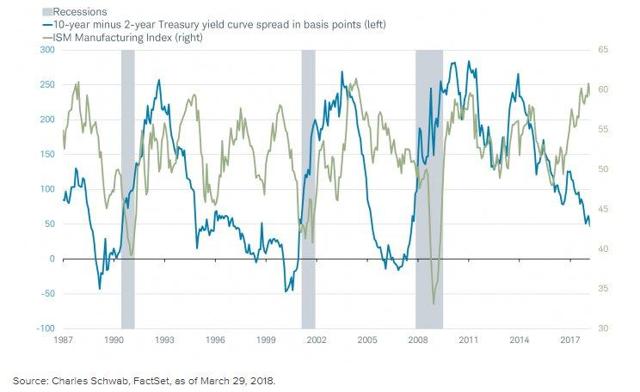 Not only is the yield curve still in positive territory, it's flattening has not been accompanied by deterioration in the ISM survey. Notice divergences like this were fairly common during the expansion in the 1990s. The notion that the current flattening portends economic doom are misplaced, an inverted curve, not a flattening curve, tends to signal recession (and typically after the inversion). The near-record high still in the ISM survey supports this view.

Sentiment
The chart below is an example of why it is a good idea to stay in touch with investor sentiment.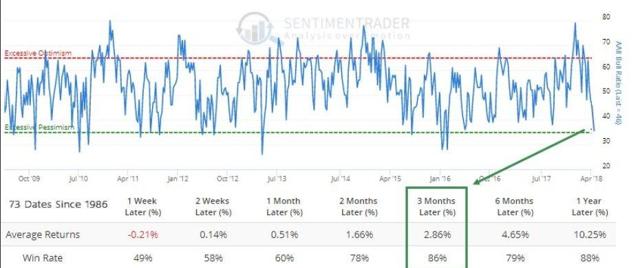 Chart courtesy of Sentimentrader.com
When sentiment hits these low levels, the S&P posts impressive results when looking out 3, 6 and 12 months. Bank of America is out with a survey that shows fund managers exposure to equities is now at an 18 month low. Data like this is seen at market lows, not market highs.
Ahhh, finally something for the naysayers to grasp at, a one week change in sentiment. AAII sentiment is as volatile as the markets these days. Last week the percentage of bullish investors had dropped all the way down to 26%, which was the lowest level since last August. In this week's survey, sentiment spiked back up to 37.8%, an 11.7% increase. That's the largest one week increase since last September.
However, it is still well below the 50% level that is usually in place for months before the S&P peaks.

Crude Oil
The weekly inventory report saw crude oil inventories decrease by 1.1 million barrels in the past week. The report also revealed that gasoline inventories decreased 3 million barrels. The price of WTI continued strong this week, inching ever so closer to the $70 level, recording a 4 year high in the process. WTI closed out the week at $68.30, up $0.91.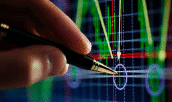 The Technical Picture
The S&P 500's cumulative A/D line has held up pretty well. Both the price and the cumulative A/D line of the S&P 500 made double bottoms in early April, but the bounce in the cumulative A/D line has been stronger as it is much closer to the mid-March highs than the price.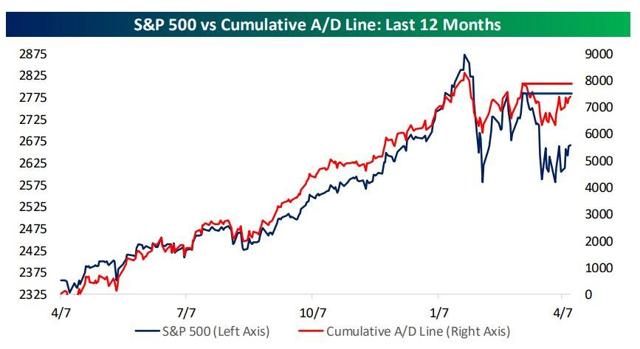 Source: Bespoke
The message on the technical picture lately has been to watch the early April lows:
If the low of 2573 of April 4th does indeed hold for another few trading days, it increases the chances that the lows are indeed in.
Another week has gone by and the rally is stalling. The back and forth action continues and there are still many hurdles to overcome. A normal occurrence in a corrective period. The daily chart shows the S&P breaking above the 50 and 100 day moving averages on Tuesday, only to pull back.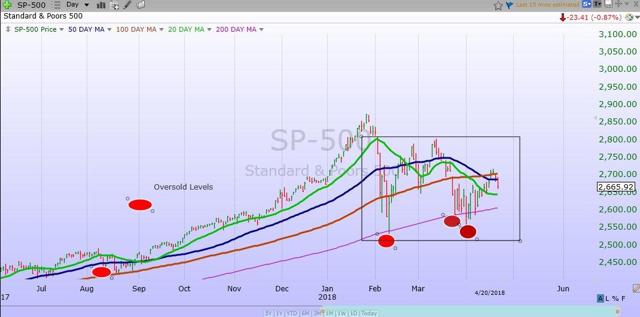 Chart courtesy of FreeStockCharts.com
A quick decisive retake of the 100 day moving average (red line) would be a plus. However, the picture won't really turn positive until the S&P posts a higher high in the recovery off the lows, and that won't occur until a close above 2786. There may be more work to be done in this corrective phase.
Short term support is at the 2635 and 2610 pivots, with resistance at the 2739 and 2786 pivots.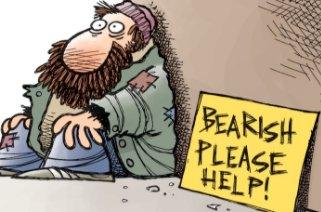 Market Skeptics
Ryan Detrick posted this graphic on twitter last Tuesday, April 17th.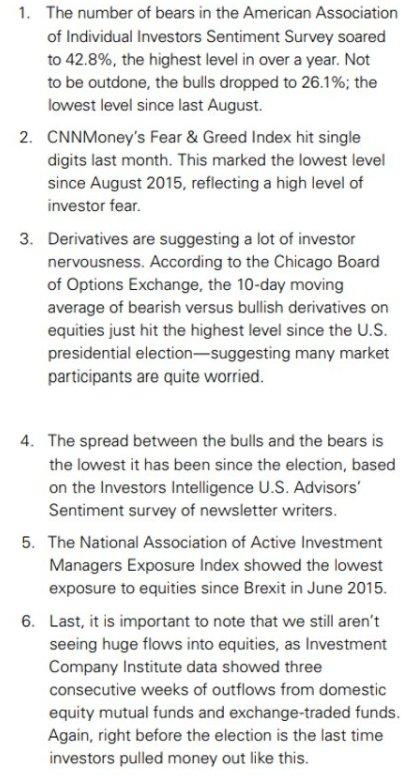 Contrarians should be jumping for joy when they see these results. This is what is normally seen at market lows.

Individual Stocks and Sectors
Investors have been here before. The major indices are off less than 10% from their highs yet the pain feels much worse. It feels that way because it is a reality. The average stock in the S&P 1500 was down 16.2% from its 52-week high.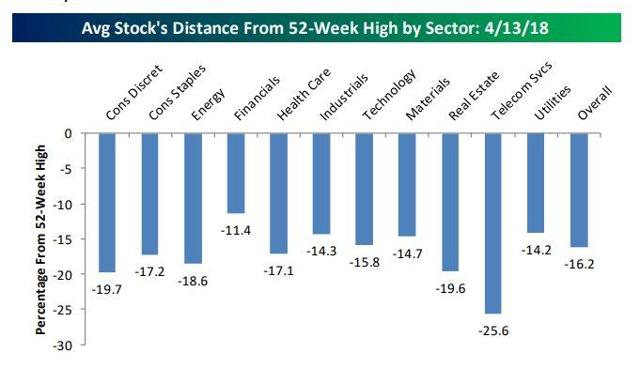 Source: Bespoke
Financials have held up the best, while Telecom continues to get trounced. However, the Financials put up some good reports recently and they didn't rally. If one has watched the price action in this bull market, this has happened before. It is not something to get overly concerned about, despite the pundits that wants to tell us it is a negative.
The fact is the chart above may be the reason why. As the market has now rallied back, money is flowing into the stocks that have been hit hardest. Stocks with good fundamental stories that have been sold off. There is a plethora of companies posting great results. Plenty of bargains being offered given the solid fundamentals being reported.
Facebook (FB) was sold off on a data breach that some equated to a breach of an IRS database. While the shares will run into resistance as it climbs its way back, I believe the stock will eventually make its way back to surpass the old highs around 192.
Those who continue to tell me the FAANG trade is in trouble or over, might be disappointed once again. All one has to do is watch the earnings results and then the price action that is ahead for this high growth group. Shorting Netflix (NFLX) hasn't worked out too well, given the growth that was just reported this past week. I suspect we will see the other names in the group continue a positive flow of earnings results.
This week it is Apple's turn in the woodshed. We are now back to hearing that Apple (AAPL) can't innovate anymore, they are dead, their best days are behind them. The stock is nearing a BUY point. The February low was around $150. I am not sure the stock gets there, but i will say that any number around the low $160 level makes the stock very attractive.
Energy and Materials have answered the question of what group(s) will take over leadership as financials take a break. Nice results posted for these previously unloved sectors in the past two weeks.
Finally, this recent market action is the poster child for using a covered call writing strategy. Stocks go sideways, but the premiums from selling options keep rolling in, enhancing overall performance.

Chatter form the analyst community these days revolves about what could go wrong. Geez, I've heard this tune for years now, and I've repeatedly countered that an investor has to balance their thoughts with what could go right. Given all of the media interviews with folks selling books, hearing about this document, and that note, the talk immediately gravitates to a new worry, a constitutional crisis. If someone can tell me how I can protect myself from something like that, I'm all ears. Note; Hiding under my bed with my money in my mattress doesn't count.
That's not the only issue, the perceived trade war, the flattening yield curve, and the plethora of other issues leaves the average person in a negative frame of mind. One only has to go back to the sentiment posted in this article to get the point. No one is happy, no one believes.

Well, let me clarify that. Anyone staying the course and not succumbing to the temptation to lighten up and sell equities should be very happy now. Those that didn't try to out think the market are content as well. They didn't find the need to hedge, and try to time every volatile move. These folks stand in the best shape of any group of investors out there. After all the S&P is around 7% off the all time high, Nasdaq off 6.5% and the Russell 2000 just 3% off a record print.
I am not recommending burying one's head in the sand regarding some of these potential headwinds. What is important though is not to place out sized weight on the noise at the expense of underlying fundamentals. Can the S&P drift lower as it remains in this corrective phase? Absolutely, given the fear rhetoric in place, that would not surprise me.
However, keep an open mind and stay diversified. More importantly, stay with the equity trade. The long term trend is firmly in place, despite the news of the day.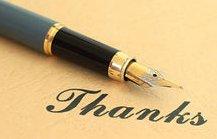 to all of the readers that contribute to this forum to make these articles a better experience for all.
Best of Luck to All!
Disclaimer: This article contains my views of the equity market and what positioning is comfortable for me. Of course, it is not suited for everyone, there are far too many variables. Hopefully it sparks ideas, adds some common sense to the intricate investing process, and makes investors feel more calm, putting them in control. The opinions rendered here, are just that - opinions - and along with positions can change at any time. As always, I encourage readers to use common sense when it comes to managing any ideas that I decide to share with the community. Nowhere is it implied that any stock should be bought and put away until you die. Periodic reviews are mandatory to adjust to changes in the macro backdrop that will take place over time.
The current market environment remains challenging. The Savvy Investor Marketplace service continues to navigate the volatility well. Timely moves in energy and materials have been one of the keys. Using a covered call writing strategy adds to positive results while the average investor watches the indexes and their portfolio tread water. Time to consider a subscription to a service that has been well received in the community.
Disclosure: I am/we are long AAPL, FB, NFLX. I wrote this article myself, and it expresses my own opinions. I am not receiving compensation for it (other than from Seeking Alpha). I have no business relationship with any company whose stock is mentioned in this article.