Silver bulls finally have something to cheer about. After months of lagging its richer cousin, silver is making a move on gold. This is good news for both metals should it continue. Silver nearly always leads in bull markets and lags in bear markets. Its months-long slide against gold has led many traders to question – rightly, in our opinion – the staying power of the recent mini rally in gold. The past two days have gone a long way towards reducing some of that apprehension.
The gold / silver ratio spread measures how many ounces of silver it takes to buy one ounce of gold. Gold is roughly 16 times rarer than silver. Back when both metals were considered money, silver was roughly 16 to 20 times cheaper than its richer cousin. 14 days ago, silver was 82 times cheaper than gold. As the price action illustrated in the chart below suggests, this trend of silver getting cheaper versus gold has broken down and done so in a big way.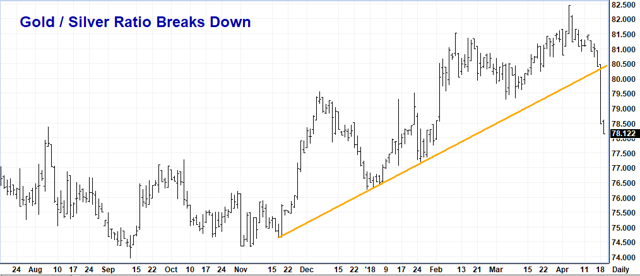 Data Source: FutureSource
Wednesday's close below old lows at 79.50 was the first time this spread has managed a close below a previous low in five months. Yesterday's follow-through to the downside confirms the end of the bearish bias in silver. While it is not the time for silver bulls to pop the champagne corks yet, this kind of price action in the gold / silver ratio spread is definitely one of the most encouraging things we've seen in quite some time. However, the poor man's gold needs to do more.
Silver in Sideways Mode, But For How Much Longer?
Silver has plenty of support at the $15 per ounce level but also a trio of resistance levels on the way up, starting with January's high of $17.70. It will take a pair of closes over the twelve-month high of $18.66 to really get this market moving. Wednesday's big price spike means silver calls are not as cheap as they once were but they are still relatively inexpensive on a relative basis.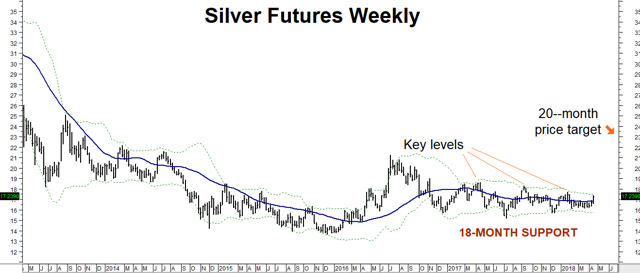 Data Source: Reuters / Datastream
Keep the Faith
Holders of the December 2018 and December 2019 bull call spreads we've been recommending for the past 12 months should continue to maintain their positions. We expect silver's next big upside move — if and when it finally happens — to be dramatic, much like the spring rally that saw it rise from $14.89 to $21.22 from late April to early July in 2016. RMB Group trading customers that don't have a bullish position in silver may want to consider establishing one soon.
The risk of loss in trading futures and/or options is substantial and each investor and/or trader must consider whether this is a suitable investment. Past performance, whether actual or indicated by simulated historical tests of strategies, is not indicative of future results. Trading advice is based on information taken from trades and statistical services and other sources that R.J. O'Brien believes are reliable. We do not guarantee that such information is accurate or complete and it should not be relied upon as such. Trading advice reflects our good faith judgment at a specific time and is subject to change without notice. There is no guarantee that the advice we give will result in profitable trades.
Disclosure: I/we have no positions in any stocks mentioned, and no plans to initiate any positions within the next 72 hours.
I wrote this article myself, and it expresses my own opinions. I am not receiving compensation for it. I have no business relationship with any company whose stock is mentioned in this article.