Introduction
I admit, I've been a dinosaur when it comes to many things, among them home security monitoring. For going on 20 years, I've paid a modest monthly fee for someone at a central monitoring station to call the police and me if a sensor in my home has been tripped indicating a possible intruder.
The bigger outfits did okay under the staid central monitoring station model, but rapid changes are occurring within this fragmented and intensely competitive market. While an old proverb says brain is better than brawn, I contend that only home security companies with both brain and brawn will deliver value to shareholders. ADT Corporation (ADT) is such a player.
Home Security Market Competitive Landscape
IHS values the traditional monitored security market at $9.4 billion. If the roughly $325.00 I pay per year for monitoring is an average figure per subscriber, that means about 29M homes are being monitored by security companies.
Traditionally, two factors were key to growth in this market — new home construction and the movement of families from one home to another. As the charts below show, the days of 1.5M+ new units annually and mover rates of above 15% appear to be a demographic relic of the past.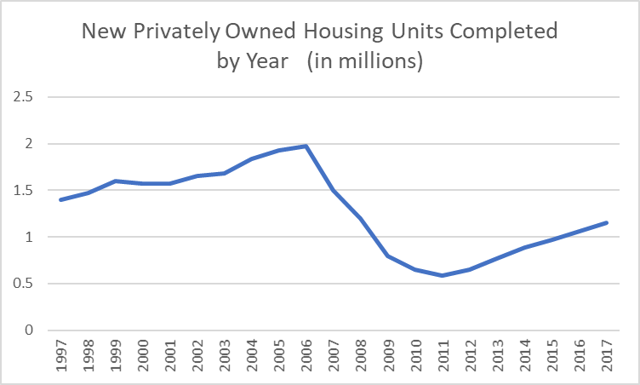 Table 1 – New Housing Units Completed
Source: US Census Bureau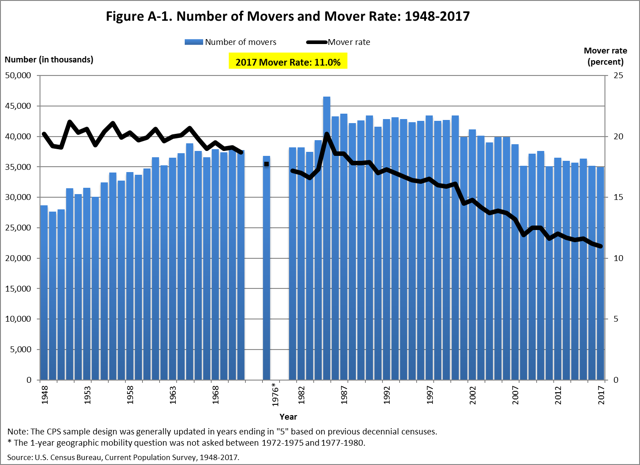 Table 2 – US Mover Rate
Source: US Census Bureau
Yet, IHS expects the home security market to grow at a CAGR of 27% through 2021. That's because new technology offerings are driving growth. Some of these offerings are geared toward those who want to monitor their residences themselves (think Amazon's (NASDAQ:AMZN) Ring Doorbell). Of note, the resident-monitored part of the overall market was only about 1/3 of that of the traditional monitored security market in 2015. But by 2020, IHS predicts the resident and traditional markets will be equivalent.
ADT is taking aim at the resident-monitored market by partnering with technology provider Samsung (OTC:SSNLF) for a line of a do-it-yourself (DIY) home-security products. The products are supported by ADT's monitoring service, and consumers can sign up for month-to-month plans. ADT will also integrate Ring Doorbells with its monitoring services if customers desire.
Another driver of growth, particularly for the traditional segment, are increases in subscriber fees from technology that leverages today's ubiquitous cell phones and the growing number of "smart" or "connected" homes. For example, subscribers are already paying their security monitoring companies like ADT an additional $5-10 a month for the ability to arm and disarm their alarms via an app. With the growth of smart homes, IHS predicts more people will be willing to shell out even more money to control lights, door locks, thermostats and video. ADT is taking an even bigger step further by rolling out services that go beyond physical security to include computer network monitoring as well.
In the race for market share, traditional home monitoring companies will face increased competition from not only DIY home owners but also technology-savvy cable/internet (e.g. Comcast (NASDAQ:CMCSA)) and other multi-service providers (MSOs) (e.g. Johnson Controls (NYSE:JCI)) which currently have an estimated 5% market share. Also lurking on the horizon are the mega multi-service players like Apple (NASDAQ:AAPL) (e.g. Apple Home Kit) and Google (NASDAQ:GOOG) (NASDAQ:GOOGL) (e.g. Google Nest).
In this environment, security monitoring companies will need not only the ability to integrate a plethora of technologies ("brains") but also the size and scale and heavy-duty name recognition that will let them compete with the mega players ("brawn"). When it comes to brains and brawn, there is one publicly-traded monitoring company that will be able to do it at least in the short term and that's ADT.
ADT Corporation
ADT boasts 7.2M customers, which, if my subscriber-based fee arithmetic presented earlier is fairly close, means they have about a 25% market share. ADT emerged as a publicly traded company with its January 2018 IPO. The only other publicly-held company that focuses primarily on home security is Ascent Capital Group (ASCMA) with about 1M subscribers. Vivint Smart Home is another player with about 1.2M customers, but there is no public trading market for its stock.
With few 10-K/Q filings given ADT's recent debut and the size disparity between it and ASCMA - market cap of $7.2B vs. $45M - it is difficult to come to any substantive insights when comparing the two. It's clear, however, that one company with brains and brawn is moving forward, the other backward. Specifically, looking at the latest 10-K reporting, ADT's sales, operating income and EBITDA were up 5%, 8% and 10%, respectively, from the previous year while ASCMA's were down 3%, 71% and 4%.
| | | | | | | | |
| --- | --- | --- | --- | --- | --- | --- | --- |
| Ticker | Net Income/Sales | Sales/Assets | Assets/Equity (Leverage) | ROE | ROA | Gross Margins | Operating Margins |
| ADT | .08 | .25 | 4.96 | .099 | 2.0 | .79 | .08 |
| ASCMA | Negative Income | .26 | 14.4 | N/A | -5.14 | .79 | .04 |
Table 3 - Latest 10-K Reporting ADT & ASCMA (Source: SEC Edgar)
The balance sheets reveal an elevated yet manageable debt load for ADT. ASCMA's solvency is more problematic particularly since they have not turned a profit since 2011.
| | | | |
| --- | --- | --- | --- |
| Ticker | Debt/Equity | Total Debt/Cash - EBIT | Long-Term Debt/Latest Annual Net Income |
| ADT | 2.95 | 29.1 | 29.4 |
| ASCMA | 12.46 | 80.0 | -16.5 |
Table 4 - Latest 10-K Reporting ADT & ASCMA (Source: SEC Edgar)
From a valuation standpoint, ASCMA is very cheap for good reason. ADT, however, is also cheap. Perhaps its valuation is based on analysts' concerns over the long-term threat posed by MSOs and the mega players
| | | | | | |
| --- | --- | --- | --- | --- | --- |
| Ticker | Trailing P/E | Forward P/E | P/S | P/CF | EV/EBITDA |
| ADT | 17.3 | 8.65 | 1.37 | 3.73 | 7.6 |
| ASCMA | NA (No earnings) | -0.65 | 0.09 | 0.35 | 5.94 |
Table 5 - Valuation (Sources: Yahoo Finance for Forward P/E; Morningstar.com for other ratios)
Summary and Recommendation
While I have a deep respect for the mega players' ability to eventually grab a big share of the home security market, I believe ADT's roughly 4% stock price gain since their IPO has plenty of room to run for at least the next two years. Name recognition and my estimate of their current market share provide at least a short-term obstacle for other entrants seeking to topple them from the top rung.
Moreover, management is proactively taking actions to remain on that rung by partnering within the DIY segment and embracing new fee-increasing services that leverage mobile apps. While it is too early to say if their foray into computer network security will succeed, the initiative certainly shows management's innovative thinking. Additionally, debt levels are manageable and the stock's forward P/E and EV/EBITDA suggest value.
I'll close with an anecdote about "dinosaurs" that may be more telling than what this article has highlighted so far. Truth be known, I did upgrade three years ago to Wi-Fi sensors but only after intruding squirrels entered my attic and chewed through my alarm company's wires. But next week and of my own doing, a technician will be coming out to my home to install a new panel box that, along with a bump in monthly fees, will let me be master of my castle while at the ball park or visiting my grandson. But I have no plans whatsoever to turn my entire abode into a smart home. I can't help but think there are a lot more dinosaurs out there that are upping their technology game short of a total smart home makeover. (Sorry Alexa.) If I'm correct, the dinosaur effect should bode well for ADT.
For these reasons, I believe current shareholders should continue to hold the stock. Others who like to make small bets in return for modest gains over the next 24 months should consider buying ADT.
Disclosure: I/we have no positions in any stocks mentioned, and no plans to initiate any positions within the next 72 hours. I wrote this article myself, and it expresses my own opinions. I am not receiving compensation for it (other than from Seeking Alpha). I have no business relationship with any company whose stock is mentioned in this article.