Three officials from Saudi Arabia told Reuters this week they would be happy to see oil hit $80 or $100 a barrel. Their previous unofficial target price was $70/b. Although President Trump has stated that he wants America to be dominant in the energy market, and that requires prices to be high enough, the Saudis have gone too far, according to him. It is consistent with his theme of reckoning with unfair trade practises.
On Friday, President Trump tweeted:
Looks like OPEC is at it again. With record amounts of Oil all over the place, including the fully loaded ships at sea. Oil prices are artificially Very High! No good and will not be accepted!"
When asked to comment on Trump's tweet, Saudi Energy Minister Khalid al-Falih told CNBC, "Markets should determine price." But Mr. al-Falih's comment was totally disingenuous, given Saudi Arabia has led OPEC and non-OPEC countries down the road of oil market price manipulation. In February he said:
If we have to err on over-balancing the market a little bit, so be it…Rather than quitting too early and finding out we were dealing with less reliable information... Stay the course and make sure that inventories are where the industry needs them."
According to OPEC, in its press release Friday:
Their collective efforts continue to yield positive results, with market fundamentals being solid. OECD commercial stock levels have been adjusted from a peak of 3.12 billion barrels in July 2016 to 2.83 billion barrels in March 2018, corresponding to a drop of 300 million barrels. Nevertheless, it was noted that the current commercial stocks remain above levels seen before the market downturn. The high conformity level has been validated by a diverse range of reporting agencies and media outlets."
'Get that goddamn oil price down'
In 2008, President Trump was interviewed by Jim Cramer about OPEC. In this video (starting 5:38), Trump stated:
The biggest problem I never hear anybody talk about. I told you about it once. Every time they lower interest rates, the cartel, because I call it a cartel-- the illegal monopoly-- raises oil prices. So the monopoly, because that's what it is, a total illegal monopoly. If businesses ever formed OPEC, everybody would be put in jail. Every time a country hits oil, they are invited into the cartel. It's a disgrace. Now you have oil prices that are going to be over $100, and nobody in this country calls and says. 'Get that goddamn oil price down. You get it down. And you get it down fast.'"

And you can do it….In the old days, our presidents used to call. We don't call anymore….If spoken to properly, those prices would come down like you wouldn't believe."
In March, Saudi Crown Prince Mohammed bin Salman (MBS) visited President Trump at the White House. The crown prince reportedly had a series of meetings with Trump administration officials, with whom he had developed close ties since Trump's first visit to the kingdom in May of last year.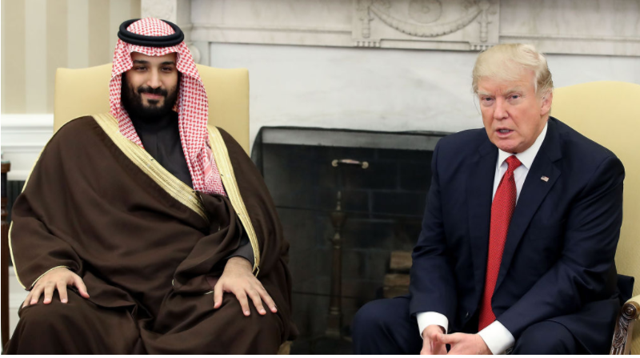 The Saudis want a close relationship with the U.S., and so if Trump insists on lower oil prices, I think MBS will listen. We will see if the Saudis respond as Trump expects.
Trump wants America to dominate the energy market, which requires prices to be sufficiently high to incentivize growth, which has happened at lower oil prices. In his speech on June 29, 2017, he stated:
We're here today to usher in a new American energy policy — one that unlocks million and millions of jobs and trillions of dollars in wealth. For over 40 years, America was vulnerable to foreign regimes that used energy as an economic weapon. Americans' quality of life was diminished by the idea that energy resources were too scarce to support our people. We always thought that, and actually at the time it was right to think. We didn't think we had this tremendous wealth under our feet. Many of us remember the long gas lines and the constant claims that the world was running out of oil and natural gas."

With these incredible resources, my administration will seek not only American energy independence that we've been looking for so long, but American energy dominance.

And we're going to be an exporter — exporter. (Applause.) We will be dominant. We will export American energy all over the world, all around the globe. These energy exports will create countless jobs for our people, and provide true energy security to our friends, partners, and allies all across the globe."
The energy policy has been working with lower oil prices. And higher oil prices threaten economic growth.
The U.S. has recently surpassed its previous record high production set in 1970…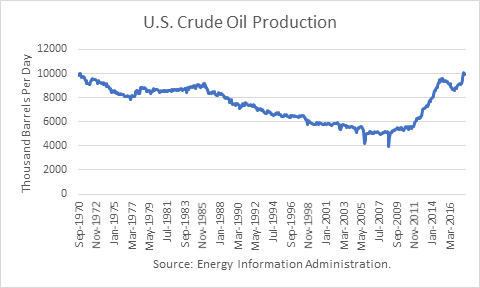 U.S. exports of crude and petroleum products have increased: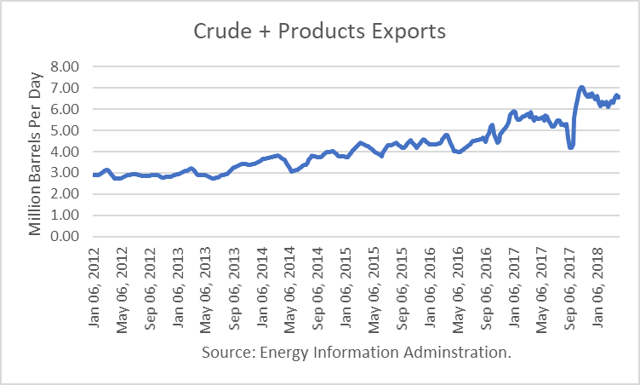 The U.S. is now producing more crude oil than Saudi Arabia: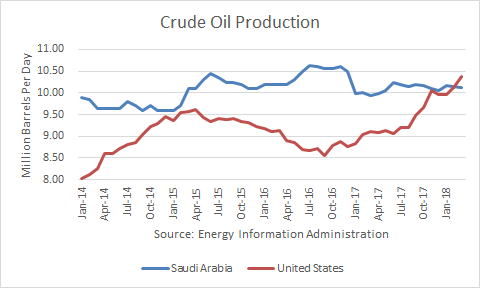 And net oil independence is approaching rapidly (though there will always be trade).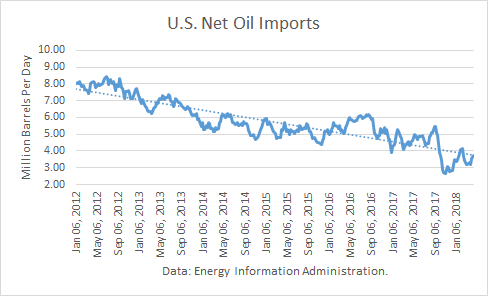 Conclusion
President Trump has long despised OPEC, as his quote from ten years ago proves. And he is out to correct what he considers unfair trade practises, as proven by his conduct regarding China.
The timing of the tweet comes as oil prices have reached 3-year highs, and the Saudis are hinting at $80 or even $100 oil. In addition, he has a decision to make about Iran, which could press oil prices higher.
High gasoline prices are problematic politically and hurt economic growth. The Saudis want help transforming their economy as well as constraining Iran.
I think he will bargain with MBS to put some more oil into the market. Let's see if and how Saudi re-adjusts its oil market price manipulation stance. Owners of the Energy Select SPDR ETF (NYSEARCA:XLE), take note.
Trump may actually be doing the Saudis a favor, in a way. If oil prices continue at current (or higher) levels, it will backfire because they will fuel higher production levels, and will moderate demand growth, eventually creating another glut.
Disclosure: I/we have no positions in any stocks mentioned, and no plans to initiate any positions within the next 72 hours. I wrote this article myself, and it expresses my own opinions. I am not receiving compensation for it (other than from Seeking Alpha). I have no business relationship with any company whose stock is mentioned in this article.