Welcome to the Weekly Oil Markets Recap Edition of Oil Markets Daily!
WTI finished the week up 1.5%, another multi-year high.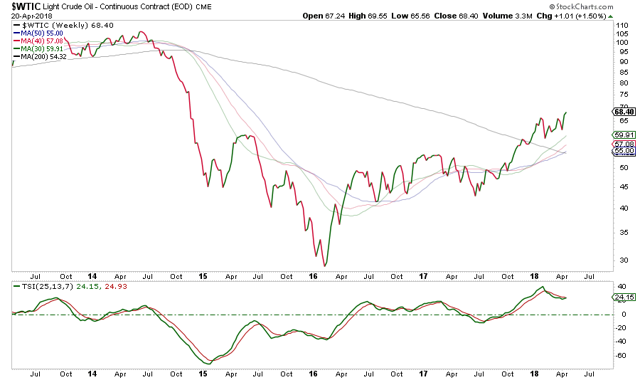 The price rally steepened following a bullish EIA oil storage report that saw both energy stocks (XLE) (XOP) and oil shoot higher. This week also coincided with rumors that Saudi is aiming for $80 or $100 oil.
The irony of the situation is that it doesn't really matter if Saudi wants $80/bbl or $100/bbl. We will get there purely from fundamentals as we explained in this article. Our upside price target for WTI is $85/bbl, and while our storage balances show a continuation of record storage draws that's to come in the second half of 2018, the price rally would likely stall both on fundamentals and long-term technicals right around the ~$85/bbl mark.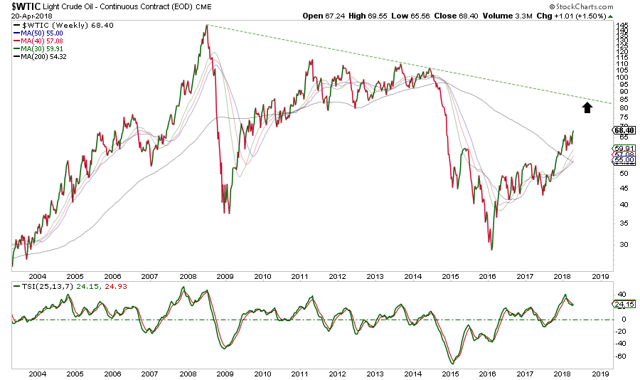 The stall will come from a combination of refineries adapting to the price surge and the fundamental reaction to this would be to lower throughput. Refined product storage will then have to keep drawing and moving into a material deficit before throughput rises again.
Once the market digests the higher oil price environment, we will then see this multi-year resistance level (~$85/bbl) break out to the upside, and $100 oil could be in play by 2019 or 2020.
Interestingly enough, just 8 months ago, no one had ever envisioned such a price scenario would be possible. In one of our favorite write-ups titled, "Standing On The Shoulder Of Giants And Andurand's Call For $100 Oil In 2020." We wrote:
Most analysts conform to the consensus view because it reduces career risk. For the sake of being rational, one must take away the anchoring and recency bias that plagues one's decision making. With oil prices languishing around $50/bbl over the last two years, the consensus has conformed to the view that oil prices will remain lower for longer (anchoring and recency bias). While the importance of factoring that commodities move in cycles, investors all have a short-term memory. This is why the same of forecasting is so hard, because of this very nature.
And in an exclusive report to subscribers published in May 2017, we wrote:
For 2018, we stand apart from the consensus again with an oil price prediction averaging above $70/bbl for WTI and $75/bbl for Brent. Our reasoning is based on the giant delta difference between our assumption versus MS's (or the consensus's). If in fact the delta turns out to be 1.6 to 2 million b/d, we see global inventories averaging a draw of 800k b/d to 1.2 million b/d.

For 2019 and beyond, we see oil prices averaging above $80/bbl for WTI and $85/bbl for Brent, and for 2020+ we see WTI and Brent recovering back to $100. Our prediction is based on the chart above from Rystad Energy. Historical decline rates do not make for accurate inputs in estimating legacy conventional production. The lack of sanctioned projects for 2018+ results in a severe supply gap for the global oil markets, and attempts to prop up production in 2015 and 2016 will see legacy production decline faster than normal (see our discussion on depletion vs. decline rates). This leads us to believe that the oil market imbalance carried over from 2018 will persist into 2019 assuming demand just grows at a moderate 1 million b/d. US shale's production growth will only be sufficient to offset legacy decline from conventional production, and OPEC will increase output into the 2019 deficit. Oil prices will need to rebound to a level where it incentivizes producers to move away from short-term cycle barrels (shale) and into long-term conventional projects again. However, the lack of confidence in the future demand of oil from the threats of electric vehicles and renewables will be on the minds of oil producers, and capex spending could once again be adversely affected by it.
But how did we see this coming when so many missed it? Is Saudi intentionally trying to aim for $80/bbl or $100/bbl? Or did fundamentals point to that price range from the start?
If it's not obvious by now, fundamentals were pointing to this scenario playing out regardless of what Saudi wanted. The recent shift in rhetoric from targeting global oil storage surplus to one that's now targeting upstream capex spending should be a red herring for those thinking that OPEC will somehow magically flood the market again.
As we wrote in the article, "The Oil Bull Thesis Is Just Getting Started." The real fun is only getting started. For the rest of 2018, the non-stop reports of how legacy conventional production is starting to decline steeply across the globe will change sentiment in the investment community. What was once the Rodney Dangerfield barrels of the world (no respect) will now receive media headline attention as countries report disappointing monthly production results time and time again.
Here are just two recent examples of "disappointing" production:
Norwegian March oil production - 1.901 million b/d, -2.4% month-over-month, -10.5% y-o-y.
Petrobras (NYSE:PBR) March oil production - 2.07 million b/d, -0.8% month-over-month.
Just a reminder that Brazil is supposed to see oil production higher month after month in 2018 according to IEA: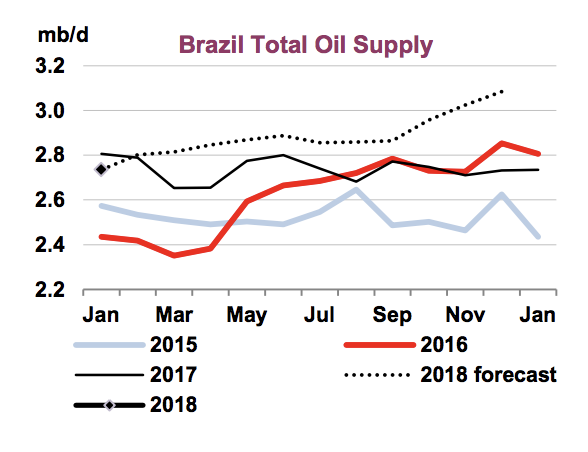 Source: IEA
So far? By our estimate, Brazil is currently ~150k b/d below its projected target.
But again, you shouldn't be surprised by the disappointing results out of Brazil. It has had a history of disappointing production guidance, and this year is no different.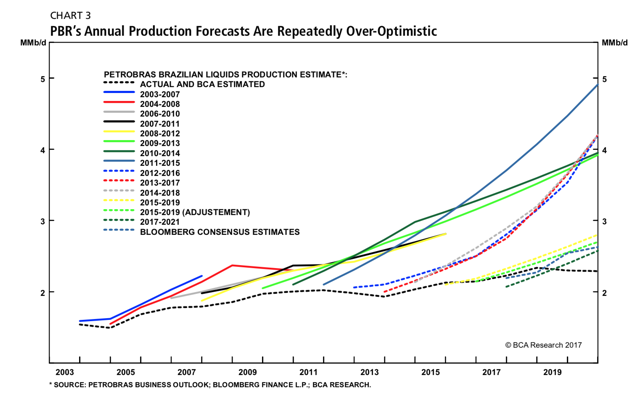 Source: BCA Research
$80, $100? It doesn't matter, we are going there anyway
As the media and consensus obsess over every word Saudi says, the real thesis is just underway with global conventional oil production starting to disappoint in size. This is also coming at a time when Rystad Energy just revised US shale production growth lower.
What country will be able to fill the supply gap that's coming?
By the end of 2018, the Q4 storage balance will show a deficit well over 1 million b/d. Carrying that deficit into 2019 with another year of healthy demand growth and record low conventional oil projects coming online, and you start to have a real recipe for disaster - oil prices that are too high for the global economy to handle.
So, are the Saudis trying to aim for a price? Or were fundamentals pointing to those prices to begin with?
If it's not obvious by now, you should know the answer to this.
Thank you for reading this article. If you liked it, please leave a "like" at the bottom. For those of you who have found our articles insightful, interesting and different, we think you should sign up for HFI Research. Our incentive is aligned with our readers as we put our money where our mouth is, and our contrarian analytical framework was what set us apart when we made the $65/bbl Brent call in June 2017 and $60/bbl WTI call for the end of 2017. For more information about our service, please click here. We look forward to seeing you join the HFI Research community.
Disclosure: I am/we are long OIH, XES.
I wrote this article myself, and it expresses my own opinions. I am not receiving compensation for it (other than from Seeking Alpha). I have no business relationship with any company whose stock is mentioned in this article.