Part of what you must learn is how to handle mistakes and new facts that change the odds. Life, in part, is like a poker game, wherein you have to learn to quit sometimes when holding a much-loved hand. - Charlie Munger
Trading Analytics
Welcome to another edition of Integrated BioSci Rounds Report for April 21, 2018. As usual, we'll elucidate notable trading analytics for the day and interesting market developments. Without further ado, let's assess the overall market performance. As follows, the iShares of NASDAQ Biotechnology Index (NASDAQ:IBB) traded down $0.93 at $104.96 (-0.88% losses). Moreover, the SPDR S&P Biotech (NYSE:XBI) exchanged hands $0.28 lower at $88.93 (-0.31% declines). It's likely that investors were trading with a lack of confidence for the day. Regardless of the daily inclination, there are substantial prospects in the bioscience sector: one that delivers hope for patients while rewarding supporters with substantial wealth in the long haul.

Figure 1: Notable BioSci movers. (Source: Morningstar).
Pertaining to individual equities, Solid Bioscience (NASDAQ:SLDB) topped our list. As a gene therapy developer, the company is focusing on various innovations to service different aspects of the disease, Duchenne muscular dystrophy ("DMD") as depicted in figure 2. Interestingly, the shares of tumbled over 50% as the lead molecule, SGT-001 (the answer to Duchenne muscular dystrophy) was placed on a clinical hold. Of note, there were concerns regarding the safety of gene-based therapy. Nevertheless, those concerns were abated, as the scientists retracted their claims (and stated that gene therapy and editing are indeed safe and efficacious). Riding on the wave of resurgence, the shares have appreciated over 66% for the past 2-week. Today, the stock traded up by another $1.63 for more than 15% gains. Accordingly, we expect Solid to continue to trade further north (and to increase at least one fold when the FDA will remove the clinical hold in less than a year from now). In addition, there should be increasing fortunes for other gene-based therapy innovators under our coverage.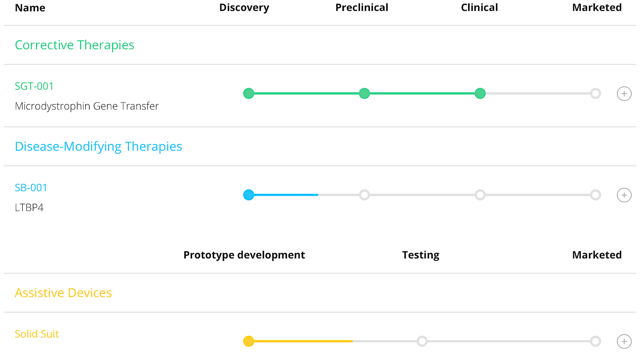 Figure 2: Therapeutic pipeline. (Source: Solid Biosciences)
Next up is CellDex Therapeutics (NASDAQ:OTC:CDEX) - a bioscience emphasizing on the development of immunotherapies to manage difficult-to-treat cancers. On April 16, the shares tumbled +63% due to a negative clinical binary of a key pipeline molecule (glembatumumab vedotin): the drug failed to meet both primary and secondary endpoints in the phase 2b (METRIC) trial (that investigated its efficacy and safety as a potential treatment for patients afflicted by metastatic triple-negative breast cancer). Nonetheless, the most valuable pipeline asset is varlilumab (a CD27 agonist immunomodulator), which is currently being investigated in a phase 2 study with nivolumab (Opdivo) for multiple cancer indications. If varlilumab can demonstrate robust data as we prognosticated, it will be highly likely to secure a partnership (or even got acquired) by Bristol-Myers Squibb (NYSE:BMY). Perhaps the market is starting to anticipate this upcoming catalyst, as the stock rebounded over 3% for the trading session.
Bioscience Catalysts
Today, the FDA announced the latest action to encourage the development of treatment options for people affected by opioid use disorder. Notably, the agency has issued the first of two new guidance to help innovators in developing new molecules for use in medication-assisted treatment for opioid dependence. The first guidance explained the agency's approach toward drug development and clinical design relevant to the study of extended-release "depot" buprenorphine products. Commenting on the recent development, Alex Azar - the Secretary of the Department of Health and Human Services ("DHHS") - enthused,
Today's action by FDA reflects the Trump Administration's commitment to bringing the best science we have to bear in the fight against opioid addiction. We know medication-assisted treatment is effective in treating addiction, and we at the DHHS are using every avenue we have to boost access to it. The FDA Commissioner Scott Gottlieb has made advancing medication-assisted treatment a priority at the FDA in particular, and we believe this new guidance can help accelerate the pathway for developing new drugs and new formulations of existing drugs.
Consequently, the said development has important ramifications for Nektar Therapeutics (NASDAQ:NKTR), a stellar San Francisco CA-based bioscience with molecules to treat cancer, autoimmune disease, and chronic pain. The drug of interest is NKTR-181 (a first-in-class selective mu-opioid agonist, potentially used to treat moderate to severe lower back pain). It can tap into the gargantuan $100B lower back pain market (and is seemingly the silver bullet for the prescription opioid abuse epidemic). It's worthwhile to mention that NKTR-181 solves the abuse at the molecular level (which is what the FDA encourages in the development of an abuse-deterrent therapeutics).
Of note, the associated "rush or high" contributes to the addictive behavior because prescription opioids rapidly enter the blood-brain barriers ("BBB"). In contrast to conventional painkillers, NKTR-181 slowly enters the BBB to deter the associated high (even if the patient crushes the med or snort it). Already posted the stellar phase 3 data as we prognosticated, the firm intends to file the new drug application ("NDA") for NKTR-181 this month. Thereafter, we expect it to gain an approval by early 2019.
Author's Notes: We're honored that you took the time to read our market intelligence. Founded by Dr. Hung Tran, MD, MS, CNPR, (in collaborations with Analyst Vu, and other PhDs), Integrated BioSci Investing ("IBI") is delivering stellar returns. To name a few, Nektar, Spectrum, Atara, and Kite procured over 358%, 140%, 182%, and 83% profits, respectively. Our secret sauce is extreme due diligence with expert data analysis. The service features a once-weekly exclusive Alpha-Intelligence article, daily analysis/consulting, and model portfolios. Of note, there is an IBI version of this research that is a higher-level intelligence with extensive details, in which we published in advanced and exclusively for our subscribers. And, we invite you to subscribe to our marketplace now to lock in the current price and save money for the future
Disclosure: I/we have no positions in any stocks mentioned, and no plans to initiate any positions within the next 72 hours. I wrote this article myself, and it expresses my own opinions. I am not receiving compensation for it (other than from Seeking Alpha). I have no business relationship with any company whose stock is mentioned in this article.
Additional disclosure: I like to inform our readers of Seeking Alpha's recent policy change, in which the company implemented the paywall (not only to my articles but to all articles that are published over 10-day). This is in place, as the company is, after all, a business. And, the revenues from ads are not adequate to support the high-quality research that the company is providing. If you are a REAL TIME FOLLOWER, you will be notified immediately of our new research for you to continue to benefit from our due diligence. You can also gain access to all of my old articles and much more by taking the 2-week FREE trial of my marketplace, Integrated BioSci Investing.
Editor's Note: This article covers one or more microcap stocks. Please be aware of the risks associated with these stocks.