Midstream posted another strong week overall, and MLPs led the way again, up 3.5% for a second straight week. The midstream rally couldn't be stopped by another 13 basis points added to the U.S. 10-year interest rate. The rally even withstood a Tweet from President Trump about how oil prices are too high. As good as the overall week turned out, the rally was confined to just 2 days, with negative returns in the other 3, just like last week.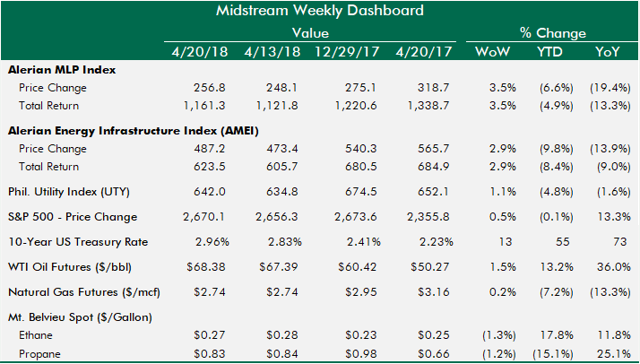 Also, like last week, Barron's is there this week to shine a light on the turn in energy sentiment, this time with an article focused specifically on MLPs (see here). The article touts attractive DCF/unit valuations (relative to historical MLP average valuations) and attractive yields in the face of improving fundamentals.
I might quibble with those measures being held up as the right ways to think about MLP valuation in a new world order, but sentiment seems to be turning and when that happens valuation considerations tend to take a back seat and the trend takes over.
Repeat Performance
3%+ weeks for MLPs are somewhat rare, happening 95 out of 1,164 weeks since 1996. But consecutive such 3%+ weeks are very rare. The MLP Index has produced consecutive 3%+ weeks just 11 times since 1996 (out of 1,164 weeks, or 0.9% of all weeks).

Inches We Need Are Everywhere
This week should be the start of an active company-specific news period. Each strategic announcement and pipeline regulatory approval we get reduces small uncertainties, rebuilding confidence in the outlook for midstream, press release by press release, inch by inch.
Monday, a judge in Minnesota will provide a recommendation on ENB's proposed Line 3 replacement project. ENB (years ago at this point) proposed replacing the existing 34-inch oil pipeline running from Canada through a corner of North Dakota then through Minnesota and terminating in Superior, Wisconsin. The new pipeline will be 2 inches larger in diameter than the existing pipe and will increase the existing pipeline's capacity, which has been restricted due to operating issues. A positive recommendation could provide line of sight into addition oil pipeline takeaway capacity from Canada, which has been very elusive in recent years.
Then earnings season kicks into gear. Notable among those reporting this week are 4 companies with ongoing strategic reviews of existing GP/MLP structures, including: AM, EQM, DM and TRP.
EQM already announced the general process for its multi-stage simplification, but details were lacking and may be fleshed out this week. AM's review process could produce results by this week. The FERC impacted guys (DM and TCP) are unlikely to announce major structural changes so early in the FERC process, but any commentary will be scrutinized. Also, WMB remains "well-positioned to execute on corporate structure changes" and could announce specifics at any time.
Winners & Losers
DLNG was the worst performer this week after a 40% distribution cut, while the best 3 performers all previously cut distributions last year. NBLX's decline this week is harder to explain. NBLX had no news and its sponsor NBL traded up 5.2% this week.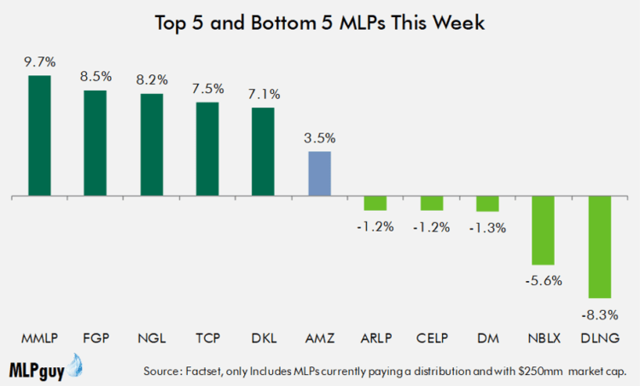 YTD, PAA is far and away the best performing large MLP, with more than 20% total return. Each one of the top 5 rallied this week. DM is clinging to the bottom spot, and it was the only negative performer in the bottom 5 this week.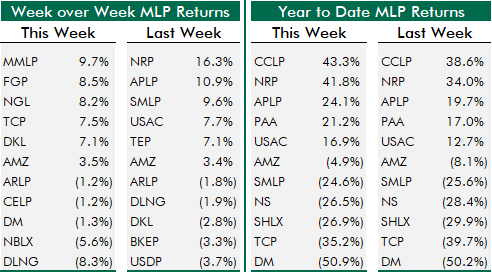 General Partners & Midstream Corporations
KMI's solid results and confirmed dividend increase were enough to break it out of the penalty box this week. ETE beat everyone, perhaps helped by the ETP preferred transaction that reduces ETP's need for more ETE support. OKE and WMB underperformed, perhaps a result of some rotation into KMI.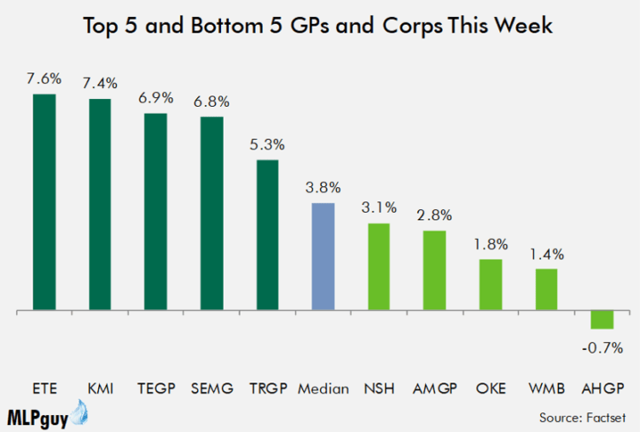 ETE and TEGP-OLD made it two straight weeks in the top 5, while AHGP was at the bottom again this week, the only declining stock in the group this week. On the YTD leaderboard, TRGP hopped a spot in the top 5 and TEGP climbed out of the bottom 5.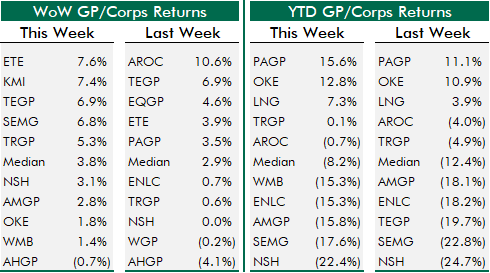 Canadian Midstream Corporations
The two Canadian midstream corporations served as performance barbells for the group. As it relates to ENB, the market seemed to clench up ahead of Monday's next hurdle for the Line 3 replacement project. Alternatively, TRP seemed to benefit from chatter on the LNG export facility being developed in Canada.
Inter Pipeline (OTCPK:IPPLF) and Pembina Pipeline (NYSE:PBA) followed up last week's outperformance with another top 3 finish this week. On the year to date leaderboard, KML's lead narrowed relative to the rest of the group after underperforming this week. The largest companies remain at the bottom of the group.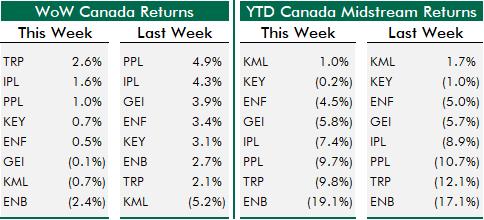 News of the (Midstream) World
Capital Markets
Growth Projects/M&A
Other
Distributions
Distribution announcement season is well underway, with 27 announcements so far. The range of changes is wide, from 60% at KMI to -41% at DLNG, and everywhere in between. The drop-down MLPs are still raising at consistently high levels, even DM (for now).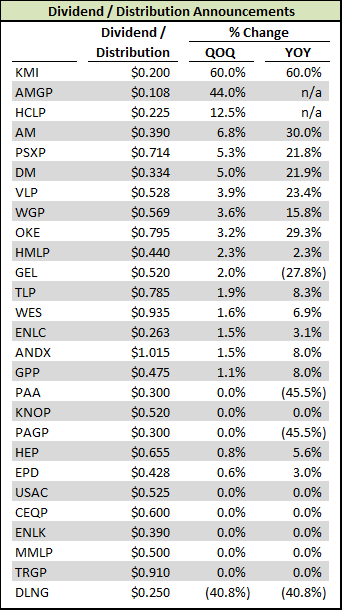 Editor's Note: This article discusses one or more securities that do not trade on a major U.S. exchange. Please be aware of the risks associated with these stocks.