Bellatrix Exploration (BXE) is a smaller Canadian natural gas producer that faces some significant upcoming debt challenges with its $250 million USD May 2020 unsecured debt maturity. Canadian natural gas prices have sharply fallen over the past year, but Bellatrix's 2018 outlook is partially saved by its hedges. However, it is still not able to increase production within cash flow with those hedges and is currently unhedged in 2019. This results in significant restructuring risk since the natural gas market may not leave it in a position to deal with its 2020 debt.
While Bellatrix reports in Canadian dollars, this article uses US dollars unless otherwise noted. The conversion rate used in this article is $1.26 CAD = $1.00 USD.
AECO Natural Gas Prices Are Very Low
A main challenge for Bellatrix is that 74% of its production is natural gas, and around 70% of Bellatrix's 2018 natural gas production is tied to Alberta Energy Company, or AECO, pricing (albeit significantly hedged for 2018). As shown by this AECO futures chart below, AECO prices have declined severely compared to last year. One Mcf is equivalent to approximately 1.055 GJ.
The current 2019 strip for AECO natural gas is around $1.31 USD per Mcf and the current 2020 strip is approximately $1.35 USD per Mcf, while prices for the next 12 months (May 2018 to April 2019) are even lower at $1.23 USD per Mcf.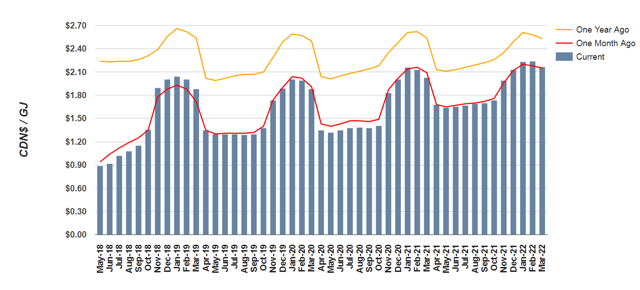 Source: Gas Alberta
Some analysts have a rosier view on Canadian natural gas prices. For example, GMP FirstEnergy mentioned in January that its AECO forecast was $1.75 USD per Mcf for 2018, rising to $2.33 USD per Mcf in 2019 (using the $1.26 CAD to $1.00 USD conversion rate that I mentioned above). However, it also noted that its AECO outlook looked optimistic, and that a combination of Albertan oversupply, poor demand and transportation constraints were serving to depress the market. Since then GMP FirstEnergy has lowered its 2018 AECO forecast to $1.56 USD per Mcf and its 2019 AECO forecast to $2.13 USD per Mcf.
Despite weak natural gas prices (averaging around $1.75 USD per Mcf) in 2017, Albertan natural gas production still rose 8% from November 2016 to November 2017. With even lower natural gas prices now, companies are cutting back capital expenditures, which should serve to minimize production growth, although Canada's National Energy Board still expects Albertan natural gas production to increase by 3% from November 2017 to November 2018.
To deal with low AECO natural gas prices, companies like Bellatrix are trying to find other markets for its natural gas. Bellatrix has entered into contracts to deliver approximately 30% of its 2018 natural gas production to the Malin, Dawn and Chicago hubs. These markets generally have natural gas prices averaging around $2.50 USD to $3.00 USD per Mcf, which is around $1.50 per Mcf higher than AECO strip at the moment. Transportation costs are approximately $0.60 per Mcf on average (helped by TransCanada's pipeline toll reduction), so Bellatrix can make significantly more at the moment in these other markets. The contracts increase to around 49% of Bellatrix's natural gas production in 2019 (assuming similar natural gas production as in 2018).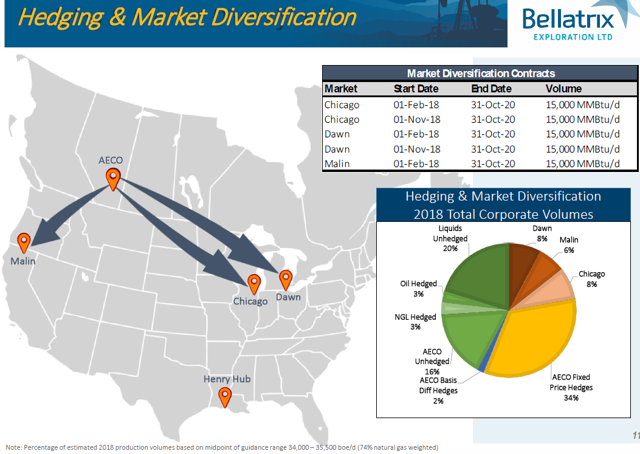 Source: Bellatrix Exploration
The challenge for Bellatrix is that the remaining 51% of its 2019 natural gas production is either exposed to AECO prices or hedged at relatively low prices.
2018 Results
Here's a look at Bellatrix's projected 2018 results, using its 34,750 BOEPD guidance midpoint and a 74% natural gas, 26% oil and NGLs split. The split between oil and NGLs is based on Q3 2017 results, with oil making up 21% of oil and NGLs (and thus around 5.5% of Bellatrix's total production).
At roughly $65 WTI oil, Bellatrix is expected to receive approximately $62 for its oil. It is assumed that NGL prices are slightly less than Q4 2017, which is in-line with typical guidance for other companies.
With 30% of its natural gas production going to the Malin, Dawn and Chicago hubs, Bellatrix may be able to realize $1.80 USD per Mcf for its production despite AECO prices potentially averaging only $1.30 USD per Mcf during 2018. Bellatrix also has approximately $25 million in positive hedge value, as it has hedged a substantial amount of its natural gas production at above current AECO prices, while it only has a limited amount of negative value oil hedges.
| | | | |
| --- | --- | --- | --- |
| Type | Units | $/Unit | $ Million |
| Oil (Barrels) | 639,261 | $62.00 | $40 |
| NGLs (Barrels) | 2,404,839 | $20.00 | $48 |
| Natural Gas [MCF] | 56,315,850 | $1.80 | $101 |
| Hedge Value | | | $25 |
| Total Revenue | | | $214 |
The deals to deliver natural gas to those other hubs are expected to push Bellatrix's transportation costs up substantially, although the net result is still expected to be quite favorable to Bellatrix.
It is estimated that Bellatrix will end up with approximately $222 million USD in cash expenses in 2018, which would result in around negative $8 million in cash flow, while average 2018 production may be a couple percent lower than its 2017 exit rate.
| | |
| --- | --- |
| Expenses | $ Million |
| Production | $79 |
| Transportation | $29 |
| Royalties | $18 |
| Cash G&A | $22 |
| Cash Interest | $26 |
| CapEx | $48 |
| Total Expenses | $222 |
Beyond 2018
While Bellatrix's EBITDA is projected to be around $66 million USD in 2018 along with close to neutral cash flow, its results will be noticeably worse in 2019 if natural gas prices do not improve substantially. At current 2019 strip prices for oil and gas, Bellatrix would be expected to deliver under $50 million USD EBITDA due to its weaker hedges (although the additional Dawn/Chicago/Malin volumes help it somewhat). This could result in approximately negative $25 million USD in cash flow if the capital expenditure budget remains at $48 million USD and production is flat.
At $2.00 USD per Mcf AECO instead in 2019, Bellatrix may end up generating around $60 million to $64 million USD EBITDA along with negative $10 million to $14 million USD in cash flow (using the same capital expenditure budget again). Although GMP FirstEnergy has a slightly higher projection for 2019 natural gas prices, I believe $2.00 USD AECO is still a reasonable scenario as it assumes a narrowing of the AECO to Henry Hub basis differential to historical levels.
Debt Situation
Bellatrix has a $120 million CAD ($95 million USD) borrowing base on its credit facility, so it should have sufficient liquidity through 2019 even if AECO natural gas prices end up around current strip.
However, Bellatrix's main challenge is trying to deal with its $250 million USD unsecured note maturity due May 2020. At current strip prices, Bellatrix's $350 million USD net debt (including its adjusted working capital deficit) would be over 7x its estimated 2019 EBITDA. That leverage level would probably not allow Bellatrix to refinance its debt. At $2.00 USD AECO, Bellatrix's net debt would still be an elevated 5.5x its estimated 2019 EBITDA. It would probably still have some significant challenges refinancing its debt in that scenario, and even if it could refinance its debt, the interest rate would likely be higher than the current 8.5%.
Thus unless the outlook for AECO natural gas improves above $2.00 USD (Bellatrix probably needs $2.35+ USD AECO along with a commensurate $0.35 USD increase in Malin/Dawn/Chicago prices), there is a quite significant chance that Bellatrix restructures ahead of its 2020 debt maturity.
Stock And Bonds
That restructuring risk is high enough to make Bellatrix's common stock too risky for me, given that its upside is probably only to around $3.00 to $3.50 USD even if AECO natural gas rebounds to $2.35 USD. That valuation would give Bellatrix an enterprise value of approximately $500 million USD, which would be around 6.25x its EBITDA at that natural gas price.
However, Bellatrix's 2020 unsecured bonds are worth monitoring. These bonds are currently trading at 84 cents on the dollar (albeit infrequently traded) and would likely end up with most of the new equity if Bellatrix restructures. I believe that current AECO prices are unsustainable in the long run, so a rebound to $2.00 USD AECO would result in Bellatrix generating approximately $62 million USD EBITDA without hedges. This would make Bellatrix worth $310 million USD to $372 million USD using a more conservative 5x to 6x EV/EBITDA range, which could theoretically result in a near full recovery to over 100% recovery for its unsecured debt in the long-run if the debt is converted to equity.
Without the interest burden from Bellatrix's unsecured notes, Bellatrix appears to be fairly competitive. Currently Bellatrix's breakeven point appears to be around $2.30 USD AECO, which is close to the equivalent of $3.00 USD Henry Hub using a $0.75 USD differential. However, eliminating the interest costs from its unsecured debt would result in its breakeven point decreasing to around $1.85 to $1.90 USD AECO or $2.60 to $2.65 USD Henry Hub assuming a $0.75 USD differential. Thus with a recovery to $2.00 USD AECO, Bellatrix should be able to grow production modestly without its interest burden.
Conclusion
Bellatrix Exploration faces a tough challenge in addressing its 2020 debt maturity due to persistently low AECO prices. It is currently being saved from significantly negative cash flow in 2018 by its hedges. However, AECO strip prices are still quite low for 2019 and Bellatrix's 2019 hedges are at fairly low prices so far. AECO prices will need to rise substantially (probably close to $1.00 USD) by early 2019 to put Bellatrix in a position to be able to address its 2020 debt maturity.
This restructuring risk makes Bellatrix's common stock pretty risky, but its unsecured debt may be worth a look. Bellatrix should be reasonably competitive if it significantly reduces or eliminates its interest burden, and the unsecured debt should end up with most of Bellatrix's new equity in the event of a restructuring. I am monitoring its unsecured debt to see whether it drops below 80 cents on the dollar for a potential entry point.
Free Trial Offer
This report was initially provided exclusively to Distressed Value Investing subscribers in February 2018 and has been updated with current market info. We are currently offering a free two-week trial to Distressed Value Investing. Join our community to receive exclusive research similar to this report along with full access to my portfolio of historic research that now included over 1,000 reports on over 100 companies.
Disclosure: I/we have no positions in any stocks mentioned, and no plans to initiate any positions within the next 72 hours. I wrote this article myself, and it expresses my own opinions. I am not receiving compensation for it (other than from Seeking Alpha). I have no business relationship with any company whose stock is mentioned in this article.