I've often articulated through my past writings that REIT investors should be reluctant to accept the wholesale theory that the potential for higher bond yields (or interest rates) is an absolute negative for real estate trusts going forward. The reason for this is that REITs are more of a heterogeneous sector than the casual investor-passer-by may realize. Not all REIT operating spaces or individual trusts will wax and wane with the same velocity and may, in fact, head in opposite directions.
In this 5-year chart with the middle pink line representing VNQ, Vanguard REIT index, a typical proxy for "REITs," we can see that you would have experienced markedly different performance investing in cell tower owner Crown Castle (CCI) than you would have had you selected health care property owner Welltower (NYSE:WELL). Retail investor favorite, Realty Income (O) came out somewhere in the middle of the two.

Source: Yahoo Finance
Thus, given the diversity of result that is forward likely to be seen, it's naive to make the contention that higher interest rates WILL have a necessarily profound negative impact across the space. I'd opine that the better way to look at this dynamic is to compartmentalize each REIT and judge each independently while considering the possibility of meaningfully higher bond yields/interest rates.
The Importance Of Understanding Rates Versus Yields
One of the biggest semantic faux pas that REIT investors tend to make is intermingling the concepts of interest rates and bond yields. The former is usually a short-term-driven concept governed by central bank activity, while the latter is usually a longer-term concept driven by investor activity.
Five years ago, through the event usually referred to as the "taper tantrum," investors drove the 10-year Treasury higher by 140bps in about seven months.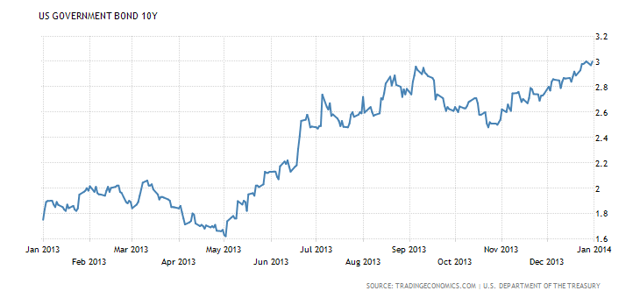 This occurred simply on the belief that discontinued Fed QE would lead to near-term interest rate hikes and conclusion of ZIRP. In hindsight, bond investors dramatically jumped the gun, since it took nearly two years thereafter for the Fed to actually make a tightening move. Meanwhile, though bond yields have gyrated significantly since the "tantrum," we find the 10-year at about the same place today as it was at the beginning of 2014. Of course, during the interim, the Fed has increased short-term rates six times (150bps).
If we look at the bond market's move since the Spring of 2013 alongside Fed tightening, you could argue that we currently sit at some sort of 5-year parity. But, I digress.
More generally, as relating to REITs, investors need to differentiate between rates and yields and their respective implicators to both market pricing sentiment and individualized operating performance.
The Under-Appreciated Importance Of Lease Duration
Similar to the concept of duration relative to a bond, a REIT's price sensitivity may be governed in part, or even mostly, by the blended length of lease contracts that it writes. If we think in terms of bond action, a bond with shorter duration will generally exhibit less price volatility than a longer-term bond from the same issuer.
Similarly, in the REIT space, some leasing is executed with very short duration (e.g. day to day with hotels or month to month with self-storage), while some leasing is executed with significantly longer duration (decade or more in retail and healthcare).
Thus, since investors recognize innate similarities between durable bond interest payments and dividends thrown off by certain REITs, the near-term price action of many trusts can be seen as closely mimicking that of the bond market.
The NNN retail REITs, particularly Realty Income, seem to be the most sensitive poster children for this phenomenon, given their typically long blended lease duration characteristics. As the 10-year Treasury yield has risen about 160bps since mid 2016's 'Brexit,' O's stock price has plummeted 30 percent. While some of my antagonists seem to think this is merely a coincidence, I can assure you it is not.
Should the 10-year Treasury make it to 3.5% by the end of 2018, I'd pretty much guarantee you that O becomes a $45 stock. So if you put any stock into total return or capital preservation you should consider this prospect.
It's great to have lengthy lease duration amidst a deflationary real estate environment - not so much when things are rapidly improving, however.
Balance Sheet And Changing Face of Real Estate
The amount of debt that a REIT carries is also going to have distinct implication in a rising yields scenario. While a REIT may be able to grow faster if it takes on more debt, higher debt burden is a distinct negative if credit markets become tighter. Though a REIT may be able to overcome higher debt service by generating increased NOI in an expansionary economy, that may be a huge if, depending on the space it operates in.
As we've seen in the retail space, lower quality malls are having trouble retaining tenants. And it appears even those without abandonment issues may be offering concessions to keep space filled. While perhaps a broken record at this point, Amazon (AMZN) has been a huge disruptor to the need of retail space. Even those retail business models once thought as somewhat superior and bulletproof, like Tanger Outlets (SKT), have come under severe pressure.
Despite its rather attractive balance sheet and below average FFO-payout, Tanger's shares have lost about 50% of their value over the past two years. While that has had some value investors salivating, I'd continue to be wary, as deterioration, rather than some sort of renaissance, may be the more likely forward scenario for outlet lease rates.
We've also seen fundamental problems in the HC space, particularly skilled nursing. Omega Healthcare (OHI), due to issues with some of its larger operators, has guided its NOI materially lower. Growth rates across the board, whether hospital, MOB, or ALF have been pressured in healthcare, given supply and cost structure issues depending on the space you are looking at.
Again, investors must not generalize and should consider each trust by its own merit. Evaluate operating fundamentals alongside the debt load. If debt is high, yet business operations are positive, the rewards may be worth the risk.
All has not been negative, however. Given the rise of e-commerce, the warehousing/industrial space has been garnering a lot of attention due to the prospect for stable long-term growth in demand and rents. Hotels, which tend to be rather economically volatile, have also been somewhat of a bright spot, given continued travel desire and willingness to spend discretionary funds.
Beware High-Yield
It's understandable that an investor may be attracted to a double-digit or near-double-digit yield. However, also understand that typically a 10% yielding stock isn't yielding 10% because it's high quality. It's usually because the trust has ceased to grow, has external management with growth alignment issues, has high leverage, or otherwise has an operating problem.
While I'm normally the first to caution on high-yield, I'd also be the first to maintain that a very cheap REIT with a sustainably high dividend may represent value relative to a more durable trust selling at nose-bleed valuation. Right now, however, I have not come across a high-yield equity REIT that I would be comfortable recommending as a core position.
Strategy Session
My overall view toward REITs, which has been rather cool for over a year now, continues as such. While the yields continue to be good, comparatively speaking, relative to what one might find in CDs or the investment grade bond market, I don't see slam-dunk intermediate-term total return outperformance potential relative to other market sectors.
As noted, the prospects for warehousing and hotels look decent here. The only one I own is First Industrial (FR), although I like the limited market, port-inspired business model of Terreno (TRNO). Those with a clearer yield tilt could probably nibble on shares of STAG here (STAG). In the hotel space, the only one I currently own is Park (PK), which was a much better bargain about a month ago. M&A activity has perked over the past couple years, the latest an offer from Pebblebrook (PEB) to buy LaSalle (LHO). Some of the other cheaper, smaller hotel REITs may be decent buyout speculations.
The situation over in retail land is well documented. While I wouldn't necessarily be opposed to some speculative money being thrown at names like CBL, Washington Prime (WPG), Pennsylvania (PEI) or a shopping center owner like Kite (KRG), please resist the urge to make these core positions. Safer value bets would be on Simon (SPG), Macerich (MAC), and Taubman (TCO), which I fail to see a go-poof-in-the-night scenario for, as opposed to the former.
Elsewhere, I still see apartment landlords as a reasonable place for REIT monies, although growth across the board seems to be slowing, probably due to the unfavorably building supply/demand equation. Still, a notable perk-up in the economy combined with the shorter lease duration involved here could make for outsized gains in the future. My only current holding there is MAA.
Self-storage continues to look like a business that will thrive, albeit with a moderating growth backdrop. Over the past few years, I have owned both National Storage (NSA) and Jernigan (JCAP) but have moved on.
In healthcare, I currently own nothing. Have looked hard at 8% yielding Medical Properties (MPW), but have not pulled the trigger. As noted earlier, growth across the board in HC leaves not much to be desired. Like retail, I'm not sure that I see the light towards any kind of growth resurgence.
Conclusion
While you could probably do much worse than to look to expand REIT exposure in the current market, you could probably do much better as well. Rising bond yields will be mostly implicative to the space if they rise quickly and most implicative to REITs with longer lease duration.
Most important will be for investors to discern which specific operating spaces can maintain wind at their backs.
All-in-all I'd opine that REIT results will likely continue to be mediocre relative to the rest of the market in the years ahead. Reserve expectations and while you can certainly hope for better, you'll probably end up with worse.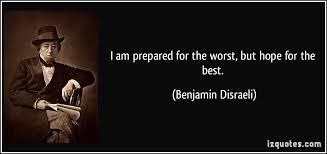 Disclosure: I am/we are long MAA,FR,KRG,PK.
I wrote this article myself, and it expresses my own opinions. I am not receiving compensation for it (other than from Seeking Alpha). I have no business relationship with any company whose stock is mentioned in this article.