Beginning January 1 st, 2018 China instituted a new policy banning the import of 24 types of solid waste including unsorted paper products and polyethylene terephthalate (a low-grade plastic used in bottles). They also instituted a new contamination rate for recycling imports of just 0.5% and temporarily suspended licenses for many recyclers. In a note to the W.T.O China said:
Large amounts of dirty wastes or even hazardous wastes are mixed in with the solid wastes that can be used for raw materials. This polluted China's environment seriously.
The ban has caused a serious upheaval in the recycling markets around the world. Recycling commodity prices declined 36% in Q1 2018 alone and volumes declined as well, if only by 1% at Waste Management (NYSE: NYSE:WM).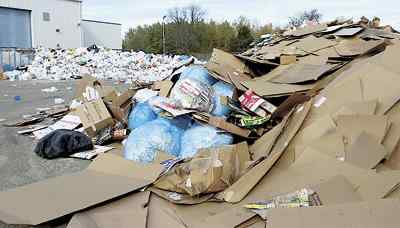 Over-filled Recycling Center in Isabella County, Michigan.
Source: The Morning Sun
Many recycling operators in western countries are feeling the heat as China has historically been the number one importer of recycling, accounting for 51% of worldwide scrap plastic imports last year. From Oregon to the United Kingdom, backups of recycling are being reported as businesses struggle to find new destinations for their now overly contaminated recycling. Fortunately, as always, the well-run WM seems to be taking things in stride.
A Resilient Q1 2018
In a recent article, entitled Waste Management: A Boring, Trashy Portfolio Cornerstone, I lauded WM's efficient management and world class moat. Having purchased shares of the company almost a decade ago, I see WM as one of the few buy and hold forever names in my portfolio. In Q1, they proved their resiliency in the face of a looming trade war with China. Q1 earnings revealed a beat on EPS estimates by $.08, despite the pressure China has placed on their recycling business. Revenues were up 2% YoY as well at $3.51 billion, although they missed analysts estimates by $70 million.
As always, the strength of WM lies in their traditional waste business, which is almost 10x the size of their recycling business. The price and volume of WM's traditional waste business both grew 2% in Q1. Landfill business total volume also increased 9.5% which contributed an additional income from operations of $30 million for the quarter. Operating EBITDA was also up 12% vs Q1 2017, aided by the tax cuts and fuel tax credits which dropped WM's effective tax rate to 23% for Q1 2018. The company also generated $808 million in cash from operations which was up 12% vs Q1 2017. WM's efficiency, moat and forward thinking enabled them to come out of Q1 in solid health, and not all recyclers can say the same.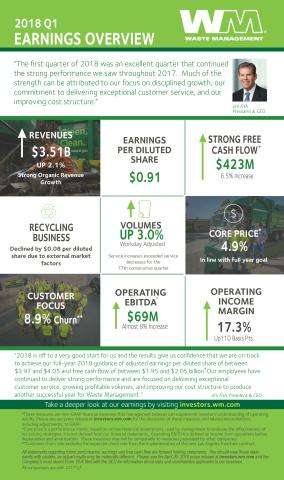 Source
The Effects Of China's Ban
Even a company as well run as Waste Management will be affected by the Chinese ban on recycling imports and its new contamination rate however. In Q1 2018, WM estimates the EBITDA impact on their recycling business was $46 million. This was mainly due to a large up-tick in operating costs as the company attempts to get their recycling down to the required 0.5% contamination rate.

WM's average contamination percentage has risen sharply over the past five years as people are taking less time to properly sort their garbage. Five years ago, the average contamination rate was between 10% to 15% at WM's recycling facilities. Today that number is between 20% to 25%. Some of WM's plants have recycling materials that come through the front door with a staggering 40% trash. This means a monumental effort must be made to sort through the garbage in the recycle stream in order to sell it to China as recycled commodities. Even the company's best inbound recycling streams have a 10% contamination rate, meaning WM is forced to remove 95% of the trash prior to sale.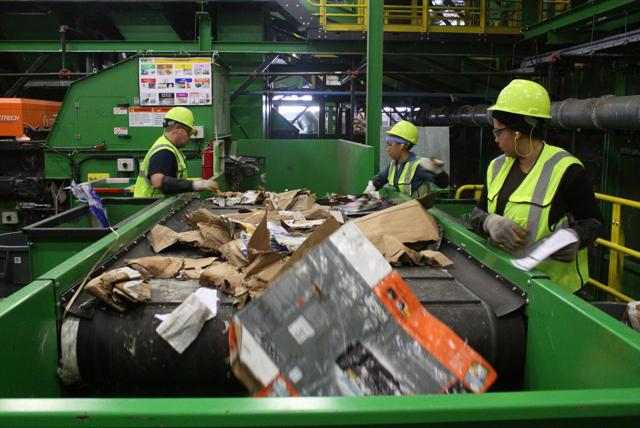 The Sorting Process at a WM Recycling Facility
Source: Business Wire
However, like I said WM is always prepared and they have been able to ship a large portion of these now 'contaminated' recyclables to countries like Vietnam and India without getting the contamination rate down to 0.5%. The costs of this shipping are greater though, and this has taken a toll on the recycling business' bottom line.
WM is working on multiple solution to this recycling problem. First, they have begun a new focus on educating customers about the necessity of recycling the right way. Second, and perhaps more importantly, the company is shifting costs onto customers.
James Fish President and CEO in Q1 2018 Conference Call:
In our new contracts, we are looking to shift even more of the commodity price risk to our customers and more easily recapture our actual processing costs going forward. We started this shift several years ago by restructuring contracts and this is the next evolution in that shift.
The plastic recycling business is not the only part of WM that is affected by these new Chinese regulations however. A year ago, WM shipped about 30% of their cardboard to China, now that figure is only 2%. The company has been able to find alternative buyers for their cardboard products, but once again this increases costs. China does need this cardboard and their domestic suppliers can't fulfill their needs, so there is a long-term bull case to be made in regards to a return to normalcy in the cardboard recycling business.
That case can also be made in regards to plastics. See, China isn't buying our recycled plastics because it's the right thing to do for the environment. Rather, they buy it because they use it. This new policy has undone years of progress which established a mutually beneficial system whereby Chinese importers and foreign exporters were able to match each-other's plastics importing and exporting needs. It has also forced Chinese buyers to buy new plastics from companies like DowDuPont, Inc. (NYSE:DWDP) at higher prices.
Since China's thirst for plastics isn't going anywhere, in fact its expected to rise substantially in the coming years, this new method for acquiring plastics may not hold up over time. Basically, this policy has hurt both the U.S exporters and Chinese importers, and put a strain on many Chinese companies' relationships with the government. This chart from Bloomberg exemplifies China's growing thirst for plastics.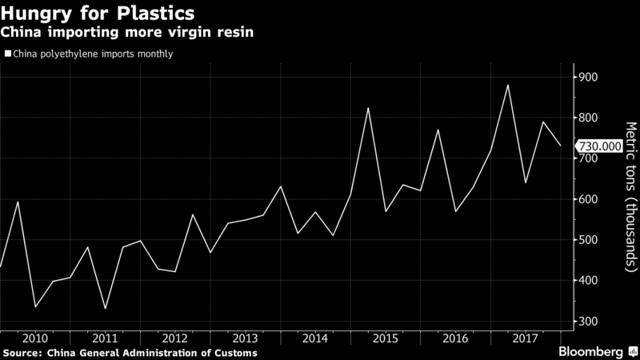 In the near term, with President Trump and China continuing a tit for tat quasi trade war in attempts to work out a more equitable trade relationship, WM's revenues and bottom line will be affected. The company expects the year-over-year decline in their recycling business to be between $0.12 and $0.15 per share versus the original guidance of negative $0.08 to $0.10 per share. However, given that WM's recycling business is about 1/10 th the size of its solid waste business I don't believe the Chinese ban should materially affect the future prospects of WM. I also see the two countries eventually coming to some sort of consensus agreement whereby the allowable contamination percentage will be moved to acceptable levels for both parties. It is simply in both countries' interest to get a deal done and allow the recyclables flow to resume once again.

Conclusion
As a long-term investor when I first heard of the Chinese ban on recycling imports I was concerned, but after looking into things in Q1 2018 at WM my fears have subsided. As always the company is prepared and their efficiency, growth and wide moat will allow them to weather this storm. Don't take my word for it though…
James Fish President and CEO in Q1 2018 Conference Call:
To come full circle, in spite of these significant challenges in the recycling line of business, the large majority of our business is hitting on all cylinders. And therefore, we remain confident in our ability to deliver strong performance throughout the remainder of 2018. As a result, just to be clear, we are reaffirming all of our full year guidance including operating EBITDA, EPS and free cash flow.
With 2018 guidance reaffirmed, I believe this new Chinese ban may present an opportunity over the next couple months for investors to get into WM at lower share prices. I expect the market will overreact to this news and share prices may fall slightly in the near term. If you don't own Waste Management perhaps Trump's quasi trade war will provide you an opportunity to enter one of the safest dividend growth stocks in the markets.