Investment Thesis
I want to start by apologizing to those for the lateness in publishing this article as I have been putting in a lot of hours renovating my basement (which will be the new location of my home office). Once this is done I plan to start publishing articles on a more consistent basis.
March marks the first month that I have tracked John's dividend income from his Traditional and Roth IRAs. Unlike the taxable account, we did not start making significant changes to John's retirement accounts until after the first of the year. Because of this, there are a number of stocks in John's retirement accounts that have yet to pay a dividend but this trend will quickly change as more of his stock purchases become seasoned.
John's portfolio contains a number of core holdings that are similar to his wife Jane's portfolio that I summarize in the article Jane's March Dividend Income Tracker - Retirement Accounts. The primary difference between their portfolios is that John's takes a more defensive approach by focusing on utilities, telecoms, and consumer goods.
Like the article on the taxable account, John And Jane - March Dividend Income Tracker - Taxable Account, the goal is to create a database that allows year-over-year (YoY) comparisons that demonstrate the power and simplicity of dividend investing from a retiree's perspective. In addition to documenting the past, I also like to forecast the upcoming month's dividend payments.
The last difference between John's retirement accounts and his taxable portfolio is that there will be some active trading done within the retirement portfolio.
As always, I would like to include a disclaimer that this article is based on an actual portfolio for clients' of mine and that all figures and trades stated in this article actually took place (unless otherwise noted).
Traditional and Roth IRAs Vs. Taxable Account
Instead of regurgitating this section from Jane's article I will list bullet points to summarize this part of my strategy:
Actively buying and selling does not mean we are constantly trading the portfolio in a ridiculous attempt to create outsized gains.
I focus on purchasing shares of high-quality companies that we can either choose to hold onto or sell of our price target is reached.
Buying and selling within a Traditional or Roth IRA shields John and Jane from the threat of taxes on capital gains.
Dividend And Distribution Increases
The three stocks that paid an increased dividend in March are unique to John's retirement portfolio (Jane does not currently hold any of the stocks mentioned below). For more stocks that raised their dividends in the month of March check out the links to the two other articles about John and Jane's other investments in the first paragraph.
Boeing (BA): Boeing has one of the strongest business models of any business I am aware of and with the new generation of planes being built (and a massive backlog) it will be years until an entirely new plane needs to be designed. Until then Boeing is literally printing money as they continue to automate their production lines and increase output. Boeing has recently been one of my favorite stocks to hold a core position in while buying and selling on the dips and the highs. Even though Boeing has suffered from the threat of "trade wars" their backlog of planes through the year 2023 gives them a high level of predictable cash flow.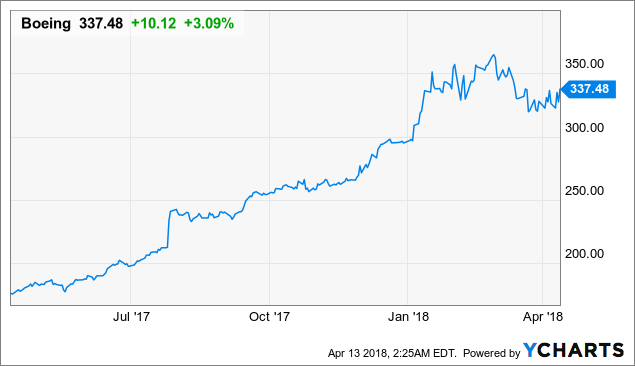 BA's dividend was increased from $1.42/share per quarter to $1.71/share per quarter. This represents a 20.4% increase and a major annual payout increase from $5.68/share to $6.84/share annually. This results in a current yield just under 2.09% based on a share price of $337.48.
Dominion Energy (D): Dominion's stock has dropped roughly 25% since their dividend increase announcement and share issuance to purchase SCANA Corp (SCG). The most important thing to remember is that the price drop represents an opportunity to pick up shares at prices that aren't normally available and a compelling yield of 5.2%.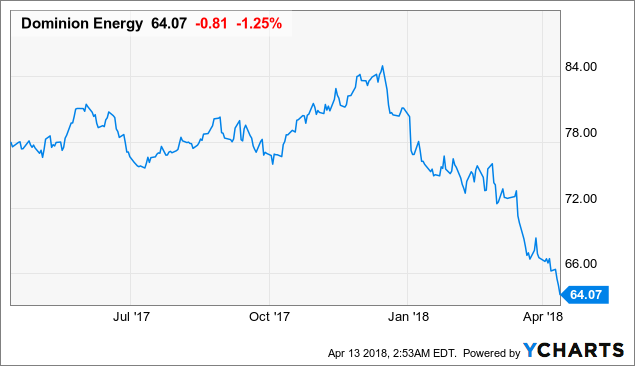 D's dividend was increased from $.77/share per quarter to $.835/share per quarter. This represents an increase of 8.4% on an annualized basis for a total payment amount increase from $3.08/share to $3.34/share annually. This results in a current yield just over 5.20% based on a share price of $64.07.
Visa (V): Visa has been one of my favorite stocks to regularly trade in and out of because all it takes is a little patience for the price to come back down so that we can load up on shares and only to resell them again. Since February, John has purchased Visa stock on a number of occasions and sold those shares total of three times. This has generated realized gains of $743 starting on February 6th through April 13th. The reason I don't feel guilty doing this is that the dividend yield isn't strong enough to make it a truly worthwhile source of dividend income. Based on the last month of trades, I like to buy Visa in the $118/share range and when possible, sell some or most of them when prices are $121/share.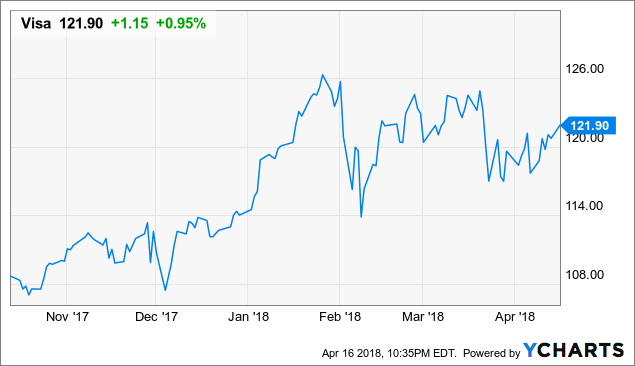 V's dividend was increased from $.195/share per quarter to $.21/share per quarter. This represents an increase of 7.7% on an annualized basis for a total payment amount increase from $.78/share to $.84/share annually. This results in a current yield of .67% based on a share price of $124.20.
Trade Examples
Here are my criteria for entering into short/medium term trades with the intent of generating extra income:
Worthy of being held long-term - Some of these trades can play out over the course of two weeks and others can take months. Because of the risk associated with this process, I will only purchase stocks that I would normally buy on a long-term basis. If the share price drops I don't want to feel the need to sell at a loss and focusing on high-quality stocks mitigates this risk significantly.
Pays a Dividend - Stocks that make my list almost always pay a dividend (and so far I have only made trades using stocks that pay a dividend). High-quality stocks with a history of paying a dividend are inherently safer and more stable.
Let's look at a few trades I made over the last few months. Although I won't be listing out all trades, I can say that all trades were profitable in the month of February and March. Companies with trades during this two-month period include: (AAPL) Apple, (BA) Boeing, (CVLY) Codorus Valley Bancorp, (GD) General Dynamics, and (V) Visa.
Apple (Traditional IRA)
AAPL is one of the larger holdings in the taxable account and we decided to purchase a small amount based on temporary weakness.

AAPL's stock has been topping out at roughly $180/share and so we decided that would be the ceiling for when we would sell. If you look at the timeline for this trade we jumped into buying shares of AAPL quickly and patiently waited as the stock hit its lowest point only four days after purchasing it. Ultimately, we were able to receive the dividend and capture profits from the upswing. AAPL is currently on my list to buy again especially as the tech sector continues to struggle as a whole. In addition to this, AAPL should be announcing a dividend increase in early May. AAPL is one of my favorite plays because the ex-dividend date is usually a week before the payout date.
Codorus Valley Bancorp (Roth IRA)
John already owns a sizable position in CVLY and unfortunately, we decided to purchase that position a little too early so it is currently sitting at a loss. CVLY isn't as high quality as I would normally prefer, but shares were too attractive to pass up after hitting a low of $24.83.

We cautiously waited a little bit longer and ultimately purchased shares at around $25.94/each and sold those shares roughly 2 weeks later for almost $28/share.
General Dynamics (Roth IRA)
GD is the last trade I will discuss largely because I (and yes, I take the blame on this one) got too ambitious with my price target. John still made a considerable amount on the trades but his current position of 50 shares is at a higher cost basis than I would've preferred. As you can see, these trades take place over a period of two months.

As you can see we started with a small position at around $225.58/share. The stock quickly dropped allowing us to enter into a larger position at the ultra-low price of $211.53/share. The biggest problem with this stock was that I suggested a sale price point of $235/share when I should've been less optimistic and sold the entire lot on March 9 for $229.70/share. I added to this problem by purchasing additional shares for $224.64/share. Ultimately, the trades above resulted in realized gains of $622.02 over the course of two months.
John still holds 50 shares (our price target has been adjusted to $230/share) and we plan to add to this position if the price falls below $215/share. GD is a great reminder that I would rather be more conservative with these types of trades.
During the month of March, I added 25 shares of BA at $343.61/share and another 25 at $325.25. I am looking to sell a partial position at a price target of $355 but may adjust it higher depending on how the stock reacts to earnings (announcement on April 25th).
Because this article is focused on dividend income I will not be focusing on the capital gains generated from these trades and the impact they have on the monthly income generated. I will, however, continue including these trades in my monthly summary. It is likely at some point I will produce a quarterly or semiannual article that will track realized gains from these types of trades.
March Income and April Estimates
I have created the following charts to assist with keeping track of John's retirement portfolios. It is my goal to building a database that can be compared on a month-to-month and YoY basis. Green is used to show when dividends were actually received while yellow represents dividend estimates that haven't occurred yet (estimates). Red represents a position that was sold.
John's Traditional IRA: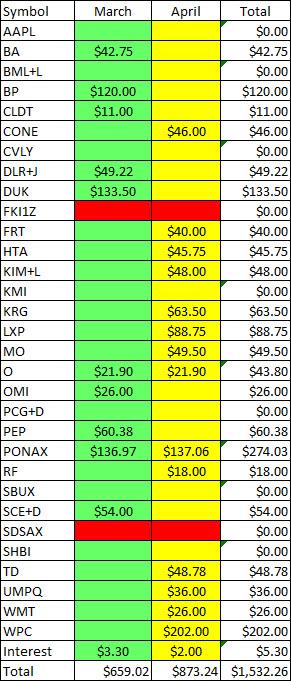 John's Roth IRA: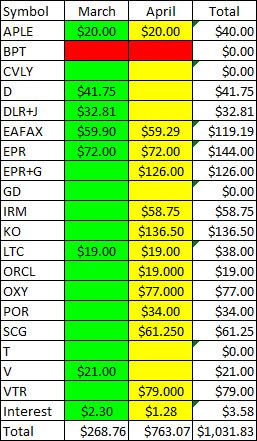 Below is a chart that shows the total dividends received in the Traditional and Roth IRA accounts for the first three months of the year.
John's Traditional IRA: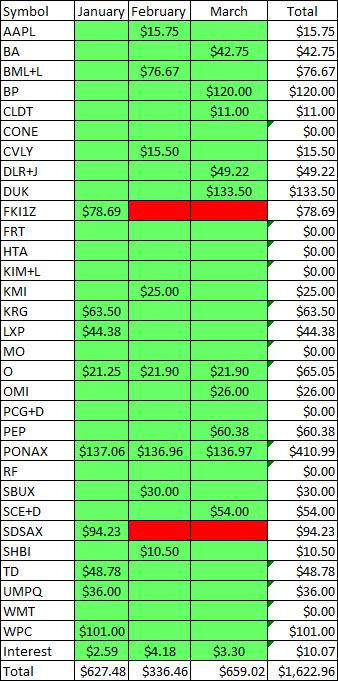 John's Roth IRA: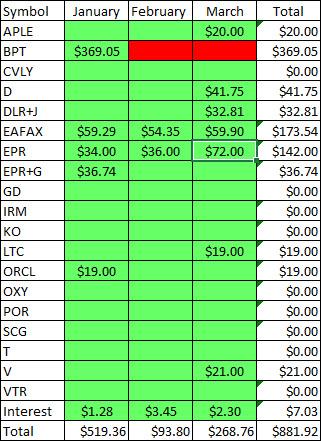 As you can see, John's retirement account had securities that had not seasoned yet in the first two months of the year which resulted in lower than normal dividend income. When looking at the estimates for income in the month of April it is clear to see that the majority of stocks will be seasoned resulting in a payout level I would expect to see going forward.
Conclusion
John's retirement portfolio is still in its infancy but the charts above show that it is getting closer to the consistent dividend income portfolio we are looking for. Between his Traditional and Roth retirement accounts, I expect John's March dividend income to be approximately $928 in total. I estimate that John will receive approximately $1636 in dividends for the month of April.
It can be difficult to keep track of all the available investments out there so I would love to hear some feedback in the comment section. What investments do you think would be beneficial for John's portfolio?
Final Note: If you enjoy my articles, please take the time to follow me. While I enjoy performing analysis, following me is the best method for showing me that SA subscribers are finding my work useful. I welcome all meaningful feedback and I enjoy using the Seeking Alpha platform to enhance and improve my own knowledge as well. My promise to readers is to be as open and transparent as I can be. The numbers presented are accurate as of the time I wrote this article.
In John's Traditional and Roth IRA's he is currently long the following mentioned in this article: (AAPL) Apple, (APLE), (BA) Boeing, (BML/PRL) Bank of America Preferred Series L, (BP) British Petroleum, (CLDT) Chatham Lodging Trust, (CONE) Cyrus One, (CVLY) Codorus Valley Bancorp, (D) Dominion Energy, (DLR/PRJ) Digital Realty Preferred Series J, (DUK) Duke Energy, (EAFAX) Eaton Vance Floating-Rate Advantage Fund A , (EPR) EPR Properties, (EPR/PRG) EPR Properties Preferred Series G, (FRT) Federal Realty Trust, (GD) General Dynamics, (HTA) Healthcare Trust of America, (IRM) Iron Mountain, (KIM/PRL) Kimco Preferred Series L, (KMI) Kinder Morgan, (KO) Coca-Cola, (KRG) Kite Realty Group, (LTC) LTC Properties, (LXP) Lexington Realty Trust, (MO) Altria, (O) Realty Income, (ORCL) Oracle, (OXY) Occidental Petroleum Corp, (PCG/PRD) Pacific Gas & Electric Preferred Series D, (PEP) Pepsi, (PONAX) PIMCO Income Fund Class A, (POR) Portland General Electric, (RF) Regions Financial, (SBUX) Starbucks, (SCE/PRD) South California Edison Preferred Series D, (SCG) Scana Corporation, (SHBI) Shore Bancshares, (T) AT&T, (TD) Toronto-Dominion Bank, (UMPQ) (Umpqua Bank), (VTR) Ventas, (WMT) Wal-Mart, (WPC) WP Carey.
Disclosure: I am/we are long UMPQ. I wrote this article myself, and it expresses my own opinions. I am not receiving compensation for it (other than from Seeking Alpha). I have no business relationship with any company whose stock is mentioned in this article.
Additional disclosure: This article reflects my own personal views and is not meant to be taken as investment advice. It is recommended that you do your own research. This article was written on my own and does not reflect the views or opinions of my employer. I recently sold a number of stocks I was previously long on in order to pay off a significant amount of debt and increase my cash-flow available for investing going forward.

I would like to further disclose that am employed by Umpqua Bank which is a company held in John's Retirement Portfolio. The inclusion of this stock is for informational purposes only and is not an attempt to promote this stock. Please understand that I will not answer any questions that are specifically related to Umpqua Bank.