Editor's note: Seeking Alpha is proud to welcome Alex Vasylenko as a new contributor. It's easy to become a Seeking Alpha contributor and earn money for your best investment ideas. Active contributors also get free access to the SA PRO archive. Click here to find out more »
On Wednesday, April 05, following the publication of the U.S. list of Chinese goods now subject to tariffs, China announced that it intends to take retaliatory measures on 106 U.S. products, including soy, cars, and chemicals (CNBC, 2018).
The effective start date for the new tariffs has not been announced, though China's Ministry of Commerce says the taxes are designed to target up to $50 billion of U.S. products annually (CNBC, 2018).
The 25 percent levy on U.S. imports includes products such as soybeans, cars and whiskey (CNBC, 2018).
The move comes less than 24 hours after President Trump unveiled a list of Chinese imports that his administration aims to target as part of a crackdown on what he deems unfair trade practices (CNBC, 2018).
Market Perception
After an extended period of low volatility, market fluctuations of 1 percent or more have now become the norm.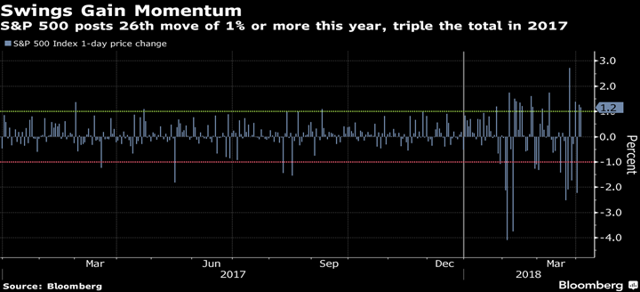 Such volatility spikes increase demand for hedging assets. Starting from February, the Put/Call ratio has been on an upward trend.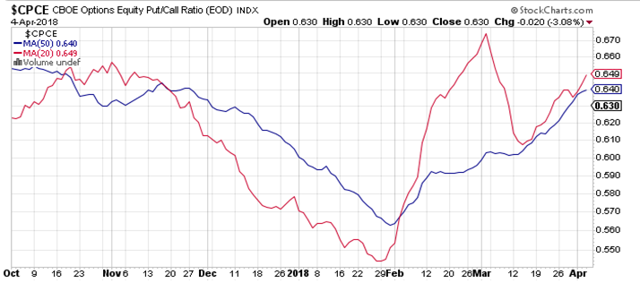 The CBOE SKEW Index, which tracks the cost of out-of-the-money S&P 500 Index options and indicates investor optimism, has been falling for the last three months and now sits below its 52w low.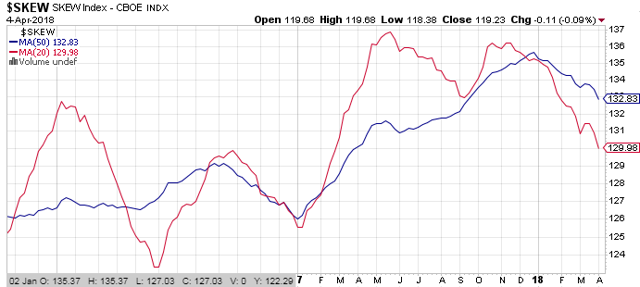 A decrease in the spread between U.S. Treasuries and U.S. companies with a credit rating at or below CCC is quite noticeable.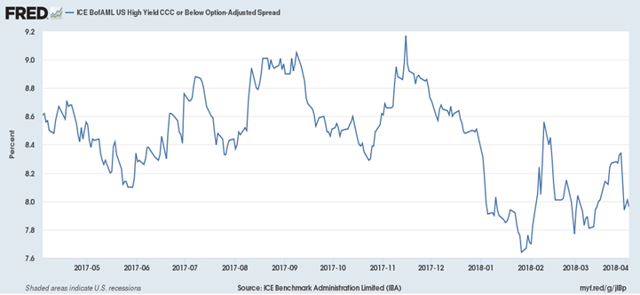 Short interest in U.S. equities is also below the three-year average.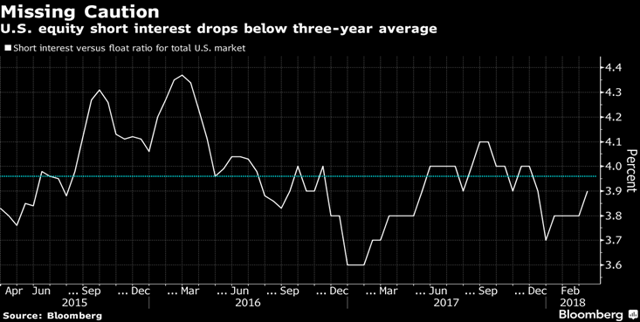 Regardless of the belligerent actions of both countries, investors don't perceive this situation as a threat for their open position. The evidence for this is that the negative news about the trade dispute is not being accompanied by a sell-off and the opening of short positions against the U.S. equity market. However, if investors see increasing risk, the spread between U.S. Treasuries and companies rated CCC or below expands instead of continuing its current decrease (These assets can be counted as the riskiest, so in periods of uncertainty, the spread tends to expand).
Currently, investors are using hedging assets, which is the typical response towards the rise in volatility, but there are no signs of pulling money out of the market.
Factors that stand behind this market reaction
Chinese retaliatory measures don't represent a threat to the United States.
Commerce Secretary Wilbur Ross: China's tariffs amount to only 0.3% of US GDP.
A 25 percent tariff on $50 billion of products would only total about $13 billion, which is the economic equivalent of a 13-cent increase in gasoline prices. The tariffs don't materially change the outlook for Fed policy, as a price shock on particular products will be treated no differently than oil price shocks have been in recent decades (Bloomberg, 2018).
Barraud - ranked by Bloomberg News as the top forecaster of the U.S. economy for three years - estimated that if all proposed U.S. and Chinese tariffs are implemented on all listed products, annual U.S. growth will take a hit of only 0.1 to 0.2 percent (Bloomberg, 2018)
China is more dependent on the U.S. If the two countries fully implement the announced tariffs, China will be more interested in negotiations than the U.S.
The U.S. accounts for about 18 percent of all Chinese exports, whereas China buys only about 7 percent of U.S. exported goods (U.S.-China trade tariffs in charts, 2018).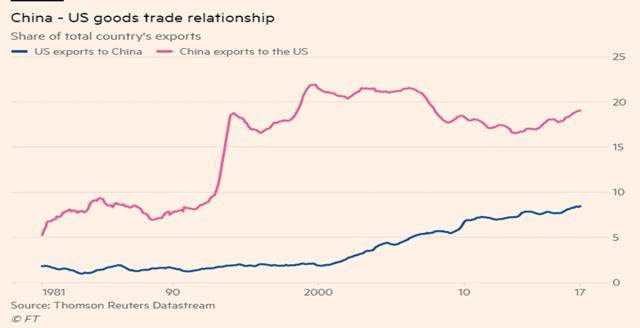 Fundamentals are strong, so any turmoil will be perceived as a buying opportunity.
Analysts' forecast for Q1 earnings growth has risen to 17% from 13%.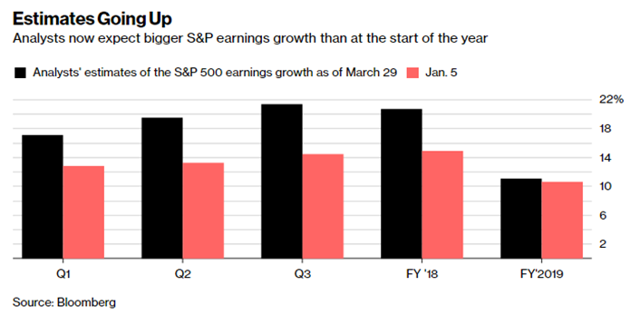 U.S. shares haven't been so cheap since the post-Brexit drop. Price-to-estimated earnings is 16.2x.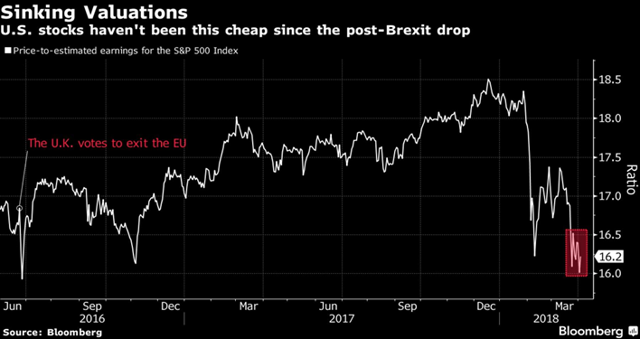 The current price to earnings ratio is around 24.70x. The 8.5x difference between ratios generally makes the purchase of stocks expedient.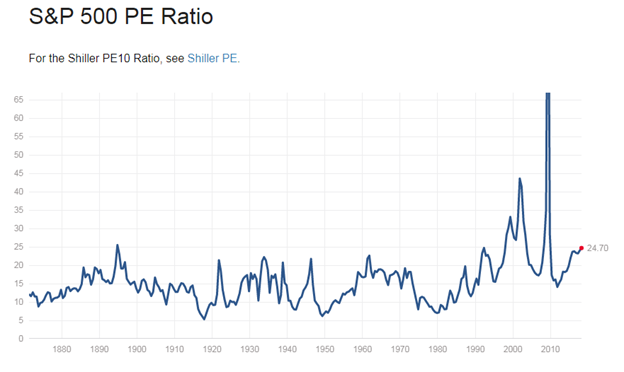 On the one hand, such a positive mood creates support for U.S. equities. On the other, if those heady EPS targets are not met, this could end up bad for already wobbly U.S. stocks.
Conclusion
"In isolation, 25 percent tariffs on $50 billion of goods is not a big deal, and from a macro perspective it adds less than 0.1 percent to the cost structure of the economy," said economist Jim O'Sullivan of High Frequency Economics. "The issue is whether there is retaliation for the retaliation and so on."
If EPS expectations are matched, there are good chances to see the up-trend continue.
The market is still strong, so any signs of negotiations towards solving the trade dispute will be additional stimulus towards further market growth.
Possible actions
If there are no reciprocal measures towards the new tariffs and the market continues to receive demand, it will be expedient to take a 30% position after a test of local resistance level (1).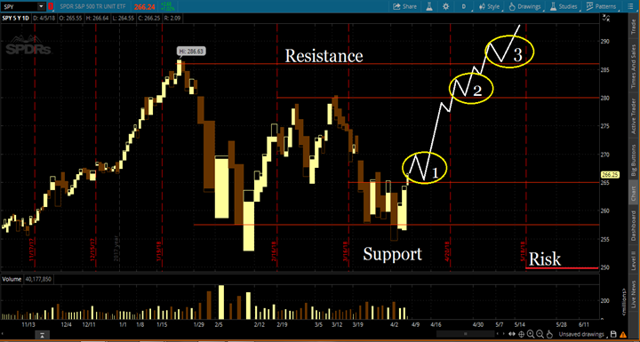 Disclosure: I am/we are long SPY. I wrote this article myself, and it expresses my own opinions. I am not receiving compensation for it (other than from Seeking Alpha). I have no business relationship with any company whose stock is mentioned in this article.