The tech sector is home to many of the most dynamic growth companies in the world, and many of the most profitable stocks in the market come from the tech sector. On the other hand, the competitive landscape is quite aggressive, and tech stocks tend to trade at demanding valuation levels. This means that investors can suffer considerable losses when picking the wrong stocks in the sector. Selecting the right names is always important in any sector, but specially more in technology, where the dispersion in returns can be huge.
This article is introducing a quantitative system based on quality and value to pick stocks in the technology sector. The main idea is not that investors should build a complete investment thesis on a stock based solely on the numbers, you still need to analyze the business behind the numbers in order to understand the main risks and the key return drivers.
However, quantitative indicators can be enormously valuable tools to make better investment decisions by focusing on cold-hard data as opposed to subjective opinions and speculations.
System Design
The system is based on a ranking algorithm. This algorithm is basically an average of two main factors: quality and value.
The quality factor is built on a combination of metrics such as return on investment, return on assets, operating margin, and long-term growth expectations. All else the same, companies with high profitability levels and above-average growth expectations should deliver superior returns over time.
The value component of the ranking system includes metrics such as price to earnings, price to free cash flow, and enterprise value to EBITDA, among others. This intentionally leaves aside some popular valuation metrics such as price to book value and dividend yield.
A company's accounting book value is not really a good valuation metric, especially in the tech industry. For a company operating in areas like software or online businesses, the value of the intangibles can be far more important than accounting book value.
Dividends say a lot about a company and its financial strength; however, companies with attractive growth prospects many times tend to reinvest their cash flows as opposed to distributing that money to investors via dividends. For that reason, dividend yield is not included as a valuation metric in this particular system.
Leaving the mathematical considerations aside, it's important to understand what the system is trying to do. In the words of Warren Buffett: "Price is what you pay and value is what you get". The system basically measures multiple quantitative metrics to select companies based on both quality and valuation indicators, ultimately looking to purchase as much value as possible for a conveniently low price.
Backtested Performance And Recommended Portfolio
The following backtest considers only companies in the technology sector, and it excludes over the counter stocks to guarantee a minimum liquidity level. The simulated portfolio is allocated to the 50 stocks with the highest ranking, equally weighted and monthly rebalanced. The portfolio has an assumed annual expense ratio of 1% to account for trading commissions, and the benchmark is the Technology Select Sector SPDR ETF (XLK).
The backtested performance numbers are quite encouraging. Since January of 1999, the system gained 20.48% per year, far surpassing the 4.85% per year produced by the benchmark in the same period. The system also significantly outperformed in terms of risk-adjusted returns, the Sharpe ratio stands at 0.76 for the system versus 0.21 for the benchmark. System alpha over the backetesting period was 16.34%.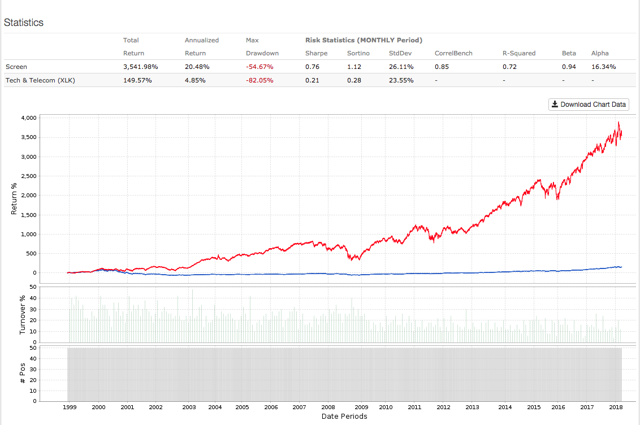 Data from S&P Global via Portfolio123
It's important to note that microcap companies make a big contribution to the system's outperformance, and this can be a limitation for investors who are too risk averse to invest in these kinds of stocks. In that spirit, the following backtest evaluates the same system, but considering only companies with a market capitalization level above $300 million.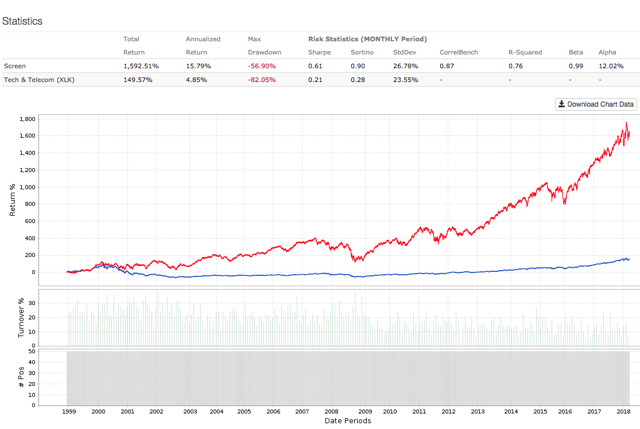 Data from S&P Global via Portfolio123
Focusing only on companies above the microcap level reduces returns substantially, but the system still outperforms the benchmark by a wide margin. Annual return for the system is 15.79%, more than triple the benchmark's return.
Past performance does not guarantee future returns, and investors should always do their own research before making any decisions in the markets. That acknowledged, a list of companies offering attractive attributes in terms of quality and value can be a valuable source of investing ideas to consider.
Without further prologue, the table below shows the 50 stocks currently selected by the system, ordered by market capitalization.
| | |
| --- | --- |
| Name | Mkt. Cap (Millions) |
| Apple Inc. (AAPL) | $852,599 |
| Broadcom Inc. (AVGO) | $96,613 |
| Micron Technology (MU) | $60,378 |
| Applied Materials (AMAT) | $58,429 |
| NXP Semiconductors (NXPI) | $39,667 |
| Lam Research (LRCX) | $32,394 |
| STMicroelectronics (STM) | $19,985 |
| Skyworks Solutions (SWKS) | $18,287 |
| KLA-Tencor (KLAC) | $17,073 |
| Seagate Technology (STX) | $16,653 |
| First Data (FDC) | $14,800 |
| Alliance Data Systems (ADS) | $11,792 |
| ON Semiconductor (ON) | $10,398 |
| Marvell Technology Group (MRVL) | $10,315 |
| F5 Networks (FFIV) | $8,943 |
| Teradyne (TER) | $8,939 |
| Juniper Networks (JNPR) | $8,893 |
| Momo (MOMO) | $7,447 |
| MKS Instruments (MKSI) | $6,286 |
| Coherent (COHR) | $4,652 |
| Euronet Worldwide (EEFT) | $4,157 |
| NCR (NCR) | $3,845 |
| j2 Global Inc. (JCOM) | $3,777 |
| Ciena Corp. (CIEN) | $3,734 |
| Cirrus Logic (CRUS) | $2,575 |
| InterDigital Inc. (IDCC) | $2,548 |
| Advanced Energy Industries (AEIS) | $2,531 |
| SolarEdge Technologies (SEDG) | $2,305 |
| Rogers Corp. (ROG) | $2,182 |
| Oclaro (OCLR) | $1,620 |
| HollySys Automation (HOLI) | $1,492 |
| Imperva Inc. (IMPV) | $1,482 |
| EVERTEC (EVTC) | $1,184 |
| QIWI (QIWI) | $1,158 |
| SMART Global (SGH) | $1,102 |
| KEMET (KEM) | $1,026 |
| FormFactor (FORM) | $990 |
| NIC (EGOV) | $881 |
| Rudolph Technologies (RTEC) | $875 |
| Web.com Group (WEB) | $806 |
| Axcelis Technologies (ACLS) | $788 |
| Nova Measuring Instruments (NVMI) | $742 |
| Electro Scientific Industries (ESIO) | $663 |
| Ultra Clean Holdings (UCTT) | $648 |
| Xcerra Corp (XCRA) | $639 |
| Ichor Holdings (ICHR) | $627 |
| Net 1 UEPS Technologies (UEPS) | $538 |
| DAQO New Energy (DQ) | $515 |
| Applied Optoelectronics (AAOI) | $487 |
| Hackett Group (HCKT) | $463 |
Capitalize on the power of data and technology to take the guesswork out of your investment decisions. Statistical research has proven that stocks and ETFs showing certain quantitative attributes tend to outperform the market over the long term. A subscription to The Data Driven Investor provides you access to profitable screeners and live portfolios based on these effective and time-proven return drivers. Forget about opinions and speculation, investing decisions based on cold-hard quantitative data can provide you superior returns with lower risk. Click here to get your free trial now.
Disclosure: I am/we are long AAPL, MU, LRCX. I wrote this article myself, and it expresses my own opinions. I am not receiving compensation for it (other than from Seeking Alpha). I have no business relationship with any company whose stock is mentioned in this article.