The precious metals mining complex (GDX) and silver (SLV) may be illustrating that a bottom is near in this asset class. The long-term technicals from both an overlay and momentum perspective in both silver and the miners remain pretty oversold. All the complex is waiting for now is for gold's long-term technicals and sentiment to follow suit. The question now however in this asset class is whether we will get another daily cycle in this asset class before the more significant decline into an intermediate low. Gold is now almost five calendar months into this present intermediate cycle.
Intermediate cycles in this asset class usually last six to seven calendar months from bottom to bottom. The last intermediate cycle lasted under six months so we may have a case for a longer, more stretched intermediate cycle this time round. The mining complex has been caught in a tight trading range for the best part of 18 months. Gold has been making higher highs but the mining complex has failed to so in this period. In saying this (and because of the recent under-performance), I still feel there's more opportunity in mining stocks. Lets go through why and how we would possibly enter a long play in the near future.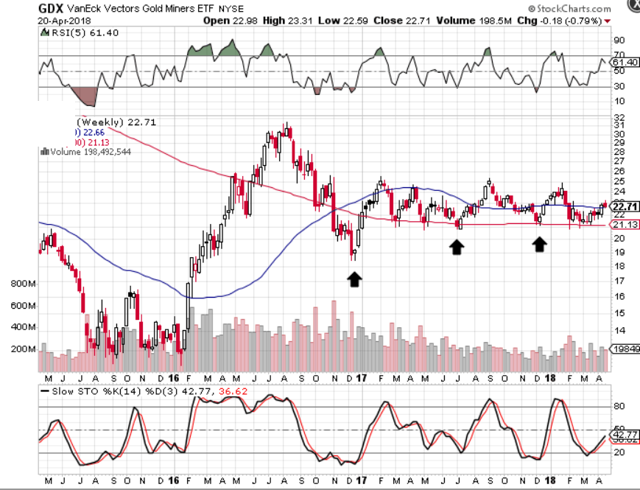 The three points marked above on the weekly chart in GDX are the clear, most recent intermediate lows. As we can see from the chart, the initial intermediate cycle in 2017 lasted close to seven months which may mean we have another daily cycle pending in the current intermediate cycle. If this is the case, swing traders should wait until the momentum indicators return to oversold levels before scaling into a long position. Furthermore, I like monitoring short-term sentiment readings in GDX. At present as we can see from the chart below, sentiment still has a bit to go before a likely bottom would take place. The combination of oversold technicals, a daily swing and pessimistic sentiment would be our cue for scaling into a position in the mining complex here.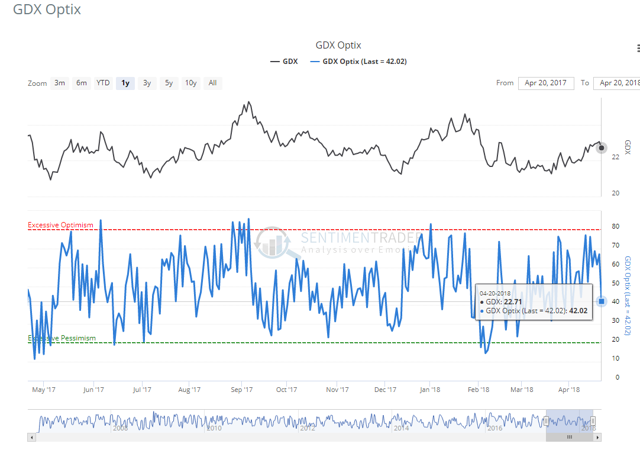 Source : Sentimentrader.com
We are finally seeing some traction in the likes of the heavy weights in this sector. Heavyweights such as Newmont Mining Corporation (NYSE:NEM) and Goldcorp Inc. (NYSE:GG) are beginning to show promise with respect to their earnings projections. Therefore the longer the divergence continues between the price of gold and the large-cap miners, the more attractive these types of companies will become as a result. Goldcorp in particular looks like a solid value play considering its low debt and positive earnings. The company's all in sustaining costs at around $820 per ounce of gold are near the lower level of the spectrum and look like they will go lower.
A lower cost base will be a tailwind for earnings. The trick for a mining company is to be firing on all cylinders when the raw material is rising in price. With bond yields rising sharply in the US, inflation one would feel would only be a tailwind for gold over the long term. Remember Goldcorp has projected 20% production growth and a 20% reduction in all in sustaining costs by 2021. Its invariably the large caps that drive sentiment in this asset class. Goldcorp's latest annual fiscal numbers demonstrated that the company is on the right path.
Therefore, if we are about to drop down into a daily or intermediate low, we will wait for a swing low before scaling into a long position. We still favor ETFs such as GDX or GDXJ as investing in these vehicles does away with earnings volatility or individual business risk. To minimize risk even further, we may look at long call option strategies such as spreads, diagonals and calendars. GDX's volatility continues to trade at the lower point of its range. Over time, since volatility is mean reverting, we would be expecting this metric to rise which would be advantageous for all long call strategies.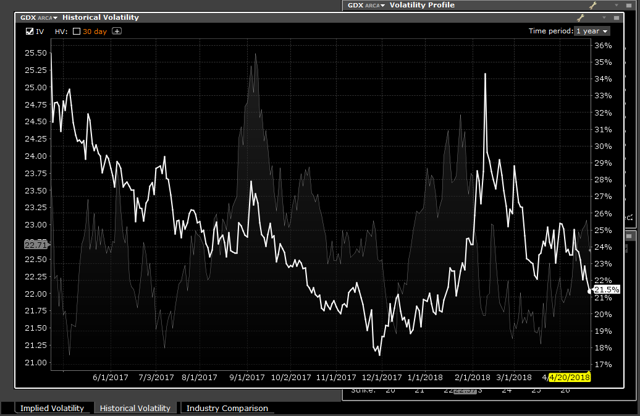 Source : Interactive Brokers
Disclosure: I/we have no positions in any stocks mentioned, but may initiate a long position in GDX over the next 72 hours. I wrote this article myself, and it expresses my own opinions. I am not receiving compensation for it (other than from Seeking Alpha). I have no business relationship with any company whose stock is mentioned in this article.