On Friday, April 20, 2018, Swedish telecommunications giant Telia Company AB (OTCPK:TLSNF) reported its first quarter 2018 earnings results. At first glance, these results were quite disappointing, with the company reporting a significant net loss in the quarter. However, a look beyond this figure shows that Telia's results were nowhere near as bad as may be assumed and, in fact, the company had a lot of positive figures in the quarter.
As my long-time readers are no doubt well aware, it is my usual practice to share the highlights from a company's earnings report before delving into an analysis of its results. This is because these highlights serve to provide background for the remainder of the article as well as provide a framework for the resultant analysis. Therefore, here are the highlights from Telia Company's first quarter 2018 earnings report:
One of the first things that an investor perusing these highlights will notice and undoubtedly the only thing that they will be concerned by is the large loss that the company reported in the most recent quarter. This is even more likely to be concerning when we consider the fact that the company had a SEK 7.054 billion ($834 million) profit in the prior year quarter. So let us take a look at the actual causes of this loss to see how worrying this really should be. In my previous article on the company, I stated that Telia has been actively changing its business to focus solely on the Nordic and Baltic states in which it was originally formed. As part of the process to accomplish this, the company has been selling off its ownership stakes in those aspects of its business operating in nations outside of this region. The sale of each operation will undoubtedly result in the company receiving a different amount of money than what these assets are valued at on its balance sheet, which then results in the company being forced to take a profit or loss on its income statement for the value of the difference. This has resulted in its net income having wild swings over the past few years due to the impact of these adjustments. This was the case in the first quarter of 2018, which saw the company sell off its stakes in Azercell in Azerbaijan and Geocell in Georgia. It was forced to take a capital loss in the quarter as a result of this and was also unable to benefit from the income that these two companies generated following the sale. It is important to note that the capital loss was a one-time event that will not adversely impact the company's earnings in the coming quarters, although the loss of the income generated by these two firms is permanent. In addition to the two capital losses, Telia was also forced to take an impairment charge due to the ongoing corruption investigations against Ucell in Uzbekistan. The combined impact of all of these one-time events was a loss of SEK 2.946 billion ($348 million). If we exclude these, Telia Company would have reported a profit of SEK 2.346 billion ($277 million).
As a general rule, I consider free cash flow to be a more accurate measure of a company's profitability than net income. This is largely due to the fact that net income is subject to any number of cash and non-cash adjustments that cause it to inaccurately represent a company's ability to earn and keep money. Free cash flow, on the other hand, is simply the amount of cash left over from its ordinary business operations after paying all of its expenses and making all necessary capital expenditures. As this is a measure of actual cash, it is also much harder to manipulate than net income. It is therefore an encouraging sign that Telia's free cash flow actually increased year over year despite the weaker earnings. The primary reason for the growth in free cash flow is that sales broadly increased while the company kept a tight rein on its expenses. Thus, Telia's overall performance appears to be improving despite what the net income figures tell us.
The Telia Company was originally founded in Sweden in 1993 (although its predecessor companies date back to 1853) so it can be expected that Sweden would be a major market for the firm. Indeed, this is the case, although the company's overall presence in the Swedish market appears to have shrunk during the quarter. As is the case with many American telecommunications firms, Telia offers television, internet, and mobile and fixed-line telephony services to its customers. During the quarter, the company saw the number of television subscribers that it has in the nation increase by 10,000, aided by a new product that the company has begun to offer. This product is essentially a mobile television application that is targeted at individuals without any other television service, allowing them to stream fifteen channels and movies on demand on any device anywhere in the E.U. While Telia did not state how many of its new subscribers were for this product, it was presumably a significant proportion.
Telia's fixed-line and mobile telephony services did not fare nearly as well in the latest quarter. In the first quarter of 2018, Telia saw the number of Swedish consumers to its fixed-line broadband services decline by 5,000 and the number of mobile subscribers fall by 50,000. Interestingly, however, the subscriber growth chart that the company included in the presentation that accompanied its results appeared to show a slight increase in the number of telephony subscribers: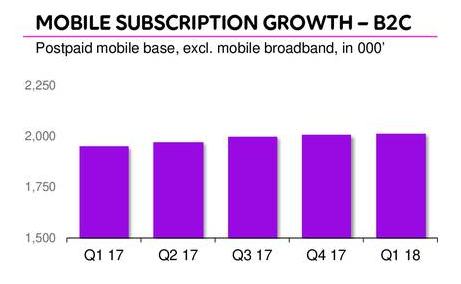 Source: Telia Company AB
This appears to be explained by the fact that this chart only shows post-paid subscribers and not all subscribers. While the company's total number of mobile subscribers decreased by 50,000 quarter over quarter, the number of prepaid subscribers actually decreased by 59,000. We can make the assumption then that Telia actually gained 9,000 postpaid mobile subscriptions in the quarter. As postpaid subscribers tend to boast higher incomes than prepaid ones, they will usually spend more money for add-on services and various other things that the company offers. As a result, these subscribers are typically bigger revenue generators than prepaid subscribers. This is one reason why Telia saw its average revenue per user (ARPU) increase both quarter over quarter and year over year.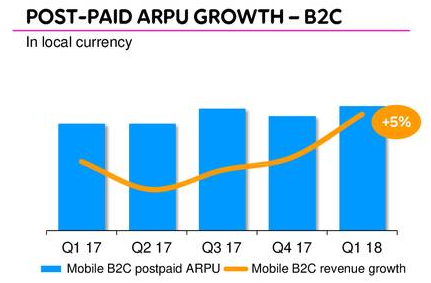 Source: Telia Company AB
Another nation in which Telia has a significant presence is Finland. This is due to the 2002 merger of Sweden's Telia AB with Finland's Sonera Oy, which created the company that we know today. In this market, the company did see substantial growth, although it did lose some subscribers in the Finnish market just as it did in Sweden. In the Finnish market, Telia had total net sales of SEK 3.657 billion ($432 million), which represents an 11.8% increase over the prior year quarter. When combined with the 9.5% reduction in capital expenditures, this allowed Telia to significantly growth both its EBITDA and operating income in the nation, as shown here: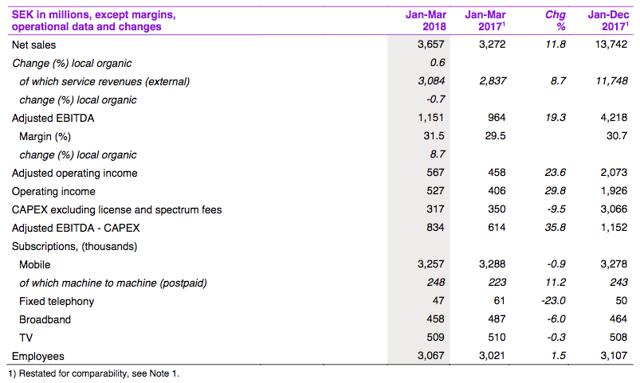 Source: Telia Company AB
As we can see here, adjusted EBITDA, operating income, and adjusted EBITDA - CapEx all increased by double digit percentages year over year. This is made all the more impressive when we see that mobile, fixed-line telephony, broadband internet, and television subscriptions all decreased year over year. With that said though, postpaid mobile subscriptions did increase year over year as was the case in Sweden. Thus, Finland's average revenue per user would likewise appear to have surged substantially over the year. Although the decrease in subscribers is certainly disheartening, I personally care more about the company's profitability than the number of subscribers that it has so overall I like the trend here.
The company's performance in the latest quarter has inspired it to increase its outlook for the 2018 fiscal year. While the company still expects its EBITDA to remain in line with the 2017 level of SEK 25.2 billion ($2.98 billion), it now expects free cash flow to surpass its previous estimate of SEK 9.7 billion ($1.15 billion). As free cash flow is essentially the money that a company can realistically return to shareholders in the form of dividends and share buybacks, the projected improvement here should be quite welcome, particularly given Telia Company's newly announced share buyback program.
In conclusion, this was a very promising report for Telia Company despite the large headline loss. The company's major markets showed improving ARPU numbers and even EBITDA and sales growth, in spite of some declines in its subscriber numbers. It is also positioned to grow its free cash flow, which is especially important as the primary reason to invest in the company is the dividend and a higher free cash flow provides support for this. Overall, investors should be pleased with the company's earnings report and optimistic about the future.
Editor's Note: This article discusses one or more securities that do not trade on a major U.S. exchange. Please be aware of the risks associated with these stocks.