I wrote an article during June of last year titled "The Sportswear Industry: A Paradigm Shift?" In that article, I argued that we may be witnessing a significant paradigm shift in the sportswear industry. This was based on the idea that Adidas (OTCQX:ADDYY) would be able to continue its momentum in North America and other regions, and would therefore be able to threaten Nike's (NKE) dominant position as the leading sportswear company.
In this article, I will elaborate on general developments in the sportswear sector and go into further detail on a prediction that I set forth in previous articles that Nike and Adidas are in a position to comfortably co-dominate the global sportswear and athletic wear industries.
This article will focus primarily on Adidas and Nike, since they are the largest sportswear companies by a fairly wide margin. I'll write about other companies in the industry like Under Armour (UAA) and Lululemon (LULU) in future articles.
Recent Developments
The following two charts depict a striking visual representation of what has transpired in the sportswear industry over the past three years (these charts represent each company's market capitalization at the beginning of April 2015 with the intention of showing each respective company's relative performance since that time).
2015: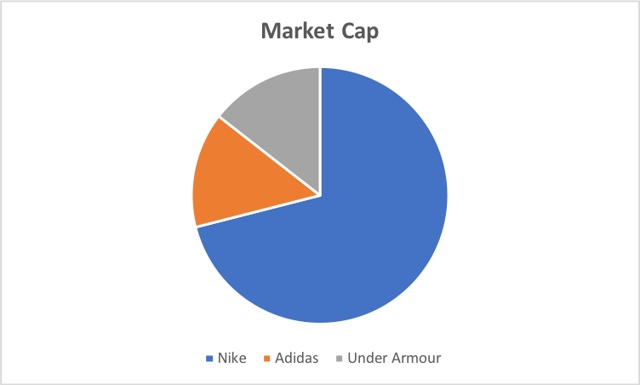 2018: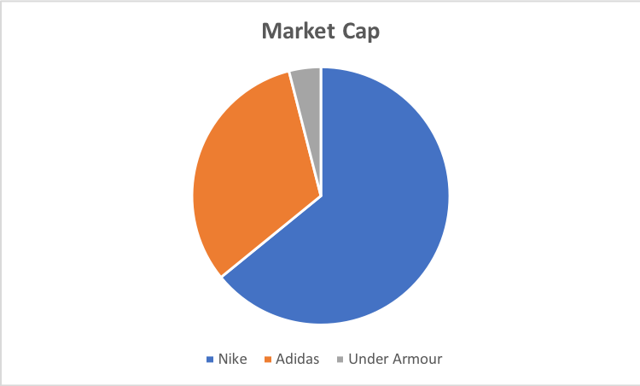 As the above charts indicate, Adidas has cut sharply into Nike's dominant position and has managed to pass Under Armour to occupy second place in the sportswear industry. Market capitalization is certainly not a perfectly accurate representation of how a company is doing: it is affected by shifts in investor sentiment and short-term share price fluctuations due to news, missed quarterly earnings, etc.
However, I do believe that it is a reasonable measure of a company's condition and as such I created the above charts using each company's market cap. Adidas has managed to outperform Nike and Under Armour over the past three years due to a couple of reasons, which I'll outline below.
The Athleisure Trend
The athleisure trend refers to consumer preference for athletic-inspired and influenced apparel and footwear for everyday purposes. Put simply, consumers have been wearing athletic apparel for non-athletic purposes. In recent years, consumers have demonstrated a preference for casual, fashionable sportswear, as opposed to performance-oriented gear.
Adidas has been a beneficiary of this trend as it has a wide range of products that are more fashion-oriented and suitable for everyday wear: The Stan Smith and Superstar shoes are prime examples of this. These shoes are not meant for exercise or running but instead for casual wear.
The company should also be given credit for taking advantage of this trend by partnering with celebrities and influencers to promote its products, which has improved its image in the eyes of younger, more fashion-conscious consumers. It has teamed up with pop stars and celebrities like Kanye West and Pharrell to sell apparel and footwear, a strategy that has been closely replicated by its competitors.
North American Growth
Nike has fallen behind in North America, which has traditionally been its best region in terms of revenue and market share. Sales in the region have been on a slow, steady downtrend, as evidenced by the below figures:
| | | |
| --- | --- | --- |
| North America* | Revenues | YoY Growth |
| Q2 2017 | $3.7 billion | 3% |
| Q3 2017 | $3.8 billion | 3% |
| Q4 2017 | $3.8 billion | 0% |
| Q1 2018 | $3.9 billion | (3%) |
| Q2 2018 | $3.5 billion | (5%) |
| Q3 2018 | $3.6 billion | (6%) |
*Note that Nike's fiscal year begins in June.
Compare this with Adidas's growth in the region over the same timeframe:
| | | |
| --- | --- | --- |
| North America | Revenues | YoY Growth |
| Q3 2016 | $1.1 billion | 20% |
| Q4 2016 | $1.2 billion | 29% |
| Q1 2017 | $1.2 billion | 31% |
| Q2 2017 | $1.2 billion | 26% |
| Q3 2017 | $1.4 billion | 23% |
| Q4 2017 | $1.4 billion | 31% |
Although I believe Nike will bounce back in the future, the numbers show that Adidas is making real headway in cutting into Nike's market share. Adidas owns about 10 percent of the US footwear market, and has set a goal to increase this share to 15-20%.
Popularity with Teenagers
Piper Jaffray, an investment bank and asset management firm, conducts an annual survey of teenagers in order to gather data about their preferences and analyze the preferences of this group, a large demographic whose preferences fluctuate due to various fads and fashion trends.
The results of its latest survey indicate that Adidas is continuing to take mind-share and market share from Nike. An overview of survey results also indicates that streetwear brands such as Supreme and Vans are also gaining traction, reinforcing the idea that consumers are turning away from performance-oriented brands like Under Armour and, to a lesser extent, Nike.
The following infographic is quite informative and provides further evidence of Adidas and the athleisure trend as a whole: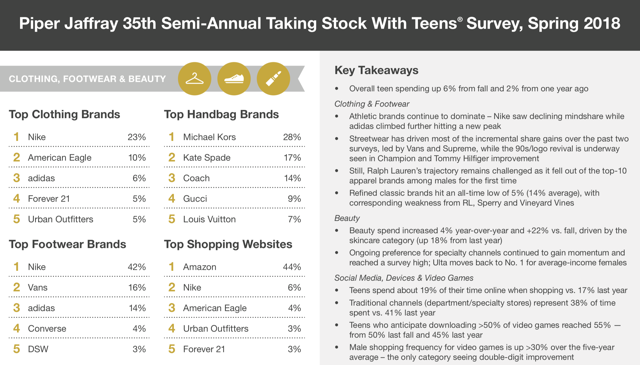 Note in particular the second bullet point below "Clothing & Footwear", which reads, "Athletic brands continue to dominate - Nike saw declining mindshare while adidas climbed further hitting a new peak".
Journalistic Approach to Research
From my personal experience, a useful strategy to inform one's investment decisions and generate leads on new investment opportunities in the sportswear industry is simply to spend time speaking with customers, employees, and managers of department stores, sportswear retailers, and other establishments that sell these companies' products.
My initial articles advising readers to buy Adidas shares were inspired to some degree by frequent visits to different Foot Lockers, Finish Lines, and shopping malls around my area during which I would ask customers, employees, and others about the latest fashion trends and what consumers were interested in.
I received consistent feedback that Adidas was gaining popularity at the expense of Under Armour in particular, which gave me confidence to initiate long and short positions in these two companies and begin writing investment articles on this site to explain my investment ideas.
While this journalistic approach to research certainly isn't perfect, I believe it does provide some value for the following reasons:
You're able to gain real-time feedback from the people who are in the middle of the action.
In some cases, this approach will allow you to obtain information that the rest of the investment community doesn't receive until after earnings calls and Wall Street analysts issue reports.
You can gain an intimate, detailed understanding of the various trends and product differences that are contributing to a company's over or underperformance.
This approach is also conducive to gaining a deeper understanding of a sector or industry as a whole, and the different factors that influence it.
At the end of the day, a company's future share price is ultimately a reflection of how it's doing. Regardless of how overvalued or undervalued a company may appear on paper, in the long-run continued solid performance generally leads to share price outperformance (the reverse is also true).
In my opinion, many investors make a critical mistake by automatically dismissing companies that appear expensive or overvalued on paper instead of carefully analyzing how the company is doing and whether or not the expensive share price is justified.
One can look at companies like Netflix (NFLX) to witness this phenomenon in action (note that this example has been simplified for illustrative purposes). Netflix shares, despite being criticized by many as being egregiously expensive on a fundamental basis, have been on a steady uptrend for the past six years.
Why? At the end of the day, Netflix as a company continues to perform well. It has created a countless number of hit shows, and has also consistently increased its subscriber base. While tangential, I believe this example highlights an important lesson for investors: putting a finger on the pulse of a company's real-time performance is critical to forecasting its future share price performance.
In this case, taking the time to visit athletic retailers and observe consumer tastes in real-time has been invaluable for my own investment decisions and Seeking Alpha articles. I don't purport this to be a flawless approach to research and data collection, but it is a valuable tool in a world where gaining an edge is becoming increasingly tougher.
Google Trends Data
Google Trends data can also be a useful resource for investors. The following chart shows that search interest in Nike, Under Armour, and Adidas has loosely correlated with each company's share price performance over the past several years: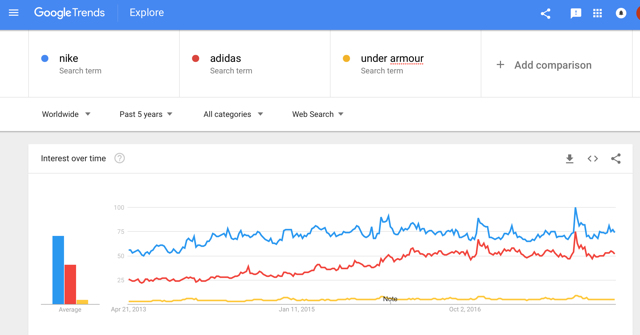 The graph also supports my thesis that Adidas and Nike are beginning to look like they may be able to "co-dominate" the global athletic wear and apparel industry. Nike and Adidas combined are 6.5x larger than the next three biggest sportswear companies put together, as per the below industry comparison chart:
Insights from Behavioral Economics
One of the fields that has generated lots of attention and interest in recent years is behavioral economics, which essentially applies insights from psychology and other related fields to the stock market and investor rationale.
My articles about Nike and UA have garnered far more views on Seeking Alpha, despite the fact that Adidas has outperformed these two by a wide margin over the past several years. Nike and UA have also received much more attention than Adidas from mainstream financial news outlets. With the benefit of hindsight, I think this is attributable to a couple of factors.
Because Nike and Under Armour are American companies that are respected (rightfully so) as pinnacles of American capitalism, I believe these two companies command greater attention and mindshare from most investors. As such, Adidas's rise has largely gone unnoticed by the investment community at large, despite the nearly three-fold rise in its share price in just over two years.
Another interesting factoid is our tendency to prefer things that are familiar to us (this phenomenon is known as the mere-exposure effect in psychology). I believe an investment-centered version of this approach is that we tend to gravitate towards and invest in companies that are familiar to us or whose products we use regularly.
Because of Nike's dominance in the North America and the US in particular, many may have held on to their preference for Nike as an investment versus Adidas due to the ubiquity of Nike apparel and footwear in our everyday lives.
I believe these are a couple of the reasons why many in the investment community have ignored Adidas, despite the results it has produced over the past several years. Another reason may be the fact that Adidas shares are traded on the OTC markets under the ticker "ADDYY".
I've fallen victim myself to these behavioral errors on numerous occasions: for example, I've written several bearish articles about Skechers which I believe in retrospect were influenced by the fact that I personally don't wear the company's clothes and don't particularly like their designs.
After some introspection and reflections on the articles I've written and the investment decisions I've made over the past couple of years, I strongly believe that psychological and behavioral factors play a critical role when investing and believe the field of behavioral economics has many valuable insights to those who may be interested in exploring the implications of the research in this field.
I am not nor do I profess to be an expert in the field by any means but going forward, I plan to try to integrate insights from the field into my articles in order to better inform readers and become a better investor myself.
Conclusion
I wanted to write a follow-up piece to my previous article on the sportswear industry to explain recent developments in the space and provide a general overview of the industry.
I haven't written any articles in quite a while due to several personal obligations as I am currently in my penultimate semester at Cornell and am working out the details of a business venture that I'm considering pursuing after graduation.
However, I plan to begin writing articles more frequently on the site and would appreciate any suggestions as far as tickers or interesting companies to research (I've written quite exhaustively about the sportswear industry and am looking to branch out a little).
Please feel free to reach out with any questions or concerns either via the comments section or via email (my email address is in my Seeking Alpha bio). Thanks for reading!
Disclosure: I/we have no positions in any stocks mentioned, and no plans to initiate any positions within the next 72 hours. I wrote this article myself, and it expresses my own opinions. I am not receiving compensation for it (other than from Seeking Alpha). I have no business relationship with any company whose stock is mentioned in this article.
Editor's Note: This article discusses one or more securities that do not trade on a major U.S. exchange. Please be aware of the risks associated with these stocks.