If you ever have the opportunity to get to know me personally, my Mr. Hyde portfolio will make perfect sense. I am a gambler at heart, taking chances and risks that no sane person would ever take... But only in moderation! And if that sounds ridiculous, then I see we have never met.
I am an elderly, yet immature 36 year old man... I eat fast food pretty much every day and work out religiously each night. I watch antique roadshow on PBS, then tune in to reruns of South Park. I take fish oil, garlic extract, CoQ-10 and baby aspirin each night, yet wash it down with an ice cold beer and a few puffs off my Philip Morris (PM) IQoS device. On my main iTunes playlist I have Piano Concerto No. 21 in C-Major by Mozart and Still Ballin by Tupac and Trick Daddy playing back to back.
I am the type of person that will happily take you up on an offer of a 130MPH joyride (disclaimer: don't do this!) down the back country Michigan roads, but only if we are back by 8pm so I can catch up on the news and do my nightly routine of stretching, breathing exercises, supplements and decompression...
I think you get the point.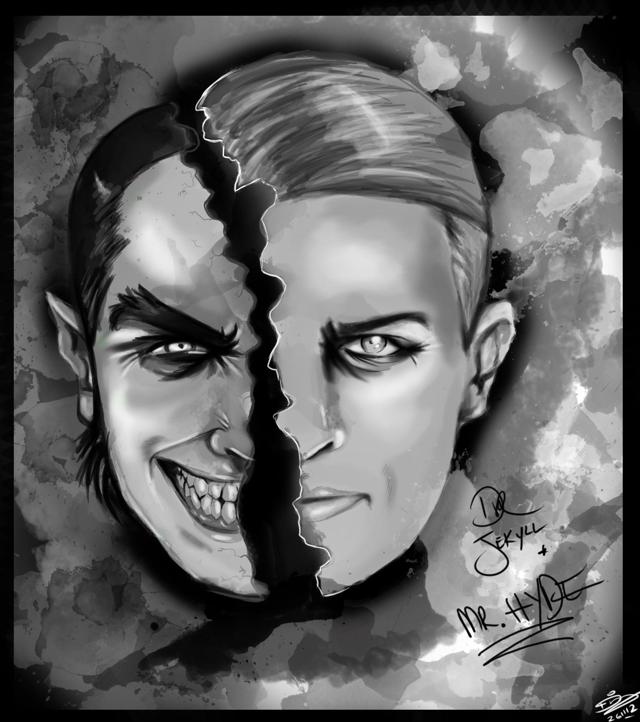 Source: www.pinterest.com
On one hand, I view the stock market as a wonderful tool to enrich my life through careful planning, discipline and research, exemplified by my Dr. Jekyll portfolio. Current allocation below:
| | | | | |
| --- | --- | --- | --- | --- |
| GLW | 4.12% | | LNG | 2.48% |
| NTR | 3.59% | | CSCO | 2.40% |
| COP | 3.27% | | UTX | 2.25% |
| AAPL | 3.22% | | GILD | 2.22% |
| DEO | 3.15% | | SO | 2.21% |
| IBM | 3.09% | | FB | 2.14% |
| MRO | 3.08% | | GIS | 2.05% |
| MSFT | 3.06% | | BAYRY | 2.02% |
| T | 3.04% | | CELG | 2.02% |
| D | 2.99% | | QCOM | 1.97% |
| UL | 2.85% | | C | 1.83% |
| GOOG | 2.78% | | LOW | 1.62% |
| WFC | 2.75% | | VZ | 1.50% |
| JNJ | 2.66% | | TSCO | 1.48% |
| DIS | 2.64% | | ABB | 1.38% |
| PM | 2.61% | | SBUX | 1.25% |
| KO | 2.59% | | GOLD | 1.16% |
| GE | 2.55% | | UNP | 1.07% |
| BABA | 2.51% | | CASH | 12.00% |
I also view the stock market as an outlet for my most primal of urges to expose their teeth, snarl and take a big bite out of aggressive growth companies that would make my rather conservative stock broker vomit...
Enter Mr. Hyde.
I have a few rules that I follow that I would like to mention before I get started.
1) I never allow my invested capital amount in this portfolio to rise above 25% of my total invested capital. For example, if I invest $10,000 tomorrow in individual equities, my allocation would be $7,500 Jekyll and $2,500 Hyde.
It is important to note that I do not re balance this amount, so if Mr. Hyde returns 200% in 2018 I will not trim that portfolio, likewise if Mr. Hyde drops by 50% I will not play catch up or deviate from my 75-25 rule.
2) I do not beat myself up for failures. If I did, like any gambler I would be a battered and bruised man. We all make mistakes or simply bet on the wrong horse. I have had many failures in my portfolio over the years and I will again, as will you. I refuse to take it personally and that is the only way you can create the perspective to learn and grow as an investor.
3) See rule 2 when you do inevitably beat yourself up after a massive kick to the groin... I'm looking right at you Versartis (VSAR-OLD).
4) The Mr. Hyde portfolio contains almost exclusively, very risky stocks like small cap biotech, small / mid cap technology, alternative energy, Chinese corporations and natural resource companies... All of these companies could eventually end up at zero, so I have currently spread my risk among 26 of these aggressive companies. The maximum amount of equities that I allow of 30 and a minimum of 15 in this portfolio.
Without further adieu, let's start at the bottom:
#26 - Baidu Inc. (BIDU) - 1.13%
This is a recent purchase, and although it is currently bringing up the rear in my allocation, expect this one to rise on my list shortly as I will be buying more very soon. I owned this company in 2014 briefly and flipped it for a 40% profit, however this time I plan to hold for years.
Baidu is a fantastic company with large investments in AI, video streaming via majority ownership of iQIYI, Inc. (IQ) and self-driving cars. The company's current cash cow is search, and they do this very, very well.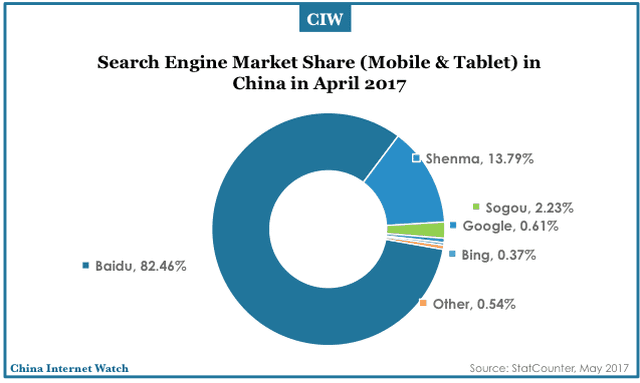 Source: China Internet Watch: Internet News, Trends, Insights
The company holds a near monopoly in this market. While the Chinese search market currently is nowhere near as profitable as in the USA, it is growing very rapidly. Its valuation is reasonable as well, trading at only 30 time trailing earnings with a 73 billion market cap.
Baidu has been stagnating the last few years due to the shift to mobile search from desktop and the lower monetization of that business, however they seem to be finding their footing and I am very excited about the long term potential of this holding.
#25 - Caesars Entertainment (CZR) - 1.39%
Ceasars Entertainment is another recent purchase in the Hyde portfolio, I had held Wynn Resorts (WYNN) in my Dr. Jekyll portfolio for years and recently sold my position with a huge gain just prior to the Steve Wynn creepy grandpa debacle. I looked around the gaming universe and I have settled on Ceasars for a few reasons, first I love the sports betting and online poker potential of this company. Sports betting and online poker will be legal in the coming years in my opinion and Ceasars is positioned very well if this huge new market does in deed open up.
Also the company seems to have its entrepreneurial spirit back after its emergence from bankruptcy with its new hotel announced in Dubai. I like this move and it opens up a huge new industry for Caesars. I look forward to further non-gaming hotels in the future as well as a further international gaming presence.
I am looking to add to this position within the next quarter.
#24 - Triumph Group (TGI) - 1.87%
Triumph Group is a turnaround play in the aerospace market and a bet on the new CEO Daniel Crowley given his pedigree from Raytheon (RTN) & Lockheed Martin (LMT). His challenge is to un-bloat the company's cost structure, also key will be his ability to improve key customer relationships that have been strained through years of disappointment.
So far he seems to be on a solid track and 2019 looks to be an inflection point when the pieces hopefully come together. I must admit that the stock has not performed well since my purchase in 2017 however my plan all along has been to buy and hold until 2020 with a price target of $50/share if the company gains traction with its turnaround.
The company is very fairly priced currently, with guidance for EPS in 2018 of $2.25-2.75, valuing the company at a 10 forward PE due to the lack of trust in the company's projections as well as free cash flow concerns. I have chosen to take the other side of that bet.
Currently this position is full in my portfolio however if we see a downdraft to $20 in the near future it becomes a candidate for add on buying.
#23 - II-VI Inc. (IIVI) - 2.01%
II-VI is my choice in the VERY competitive and fast moving photonics, VCSEL & laser segment. This field is ridiculously hard to get a handle on without in depth specific industry knowledge, so this is a bit of a shot in the dark for me based on rudimentary analysis of the company.
I prefer II-VI based on their diversity of operations and the company's long standing relationships in the industries they service. The industries they operate in look to have explosive growth potential, however a myriad of companies operate in the sector so this could be a huge multi-bagger or a complete flop depending on how the prevailing winds blow and the company's execution. The management thankfully looks to be strong and capable and they have navigated these waters as a company since 1971.
Until I get a better handle on the commoditization of their products in this fast growing industry, which I hope too soon, I have committed a sufficient amount of capital to this holding.
#22 - Solid Biosciences, Inc. (SLDB) - 2.07%
I got lucky with Solid Biosciences in that they showed up on my radar right as the company's trial for Duchenne Muscular Dystrophy was put on hold, sending the company's stock all the way down to $6.83, which I viewed as a massive over reaction. I picked up a small position in the company at $7.14 and have been rewarded with a 75% gain to date. On Friday April 20th I sold half of my position allowing me to ride out the waves with this company for an adjusted cost basis of $1.79 / share.
Yes, the clinical hold of its leading trial based on literally the first patient treated is an absolutely terrible start for this promising company and thankfully the child has recovered, however the company is fully funded until the end of 2019 with close to 190 million in cash and multiple pipeline candidates, including disease modifying therapies and assistive devices not associated with gene transfer.
I would not recommend new investors buy stock in Solid until the clinical hold has been resolved and a clear and satisfactory explanation is uncovered but I am more than comfortable to hold onto my basically free shares to see how this all plays out.
#21 - Integrated Device Technology (IDTI) - 2.84%
IDT has all the makings of a long term 10-20 year holding in the analog mixed signals industry. The company has transformed itself from strictly communications systems and data center industries, to a consumer, industrial and automotive growth company.
The company operates with the following core competencies: sensors, power, RF, optical & real time interconnect. These sound like darn good core competencies for both the future automotive, 5G and IOT themes that have been percolating for some time now. The company anticipates its segment of the automotive and industrial industry to grow at 10-20% long term and the company has a stated goal of growing 2x the market in the segments they operate in. It is also active in the bio health market and has developed an implantable insulin tester which looks to be the company's first foray into this growing and exciting field as well.
The company's operating margin of 30% is in my view fantastic for a mid cap growth company and the gross margin is 62.5%. The company is healthy financially with a net leverage ratio of 0.7 and nearly 400 million in cash, the company is also actively buying back stock in 2018 with a stated target of half of its free cash flow to be spent on buybacks.
I feel very comfortable recommending this company to fellow investors at the $30 level and plan to increase my own stake within the next few quarters. I am looking to hold this company for a minimum of 5 years to allow the company to gain further traction within its growing markets.
This concludes part 1 of my 5 part Mr. Hyde series:
In my next article you will find positions #16-20 which are an interesting mix of trains, gold, travel, eCommerce and semi's.
I look forward to your comments, thank you for reading!
If you enjoyed this article and would like to be notified when I write similar articles please follow me by hitting the follow button next to my name.
Disclosure: I am/we are long PM, SLDB, CZR, BIDU, TGI, IDTI, IIVI.
I wrote this article myself, and it expresses my own opinions. I am not receiving compensation for it (other than from Seeking Alpha). I have no business relationship with any company whose stock is mentioned in this article.