This research report was produced by The REIT Forum with assistance from Big Dog Investments.
I sense much fear in you.
Retiring can be frightening.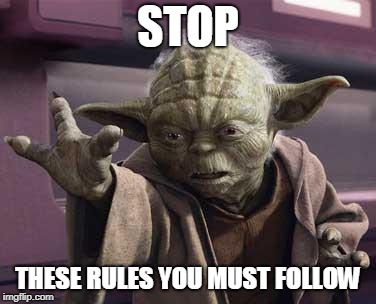 Rule 1 - Save first
The first step toward a great retirement is making saving for retirement a priority. There are annual limits on the amount individuals can contribute to their retirement accounts.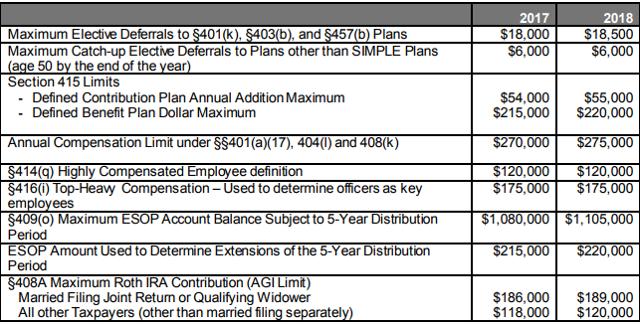 The benefit of a tax-advantaged retirement account is dramatic. Simply avoiding taxes is one way to outperform most investors. Many investors will have their returns reduced by the burden of taxes. Using tax-advantaged accounts such as an IRA or 401k allows the investor to only pay taxes once. In the case of a traditional retirement account, the taxes are paid when the money is pulled out.
For a ROTH account, the taxes are paid before the money goes in, but the gains and distributions are free of taxes. Some investors believe that one kind of account is significantly better than the other.
That is false.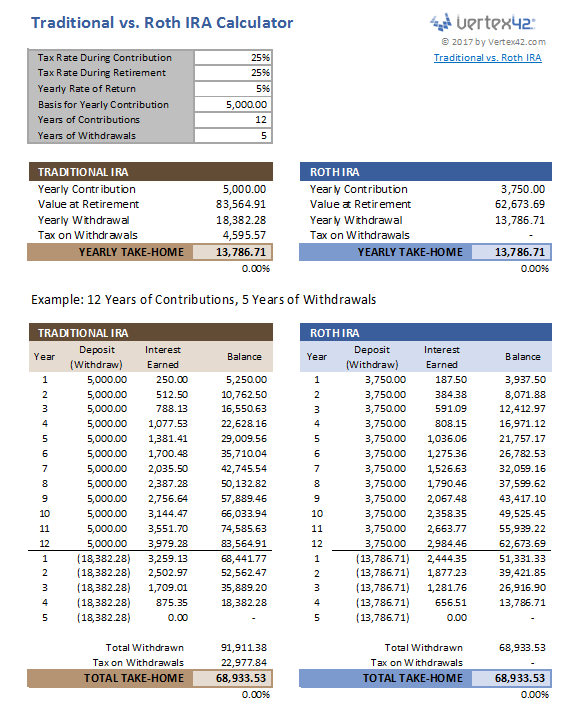 If the investor expects to be in the same tax bracket during their saving period and the withdrawal period, then the total rate of return is unchanged. Whether the investor pays the taxes upfront or at the end, it will cost them precisely the same percentage of the portfolio's potential balance.
For instance, if an investor was going to pay a 25% tax rate, it wouldn't matter whether they paid $25,000 upfront and invested $75,000 tax free or if they invested $100,000 upfront and had to pay 25% on the withdrawal.
This assumes that brokerage costs are immaterial.
The first rule is to take advantage of the tax benefits that are offered.
Rule 2 - Get your employer match
If the employer offers a match, that is always the best choice.

Even if an investor expects the market to fall dramatically and wants to avoid buying equity, most retirement accounts will offer a money-market fund or extremely low duration, low-cost fund for investing in short-term Treasuries. The employer match represents a dramatic gain for no risk.
Rule 3 - Avoid penny stocks

Generally speaking, investors should avoid penny stocks. In the smallest penny stocks, there is too much potential for bad information to move the market. That makes them much more dangerous. The ultra-high yield small stocks often have unsustainable dividend yields propping up the share price. Consequently, when the dividend is inevitably cut, the share price plunges as well. That leads us to the fourth rule.
Rule 4 - Watch out for sucker yields
The sucker yield is the bane of retirees. Far too often I see investors grasping for higher yield and indicating that it is the optimal choice because growth in the dividend will never be enough to offset the higher current dividend. Those investors are wrong.
For instance, they would've disagreed with me about Wheeler (WHLR).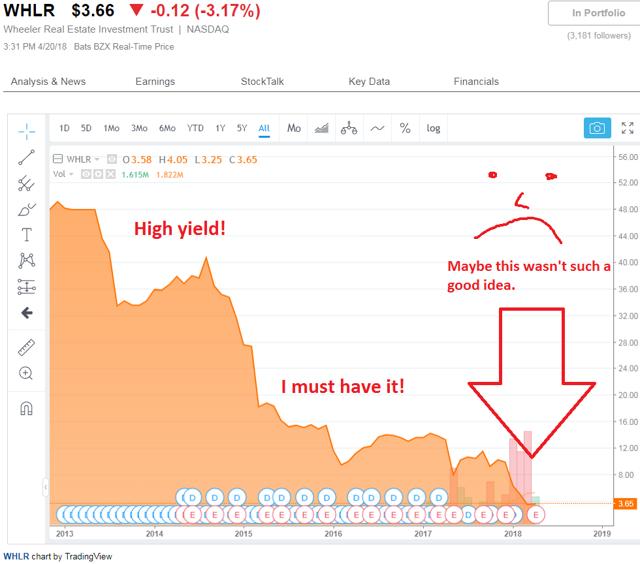 Source: Seeking Alpha
They saw an enormous dividend yield. Clearly, the yield on Wheeler was dramatically higher than it was on the retail REITs I picked.
I liked Simon Property Group (SPG) and Tanger Factory Outlet (SKT). These retail REITs have excellent balance sheets and stable cash flows. To be fair, both of these stocks are also right around their 52-week lows. However, they have declined quite modestly and in line with the Vanguard Real Estate ETF (VNQ). They have also raised their dividends. They are able to withstand the bankruptcies of some tenants and redevelop locations to bring in new tenants. Investors who believed WHLR was a better choice because of the high dividend yield are now stuck with no dividend. That begs a very obvious question.
Do investors get more income from a 5% yield that grows every year or a 15% yield that is cut the same year?
Clearly, the 5% yield wins out when the 15% yield falls to zero. This same case could have been made for RAIT Financial Trust (RAS). They had a huge yield even though it was a small dividend per share. That yield helped to prop the share price up. It has since been cut to zero. Investors who opted to buy shares at $1.00 for the huge yield now have a piece of junk worth less than $0.20. If they want to catch a new dividend investment, they will have 80% less principle to buy it with.
Yet another example from about 2 years ago was Resource Capital Corporation (RSO). Much like the other sucker yields, Resource Capital Corporation provided some non-standard metrics that were garbage. They measured their earnings with FFO even though they are a mortgage REIT. FFO is a very useful metric for equity REITs, but it is completely and utterly useless for mortgage REITs.
I had referred to the stock as a short target as it traded around $13 to $14.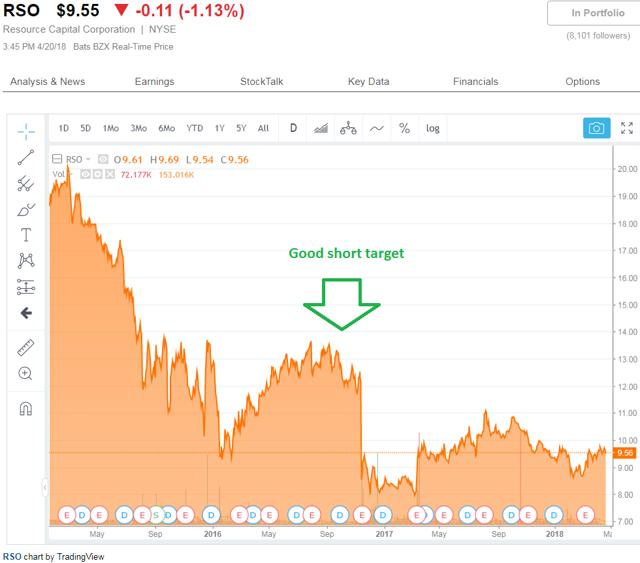 Source: Seeking Alpha
A new management group bought out the external manager of RSO. After taking over, they reduced the book value to reflect the actual value of loans. The new management owned up to all of the charges I had made and stated they were pulling guidance on FFO because it was a useless metric for a mortgage REIT. At the same time, they chopped the dividend from $0.42 per share to $0.05 per share. The stock price plunged.
I reversed my rating into a buy rating and acquired shares for less than $8. Those shares were subsequently sold for a very healthy gain. The reason I was comfortable making that call in the moment is because I had already evaluated their accounting quality and there was no surprise for me in learning that their old dividend was unsustainable. In fact, I wrote 2 articles prior to that day titled (Subscription to The REIT Forum or Seeking Alpha PRO required):
Resource Capital: Why I Do Not Believe The Dividend
Resource Capital: Why I Do Not Believe The Dividend (Part 2)
Those stocks clearly demonstrated why investors should avoid grasping for yield. It doesn't mean that all high-yield stocks are terrible. It simply means that investors should be able to evaluate the accounting quality before speculating on an ultra-high yield investment. If they are not comfortable evaluating the accounting quality, they should avoid the investment.
Rule 5 - Reinvest part of your dividends from higher yielding securities
The lower yielding securities generally offer much better growth characteristics. Investors focusing on high yielding securities should expect much weaker growth and to occasionally have negative growth from an unfortunate turn in the company's financials or simply from making a mistake. I suggest that investors in high-yield stocks should generally take at least 1% and sometimes 2% of the income and reinvest it in new investments. They could reinvest in the same stock or they could pool the income and use it to buy a new position.
Rule 6 - Don't trust garbage public sources
If you are pulling your financials from a mediocre source, you can rest assured that they will eventually be wrong. For instance, investors in mortgage REITs have often argued that Apollo Commercial Real Estate Finance (ARI) trades well under book value.
They are wrong.
ARI's book value is dramatically overstated in most of these garbage programs. They were prepared for the mass market and the intent is simply to serve as many potential customers as possible. Accuracy is not even remotely high on their list of priorities. They regularly fail at book value for mortgage REITs.
The screening tools also regularly misrepresent FFO for equity REITs. Consequently, investors focused on REITs should avoid putting any reliance on these tools.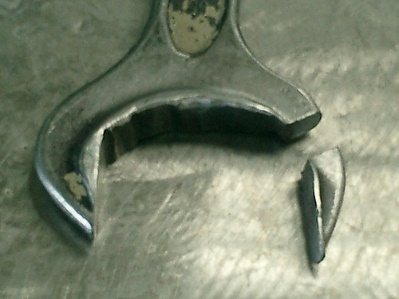 Source: Google free images
Rule 7 - Use analysts as one source of information
Readers on Seeking Alpha are already hunting for quality analysis. The actual quality they find will be mixed. Some analysts will be very competent and others will be less competent. It is up to the reader to evaluate the ideas presented to them and determine which one makes more sense.
You may occasionally see news blurbs such as: a certain investment firm has upgraded shares of a REIT to buy.
You can rest assured that the research firm is providing that public release well after they provided the information to their customers. You can also rest assured that the customers received a more complete report and will receive timely information when the rating changes. If the research firms were not prioritizing their customers, they would be out of business. That would make them terrible at doing business.
If you knew a research firm was terrible at doing business, you probably wouldn't want to trust their ability to analyze other businesses. That wouldn't make sense.
Rule 8 - Dividends that are raised are safer
If a dividend has not been raised for years, investors should be triple checking their research on the firm. If the firm's prospects are excellent, they will usually raise the dividend. A dividend that has not been raised for years is a much stronger contender for a cut. Consequently, investors should be more interested in companies that increased the dividend within the last 12 months.
Rule 9 - Evaluate the narrative for stupidity
Investors need look no further than Target (TGT) to see a company where the narrative ruled the share price.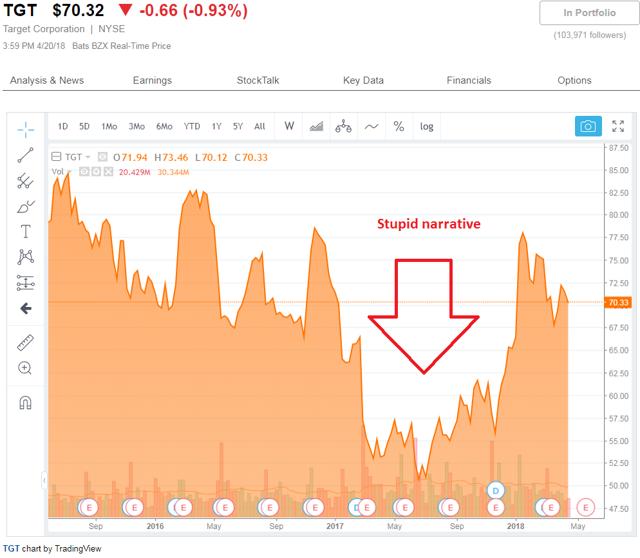 Source: Seeking Alpha
Management provided terrible guidance on earnings. They smashed that guidance in the first quarter. In the second quarter, they alerted analysts that they were going to thoroughly beat expectations. They provided analysts with that heads up so the analysts wouldn't look like complete idiots when they horribly missed on their earnings forecasts again.
So why were analyst forecasts so inaccurate?
Management essentially tells the analysts what to forecast and then the analyst uses that as the base for their forecasting. When management provides terrible guidance, the result is terrible analyst estimates.
When Target's narrative of declining earnings died, the share price came roaring back.
If you don't like the Target example, then have a look at Walmart (WMT) or McDonald's (MCD). Walmart was on a fierce decline in late 2015. Investors were terrified that higher wages would decimate the company's earnings.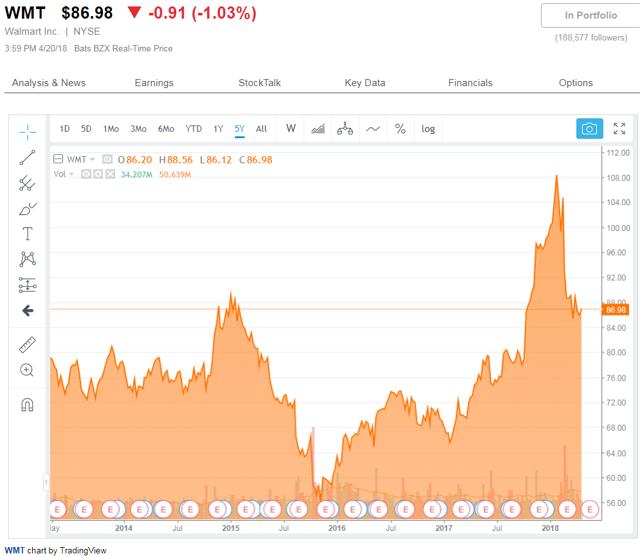 Source: Seeking Alpha
As you might have noticed, shares of Walmart soared over $100.
That reflects the shares starting out at a very cheap level. The premise that labor expenses would decimate earnings was stupid. I demonstrated that in my articles at the time. It had the potential for a negative impact on earnings, but the earnings growth rate was unchanged except for the initial period.
Walmart soared as analysts switched their focus to online competition with Amazon (AMZN). The growth rate in e-commerce became the new narrative. A competitor to Amazon warranted a much higher multiple than a stuffy old retailer being taken down by the high wage demands of their workforce.
For McDonald's, the narrative was declining same-store sales. Investors believed the decline in same-store sales could go on indefinitely and eventually there would be only 1 person visiting each McDonald's each year.
Perhaps I'm exaggerating.
Regardless, when the narrative of declining same-store sales was broken, the stock price soared. While I was able to correctly predict the movements for Target and Walmart, I was not so successful with McDonald's. Instead, I had a boring hold rating on the fast food giant. Management revitalized their same-store sales by simplifying the drive-thru menu. Essentially, they removed the vast majority of choices for customers.
I thought that idea was ill-advised.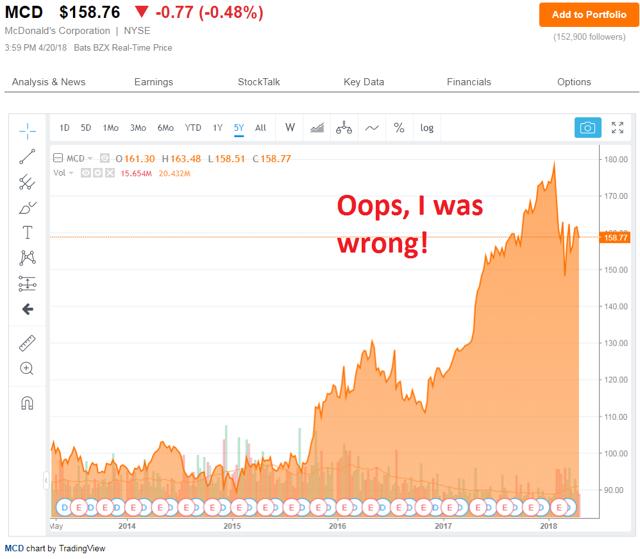 Source: Seeking Alpha
I was wrong.
It turns out, McDonald's sales performed very well. It turns out their customers were primarily concerned with the length of the line at the drive-thru. By removing options from the menu, they were able to standardize the choices leading to fewer items for the employees to prepare and quicker orders from large carloads that might have otherwise blocked the drive-thru for minutes.
I am still amazed that this idea worked for McDonald's. I thought they would need to improve the food quality. Management deserves credit for recognizing that locations were already busy and they simply needed to serve poor quality food faster rather than improve the quality.
Rule 10 - Hold some cash
Investors should always keep some cash on hand. Shares of stock are an excellent way to build wealth. However, investors should not be forced to sell their position during a market drawdown. As an alternative to holding cash, investors may consider using a bond fund such as the Schwab U.S. Aggregate Bond ETF (SCHZ).
A bond fund with excellent credit quality and short duration is a viable alternative to cash with a much higher yield than a savings account. There will be some minor fluctuations in the share price, but that is the cost of choosing to use a short-duration bond fund instead of cash.
Rule 11 – Stay away from non-traded REITs
Traded REITs are good.
Non-traded REITs are bad.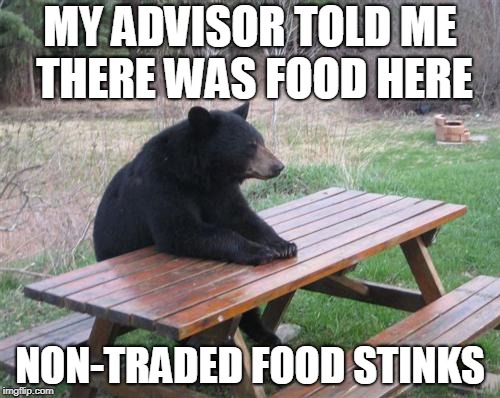 As a simple rule of thumb, traded REITs are much better than non-traded REITs. The non-traded REITs lack the transparency that traded REITs offer. The traded REITs must deal with analysts digging into their financials and providing analysis to potential investors.
The traded REITs often have great economies of scale on their operations. By contrast, the non-traded REITs often pay large incentive fees to the financial advisor who sells you the non-traded REIT.
For the traded REIT, you can easily sell your shares in the market at any time. For the non-traded REIT, you're out of luck.
The traded REITs must clearly identify their overhead expenses. Many investors in non-traded REITs have no idea what the overhead expenses are. For instance, one of the expenses for the non-traded REIT was paying the large incentive fee to the advisor who encourages his clients to buy the non-traded REIT.
Rule 12 - Demand access to the analyst's portfolio data
Anyone providing analysis on stocks should be expected to share information about their personal investments. That doesn't mean that you have a right to ask for their net worth or their credit card number.
It does mean that you should be able to ask which stocks they own.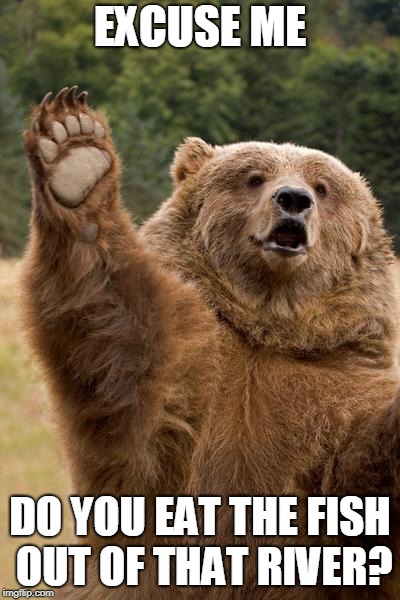 An advisor recommending a non-traded REIT may be far too intelligent to stick his own money in that investment. When I am pumping out buy ratings on a REIT, you will find that I am often long that same stock.
For instance, I own positions in Equity Residential (EQR) and AvalonBay (AVB). I have endorsed these stocks at their recent valuations several times since the start of February. They are solid REITs that were previously too expensive for my taste. When the share price came down, they became incredible investments.
Further into rule 12 - Don't be afraid to ask
As an investor, it is your job to research the companies going into your portfolio. If you are unsure about your advisor's positions or incentives, it is reasonable to ask.
They shouldn't have any problem answering those questions.
For instance, do you own Simon Property Group? I am long SPG. I have no problem providing that disclosure. Anytime I write about Simon Property Group, I include that disclosure. Even if I haven't written about SPG, readers are free to ask about my position. I do not receive any commission or any compensation in any way related to any investor choosing to buy or sell shares of the REIT.
That would be a conflict of interest.
To be clear, some people take this too far. Asking your advisor about these things is very reasonable. Some readers like to accuse analysts of lying about their position.
That is not okay.
That is akin to accusing them of arson or robbery. In a nutshell, asking is always okay. But accusing someone should require evidence.
Some great dividend growth stocks
Altria Group (MO) and Philip Morris (PM) are excellent tobacco stocks. They have a great history of dividend growth. They are very resilient to recessions. The recent decline in the share prices supercharged the dividend yields.
Verizon (VZ) and AT&T (T) both offer very high yields and trade at relatively low multiples of earnings. Their earnings are also quite steady from one year to the next. The tax reform could be a significant positive for them.
Brixmor Property Group (BRX), Weingarten Realty Investors (WRI), and Retail Properties of America (RPAI) are solid strip center REITs at reasonable prices.
Stocks for diversifying the portfolio
PepsiCo (PEP), Coca-Cola (KO), Kraft Heinz (KHC), Mondelez International (MDLZ), Colgate-Palmolive (CL), Campbell Soup (CPB), Kellogg (K), and 3M (MMM) are generally resilient to recessions.
Consumer staples are out of favor as they struggle with the current environment.
Yield boosters
AGNCN and CMO-E are a couple preferred shares that can boost the yield of the portfolio. These preferred shares are from AGNC Investment Corp. (AGNC) and Capstead Mortgage Group (CMO). Because they are preferred shares, they have dramatically less dividend risk than common shares.
Poor choices for high yield stocks
New York Mortgage Trust (NYMT) has an unsustainable dividend yield. It could be a couple years before the dividend cut is announced, but the current level is not sustainable over the longer term.
Whitestone REIT (WSR) has a high yield, but they also have too much debt. While I believe BRX, WRI, and RPAI can recover from the current challenges, I expect Whitestone to struggle more over the coming decade. That is not a bankruptcy prediction. I am simply predicting lower total returns for WSR relative to the other 3.
ARMOUR Residential REIT (ARR) is remarkably in favor with investors today. The company has an astounding history of slashing the dividend. Indeed, if cutting the dividend could be a core competency, it would be ARR's greatest trait. They can cut the dividend as well as KO or PEP can build a brand or raise a dividend.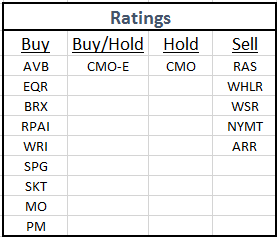 If you enjoyed reading this article and want to receive updates on our latest research, click "Follow" next to my name at the top of this article.
Disclosure: I am/we are long AVB, BRX, EQR, MO, PM, SKT, SPG, WMT, RSO-C. I wrote this article myself, and it expresses my own opinions. I am not receiving compensation for it (other than from Seeking Alpha). I have no business relationship with any company whose stock is mentioned in this article.
Additional disclosure: No financial advice. Investors are expected to do their own due diligence and consult with a professional who knows their objectives and constraints. CWMF actively trades in preferred shares and may buy or sell anything in the sector without prior notice. Tipranks: See ratings table.
Editor's Note: This article covers one or more microcap stocks. Please be aware of the risks associated with these stocks.