Not much has changed since the Watchlist April. I've seen increased doubt and stress from market participants that we are close to a huge correction. Some people argue that the recent sell-off in the smart money index is a sign of coming bear-market.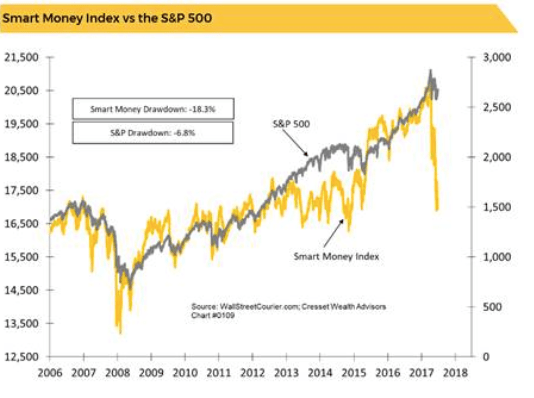 Here at Stockles, I try to show you a rational and somewhat unemotional approach to the whole game. I don't believe that the Smart Money Index is worth much, because if it was able to predict the future market, then that information would be consumed by the market, and the whole effect would be eliminated. I do believe that dumb-money exists and that markets aren't 100% efficient, but I'll get back to that on another post.
So what to do? Wait until the market crashes before buying stocks? I have two approaches:
For my monthly index investing, I could not give a shit if the market goes up or down. I buy each month and that's it.
For my stock portfolio, I focus on not overpaying. This means that I try to buy at prices which corresponds the normalized earnings per share. I stress normalized and not just earnings per share, because a company can do crazy stuff in order to boost EPS, but the normalized EPS will always tell the truth (which is also Buffett's most important metric). Of course, I also look at the classic metrics as well. Am I going to buy? Maybe, but I also want to have some cash in my stock portfolio too "cash is king you know."
So, for May 2018 I'm looking at:
Kimberly Clark Inc. (NYSE:KMB): A classic DGI stock in my portfolio which I've written about before. The stock is in trading range and I'm looking to buy at a yield close to 4% (because KMB isn't really a huge grower, I demand a high yield). That corresponds to a price around $98-100.
Altria (NYSE:MO)/ Philip Morris (NYSE:PM): Tobacco companies got hammered the other day. Some people claim it's the small revenue miss, but I think there's more to it. I read JPM comments and there're a few issues in Japan. I've been reading up on the macro in Japan and my conclusion is that Abe, the prime minister, will most likely resign. Further, even though the central bank states that they will use monetary policy to reach CPI at 2%, I find the whole plan quite confusing. Since Japan has the most debt out of any developed country, I'd like to see they stress this factor a bit more. Interest rates are still so low that investors aren't really keen on putting a lot of capital into projects. However, Altria shows better fundamentals than Philip Morris but Philip Morris has a wider pipeline.
People keep saying tobacco is dead, but I don't think that's the case. In Western Europe -> Smoking is replaced with snus, and 2017 was the first year when snus sold more than smoking. This replacement will most likely keep increasing, but usage of nicotine is still there. Asia -> Still a lot of smoking. US -> Some smoking. Future potential: Altria and Philip change their pipeline and become the new dominant player in marijuana and cannabis. That's what I think will happen to MO and PM.
Editor's Note: This article discusses one or more securities that do not trade on a major U.S. exchange. Please be aware of the risks associated with these stocks.