Key points
We see more "normal" markets ahead: lower returns and higher vol amid rising economic uncertainty and less room for growth to top expectations.
Global equities clawed back into positive territory year-to-date in U.S. dollar terms, and China's central bank cut its deposit reserve rate.
We see tax cuts and a healthy consumer supporting U.S. earnings this week. Risks to eurozone results: a stronger euro and weaker economy.
Last year was an extraordinary one for markets with strong returns and rock-bottom volatility (vol) across most asset classes. The market environment in 2018 has returned to a more "normal" mix of lower returns and higher vol. This reflects rising economic uncertainty and less room for growth to exceed expectations.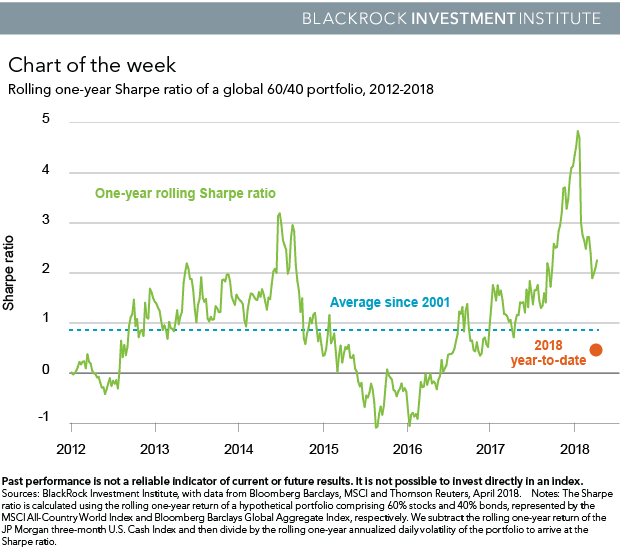 The chart above illustrates this reduced reward for risk, one of the three investing themes in our Q2 2018 Global Investment outlook. It shows how a hypothetical global portfolio of 60% equities and 40% bonds would have seen its Sharpe ratio, a measure of returns over cash relative to realized volatility, plummet this year (see the orange dot) from 2017 peaks.
A key reason: A hefty rise in equity volatility back to more "normal" levels. Volatility was unusually low in 2017, even in the context of low-vol regimes we have seen since 1980. The recent plunge in the Sharpe ratio also comes amid more muted asset returns and rising U.S. cash rates - a product of the Federal Reserve's gradual monetary tightening.
The eurozone example
What explains the shifting market backdrop? We see two key factors. First, economic uncertainty has risen as U.S. stimulus and trade policy actions have broadened the range of possible outcomes compared with 2017. Second, we see less scope for growth outside the U.S. to beat expectations. This is reflected in our BlackRock Growth GPS, which points to above-trend global growth in 2018 but shows consensus having caught up with or even overtaken our own measure.
Europe provides a good example. Growth expectations there have likely overshot after last year's unexpectedly strong data. Our GPS suggests the eurozone should experience decent above-trend growth in the coming year. Temporary factors, such as an inventory unwind, may explain some of the region's recent disappointing economic data. Yet consensus estimates look too high and may need to revert to more realistic levels, we find.
This points to a bumpy road ahead for markets, especially when combined with elevated geopolitical risks and slowly rising inflation. Yet we do not believe lower returns and higher short-term volatility spell the end of the equity bull market, now in its ninth year. Nor do we see warning signs, such as a widespread buildup in leverage, that would signal the end of the expansionary cycle.
We see synchronized global growth with room to run providing a solid foundation for equities. We see higher interest rates ahead, but plentiful global savings should keep yield rises moderate - even amid rising U.S. bond issuance. We prefer to take risk in equities over credit.
We see market returns being driven by earnings growth, dividends and coupons, rather than rising valuations. This, too, is a return to normal. We prefer equity markets with higher earnings growth, such as the U.S. and emerging markets (EM). In fixed income, we prefer EM debt and short-duration U.S. bonds. The latter's recent yield increases reflect anticipated Fed hikes and make for an attractive risk/reward tradeoff.
Global equity markets rose, moving back into positive territory year-to-date in U.S. dollar terms. Materials and energy stocks led. Oil prices hovered at a 40-month high, supported by tighter U.S. inventories and the possibility of extended OPEC production cuts. The VIX declined. The two-year Treasury yield rose to its highest level since August 2008.
First quarter U.S. earnings came in solid. Roughly 80% of companies beat analysts' expectations, and earnings are on track to grow at the highest rate in seven years. Reports from meetings of Germany's and France's leaders suggested eurozone reform momentum had stalled. UK inflation undershot expectations.
China's central bank cut its reserve requirement ratio for the first time in two years amid evidence deleveraging is causing a contraction in credit creation and hurting investment. China economic data marginally disappointed.
Global snapshot
Weekly and 12-month performance of selected assets
| Equities | Week | YTD | 12 Months | Div. Yield |
| --- | --- | --- | --- | --- |
| U.S. Large Caps | 0.5% | -0.1% | 13.3% | 2.0% |
| U.S. Small Caps | 0.9% | 2.2% | 14.5% | 1.2% |
| Non-U.S. World | 0.3% | 0.6% | 18.9% | 3.2% |
| Non-U.S. Developed | 0.5% | 0.9% | 18.1% | 3.4% |
| Japan | 1.0% | 1.6% | 21.3% | 2.2% |
| Emerging | -0.1% | 1.3% | 24.6% | 2.8% |
| Asia ex-Japan | -0.6% | 0.9% | 26.5% | 2.6% |
| Bonds | Week | YTD | 12 Months | Yield |
| --- | --- | --- | --- | --- |
| U.S. Treasuries | -0.6% | -2.2% | -1.5% | 3.0% |
| U.S. TIPS | -0.5% | -1.2% | 0.2% | 3.0% |
| U.S. Investment Grade | -0.9% | -3.2% | 0.7% | 3.9% |
| U.S. High Yield | -0.1% | 0.2% | 4.4% | 6.1% |
| U.S. Municipals | -0.3% | -1.2% | 1.4% | 2.8% |
| Non-U.S. Developed | -0.8% | 2.7% | 9.0% | 0.9% |
| Emerging Market $ Bonds | -0.8% | -2.3% | 2.6% | 5.9% |
| Commodities | Week | YTD | 12 Months | Level |
| --- | --- | --- | --- | --- |
| Brent Crude Oil | 2.0% | 10.8% | 39.8% | $74.06 |
| Gold | -0.7% | 2.6% | 4.2% | $1,336 |
| Copper | 2.4% | -3.5% | 24.3% | $6,992 |
| Currencies | Week | YTD | 12 Months | Level |
| --- | --- | --- | --- | --- |
| Euro/USD | -0.3% | 2.4% | 14.7% | 1.23 |
| USD/Yen | 0.3% | -4.5% | -1.5% | 107.66 |
| Pound/USD | -1.7% | 3.6% | 9.3% | 1.40 |
Source: Bloomberg. As of April 20, 2018.
Notes: Weekly data through Friday. Equity and bond performance are measured in total index returns in U.S. dollars. U.S. large caps are represented by the S&P 500 Index; U.S. small caps are represented by the Russell 2000 Index; Non-U.S. world equity by the MSCI ACWI ex U.S.; non-U.S. developed equity by the MSCI EAFE Index; Japan, Emerging and Asia ex-Japan by their respective MSCI Indexes; U.S. Treasuries by the Bloomberg Barclays U.S. Treasury Index; U.S. TIPS by the U.S. Treasury Inflation Notes Total Return Index; U.S. investment grade by the Bloomberg Barclays U.S. Corporate Index; U.S. high yield by the Bloomberg Barclays U.S. Corporate High Yield 2% Issuer Capped Index; U.S. municipals by the Bloomberg Barclays Municipal Bond Index; non-U.S. developed bonds by the Bloomberg Barclays Global Aggregate ex USD; and emerging market $ bonds by the JP Morgan EMBI Global Diversified Index. Brent crude oil prices are in U.S. dollars per barrel, gold prices are in U.S. dollar per troy ounce and copper prices are in U.S. dollar per metric ton. The Euro/USD level is represented by U.S. dollar per euro, USD/JPY by yen per U.S. dollar and Pound/USD by U.S. dollar per pound. Index performance is shown for illustrative purposes only. It is not possible to invest directly in an index. Past performance is not indicative of future results.
Asset class views
Views from a U.S. dollar perspective over a three-month horizon
Asset Class
View
Comments
Equities
U.S.
Extraordinarily strong earnings momentum, corporate tax cuts and fiscal stimulus underpin our positive view. We like the momentum and value style factors, as well as financials and technology.
Europe
We see economic expansion and a steady earnings outlook supporting cyclicals. Our neutral stance acknowledges that earnings momentum lags other regions. Euro strength also is a source of pain.
Japan
Positives are improving global growth, more shareholder-friendly corporate behavior and solid earnings. We see Bank of Japan policy and domestic investor buying as supportive. Further yen strengthening would be a risk.
EM
Economic reforms, improving corporate fundamentals and reasonable valuations support EM stocks. Above-trend expansion in the developed world is another positive. Risks include a sharp rise in the U.S. dollar, trade tensions and elections. We see the greatest opportunities in EM Asia. We like Brazil and India, and are cautious on Mexico.
Asia ex Japan
The economic backdrop is encouraging. China's growth and corporate earnings appear likely to remain solid in the near term. We like selected Southeast Asian markets but recognize a faster-than-expected Chinese slowdown would pose risks to the entire region.
Fixed Income
U.S. government bonds
We see rates rising moderately amid economic expansion and Fed normalization. Shorter maturities offer a more compelling risk/reward tradeoff. They and inflation-linked securities can be buffers against rising rates and inflation. We like 15-year mortgages relative to their 30-year counterparts and to short-term corporates.
U.S. municipals
Solid retail investor demand and muted supply are supportive of munis, but rising rates weigh on absolute performance. A more defensive stance is warranted near term, we believe, though any material weakness due to supply may represent a buying opportunity. We favor a barbell approach focused on two- and 20-year maturities.
U.S. credit
Sustained growth supports credit, but high valuations limit upside. We prefer up-in-quality exposures as ballast to equity risk. Higher-quality floating rate instruments and shorter maturities are well positioned for rising rates, in our view.
European sovereigns
The ECB's negative interest rate policy has made yields unattractive and vulnerable to the improving growth outlook. We expect core eurozone yields to rise. We are cautious on peripherals given tight valuations and the prospect of the ECB reducing its asset purchases.
European credit
Recent spread widening driven by increased issuance has created some value, while ongoing ECB purchases should support the asset class. Negative rates have crimped absolute yields - but rising rate differentials make currency-hedged positions increasingly attractive for U.S.-dollar investors. Subordinated financial debt looks less compelling versus equities.
EM debt
Gradual Fed rate rises favor local-currency exposures - particularly given their higher yields relative to major bond markets. A shift by EM central banks toward tighter policy reduces our return expectations. We see solid fundamentals and investor inflows limiting EM currency volatility.
Asian fixed income
Regional growth and inflation dynamics are supportive of credit. China's rising representation in the region's bond universe reflects its growing credit market. Higher-quality growth and a focus on financial sector reform are long-term positives, but any China growth slowdown would be a near-term challenge.
Other
Commodities and currencies
*
Declining global crude inventories underpin oil prices, with geopolitical tensions providing further support. We are neutral on the U.S. dollar. The factors driving its recent slide are likely temporary, but it's unclear when the U.S. yield differential with other economies will reassert itself as the main driver.

* Given the breadth of this category, we do not offer a consolidated view.
This post originally appeared on the BlackRock Blog.