Improving household finances helped lift the Bloomberg US Consumer Comfort Index to a 17-year high last week. With tobacco companies clearly being left on the sideline, we want to look at how the other US consumer-facing industries are doing. This information comes from Trendrating's trend capture model.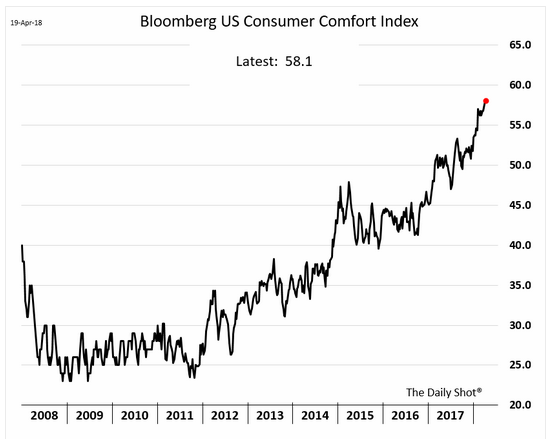 Tobacco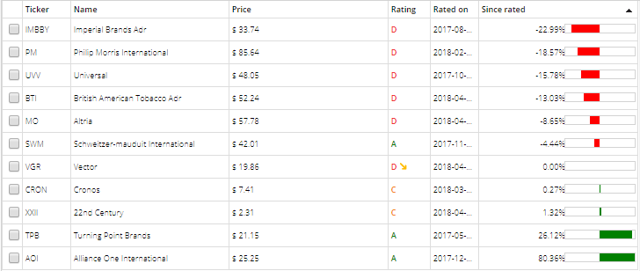 Philip Morris (NYSE:PM) led the tobacco industry lower last week after posting its largest one-day drop in a decade. With less people smoking cigarettes globally and the next generation of cigarettes seeing lower adoption, the industry continues to trend lower. Philip Morris, British American Tobacco (NYSE:BTI) and Altria (NYSE:MO) all hit 12-month lows last week. As Trendrating signaled back in October of last year, this is not a new trend but the continuation of a bear trend for the industry. Finding any bright spots means navigating the micro-cap arena with names like Alliance One International (AOI) and Turning Point Brands (NYSE:TPB).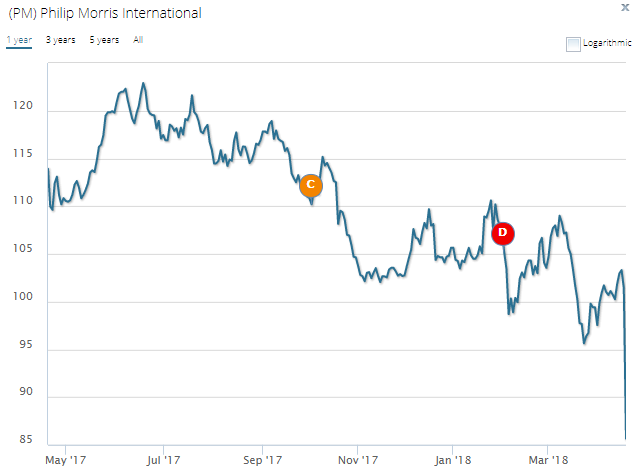 Personal Goods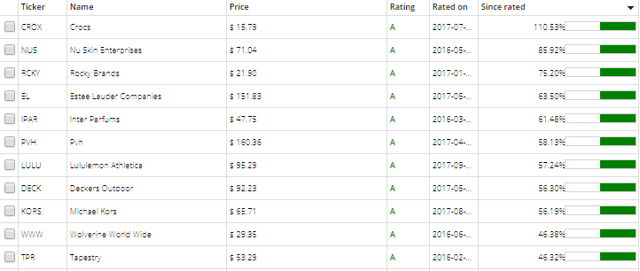 Trendrating gives the Personal Goods industry a grade of B+, with an equal amount of upgrades and downgrades over the last month. Nike (NYSE:NKE) and Unilever (NYSE:UN) are some of the largest names in the industry, but they aren't the companies with the strongest trends. The strongest bull trends belong to smaller-cap names like Crocs (NASDAQ:CROX), which is up 110% since being rated A by Trendrating back in July of last year. In the large-cap space, Estee Lauder Companies (NYSE:EL) and Lululemon Athletica (NASDAQ:LULU) are both at or near all-time high share prices. Both companies also have a Smart Momentum Score higher than 2.33, indicative of a strong trend.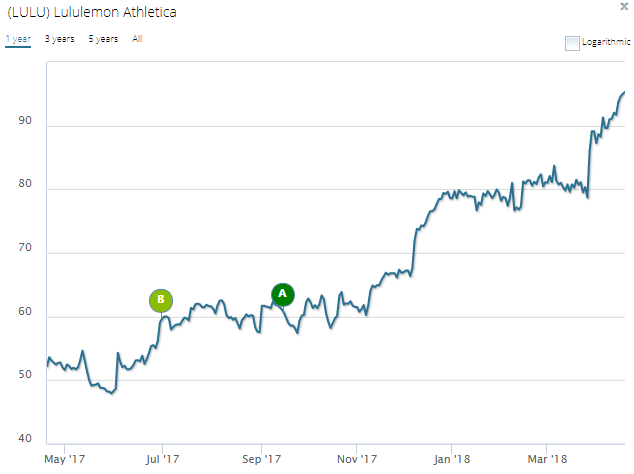 Leisure Goods


The Leisure Goods industry is dominated by large companies in the gaming segment. Specifically, Activision Blizzard (NASDAQ:ATVI) and Take-Two Interactive Software (NASDAQ:TTWO) have had tremendous runs over the last few years, but have struggled more recently. Each company has retraced more than 13% from its trend highs. Recreational product companies Pool Corp. (NASDAQ:POOL) and Malibu Boats (NASDAQ:MBUU), however, show continued strength. Overall, the industry receives a ranking of B.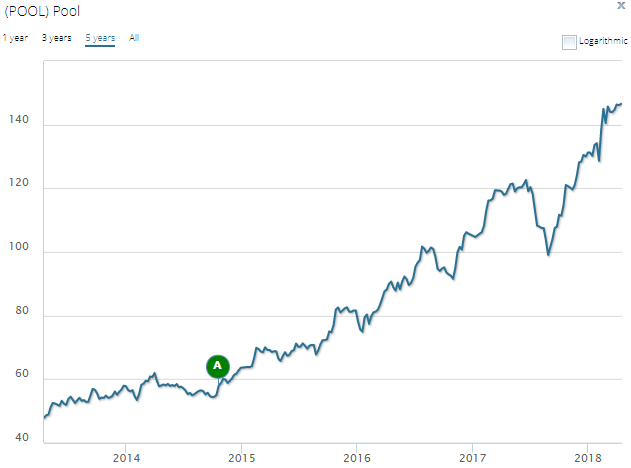 Household Goods and Home Construction


The Household Goods and Home Construction industry is clearly trending in the wrong direction. While the overall rating of B- isn't a clear sign of any bear trend, the number of downgrades to upgrades over the last month should give investors reason to pause. Procter & Gamble ("P&G") (NYSE:PG) is a behemoth in the industry, with a market cap north of $185 billion. The next closest has a market cap of only $23 billion. P&G is down 16% over the past 12 months, just hit a 12-month low price for the shares, and is rated D by Trendrating. Finding a strong trend in the industry means looking at small caps like SodaStream International (NASDAQ:SODA), which is up 408% since being rated A by Trendrating in May 2016.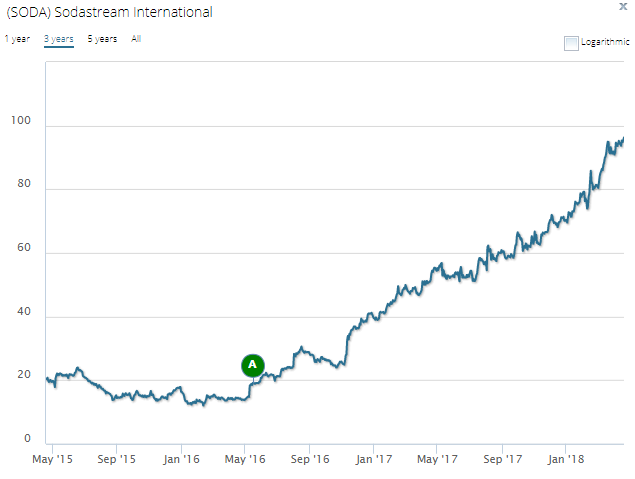 Food Producers


This is another industry not trending in the right direction. The largest two players are Nestle (OTCPK:NSRGY) and Kraft Heinz (NASDAQ:KHC), both of which have a D rating. Similar to Household Goods and Home Construction, this is an industry that investors should approach with caution.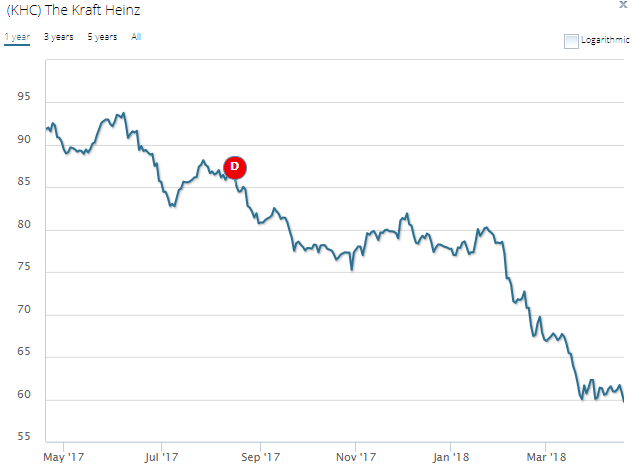 Beverages


It's been a mixed drink for the beverage industry. Some of the larger names like Anheuser-Busch InBev (NYSE:BUD) and PepsiCo (NASDAQ:PEP) are exhibiting very bearish trends. Meanwhile, Constellation Brands (NYSE:STZ) and Boston Beer (NYSE:SAM) are up 32% and 62% over the past 12 months, respectively. With an industry rating of B, and muted rating changes over the last month, investors should look to the strongest individual trends.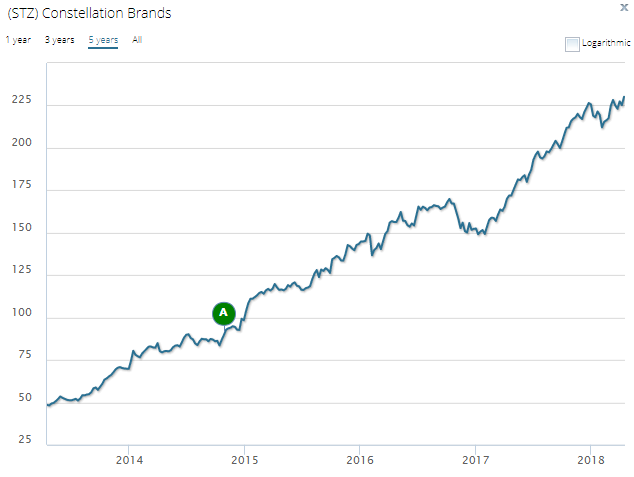 Automobiles and Parts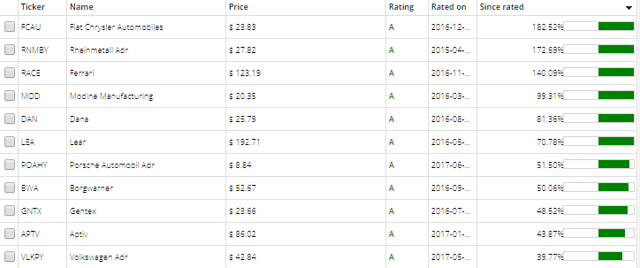 This is another industry that is very sensitive to all of the trade war rhetoric. Trendrating has a B rating for the industry at large, with clearly more downgrades than upgrades in the last month. Despite the industry seemingly trending in the wrong direction, there are a few names that show strong trends continuing. Fiat Chrysler Automobiles (NYSE:FCAU) and Ferrari (NYSE:RACE) are up 182% and 140% respectively since being rated A.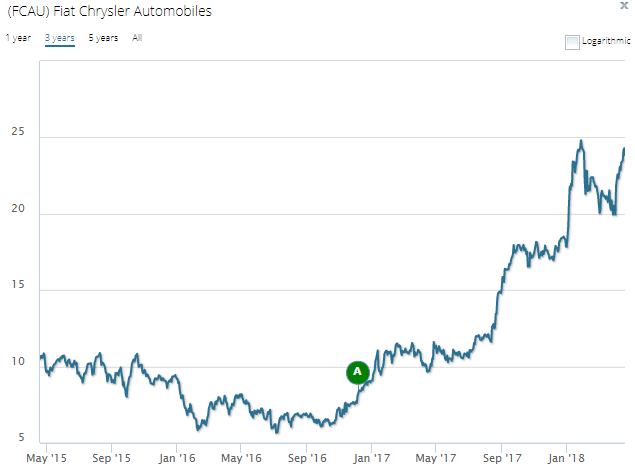 Food and Drug Retailers


The threat of disruption from Amazon (NASDAQ:AMZN) and others has paved the way for a spree of vertical mergers in the Food and Drug Retailers industry. All the rumors and deals have made this one of the toughest industries to get right over the past 12 months. As of now, trends seem to be pointing bearish, with more downgrades than upgrades over the past 20 working days. One company with a shaky but upward-sloping trend is the food distributor Sysco (NYSE:SYY), up 14% since being rated A by Trendrating.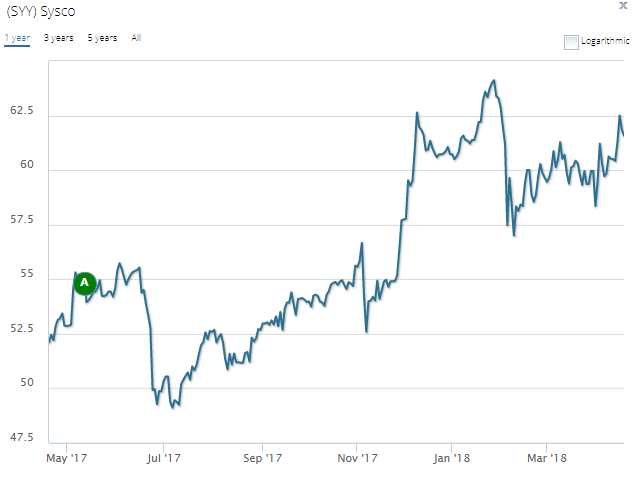 General Retailers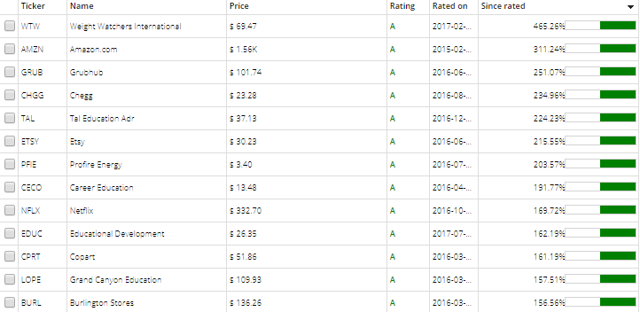 The General Retailers industry is the largest consumer industry by number of securities and also total market cap. Amazon just hit a 1-month high and is up 311% since being rated A in February 2015. With a market cap of $750 billion and a price per share over $1,500, AMZN is a name that shows no signs of slowing down. Also in this industry is Netflix (NASDAQ:NFLX), which continues to beat analysts' subscriber growth numbers quarter after quarter. Shares are up 135% over the past 12 months. Taking a step back, the industry is rated B, with more downgrades than upgrades over the last month. That being said, however, there remain plenty of sustained bull trends to take advantage of.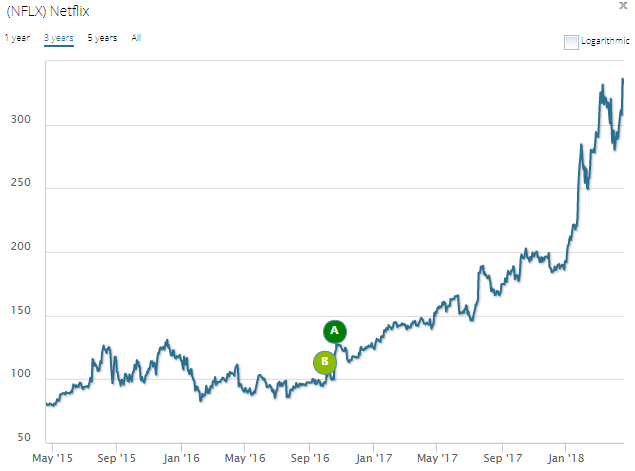 Media


Almost 25% of the names in this industry have been downgraded over the last month. The downgraded names include the largest 3 companies in the space, Comcast (NASDAQ:CMCSA), Walt Disney (NYSE:DIS) and Charter Communications (NASDAQ:CHTR). With the negative momentum spread broadly throughout the industry, finding success in the Media industry won't be easy. One name that is still showing positive momentum, however, is Dolby Laboratories (NYSE:DLB). The stock is up 75% since being rated A in February 2016, and up 33% over the past 12 months.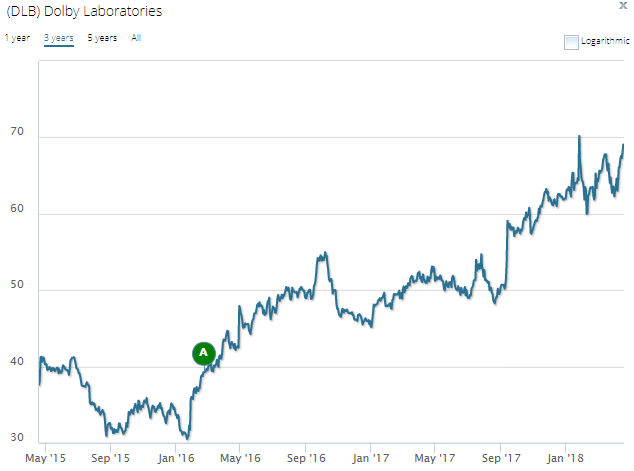 Travel & Leisure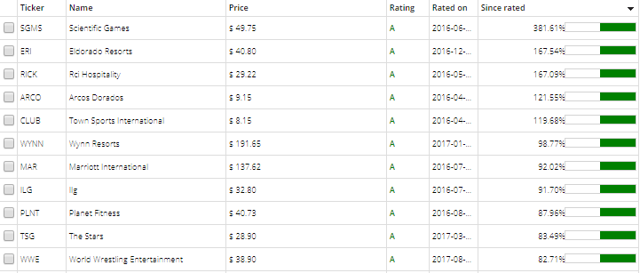 Last but not least is the industry containing McDonald's (NYSE:MCD) and Starbucks (NASDAQ:SBUX). With a B+ rating, the Travel & Leisure industry has one of the strongest rankings out of all of the consumer-facing industries. MCD and SBUX, however, are not exhibiting as strong of trends as some of the other business segments in the industry. The travel segment is one example. Booking Holdings (NASDAQ:BKNG) - owner of Booking.com, Kayak, Priceline and more - is up 66% since being rated A in March 2016.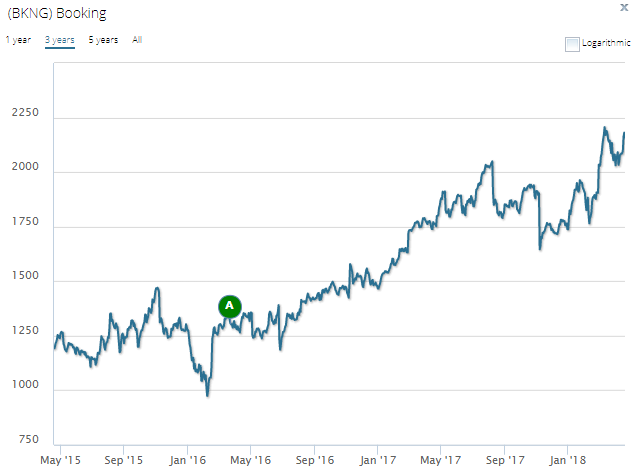 Summary
Across all of these industries, there have clearly been more downgrades than upgrades over the past month. While that signals a greater number of bear trends in the market, the tobacco industry is the only consumer-facing industry discussed here with a grade of C+ or worse. All other industries have at least a handful of quality names exhibiting strong bull trends. Specifically, the Personal Goods and Travel & Leisure industries have the highest overall scores of B+. At the individual security level, Weight Watchers International (WTW) and Amazon are a couple of names with very strong momentum. The link below will detail how every US stock in these industries is trending.
Disclosure: I/we have no positions in any stocks mentioned, and no plans to initiate any positions within the next 72 hours. I wrote this article myself, and it expresses my own opinions. I am not receiving compensation for it. I have no business relationship with any company whose stock is mentioned in this article.
Editor's Note: This article discusses one or more securities that do not trade on a major U.S. exchange. Please be aware of the risks associated with these stocks.