Tesla (NASDAQ:TSLA) had a rather disappointing first quarter, again falling short of promised Model 3 production rate. Now we hear that Tesla has suspended Model 3 production in order to make adjustments to the production line. Elon Musk has even admitted that Tesla reached too far in trying to build Model 3 almost entirely with robots. If Tesla continues to intermittently shut down the Model 3 line, the second quarter may not see a whole lot more Model 3 cars delivered than were sold in the first quarter. And, in the end, this may turn out a lot better than it sounds right now.
You see, Tesla is quickly approaching the sale of its 200,000th car in the U.S., an event that will begin the unwinding of the $7,500 federal income tax credit for U.S. Tesla buyers. The way the federal tax credit rules are written makes this a somewhat tricky maneuver that can have large impact on Tesla's business model if they get it even a little bit "wrong". It's almost rocket science...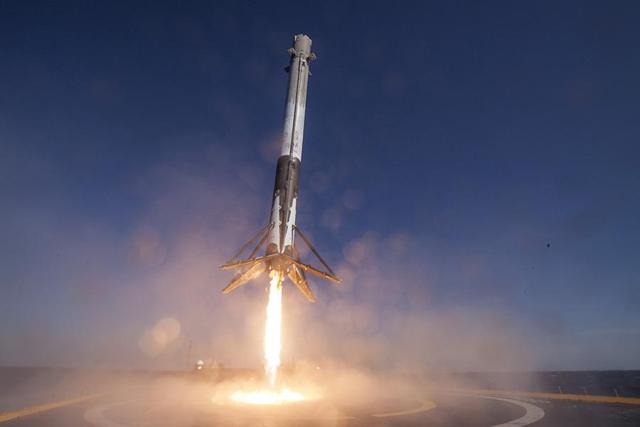 Did you know that when SpaceX lands a reusable Falcon 9 rocket, the rocket must achieve both zero speed and zero altitude at precisely the same instant? Just one of the Merlin 1D engines throttled back to minimum delivers thrust 12 tons greater than the empty weight of the rocket. The rocket cannot hover if almost out of fuel. It has to "stick the landing" on the first try.
It turns out that what Tesla needs to do with the Model 3 production ramp is kind of like landing a SpaceX rocket. To maximize the tax credit for U.S. Tesla buyers, Tesla should sell their 200,000th car in the U.S. on the first day of a calendar quarter and have the plant ramped to full production at the same moment. If Tesla struggles with production in Q2, they could probably reach the magic 200,000th delivery somewhere towards the end of the quarter. That would be bad, maybe even very bad because it would cost an entire quarter of federal tax credit incentives later when production rates will be much higher.
To better understand why Tesla correctly timing its 200,000th U.S. delivery is so important, let's look at a simple model for Tesla U.S. deliveries and Model 3 production ramp. This model is much less aggressive than Tesla has recently announced as their goal - which probably makes it more realistic. In the first quarter, Tesla built 9,766 Model 3 cars, or about 751 cars a week on average. Tesla has already shut down the line for several days in Q2, and the model assumes an average of just 1,154 Model 3s per week for the quarter, with ~3,250 of these either placed into inventory, pipeline or delivered outside the U.S. This scenario is consistent with reaching the 200,000th U.S. Tesla registration at the very end of Q2. By managing the "inventory" this would allow Tesla to "engineer" delivery of its 200,000th U.S. car on July 1, or if there is a screw-up, on June 30...
Model 3 production ramps to an average of 3,460 Model 3's per week in Q3, 4,620 in Q4 and 5,000 per week thereafter. The total amount of FIT credit available to Tesla's U.S. customers in 2018 and 2019 is then computed for the cases of the 200,000th U.S. delivery on June 30 or on July 1.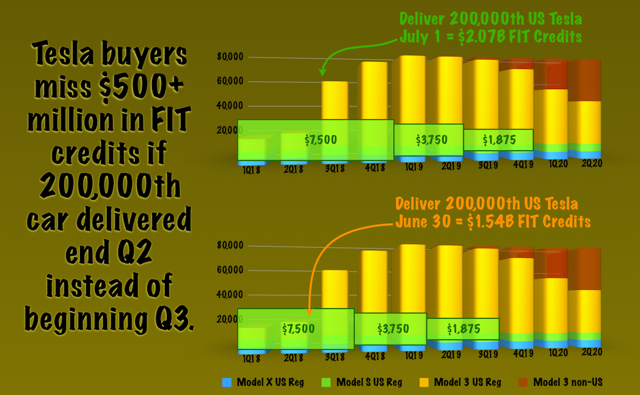 The difference in Federal tax incentive is a staggering half billion dollars! This is enormously important and I believe Tesla will do whatever it takes to optimize these credits. And that will mean rather meager Model 3 production in Q2.
Why would Tesla do this? Because the federal tax credits effectively flow into Tesla's business model. The extra half billion dollars of customer tax credits do not of course flow directly to Tesla's bottom line, but they do allow Tesla to sell more expensive cars to customers who otherwise might not spend so much for a Model 3. Tesla does make more margin on the more highly optioned cars of course, but there is more to it than that. By making more highly optioned, better appointed, longer range Model 3s affordable by early Model 3 customers the "fleet" of Model 3s look like nicer cars, and these initial Model 3s will command higher resale values than they would if they were minimum configuration cars. Better appointed Model 3s on the road help the Tesla brand. And help viral and word-of-mouth advertising, which are how Tesla sells many of their cars. Higher resale values for early Model 3 cars will mean better lease rates for Model 3 customers down the road.
What to Watch
All this optimizing Model 3 production to time the 200,000th U.S. Tesla delivery sounds great - until one thinks about what it means for Tesla's Q2 operating results. To keep under 200,000 total deliveries in Q2, Tesla will once again fall short on the Model 3 ramp, once again post a pretty spectacular loss. But what may be much more important than these purely financial results will be whether Tesla stays under 200,000 aggregate U.S. deliveries at the end of Q2.
Another thing to look for in Q2 will be foreign deliveries of Model 3 cars. While some analysts will likely pounce on any surge in Canadian or European Model 3 deliveries as indication U.S. demand for the car has faltered, such news may be actually be a positive, indicating that Tesla has been so successful ramping the line that they are being forced to dispose of excess production overseas to keep from busting the magic 200,000 U.S. sales point.
Similarly, a large increase in "inventory" or "pipeline" Model 3 cars, should this occur in Q2, will be seen by some as negative, it may in fact be another symptom of Tesla needing to "engineer" timing of the 200,000th U.S. delivery.
Conclusion
In the current quarter, Tesla is facing a difficult quandary. If it goes all out to maximize total Model 3 production in Q2, substantially more Model 3s could be built than the 9,766 units seen in Q1. But maximizing Model 3 production would almost surely break the 200,000 U.S. delivery threshold prior to July 1 and cost an entire quarter of federal tax credits later on when Model 3 will be reaching higher production rates. The impact on Tesla's top line of delivering that 200,000th U.S. Tesla too soon would be huge, so Tesla has every reason to tune up the Model 3 line for highest rate production, but not switch it fully on before Q3.
If Tesla follows a delivery / incentives optimization strategy, Q2 results will look bad, again. Financials will look very negative. Model 3 inventory units will possibly show dramatic increase. Foreign Model 3 sales may grow substantially and "unexpectedly". All of these things will prove fodder for the most negative of Tesla commentary, if not outright glee on the part of Tesla shorts.
If in the end however, Tesla successfully times the 200,000 U.S. delivery at the start of Q3, expect much higher Model 3 production to follow, and an additional half billion dollars or so to flow into Tesla's business model.
Thoughtful investors keeping an eye on the company's progress toward the 200,000th delivery threshold may see more in the coming Q2 results than less astute investors - and perhaps enjoy an opportunity to profit thereby.
Disclosure: I/we have no positions in any stocks mentioned, but may initiate a long position in TSLA over the next 72 hours. I wrote this article myself, and it expresses my own opinions. I am not receiving compensation for it (other than from Seeking Alpha). I have no business relationship with any company whose stock is mentioned in this article.
Additional disclosure: These writings about the technical aspects of Tesla, electric cars, components, supply chain and the like are intended to stimulate awareness and discussion of these issues. Investors should view my work in this light and seek other competent technical advice on the subject issues before making investment decisions.