Situation Today
Talk about inflation has been picking up pace in recent months as the economy has continued on its growth cycle, bond yields become more volatile and the Fed started to keep a close eye on pricing pressures in its modest but gradual tightening monetary policy regime.
An important element in the consumer price index is housing. Since lumber is generally a prime component of houses, it is interesting to explore recent developments in that section of the commodities market and the potential implications in the near term.
Lumber Prices
Since the Trump administration imposed tariffs on softwood timber on Nov. 2, 2017, prices of lumber have soared to record highs. Currently, the price of a lumber futures contract stands at $550 - rising by roughly 22% year to date.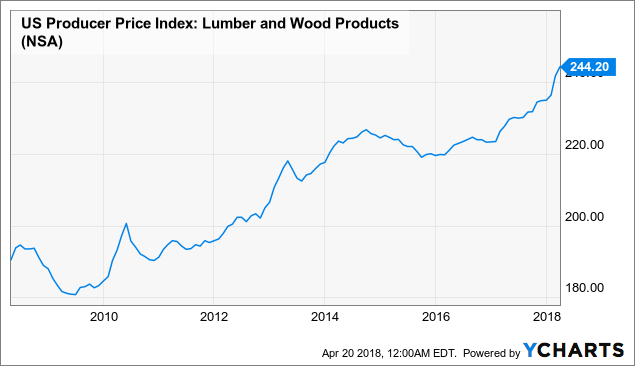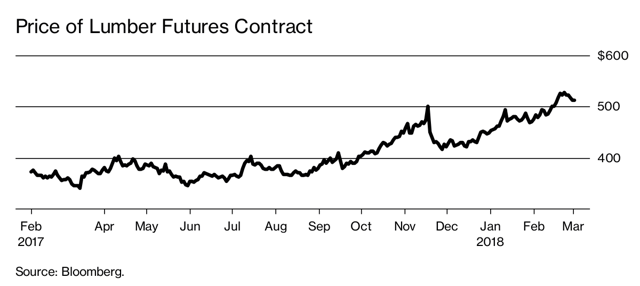 Even just from the end of March 2017 the price has gone up by about 10%. This has a significant impact on the US market which derives a large portion of its lumber supplies from Canada, the world's largest softwood lumber exporter. As a result, costs have been increasing for American homebuilders - surprising, given how the Trump administration's policy has generally revolved around being for the benefit of the US.
Since lumber serves as a primary component of housing, the effects are sure to be felt in housing prices.
Housing Prices
Since 2012 housing prices have gone up by roughly 33%, recovering well after a slump in the aftermath of the 2008 financial crisis.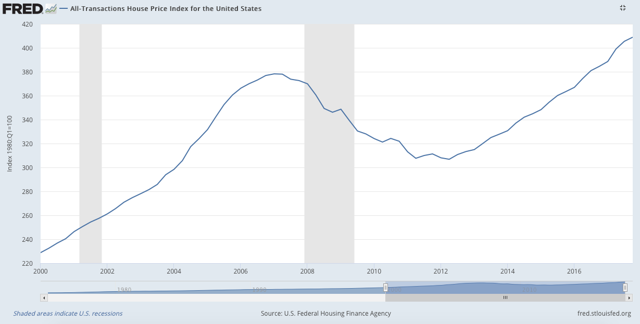 According to the National Association of Home Builders, framing lumber accounts for about 18% of average home selling prices (Source Bloomberg). This means that as lumber prices increase housing prices can be expected to similarly increase to a significant extent. And as housing prices rise the consumer price index will do the same with inflation picking up.
Here is then one example of how trade policies and the imposing of tariffs can drive up inflation and potentially harm output (as costs increase) (See earlier discussion about broad-based economic factors, including trade/tariffs here).
Conclusion
Overall, the recent rise in lumber prices raises the general price level by increasing costs for homebuilders and thereby raising housing prices. As a part of recently imposed trade policies this gives rise to inflationary pressures, increasing the likelihood of higher interest rates and risking a slowdown in economic growth. Although inflation has still remained low, the impact of higher lumber prices may come with a lag as a significant portion of the cost increase will be reflected in higher housing prices of new homes.
All else being equal, the rise in lumber prices raises costs for homebuilders - adding to negative pressures on housing stocks. Still there are more factors that determine the performance of homebuilder stocks, such as general demand, ability to pass cost increases through higher prices, etc. But earnings are also affected by available mortgage rates, which have been rising along with the general increase in interest rates. As higher lumber prices put upward pressures on inflation, which then again gives rise to higher interest rates, this poses a two-fold risk; higher mortgage rates (due to higher interest rates to curb inflation, negatively affecting housing demand) and higher costs (lumber being input for homebuilders).
Investors should therefore certainly take note of the recent developments in the lumber market and consider the currently "hidden" impact on future inflation, interest rates and earnings - and thereby the potentially negative effects on stock market performance, especially homebuilder stocks.
Disclosure: I/we have no positions in any stocks mentioned, and no plans to initiate any positions within the next 72 hours. I wrote this article myself, and it expresses my own opinions. I am not receiving compensation for it (other than from Seeking Alpha). I have no business relationship with any company whose stock is mentioned in this article.