April 23rd was a big day for shareholders with a stake in either CenterPoint Energy (NYSE:CNP) or Vectren Corp. (NYSE:VVC). News broke that CNP, in an effort to grow and further diversify its business, will be acquiring Vectren in a deal valued at nearly $6 billion. The premium, though not high at 9.8% compared to where shares of Vectren were trading at immediately prior to the transaction's announcement, places a high, but not unreasonable, price on the niche utility play. Although pricey, in a way, the acquisition will grant CNP's shareholders quality assets and a clear growth plan, both attractive enough to make sense for CNP's shareholders.
A look at the acquisition
According to a press release issued by CNP, the company has struck a deal whereby it will acquire Vectren in exchange for $72 per share in cash. This places the equity value of the transaction at $5.98 billion, plus CNP will be assuming an estimated $2.5 billion in debt for an enterprise value of $8.48 billion. Management expects to fund around $2.5 billion of the deal with equity or some assets tied to equity, and the remaining $3.48 billion is expected to be funded with debt.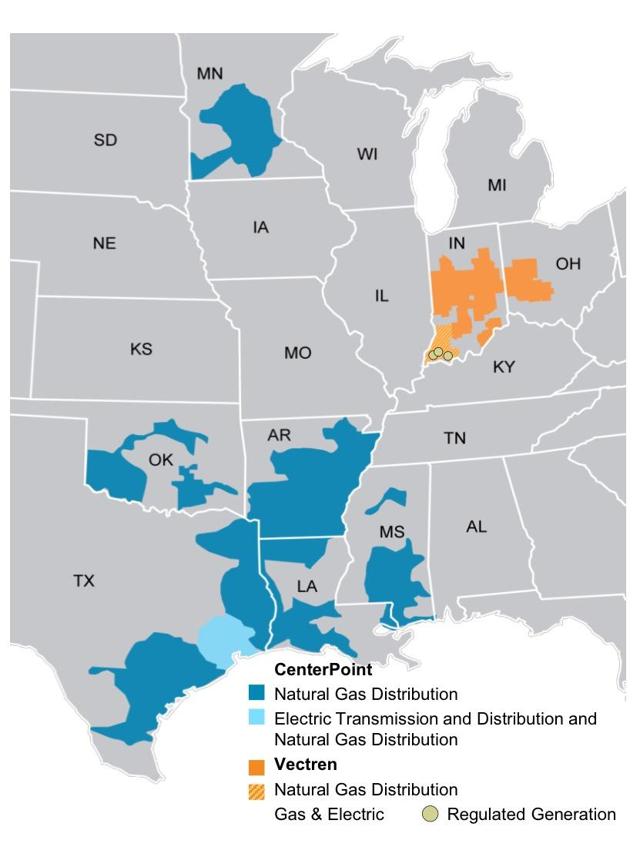 *Taken from CenterPoint
Vectren, like CNP, generates a significant amount of its revenue by distributing natural gas and electricity. As you can see in the image above, Vectren's assets are located between Indiana and parts of Ohio. This makes it, geographically, quite far from CNP's operations, which implies that actual synergies (beyond general and administrative costs) are unlikely to be significant. This doesn't mean, though, that CNP's decision to acquire Vectren is a poor one. In fact, the distance between them just means that CNP's goal is to, instead, focus on diversification over cost savings.

*Taken from CenterPoint
Take a look, for instance, at the image above. In it, you'll see a breakdown of planned capital expenditures for natural gas projects and planned capital expenditures for electric projects between 2017 and 2022 for both firms. In all, CNP intends to allocate $3.76 billion toward natural gas projects and it will spend an impressive 60.2%, or $5.69 billion of its capex, toward electric utilities. Vectren, on the other hand, is flipped. In the time period covered, it's expected that Vectren will spend about $1.45 billion on electric utilities, while 56.4%, or $1.88 billion, of its spending will be attributed to natural gas utilities.
In its investor presentation wherein it discusses the transaction, CNP states that the high abundance of natural gas in the US today, combined with the low prices it's going for at the moment, is setting the stage for growing reliance on the fuel. Add to this the fact that Vectren is close to the natural gas-rich Utica and Marcellus regions, and it's clear the firm is playing a long-term strategy to capitalize on the product.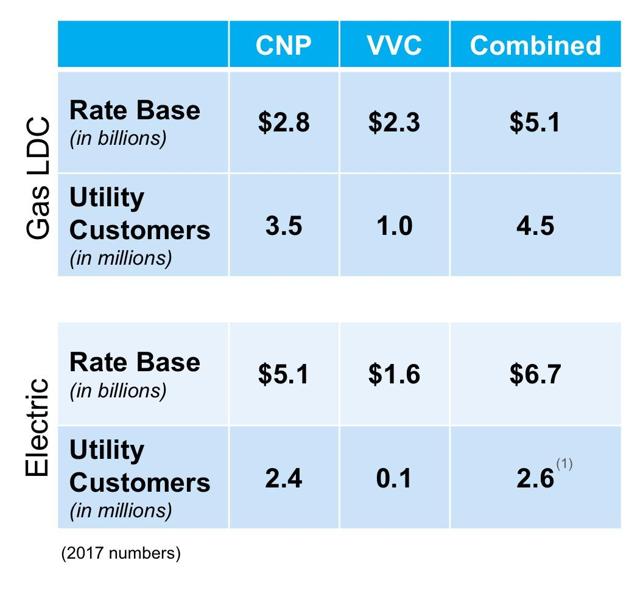 *Taken from CenterPoint
Another way to look at exposure is to consider the image above. In it, you can see the Rate Base and customer size of both firms for both natural gas and electricity. In Vectren's case, the company gets nearly all of its customers from natural gas and its estimated Rate Base totaled $2.3 billion last year. CNP, with far more customers (3.5 million for natural gas), had a marginally higher Rate Base of $2.8 billion. Just like in the case of planned capex, the picture changes materially when looking at electric utilities.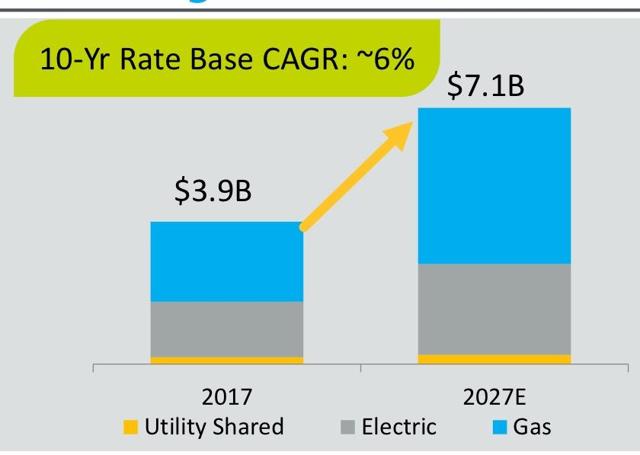 *Taken from CenterPoint
Not only is Vectren's Rate Base far more tilted toward natural gas, attractive growth expectations call for that figure to rise materially over the next few years. As you can see in the image above, the firm's aggregate Rate Base in 2017 came out to $3.9 billion. This compares to $7.9 billion for CNP. However, if all goes according to plan, this figure is expected to expand by 6% CAGR and, in the 10 years ending in 2027, it should grow to $7.1 billion. No similar forecast that I could find was given for CNP, but management said that they expect EPS to grow by between 5% and 7% per year through 2020, so a similar growth rate could be on the table.
Another reason for the purchase
It's worth noting that this deal isn't just about the regulated businesses of CNP and Vectren. Part of CNP's takeaway related to the transaction is that some of the firm's unregulated operations could mesh nicely with Vectren's. Take, for instance, the energy services operations of both firms. Vectren's provides energy performance, contracting, and sustainable infrastructure work to firms in the renewables space, as well as for companies that work with distributed generation, and combined heat and power projects.
In its own energy services business, CNP provides natural gas supply and related services to around 31 thousand commercial and industrial customers spread across 33 states (including ones in which Vectren operations). In its infrastructure services operations, Vectren does also provide pipeline construction and repair services as well. Miscellaneous energy work like this, especially in states that overlap, creates some synergy opportunities but, perhaps more importantly, it offers strong growth prospects for CNP down the road.
Between 2015 and 2017, the management team at CNP oversaw an explosion higher in the amount of unregulated revenue it was generating. Sales grew from $1.92 billion in 2015 to nearly $4 billion in 2017. Unfortunately, segment profit was still low at $125 million last year (a three-year high though), but by adding on the $1.28 billion in sales generated by Vectren's non-utility business, it can emphasize revenue growth today and, perhaps, better position itself to improve margins in these particular operations in the years to come.
The deal is pricey but it makes sense
In order to acquire Vectren, CNP was forced to pay up. You see, at the end of its 2017 fiscal year, Vectren had recorded operating cash flow of $498.8 million. Given the $5.98 billion buyout, this places a price/operating cash flow multiple on the business of nearly 12. To put this in perspective, CNP's $1.42 billion in operating cash flow at the end of 2017 implies a price/operating cash flow multiple on it of just 7.9.
This spread is sizable, but neither multiple is what I would consider too high. What's more, with CNP projecting that the transaction will allow the consolidated entity to maintain EPS growth of 5% to 7% per year through 2020, operating cash flow is also likely to expand, which will ultimately reduce the acquisition price, relative to cash flow, of Vectren over time.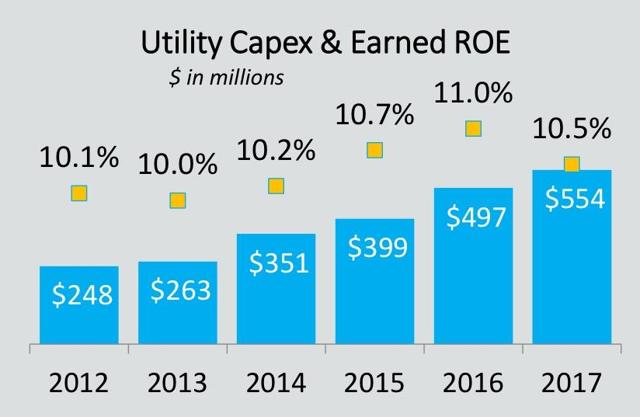 *Taken from CenterPoint
In addition, Vectren itself has a history of attractive and stable returns that CNP's shareholders can and should appreciate. In the image above, you can see that, between the years 2012 and 2017, the return on equity of the business has always fluctuated in a narrow range between 10% and 11%. This is likely due, in large part, to the nature of its business, but the stability of these returns shouldn't be discounted.
Takeaway
CNP and Vectren have decided on an interesting course of action. While the regulated businesses of both firms are far apart geographically, the diverse operations separating the two will benefit CNP and its shareholders considerably. Add to this the overlaps that exist for their unregulated businesses and it's clear that CNP's entire purpose here is to achieve healthy growth from the acquisition that will position its business for the long haul.
Obviously, as with any transaction, there are risks involved, but so long as Vectren continues to be operated in a way that is similar to how management has run things so far, CNP and its investors should be happy. For Vectren's investors, the big win is the higher multiple being paid for their shares, a price that strikes me as reasonable.
Disclosure: I/we have no positions in any stocks mentioned, and no plans to initiate any positions within the next 72 hours. I wrote this article myself, and it expresses my own opinions. I am not receiving compensation for it (other than from Seeking Alpha). I have no business relationship with any company whose stock is mentioned in this article.